Apple Car could bolster services but low margins limit upside, analyst says
Goldman Sachs believes that an "
Apple Car
" makes sense as a services-supporting hardware platform, but notes that the high costs of releasing a car could mean a limited impact for investors.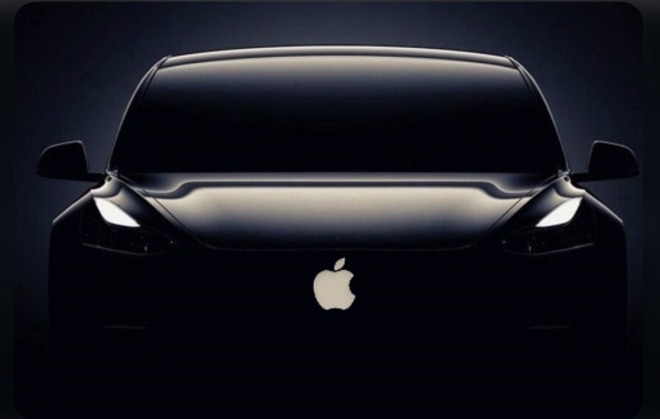 Credit: Apple
In a note to investors seen by
AppleInsider
, analyst Rod Hall writes that Apple is "well positioned" to design and sell a vehicle because of its strong hardware and software development and integration. His analysis comes on the heels of a
Reuters
report
that Apple is planning to produce an electric vehicle by 2024.
The company's experience with both battery technology and power management gives it an advantage, Hall writes. Of course, though Apple may be well-positioned to optimize electric vehicular efficiency and architecture, the analyst notes that battery technology breakthroughs have been historically elusive.
Similarly, Apple's experience in LiDAR sensors -- seen on its iPhone 12 Pro and iPad Pro models -- could be a boon to electric car development. However, Hall points out that other automakers are already active testing LiDAR, and by 2024, will likely be using such systems in their vehicles.
Apple does have the unique potential to deliver a "seamless user experience" in a vehicle, thanks to its ability to develop custom silicon that can be deeply integrated with its software.
On the other hand, the auto industry has generally lower gross margins than Apple's own current businesses. Tesla's gross margins are about 20%, compared to Apple's 40%. Operating margins are even lower, typically in the high single digits.
Because of the "poor economics relative to Apple's existing business and other possible options for providing Apple's services in automobiles," Hall notes that the Cupertino tech giant may explore alternate means to provide a seamless user experience without producing an actual electric vehicle.
Even in optimistic scenarios, the release of a production "Apple Car" is likely to have only a minor impact on Apple's bottom line.
Hall uses one potential scenario as an example. He assumes a 5% unit share in the EV market in 2025; an average selling price (ASP) of $75,000; and an earnings before interest and taxes (EBIT) margin of 7%. Based on that scenario, Hall's calculations would see EBIT and earnings-per-share accretion of just 3%.
"Given the potentially low profit opportunity for Apple, a key question in our opinion is why Apple is attracted to autos," Hall writes.
The main reason, Hall then contends, is the amount of time consumers are likely to spend in self-driving vehicles using information services. Given Apple's continuing push to bolster its services business and add services to hardware, adding cars as an additional hardware platform "might make sense."
Despite that, the analyst says Apple may decide to take those aforementioned alternate options because of the low margins. He uses the TV hardware space as an example. In that market, Apple provides a user experience with its set-top box instead of a full-fledged television unit.
Another option could be the evolution of the "car as a service" model, which Apple could then take advantage of in a similar way.
"We understand that a car is a different type of platform, but we wonder if these platforms might evolve to allow Apple to participate in a different way which provides a lot of the platform position benefits without the potential negative financial implications of competing in the lower margin auto hardware arena," Hall writes.