Apple reveals first insights from Women's Health Study
Posted:
in iOS
edited March 2021
Apple and the Harvard T.H. Chan School of Public Health has released initial findings from its Women's Health Study, revealing some of the data points determined by the examination of women's menstrual cycles recorded in the
iOS
Research app.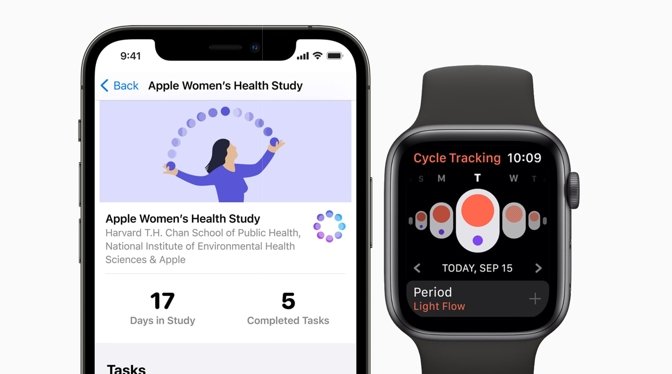 Originally launched in November 2019, the
Apple Women's Health study
aims to advance the understanding of menstrual cycles and its relationship with various health conditions. Medical research on menstruation was previously limited to smaller studies instead of a broader population, which the study team aimed to fix.
The
first update
, released on Tuesday, uses data from 10,000 participants across the United States and a range of ages and races, collected via the Research app. Apple says the data "highlights how large-scale, longitudinal research on menstruation can help advance the science round women's health and destigmatize menstruation."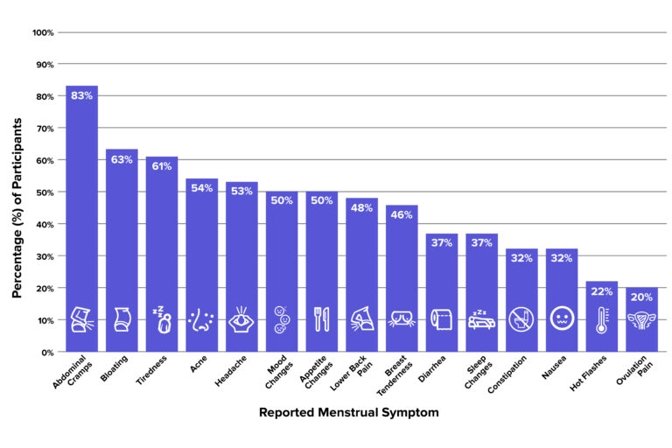 A graph showing percentages of participants experiencing menstrual symptoms [via Harvard]
The preliminary analysis confirms women undergo a wide range of menstrual cycle symptoms, including some lesser-known symptoms.
Frequently-tracked symptoms include abdominal cramps, bloating, and tiredness, experienced by more than 60 percent of participants who logged symptoms. Over half of the group who logged symptoms also reported acne and headaches.
Lesser-recognized symptoms, such as sleep changes or diarrhea, were tracked by 37 percent of logging participants.
The initial analysis suggests these symptom trends apply across all demographics, including age, race, and geographic location.
"Our study will help to achieve a more gender-equal future, in which all people with menstrual cycles have access to the health services and menstrual products needed to feel safe and empowered," said Dr. Michelle Williams, Dean of the Faculty at Harvard Chan School. "By building a robust generalizable knowledge base, the Apple Women's Health Study is helping us understand factors that make menstruation difficult and isolating for some people, in addition to elevating awareness of a monthly experience shared by women around the world."
Researchers will continue to investigate the data, with a more detailed analysis set to undergo peer review and journal publication in the future.
To take part in the study, potential participants have to download the
Research
app, and own an iPhone and
Apple Watch
. They also need to be aged at least 18 years old, rising to at least 19 years in Alabama and Nebraska, and 21 years in Puerto Rico, and must have menstruated at least once in their life.