Hands on with first MagSafe-compatible car charger from ESR
One of the most unique and potential-filled features of the iPhone 12 lineup is
MagSafe
. But months after launch, it is still hard to come by accessories that work well are truly useful. We go hands-on with one of the companies leading the charge with a wide array of compatible gear -- ESR.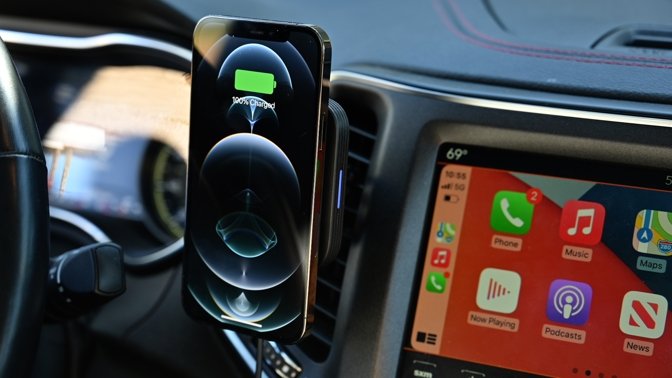 ESR HaloLock Magnetic Car Charger
ESR has been selling its HaloLock gear for several years, and fortunately, it works with MagSafe out of the box. ESR has taken things further with officially-licensed MagSafe cases alongside its array of mounts and chargers.
World's only MagSafe-compatible magnetic car mount
Our favorite device from ESR is hands-down the HaloLock car mount. This is the only -- beyond some very sketchy and unreliable no-name brands -- magnetic car charger we've found that is compatible with MagSafe.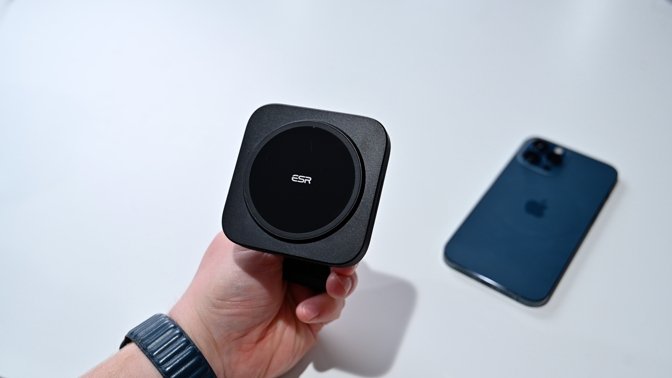 ESR HaloLock Magnetic Car Charger
You just hop in your car, slap your
iPhone 12
against the ESR HaloLock magnetic car mount, and you're on your way. Your phone is easily mounted right in front of you, there's no funky clip you have to place your phone in, and it requires no metal shim on your phone.
It truly does just work.
The device itself is a relatively large square with rounded off corners. On the left and right sides are soft blue LED status lights to signify when your phone is charging. On top are a couple of vents to prevent overheating, and the bottom has a USB-C port where you can plug the included USB-C to USB-A cable. Just connect to an 18W or higher USB port, and you're good to go.
Another great feature of the HaloLock magnetic car mount is how it connects to your vent. Rather than a sole clip like most, it also has an adjustable arm that sticks out towards the bottom.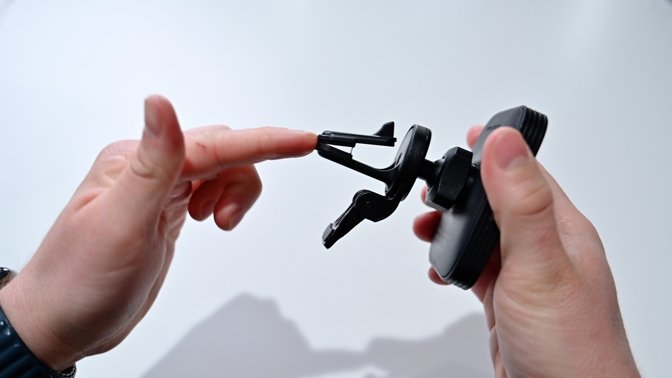 ESR HaloLock Magnetic Car Charger
This kickstand-like arm leans against your dash or the vents to help keep the stand sturdy. It also disperses the weight across a larger surface which reduces stress on the vent blades themselves.
While this isn't a true "MagSafe" charger that can charge your iPhone 12 up to 15W, it can still deliver up to 7.5W with Qi charging. Then the magnets keep your phone in place and properly aligned.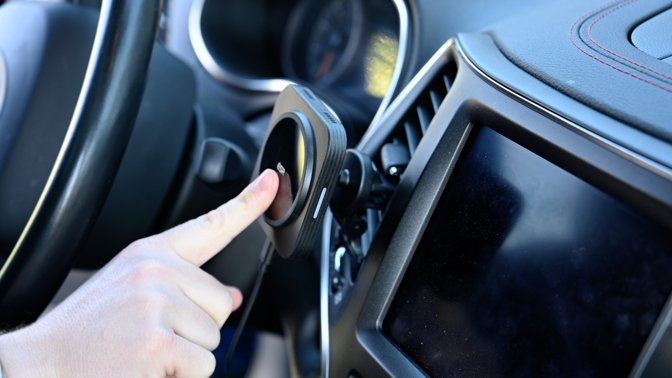 ESR HaloLock Magnetic Car Charger in our car
Since we've been using the ESR HaloLock magnetic car mount, we've never had our iPhone 12 Pro Max fall off. It has always held firm. It works with any iPhone 12 model by itself or when adorned with a MagSafe-enabled case.
ESR's MagSafe cases
ESR has a few new cases that are perfect for use with MagSafe.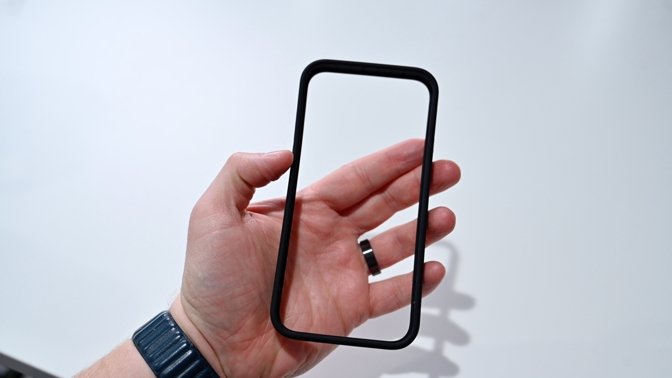 ESR bumper case
That includes the Cloud Series bumper style, a personal favorite. This is very similar to Apple's old bumper design but in a soft-touch rubberized exterior. It's great because you can see the color of your phone while still providing some protection for your device. Obviously, as there is no back, it doesn't interfere with MagSafe whatsoever.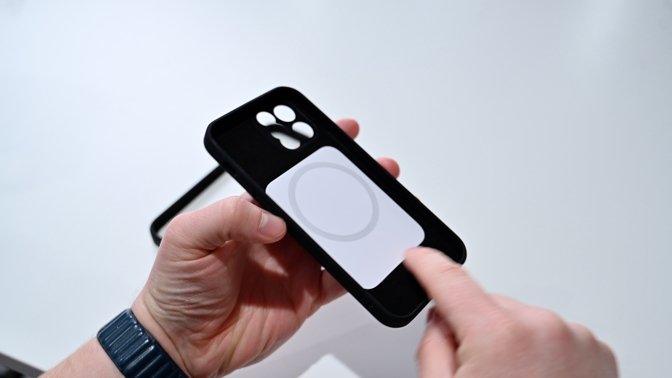 ESR MagSafe-certified Cloud Soft case
Then we have ESR's new MFi case. This case uses Apple's official MagSafe shim. It is visible from the inside with its white background and grey circle. These aren't third-party magnets but what Apple endorses for full MagSafe compatibility.
Almost no cases have launched so far with official MagSafe shims, which sets ESR apart from the rest.
ESR MagSafe-certified Cloud Soft case
The case has the same soft feel as the bump, which is very enjoyable to hold. It covers all sides of the phone, including in between the lenses themselves.
Unique mounts and stands
Rounding out ESR's MagSafe-compatible gear are two very unique charging stands.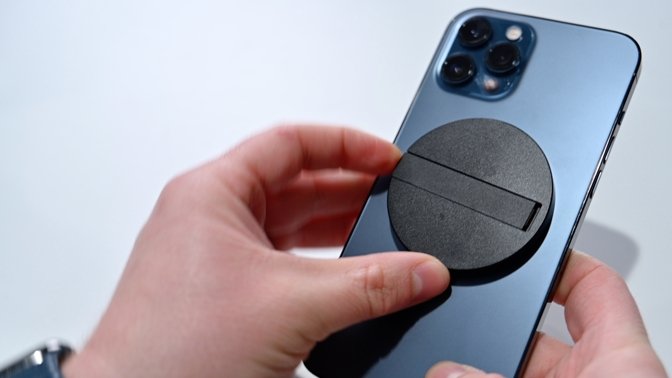 ESR HaloLock Kickstand charger
The ESR Kickstand wireless charger is a new favorite. It is about the size of a silver dollar and connects magnetically to the rear of your iPhone 12. It is made of metal, so it feels solid and premium.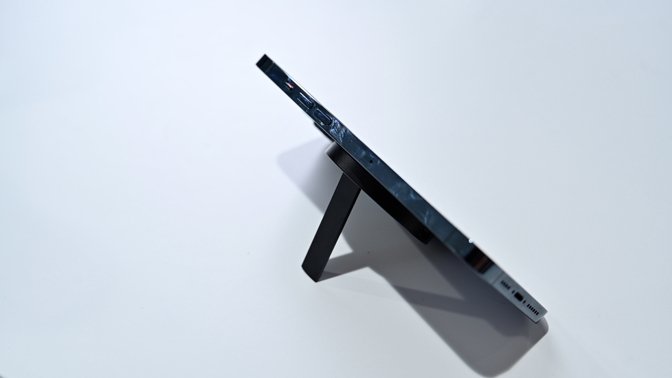 Prop up your phone with the ESR HaloLock Kickstand charger
It powers up over USB-C to deliver up to 7.5W of wireless power to your device. Then on the back of the puck is a small kickstand. It pops out to act as a kickstand for your iPhone so you can watch a video or take a FaceTime call while you're charging. It is convenient and great for a travel nightstand.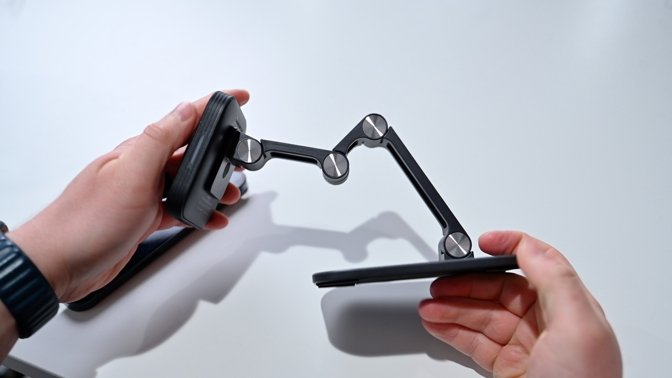 ESR Adjustable Wireless Charging Stand
Lastly is the ESR desk charger. This has four articulating joints that allow for a wide variety of angles for your phone. The top portion looks identical to the above HaloLock car charger, but instead of the vent mount, it is on the desk top stand.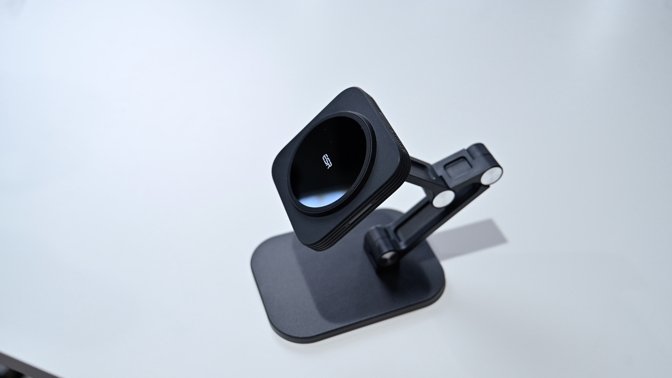 ESR Adjustable Wireless Charging Stand
Since it can connect with MagSafe, you can rotate it to varying degrees to watch a video in landscape to take a Zoom call in portrait.
Like the car charger, though, it isn't a MagSafe charger and instead is a Qi charger with magnets surrounding it. That means it charges at 7.5W of power, rather than the full MagSafe 15W.
Pick up your MagSafe-compatible ESR gear
You can find any of ESR's MagSafe-compatible gear on
the company's website
, as well as Amazon. If shopping on Amazon, you can save 20 percent on almost all of it using the accompanying promo code by April 30, 2021.
The
ESR HaloLock magnetic wireless car charger runs $34.99
but is 20 percent off if you use promo code
ESR10002
. The
ESR HaloLock adjustable desk charging stand is $29.99
but promo code
ESR10003
takes 20 percent off.
ESR's Kickstand wireless charger is $17.99
before the 20 percent discount using promo code
ESR10001
. Save another 20 percent on the
Cloud Soft case
with MagSafe using promo code
ESR10004
off the original $22.99. The
bumper case is $29.99
and currently doesn't have a discount.