Apple to debut 8-inch foldable iPhone in 2023, Kuo says
Apple is predicted to launch a
foldable iPhone
with 8-inch flexible OLED display sometime in 2023, with the company planning for shipments of as many as 20 million units that year, according to analyst Ming-Chi Kuo.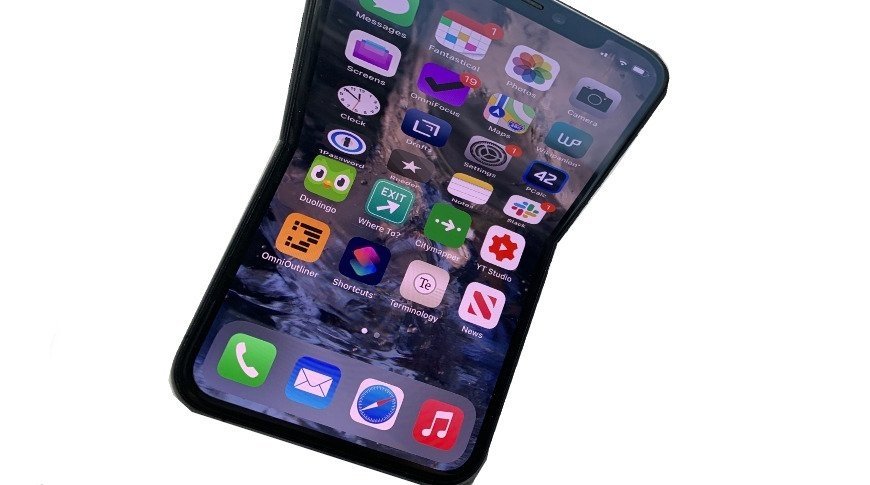 In a research note to investors, Kuo forecasts Apple's first foldable iPhone to boast an 8-inch QHD+ display, which at 3,200-by-1,800 pixels is a higher effective resolution panel than Samsung Fold's 7.3-inch QXGA+ screen. QHD+ displays also feature a perfect 16:9 aspect ratio, a deviation from the current 19.5:9 ratio seen on both
iPhone 12
and
iPhone 12 Pro
.
Whether the upcoming iPhone will fold horizontally or vertically was left unmentioned in Monday's report.
"Our latest survey indicates that the fast-growing foldable smartphone market has become a must-have for all major smartphone brands," Kuo writes. "The foldable smartphone will boost the next super replacement cycle for high-end models."
Apple is expected to manufacture between 15 million and 20 million foldable iPhone units in 2023. When the handset will see launch is unknown, though the relatively low production estimate suggests a debut alongside traditional iPhone formats in the fall.
Samsung Display is anticipated to act as Apple's exclusive display supplier, while Samsung Foundry will handle display driver ICs, Kuo said. Previous rumors pointed to a
partnership with LG Display
, with reports as recently as February claiming Apple
tapped the company
to assist in the development of foldable screen technology. At the time, it was unclear if LG would ultimately supply hardware for a production version of the foldable.
While Samsung will supply panels and driving circuitry for the future iPhone, it is not expected to manage the handset's touch solution, according to Kuo. Instead of Samsung's Y-Octa technology, Apple is predicted to use TPK's silver nanowire touch solution. TPK tech is durable and capable of supporting multiple folds and rollable displays and medium to large screen sizes, Kuo notes.
HomePod's
touch panel utilizes a silver nanowire touch solution, though it is unclear if TPK is the supplier.
Looking ahead, Kuo believes permutations of foldable designs could permeate through Apple's product line.
"At present, the product position of foldable smartphones is mainly to integrate the smartphone and tablet. But we believe that the foldable smartphone is only one of the applications of the foldable design," Kuo said. "We predict that foldable devices will blur the product segmentations between smartphones, tablets, and laptops in the future. With its cross-product ecosystems and hardware design advantages, Apple will be the biggest winner in the new foldable device trend."
After years of sporadic rumors, Apple's ambitions in the foldable smartphone segment are slowly becoming clear as market competitors like Samsung release second-generation versions of their own designs. Kuo in March said Apple might launch a
7.5- to 8-inch foldable
in 2023 if it can hammer out production issues related to the advanced technology this year.