Compared: AirPods Pro vs Sony WF-1000XM4 true wireless earbuds
Sony launched the WF-1000XM4 wireless earbuds in June, its noise-cancelling rival to the Apple
AirPods Pro
. Here's how Sony's latest stacks up against Apple's heavy hitter.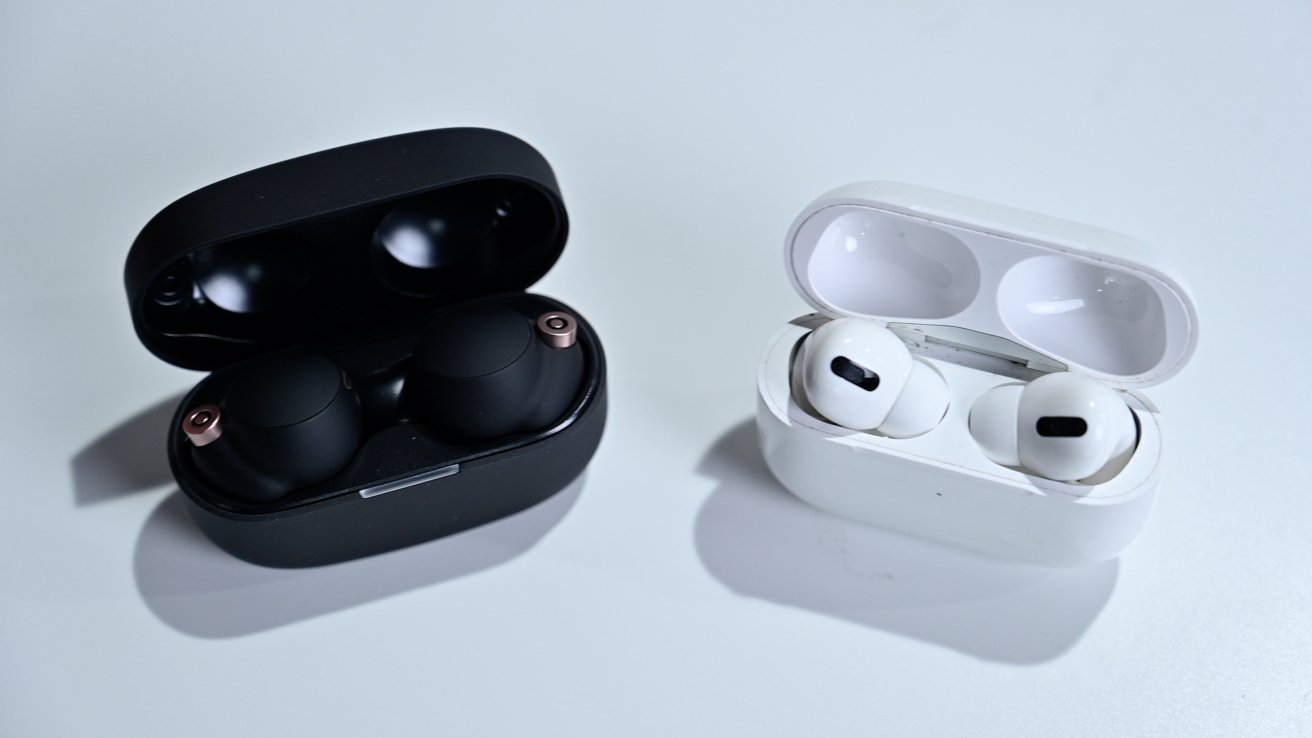 The Sony WF-1000-XM4 (left) versus Apple AirPods Pro (right)
In July 2019, Sony launched its first attempt to take on Apple in the wireless earbud stakes, with the
WF-1000XM3
offering a familiar package of earbuds and a charging case. While they were an attractive proposition, they didn't fare well versus Apple's audio hardware.
Two years later, and Sony is going after Apple again, this time with the similarly-named WF-1000XM4. The XM4 is, again, compact earbuds that take up very little extra space outside the ear, complete with noise cancellation features and potentially improved microphones.
However, Sony still has the familiar opponent of Apple's AirPods Pro to take on, which will continue to challenge Sony to make any headway with iPhone users.
The XM4 may be an upgrade from the XM3, but it crucially needs to be better than the AirPods Pro.
AirPods Pro vs Sony WF-1000XM4 - Specifications
AirPods Pro
Sony WF-1000XM4
Case Dimensions (inches)
1.78 x 2.39 x 0.85
1.8 x 0.9 x 2.4 inches
Battery Life (earbuds)
4.5 hours with ANC, 5 with ANC off
8 hours with NC, 12 hours with NC off
Battery Life (with case)
More than 24 hours
24 hours
Connectivity
Bluetooth 5.0
Bluetooth 5.2
Microphones
Dual Beamforming, Single Inward-Facing
Dual noise-sensing microphones, Beamforming, Bone Conduction
Sensors
Dual Optical Sensors,
Motion-Detecting Accelerometer,
Speech-Detecting Accelerometer,
Force Sensor
Touch Sensor
Sweat and Water Resistance
IPX4
IPX4
Active Noise Cancellation
Yes
Yes
Price
$249
$279.99
AirPods Pro vs Sony WF-1000XM4 - Design and Dimensions
The XM4 follows the same path as its predecessor. They try to be earbuds that fit within the space of the ear itself. While Apple's AirPods Pro have a descending stalk, Sony instead sticks to a largely circular and self-contained bud without any sticking-out sections.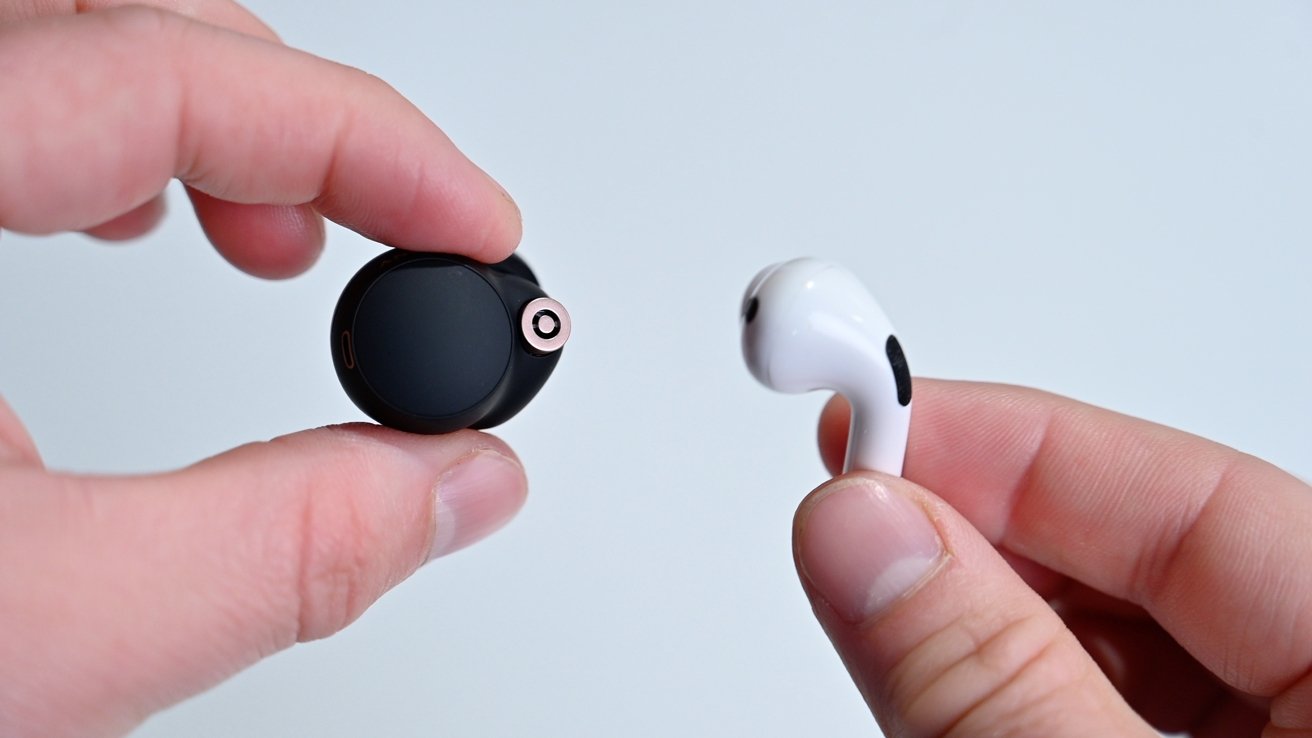 The Sony WF-1000-XM4 (left) versus Apple AirPods Pro (right)
When worn, the XM4 is relatively flat and can be seen by bystanders as a slightly elongated disk covering the inner section of the ear. The circular microphone element towards the base may look like an earring to some, highlighting an otherwise muted external appearance.
On the inside is the earbud tips used for noise isolation, intended to squeeze against the ear canal wall to eliminate leaked air. The new versions included by Sony use unique polyurethane foam to maximize the surface contact area and improve its stickiness to the canal wall.
AirPods Pro vs Sony WF-1000XM4 - Noise Cancellation
The AirPods Pro and the XM4 offer noise cancellation, with Apple's described as Active Noise Cancellation while Sony opts for Noise Cancellation. Despite the slightly different names, they both offer the ability to cut down background noise to make it easier to listen to your selected media.
Sony has used its V1 Integrated Processor to handle noise cancellation, including several different modes. An Automatic Wind Noise Reduction mode suppresses wind sounds.
An Ambient Sound mode offers a similar concept to Apple's Transparency Mode, which allows some sounds to pass through to the user, but prevents general drone and background noises from getting through.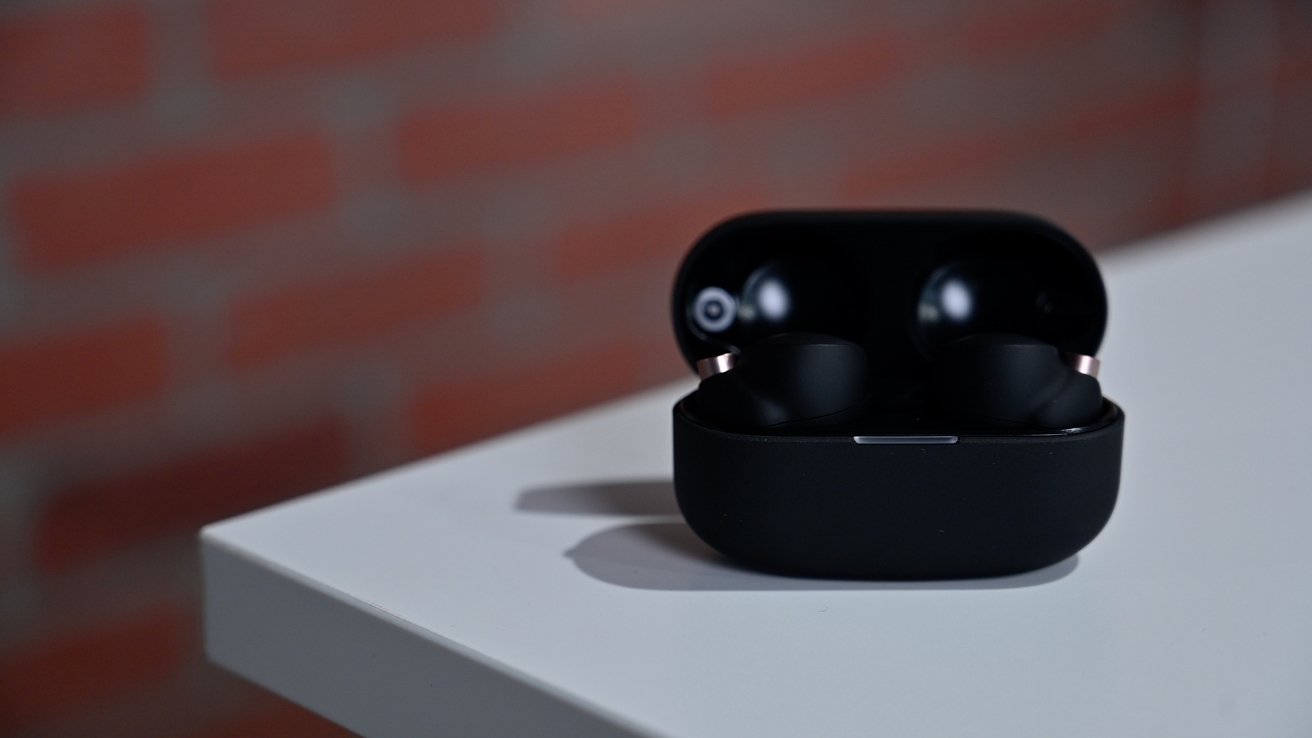 Sony WF-1000XM4 in their case
Sony also offers an Adaptive Sound Control that can change the Ambient Sound settings depending on the user's situation, such as allowing tannoy announcements to be heard at a station. Users can also set the system to recognize frequently visited locations and adjust the sound automatically.
Sony's hardware isn't just a processor improvement. The company uses a new 6mm driver unit in the speaker, which has a 20% increase in magnet volume combined with a high compliance diaphragm.
In short, Sony claims this combination will aid noise cancellation by performing better at low frequencies and a high degree in precision in generating the low-frequency cancellation signal.
During our testing, it seemed Sony's improvements have paid off. Between the foam ear tips and larger driver, the XM4 blocked more external noise and canceled out more of our white noise than AirPods Pro. AirPods Pro also suffered from a bit of rustling noise in our ears as we moved about with ANC, versus the XM4 remaining silent.
AirPods Pro vs Sony WF-1000XM4 - Virtual Assistants, Microphones, and Control
Both pairs of earphones have two microphones per bud, with an outward-facing version matched with an inward-facing version aimed to assist noise cancellation features and pick up the user's voice better.
Sony refers to its pair as dual "noise-sensing" microphones, with one described as "feed-forward" and the other "feed-back." All of the microphones on both sides are also beamforming.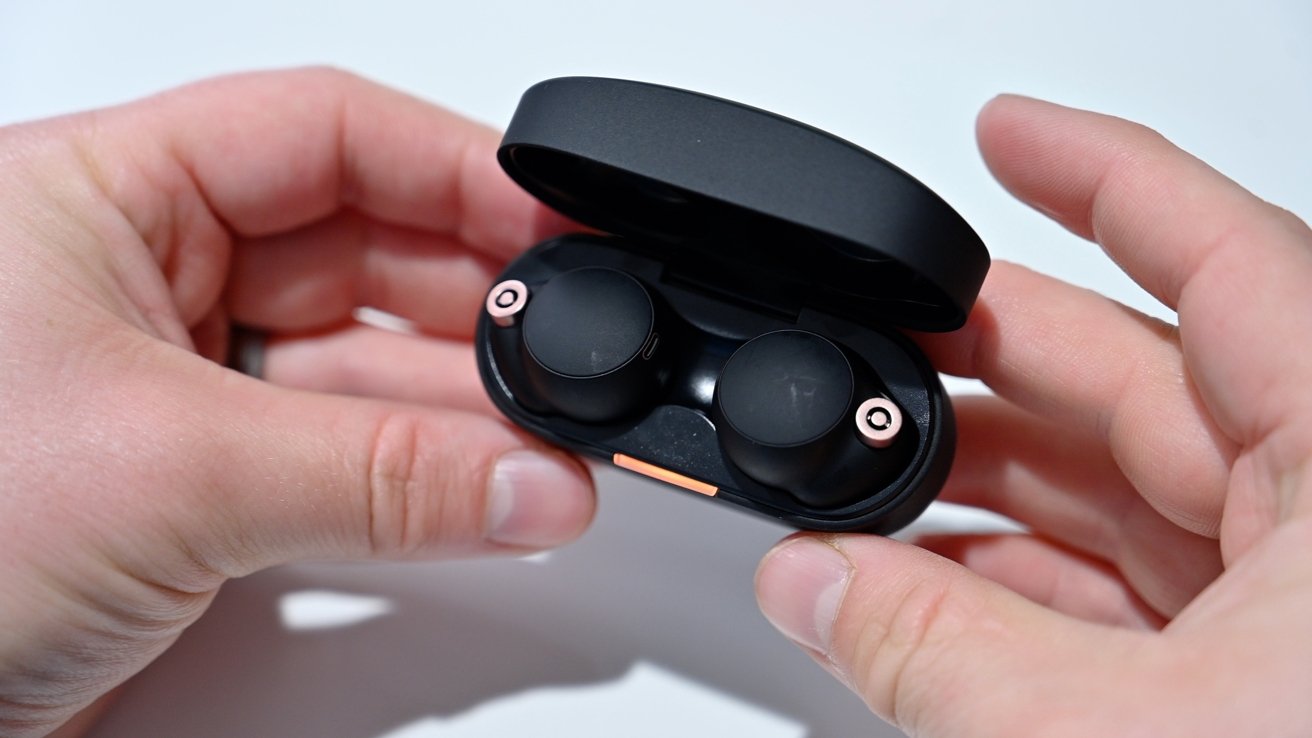 Sony WF-1000XM4 in their case
Sony does pull ahead slightly here on specifications, as it doesn't just rely on two microphones. The use of bone conduction sensors means the earbuds can pick up the user's voice in more noisy environments, which is handy for calls and digital assistants.
There's also a Speak-to-Chat mode that uses voice detection to pause music playback automatically and to enable Ambient Sound. Sony intends this to allow users to enter brief conversations with others without needing to remove the earbuds.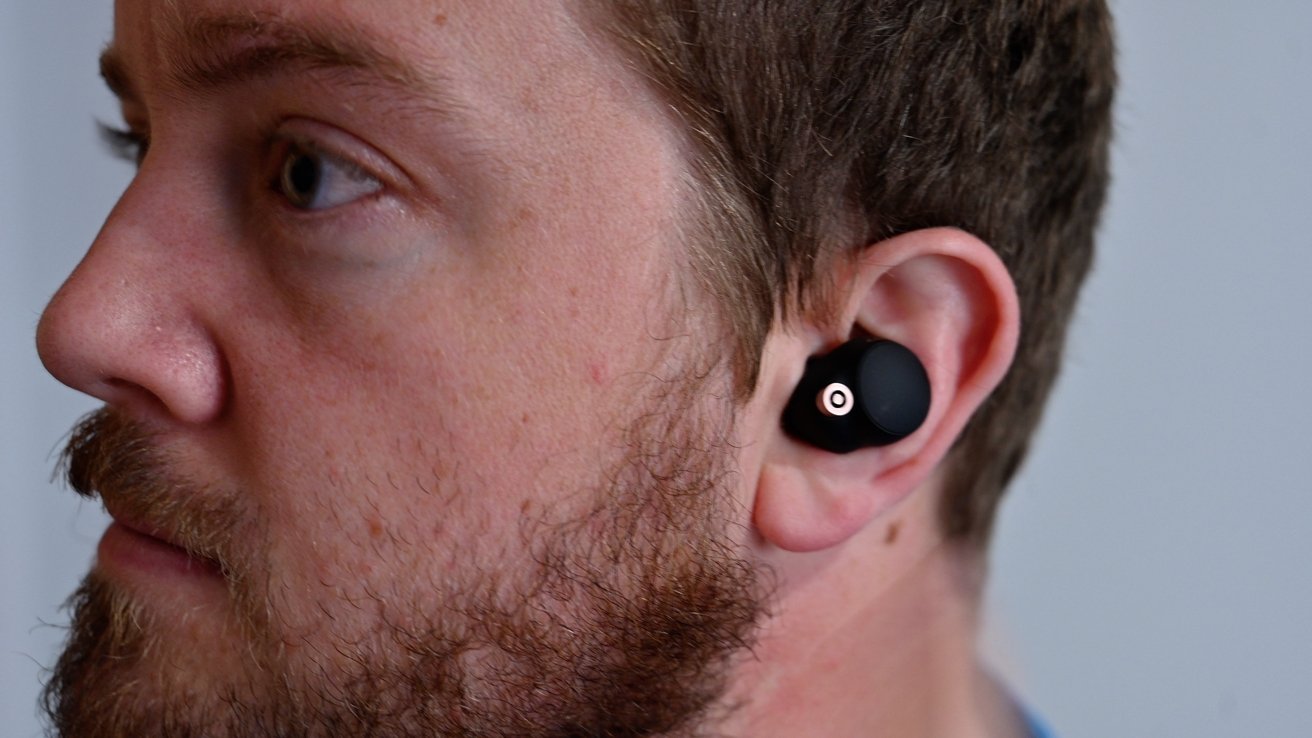 Wearing the Sony XM4
Sony has hands-free support for Google Assistant and Amazon's Alexa in terms of connectivity with digital assistants. Naturally, you have hands-free Siri support on the AirPods Pro.
For non-voice control of the earbuds, Sony uses the main circular area of the earbud as a touch sensor, with each able to be used to activate or turn off noise cancellation modes, to control music or the volume. These can also be configured via the companion app.
AirPods Pro vs Sony WF-1000XM4 - Cases and Battery Life
Both AirPods Pro and the XM4 include a wireless charging case, which can be recharged using a Qi wireless charger, or via a cable. Lighting in the case of AirPods Pro, USB-C for the XM4.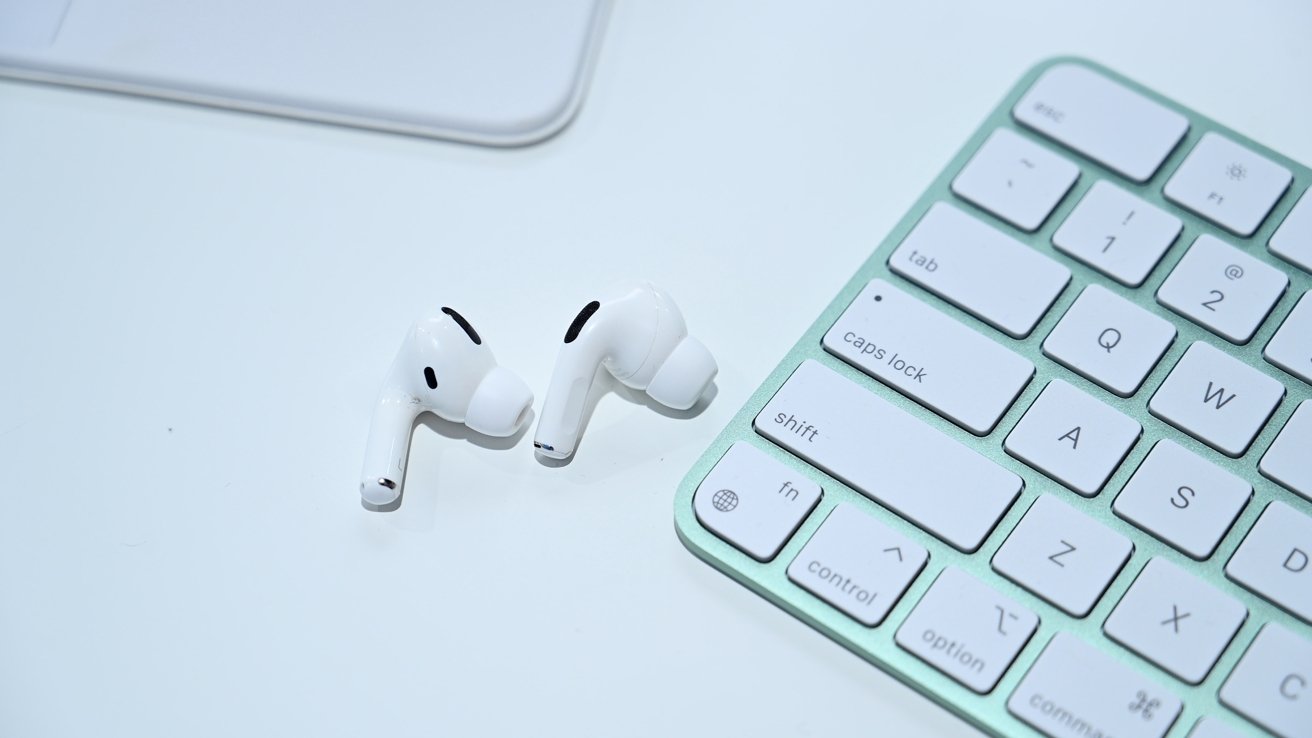 Our AirPods pro next to the new 24-inch iMac keyboard
The cases are also seemingly evenly matched when it comes to battery life, with Sony claiming up to 24 hours of total usage with its earbuds versus more than 24 hours for AirPods Pro.
Of course, this does depend on how you use the earbuds in the first place.
Used on their own, Apple claims the AirPods Pro can last for up to 4.5 hours of music playback with ANC turned on or 5 hours with it turned off. Sony's claim is 8 hours of usage with NC on, 12 hours with it off.
That is a big difference and gives Sony a notable advantage.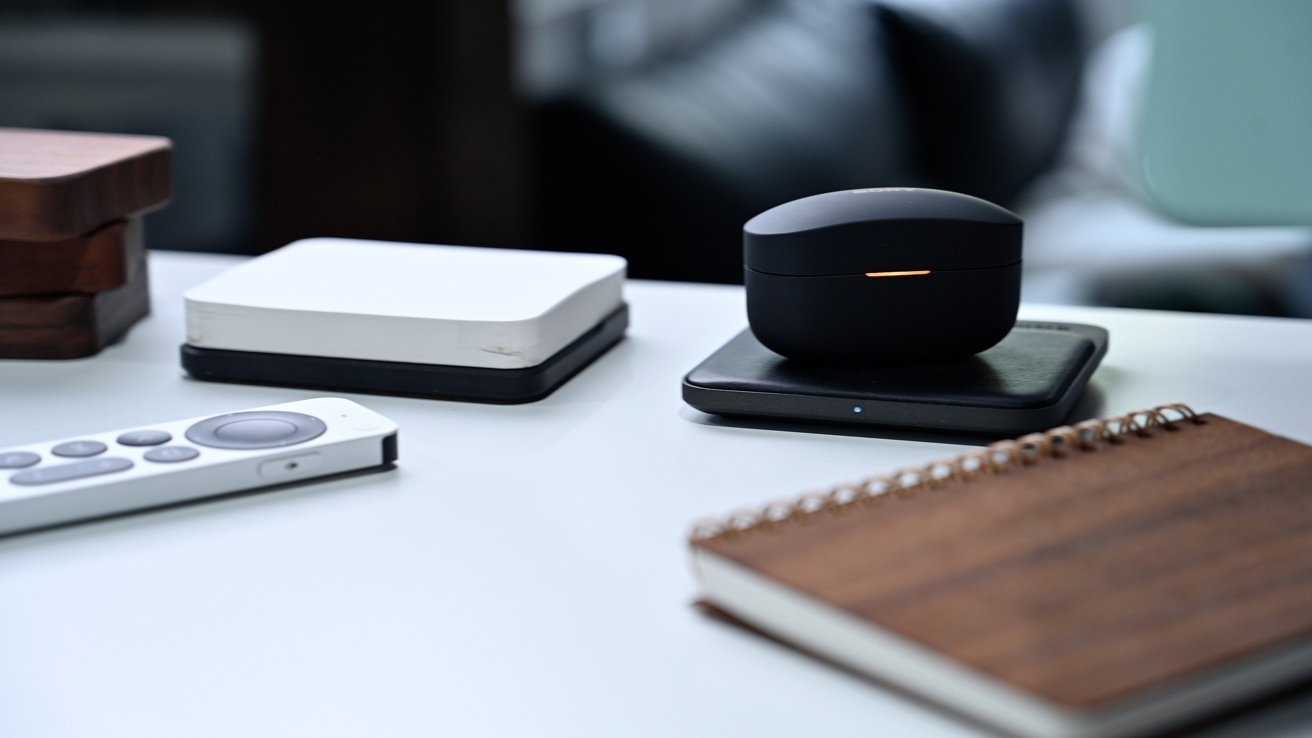 Wirelessly charging the Sony XM4 case
If we're going by talk time, things are a bit different. The AirPods Pro can up for up to 3.5 hours of talk time on a single charge, whereas Sony says 5.5 hours with NC on, 6 hours with NC off.
That single-use battery we think is more important than it seems. If, after a couple of years of frequent use, your battery health drops to 50%, you'll have AirPods Pro only lasting two hours. Versus the XM4 that will still boast more than 4 hours of usage time. For the time of purchase as well as for longevity, the Sony battery life wins out.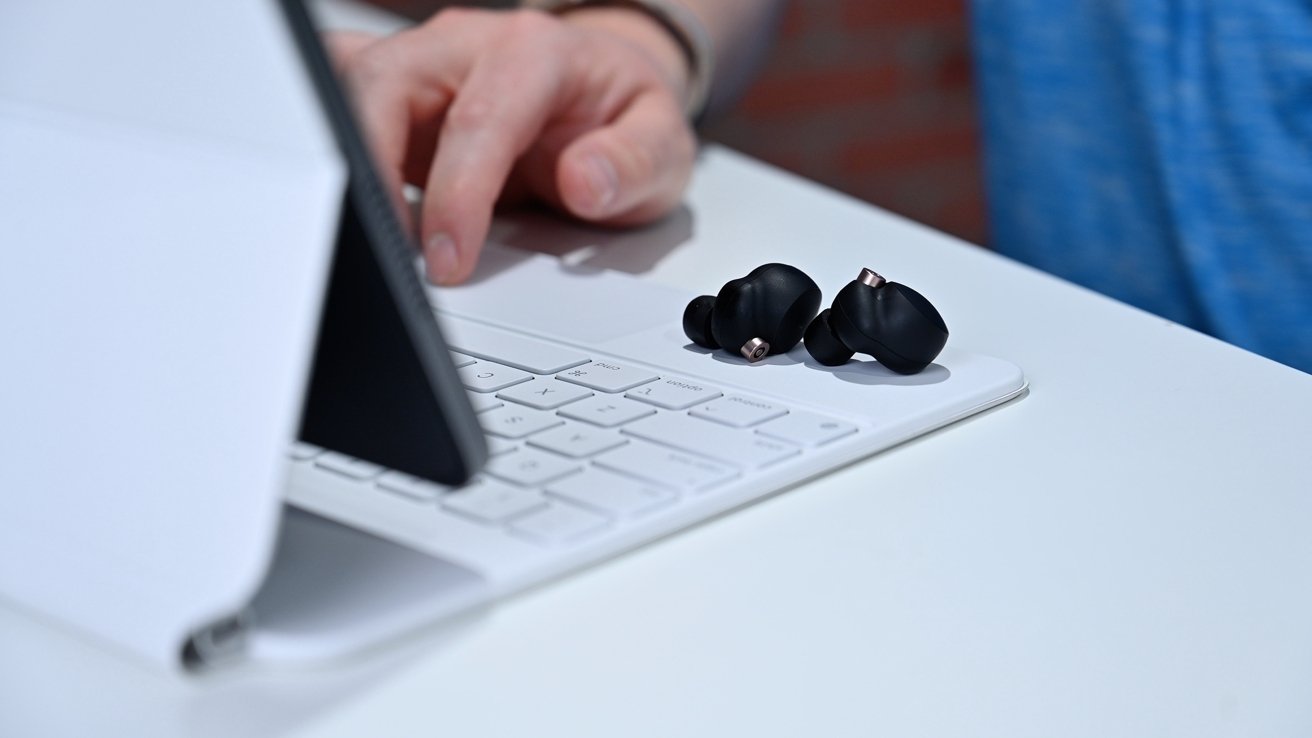 Sony XM4 on iPad Pro Magic Keyboard
The quick charging capabilities of the cases are comparable. Both sets of earphones and cases claim to recharge up to 60 minutes of play time from a five-minute charge.
AirPods Pro vs Sony WF-1000XM4 - Connectivity and Resistance
Both models connect to their host devices using Bluetooth, though Sony opts for the newer Bluetooth 5.2 versus Apple's use of Bluetooth 5.0.
AirPods Pro users will be familiar with the ability to get quickly up and running with personal audio accessories and their iPhone. Still, Sony has its tricks it can use. With support for Google's Fast Pair, the XM4 can be paired with an Android device with a single tap.
There's also support for Microsoft Swift Pair, for putting the Sony earbuds on a Windows 10 desktop.
Both models include sweat and water resistance corresponding to an IPX4 rating, which is an improvement on Sony's side from the XM3, which lacked any resistance at all. This does mean both the AirPods Pro and the XM4 are suitable for workouts and other sweat-generating experiences.
AirPods Pro vs Sony WF-1000XM4 - Audio Quality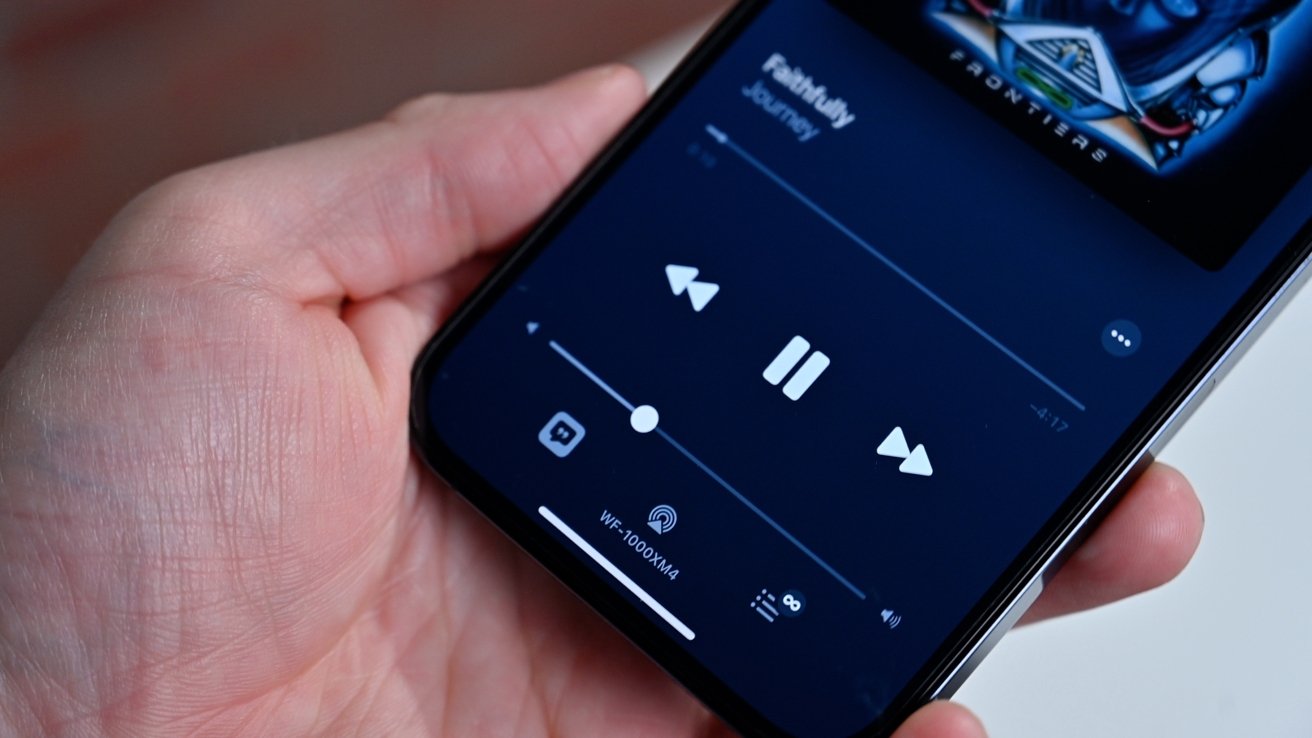 Listening to Apple Music on Sony XM4
Thanks to those newly-introduced 6mm drivers and larger size than Apple's buds, the Sony XM4 do offer significantly better audio than AirPods Pro. You can notice substantial bass in the tracks and an overall richer, fuller sound that puts a bit more space between the instruments and vocals.
When listening to music, there are certainly some differences in what the two earphone models offer.
Apple has its Adaptive EQ, a system for tuning the music to the shape of the user's ear, improving playback with a highly personalized experience. Apple also introduced Spatial Audio, a three-dimensional sound feature specific to its ecosystem that Sony cannot offer.
In Sony's corner, its Integrated Processor V1 is claimed to enhance sound quality, reduce distortion, and provide LDAC codec processing and Digital Sound Enhancement Engine (DSEE) Extreme.
While Sony can't offer Apple's Spatial Audio, it does have its version. Released before Spatial Audio and known as 360 Reality Audio, it is effectively the same thing. When paired with a supporting app such as Deezer or Tidal, users can hear 360-degree audio from all around them and provide much more space between audio layers that make you feel as if you are there.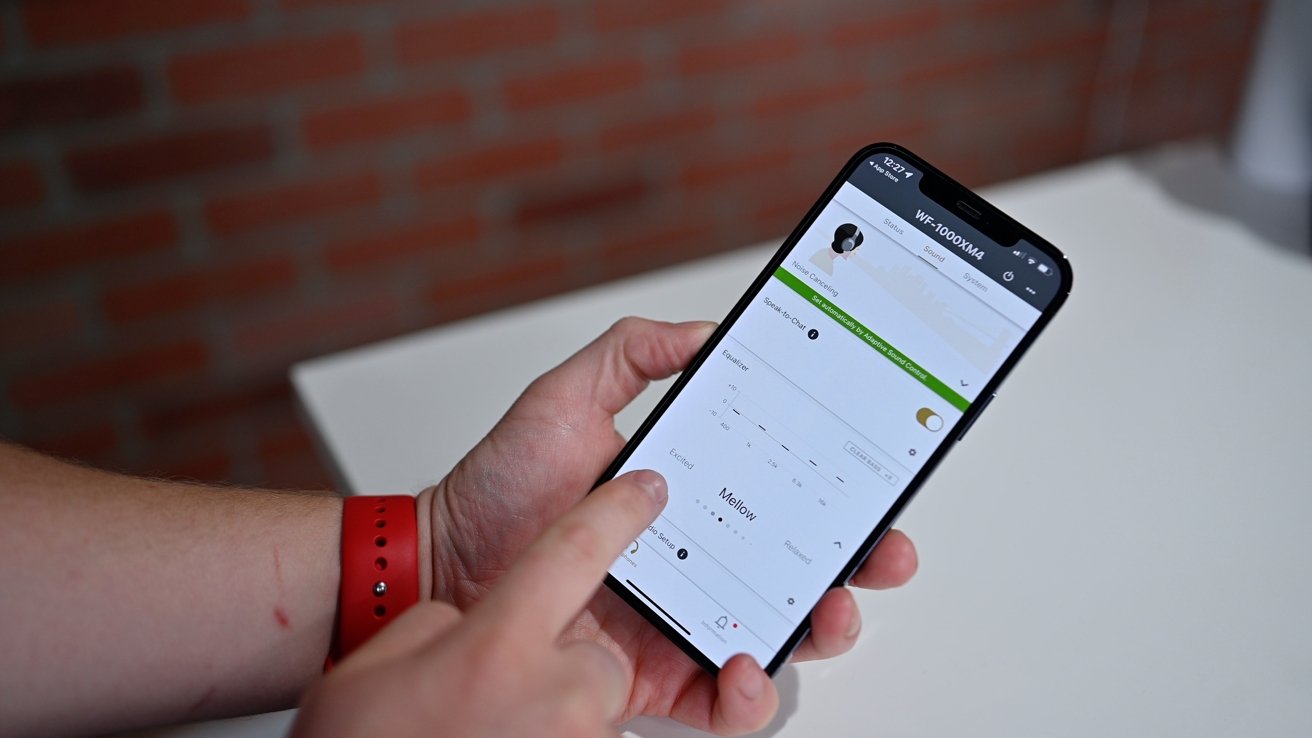 Sony XM4 have adjustable EQ
The accompanying headphone connect app from Sony also allows users to choose the EQ that best suits them and their audio type. There are several pre-built options to choose from, such as mellow, spoken word, or bass boost, or a user can craft a manual EQ setting.
While we tested these on our iPhone and other Apple devices, audio quality improves the XM4 on select Android devices. The XM4 includes a new version of high-quality Bluetooth streaming that Apple doesn't yet support, known as LDAC.
LDAC, which uses three times the data of conventional Bluetooth audio, can be used to listen to high-resolution audio to levels supposedly close to a wired connection, which is required for Apple Lossless. So while these already sound better than AirPods Pro, they get even better with a device that supports LDAC.
The inclusion of DSEE Extreme gives Sony the equivalent of video upscaling, but for compressed audio. The system dynamically recognizes genres, instruments, and song elements to restore high-range details typically lost in compression.
AirPods Pro vs Sony WF-1000XM4 - Price
At face value, Sony's pricing for the XM4 gives Apple a clear lead. Apple's AirPods Pro are priced at $249.99, complete with the wireless charging case, while Sony's WF-1000XM4 with the case costs $279.99, $30 more than Apple.
Those buying AirPods Pro can also get the case personalized with an engraving at no extra charge. On Sony's side, you do get a choice of black or silver, whereas the AirPods Pro are only offered in white.
AirPods Pro vs Sony WF-1000XM4 - SUMMARY TITLE
Based purely on the specs and performance, the Sony WF-1000XM4 are hands-down the better set of earbuds. They sound better (including supporting LDAC audio), have superior ANC, and notably better battery life.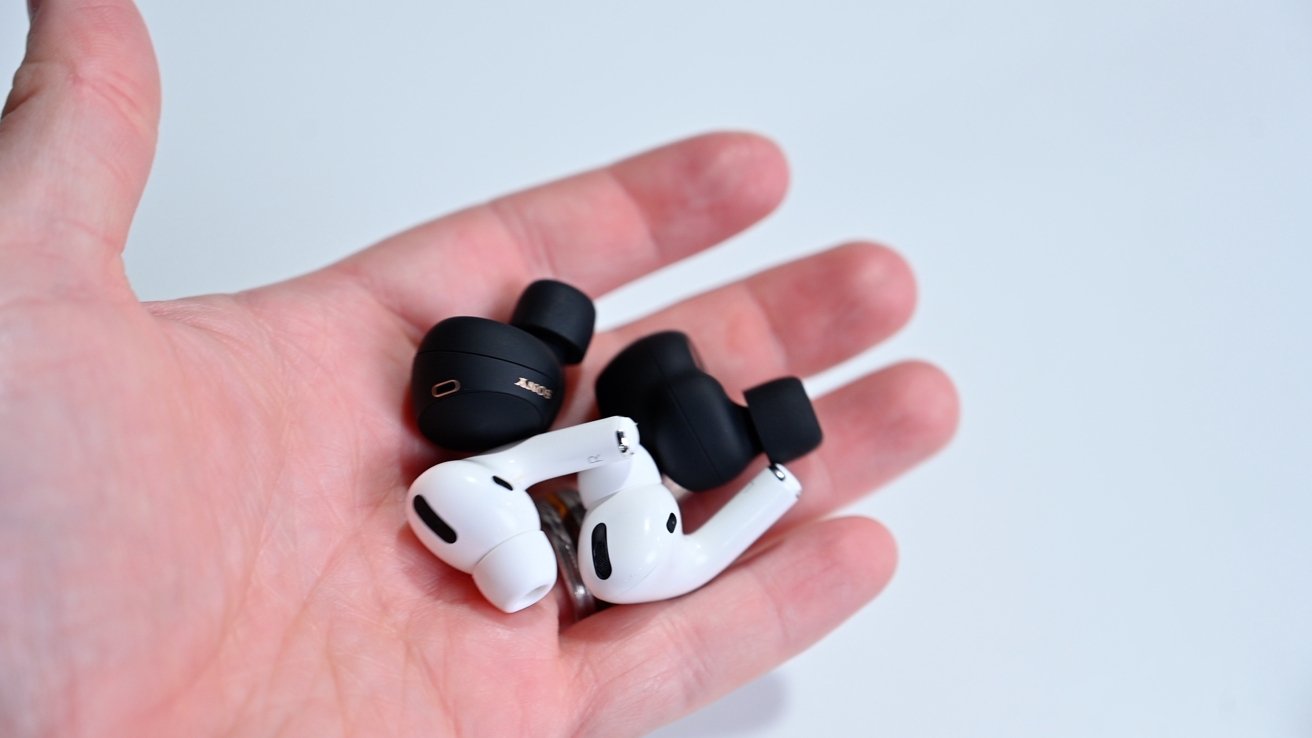 Apple's and Sony's earbuds
If you are buying for just the best sounding and performing headphones, you probably need to choose the Sony XM4.
That said, AirPods Pro benefit significantly from Apple's first-party ecosystem. The integration into Control Center, hands-free Siri support, effortless switching between all your Apple devices, and instant setup are hard to beat. Apple also continues to improve them over time. Later this year, Apple adds more features such as support for the Find My app, leave behind alerts, and Conversation Boost, among other new features.
If your goal is to get a set of headphones that perform very well and blend seamlessly with your assortment of Apple devices, then AirPods Pro remains the go-to.
Where to buy
Apple AirPods Pro are currently on sale, with the best AirPods Pro deals available in the
Appleinsider
AirPods Price Guide
.
Sony WF-1000XM4 Earbuds retail for $278 and can be ordered
from Amazon
, as well as
at Adorama
and
at B&H Photo
.
">