What tools keep AppleInsider staffers working from home
AppleInsider is staffed by folks from around the world, all working from home. So outside of our computers, here are our must-haves that have kept us going for years.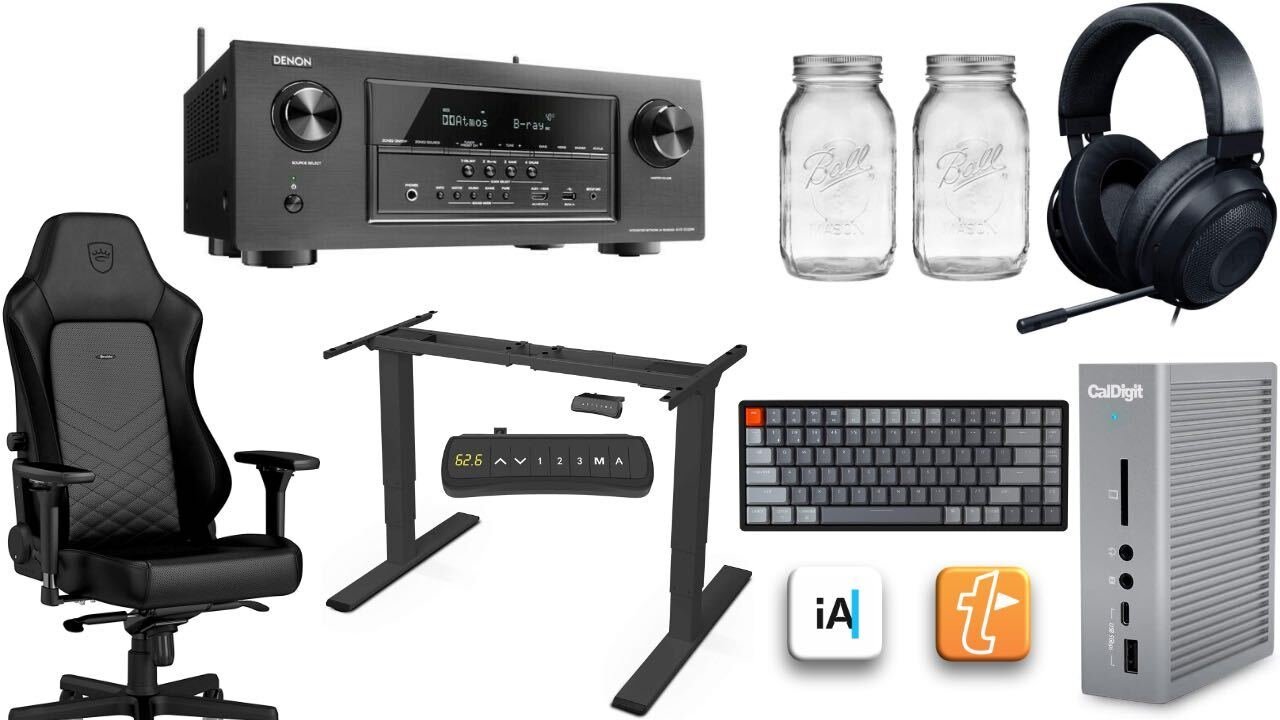 We get lots of emails, and in the more than a year since we showed you
our desks
, you've asked to know more about what goes on behind the scenes. As remote workers under new strain from the events of the last 20 months, we've all had to take a fresh eye at our setups and decide what works and what doesn't, which has led us to find certain indispensable items.
What keeps everyone at
AppleInsider
plugging away is unique to each of us. Some of us prioritize software, others hardware, and some couldn't go without a trusty accessory.
Beyond our primary computers, here's what
AppleInsider
staffers consider our favorite and most utilized tools and rely on when we're working
Mike Wuerthele
CalDigit TS3+ Thunderbolt 3 dock
At the hub of my MacBook Pro-centric workflow is Thunderbolt. One cable gives me power, networking, and so much more. So after testing dozens of Thunderbolt 3 docks when the 2016 MacBook Pro shipped, I purchased a CalDigit TS3+ Thunderbolt 3 dock instead of a fistful of dongles.
On the front, the CalDigit TS3+ has an SD card slot, audio in and out, a 5Gbit/sec USB 3.1 type C generation 1 port, and a USB 3.0 type A 5Gbit/sec port.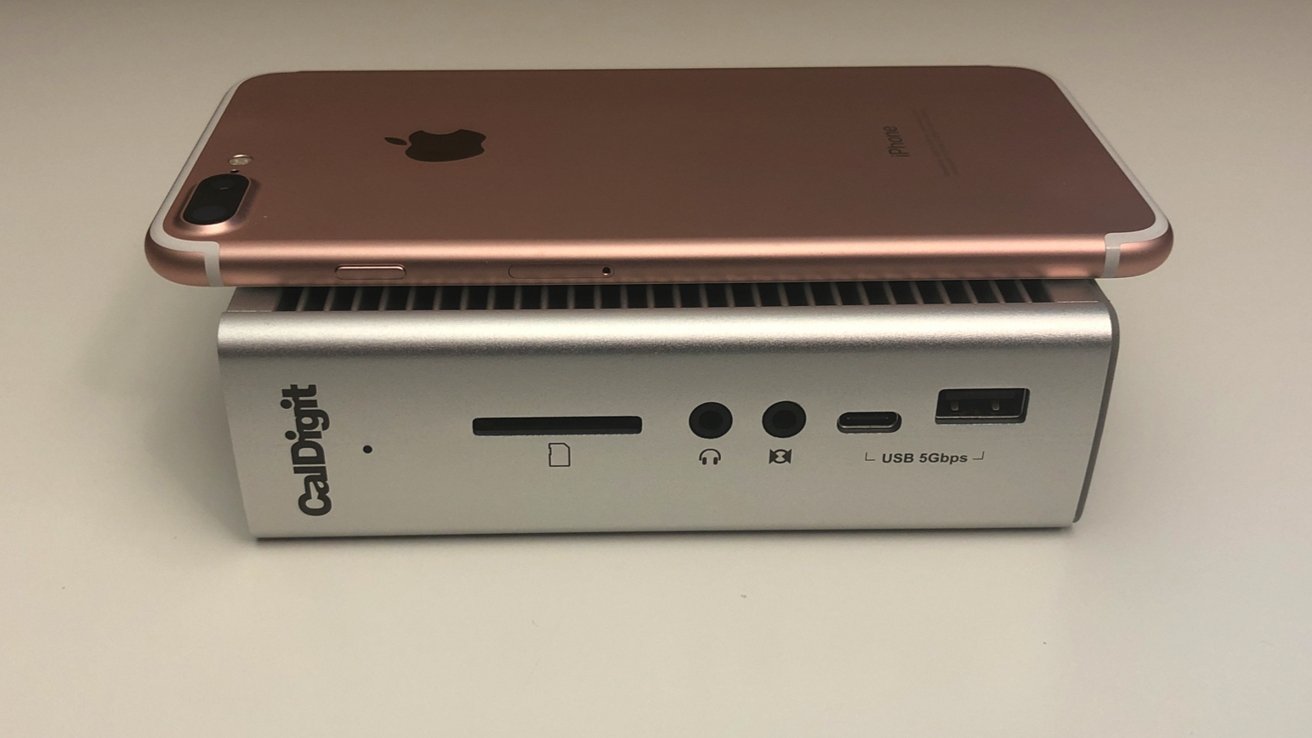 CalDigit TS3+ Thunderbolt 3 dock - no dongles!
Standard ports on the back include the two USB-C Thunderbolt 3 ports capable of providing 85W of charging power, four USB 3.0 Type-A ports, Gigabit Ethernet, and a 4K DisplayPort capable of 60 Hz refresh. Less common ports are a TOSlink optical audio connector and a USB 3.1 type C port capable of 10Gbit/sec data transfer.
The TS3+ Thunderbolt 3 dock is currently on backorder
for $269.99
at Adorama. At press time,
Amazon
is sold out of the dock.
Off-device storage
Now, I'm going to cheat. I told the rest of the staff not to include their work Mac, but I didn't say anything about a Mac used for something else. Because I work online, I make sure that I have backup hardware in case something drastic happens to my primary production Mac.
My backup machine is an M1 Mac mini. For now, it's being used as my home server.
From it, I serve my Plex-hosted media, I play Apple Music, and I store literally every word I've ever written on the Internet since 2004. That machine is the sole repository for a large amount of the words I've carved out because link rot and the death of online publications is a real thing.
With that library, I've been able to pull old quotes, retrieve old data, and reference old user surveys that are long since gone. And, I can see how far I've come from a first Internet-facing Mac game review's first draft in 2004.
Apple's M1 Mac mini normally starts at $799, but exclusive discounts bring the cost down to
as low as $635
, with bonus savings on AppleCare as well. Find coupon deals on every model in the
AppleInsider
M1 Mac mini Price Guide
.
Denon 4K receiver, and LG 32-inch 4K displays
When you start talking about displays, religious wars start. First, there's the "maximum area" crowd, who beef with the "pixel density" crew. This is compounded by the nit-picky, who demand that a display for inside use be 300, 500, or 900 nit.
What works for me -- and maybe only me -- is an
older AVR-S920W Denon 4K receiver
, piping the input from any one of five inputs to either of the
4K LG 32UK50T displays
that I own. Of course, there are many newer and more capable Denon receivers, but this one has the advantage of being set up for what I need and is already in the house. It has been replaced in Denon's product lineup twice, I think, and it will eventually die, but I think I'm going to stick with Denon for a while in this role.
What works for you may differ, which will not be the same for anybody else near you. If you need that Apple Pro Display XDR to edit your pictures of your dog and can afford it, go nuts.
If using a
50-inch television
as your primary work display is your jam, that's fine too. However, you need to realize that it is your solution, and there is no one truly best workstation for everybody, universally.
Oh, and Ikea furniture abounds. So much of it.
Mike Peterson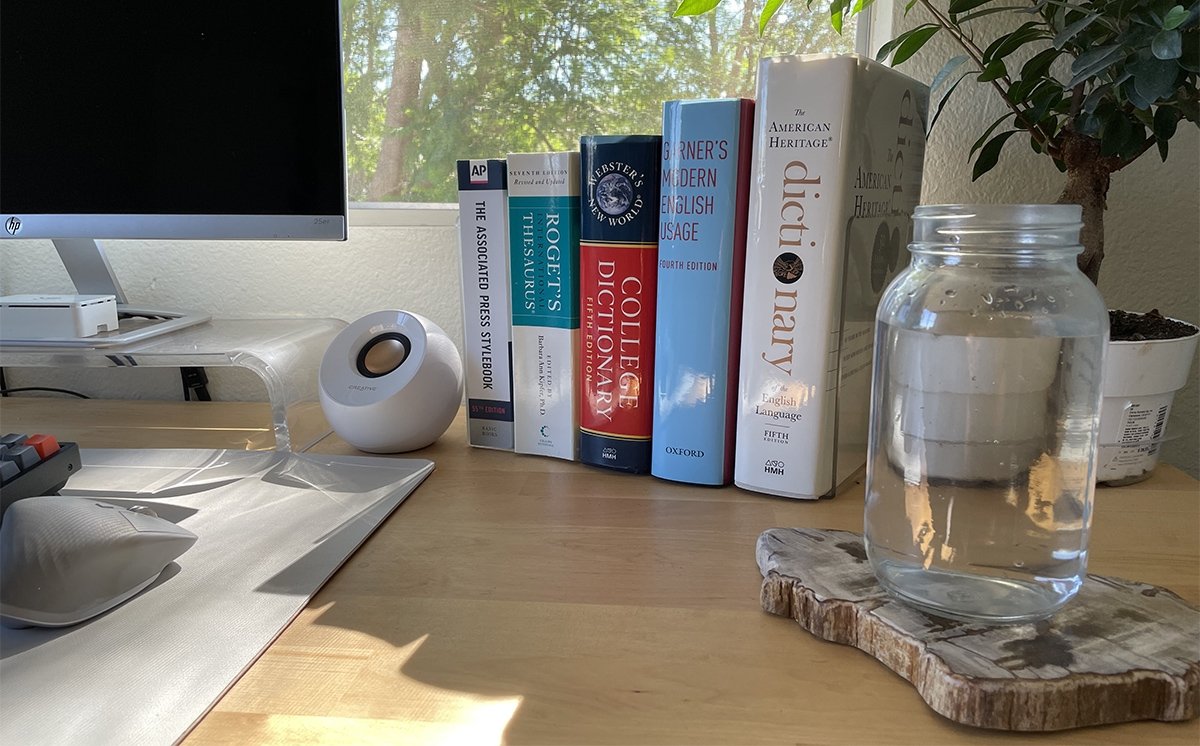 A few physical reference books and a 32oz Mason jar are some must-haves for Mike Peterson.
The tool that I use the most and have come to rely on is iA Writer. In my own opinion, it really blows other Markdown-style text editors out of the water for its barebones simplicity. I love how it grays out HTML code automatically, allowing me to focus on the news copy. I also appreciate that it's a
one-time purchase
.
I suppose the next most "critical tool" would be a pair of
32oz Mason jars
. I'm a big iced coffee drinker, and it never really gets cold enough in San Diego to warrant hot instead of cold coffee. I like to make coffee during the day, refrigerate it, and drink it the next morning.
A 32oz Mason jar is typically enough, though I'll drink some tea afterward if I'm tired enough. The second 32oz Mason jar is for water, and I'll fill it multiple times through the workday. Staying hydrated is essential!
Lastly, I'm a bit of a bibliophile, so I keep a few physical reference books on my desk. The most critical include an
AP Stylebook
, a
Roget's Thesaurus
, and a pair of dictionaries (an
American Heritage Dictionary
and a
Webster's New World
). I suffer from eyestrain when I stare at a screen too long, so the few seconds that I spend checking something in a physical book add up to be real eye-savers.
Of course, it isn't quite as fast as using Google, but when you're used to navigating a dictionary or thesaurus, it's speedy enough.
William Gallagher
I am life-support-dependent on
OmniFocus
, the To-Do app. Whether it's an assignment, a new commission, a stray idea, it goes into OmniFocus, and then I know I will get it done. More than a To-Do app, it's also a Can Be Done one, in that if I've got five minutes to make some calls, it can tell me all the calls I need to make.
So regardless of whether one phone call is for
AppleInsider
, another is to my bank, and a third is about ordering flowers, I can ask OmniFocus to show me all of them. Or everything I need to do when I next visit an Apple Store, whether that's for work or not.
This ability to slice and dice my work to show me what I have to do and what I can do is directly responsible for working while traveling. Except when I'm doing that, I need
Screens 4
. It's an app that lets me remote control my Mac from my iPad or my iPhone.
Then when I'm actually at my Mac, I don't believe it really is a Mac unless it has
Keyboard Maestro
installed. This is the overwhelmingly powerful Mac app that I must use in some way around 50 times a day, and I've not come close to learning all it can do.
But I can press a button on my Stream Deck, and Keyboard Maestro opens up all the apps I need for work, all the websites, turns on the office lights. As I write, it's Keyboard Maestro that takes text and wraps the right website URLs around it.
This app also takes certain repetitive jobs and really does them for me, taking text from different sites, performing regular expressions on them, collating the results into a Numbers spreadsheet, or a Drafts document, as I need.
Malcolm Owen
Flexispot Standing Desk Frame E5
I moved house in December 2020, and as such, it required a change of workspace to one that was less than 6 feet in either direction. So, after mulling over the advice of Mike Wuerthele of engineering the office to within an inch of its life, I took the opportunity to create the ideal office for years to come.
Part of it was the purchase (in the UK) of the
Flexispot Standing Desk Frame E5,
bought to use it with a kitchen counter to make a perfectly-sized large desk for the tiny room.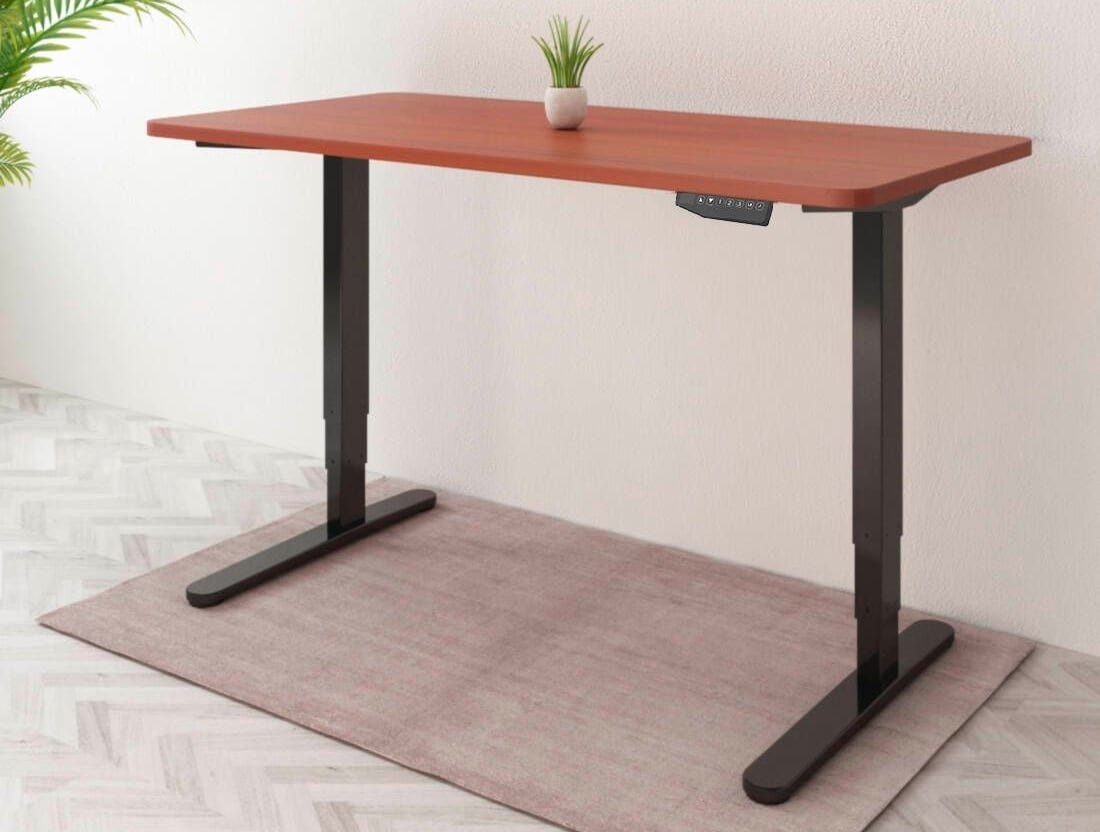 Malcolm paired his Flexispot E5 frame with a spare kitchen counter to perfectly fit his cramped office space.
The frame is impressive, with the ability to hold up to 300 pounds in weight, raising it between 24 inches and 49 inches using a motor and a desk-mounted controller. Push one of the memory buttons, and it will glide up or down to the requested height.
The intention was to encourage me to work standing up and save my poor back on long shifts. I'd say it's helped alleviate the back pain quite a bit, though the biggest bonus is being able to lift the desk so I can more easily manage cables.
Noblechairs Hero in Black and Blue
In any office-bound job, you're going to be stuck in an office chair for quite some time, especially so for home workers. As someone who has been working from home for nigh a decade, I certainly can appreciate a well-built chair, though my ample frame makes such purchases a nightmare.
Taking the chance to upgrade another part of the office as part of the move, I spent some money on the
Noblechairs Hero.
Capable of supporting up to 150kg (330 pounds) and being wider than typical gaming chairs, it is very capable of taking my weight and being comfortable at the same time.
It's a solidly-built chair, with a high degree of customization for the armrests and the back, though I'm not quite brave enough to do the full lean back yet. Even better, the back of the chair has integrated support, adjustable by a side dial, rather than the often-used adjustable cushion, which makes it look more premium.
The PU-Leather and blue stitching have so far stood up to the cats quite well, though I do have a small amount of remorse for not acquiring one of the more out-there designs, such as the "Doom" and the "Elder Scrolls Online" editions.
Razer Kraken Tournament Edition Gaming Headset
For the first few months at the house, the single glazing meant I had a background soundtrack of the road and its residents while working, which isn't great. So until our appointment for double glazing to be installed, I had to use headphones.
The
Razer Kraken Tournament Edition Gaming Headset
does the trick, with it being used as a typical pair of wired headphones connected to the headphone port on my 9.7-inch iPad Pro. It has nice comfy ear pads that don't press against my massive ears, and it provides more than enough audio grunt with its 50mm drivers.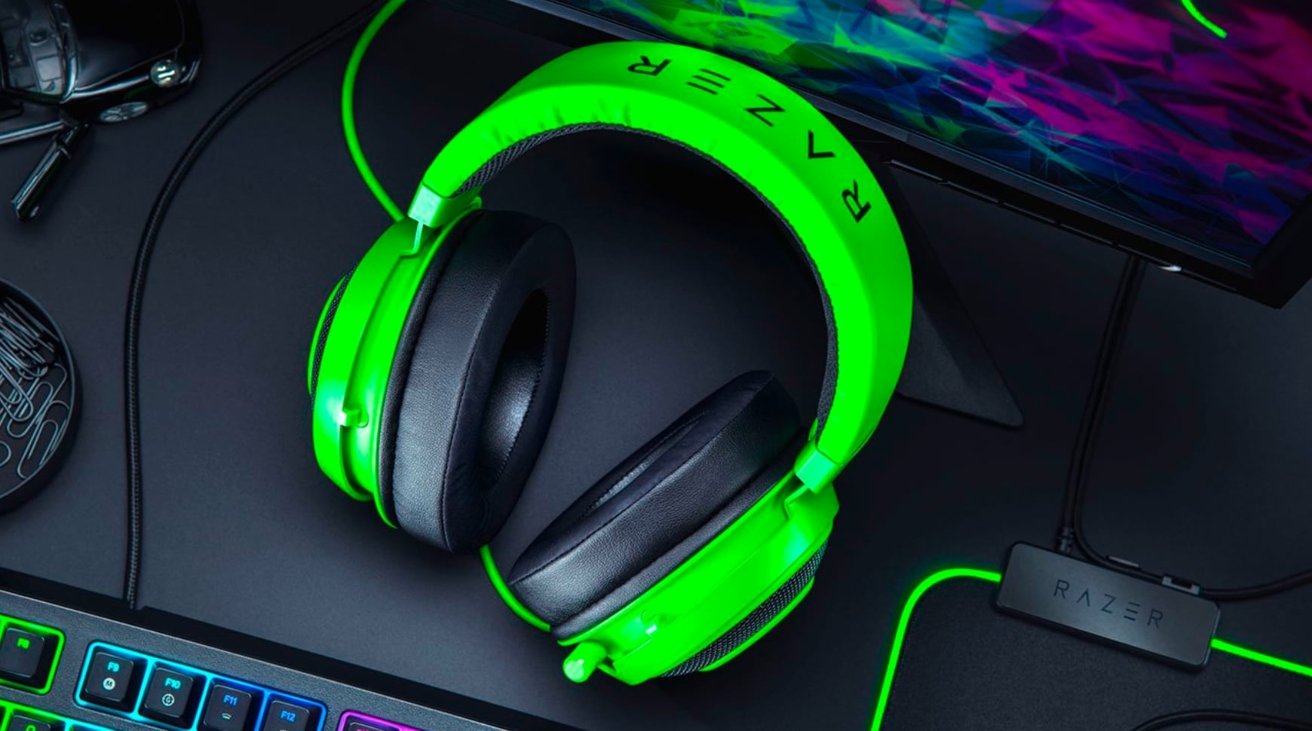 Sure, they're gamer headphones, but they're good enough for work. And yes, Malcolm has them in bright green.
It's not got active noise cancellation, nor does it do a fantastic job at blocking out the outside world, but it does enough to deaden it to give me some peace.
Admittedly the Tournament Edition was a bit of an extra, as I needed to replace the sound on the PC at the time of ordering. However, an included USB-based external soundcard was handy for solving that problem, complete with THX spatial audio for gaming, albeit less so for work.
Wes Hilliard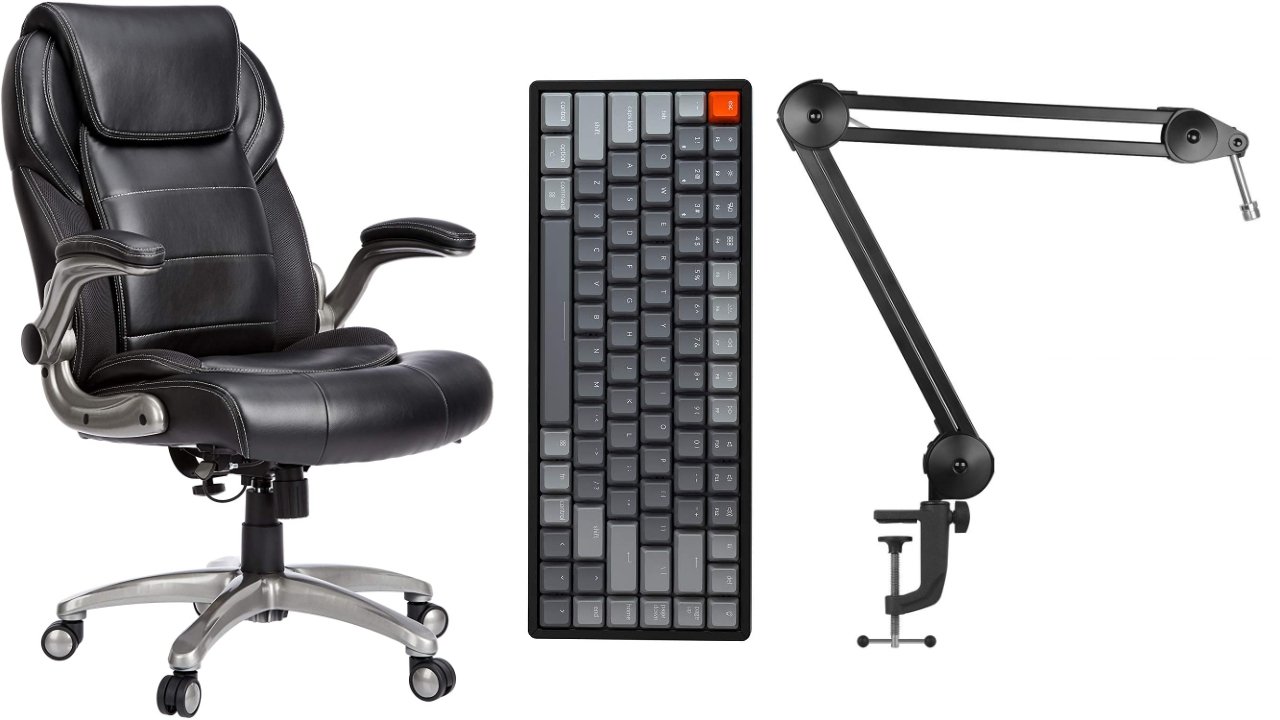 Wes' choices include a chair, keyboard, and mic boom
The most important thing you need in a proper work-from-home setup is a good chair. If you're not spending a decent amount of money on a chair, your back is going to pay for it in the long run.
I purchased my current chair in April 2020, and it has held up well in the past fifteen months of constant use. It is relatively cheap compared to high-end desk chairs, but I haven't injured myself yet.
It is the Amazon Commercial Ergonomic Desk Chair and it costs
only $179.71
. If you're looking for a good desk chair that doesn't break the bank, I can recommend this one.
Another mainstay of my desk is the Keychron K2 mechanical keyboard. I purchased the first version on a whim in 2019 and immediately fell in love with the compact design and features. I use red switches for a satisfying click, but not too loud.
The current model in use is the version 2
that I reviewed
in 2020. I've tested several keyboards since but always come back to using the Keychron K2 at my desk.
The Keychron K2 model I use is
$94.99 on Amazon
. I have plenty of little things to choose from at my desk, but I hoped to pick some less-covered devices for this write-up. One of my best purchases for podcasting from my desk is the InnoGear mic boom.
When I first started podcasting for
AppleInsider
, I had a twelve-dollar mic boom with a metal spring that made noise every time you moved. This wasn't going to cut it if I was going to be serious about podcasting.
Mic booms can cost hundreds if you buy high-end professional gear, but I wanted to keep things simple while accomplishing the same goals. I ordered the Innogear mic arm boom for
$48.99 on Amazon
, and it is perfect for my desk.
This boom has 360-degrees of swing and can clamp anywhere on your desk. I like that it has built-in cable routing to keep everything set up and clean-looking between uses.
Read on AppleInsider