iPhone 13 mini review: The most powerful small smartphone on the market
Posted:
in iPhone
edited September 2021
The
iPhone 13 mini
has both fans and detractors of its size, and has spawned debates about where it fits in Apple's lineup -- but there's no denying that it's a flagship smartphone.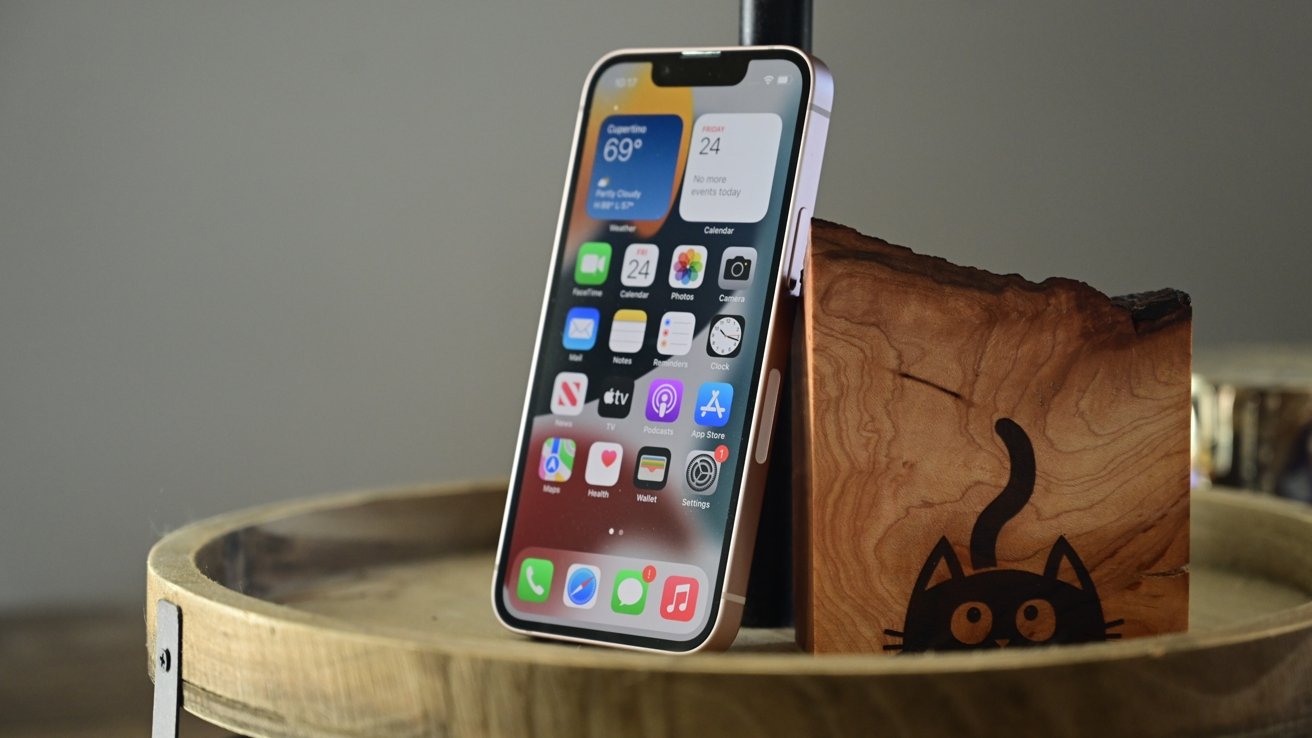 Apple's iPhone 13 mini -- the fastest and best small smartphone
Once upon a time, we all had mini iPhones. The original iPhone was sleek metal and plastic, and was smaller than every iPhone currently shipping.
Times changed. The iPhone 5 got bigger, and the iPhone 6 Plus, bigger still.
In 2020, Apple decided it was time to roll back the incredible enlarging iPhone to appeal to the folks looking for a smaller, more pocketable model. It then released the
iPhone 12 mini
.
Fans of the form factor expected it to blow the doors off the place, and set new records for iPhone sales. It didn't appear to set those records by any visible measure, with the iPhone 12 Pro taking that crown for the year after the early success of the largest phone.
Rumors of production stops happen every year. They're generally accurate, but more reflect the stock that Apple holds, versus what it expects to need for the next six months to year after initial shipment. Those rumors happened
months earlier
for the iPhone 12 mini than any other model, all in a blockbuster iPhone year.
This all said, Apple (obviously) didn't cancel the size in 2020. Just less than two weeks ago, it debuted the iPhone 13 mini -- which may be the last of its kind.
iPhone 13 mini, in person
Arriving alongside its larger iPhone 13,
iPhone 13 Pro
, and iPhone 13 Pro Max stablemates, the iPhone 13 mini offers nearly all of the features as the other three, but in a more pocketable package. It certainly does a lot to meet up to its "mini" designation.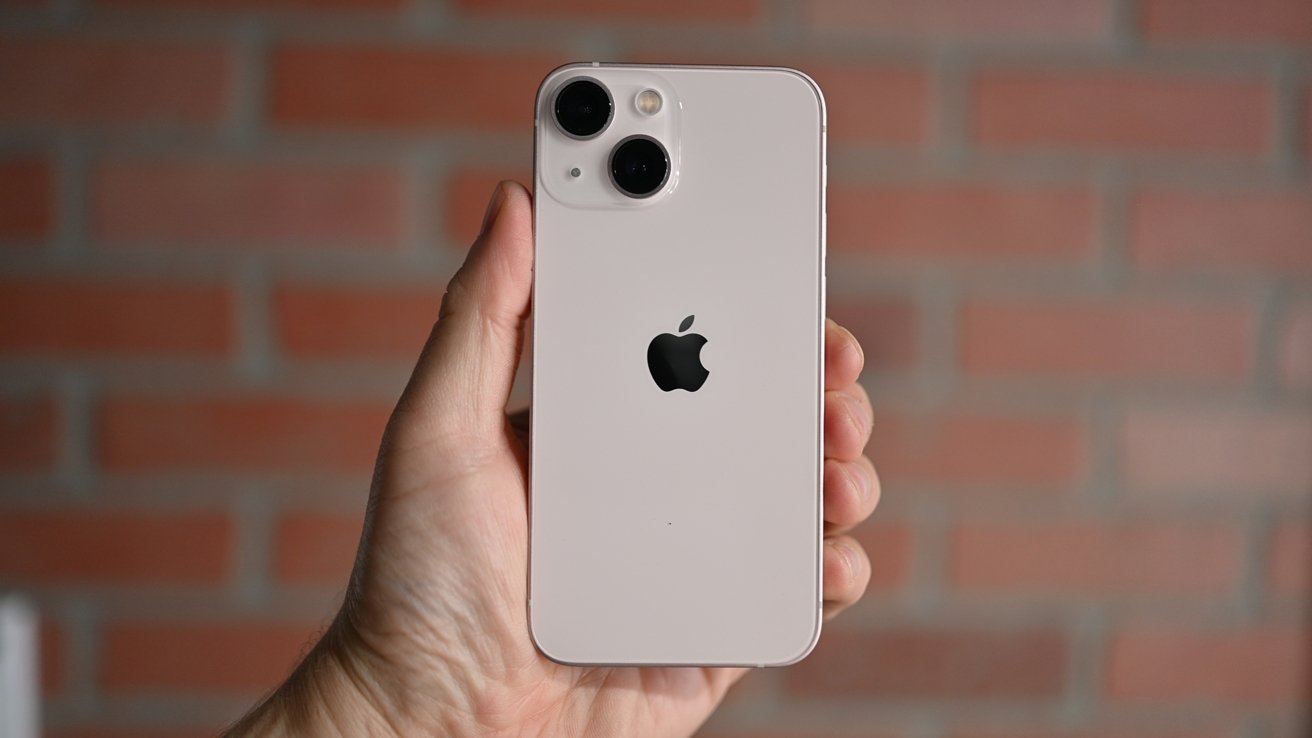 Holding the pink iPhone 13 mini
Not much has changed since last year to the casual observer. It's still an iPhone with a 5.4-inch Super Retina XDR display, and a compact one at that. It all fits in a package measuring 5.18 inches tall by 2.53 inches wide, 0.3 inches thick, and weighing a light 4.97 ounces.
This may seem familiar to those who have seen the iPhone 12 mini, as the dimensions of its aerospace-grade aluminum and Ceramic Shield-protected glass body are practically identical, save for a little more weight and a marginally thicker casing.
It's quite easy to casually skim over the specifications sheet and see there's not really that much change in 2021. Many elements of the iPhone 13 mini are ripped straight from the iPhone 12 mini.
iPhone 13 mini specifications vs iPhone 12 mini
iPhone 12 mini
iPhone 13 mini
Price (starting)
$599
$699
Dimensions (inches)
5.18 x 2.53 x 0.29
5.18 x 2.53 x 0.30
Weight (ounces)
4.76
4.97
Processor
A14 Bionic
A15 Bionic
Storage
64GB, 128GB, 256GB
128GB, 256GB, 512GB
Display type
5.4-inch Super Retina XDR
5.4-inch Super Retina XDR
Resolution
2,340 x 1,080 at 476ppi
2,340 x 1,080 at 476ppi
True Tone
Yes
Yes
Biometrics
Face ID
Face ID
Connectivity
5G (Sub-6GHz and mmWave)
Gigabit-class LTE
Wi-Fi 6
Bluetooth 5.0
5G (Sub-6GHz and mmWave)
Gigabit-class LTE
Wi-Fi 6
Bluetooth 5.0
Rear Cameras
12MP Ultra Wide
12MP Wide
12MP Ultra Wide
12MP Wide
Video
4K 60fps,
4K 30fps HDR with Dolby Vision,
1080p 240fps Slo-Mo
4K 60fps,
4K 60fps HDR with Dolby Vision,
1080p 240fps Slo-Mo
Sensor-shift optical image stabilization

Front Camera
12MP TrueDepth
12MP TrueDepth
Battery Size (Video playback time)
Up to 15 hours
Up to 17 hours
Colors
Black, White, Blue, Green, Purple, (Product)Red
Midnight, Starlight, Pink, Blue, (Product)Red
A very familiar package
Casual observers just looking at the front of the iPhone 13 mini will struggle to see any major differences, but there are some key differences this time around. For a start, the notch at the top is approximately 20% smaller, thanks to Apple's shifting around of the components.
The other real clue that it's the iPhone 13 generation are the cameras, as instead of vertically aligning them, they're now placed in diagonally-opposite corners of the square camera bump. This not only gives each camera assembly a little more room inside the case, but it also makes it obvious which generation iPhone mini it is.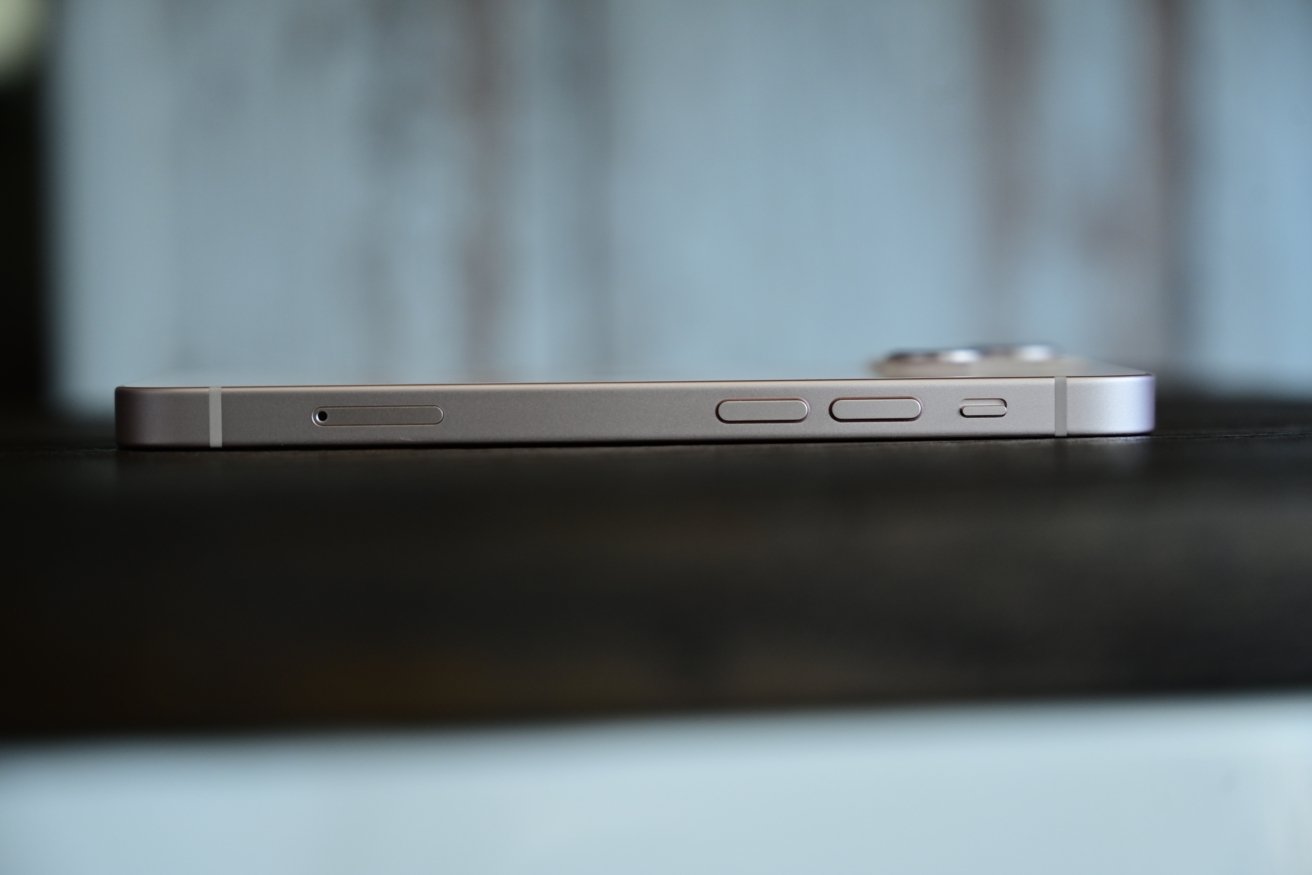 Profile shot of the new iPhone 13 mini
As you would expect, that 5.4-inch display isn't really that different from the iPhone 12, with its 2,340 by 1,080 resolution identical to last time. There's still HDR support, complete with a 2 million to 1 contrast ratio, Wide color display (P3) support, and True Tone, again brought over from the previous generation.
The difference here, aside from a few more pixels from the notch, is in its brightness. You still get 1,200 nits of maximum brightness for HDR content, but the peak brightness for typical non-HDR content has been pushed up to 800 nits from 625.
This all results in an iPhone 13 mini that is brighter and more capable of fending off intense sunlight than its predecessors. We tested this outdoors, side-by-side here in the very early fall daylight, and did see the difference, but it was very, very close.
It was obvious on a
TES 137 light meter
, but less so to the naked eye. We got a peak reading of 791 nit on the iPhone 13 with the meter, and 604 on the year-old iPhone 12 mini.
Cinematic camera alterations
Aside from the cameras on the back having a slightly different arrangement than last time, there's not really that much change from previous models here.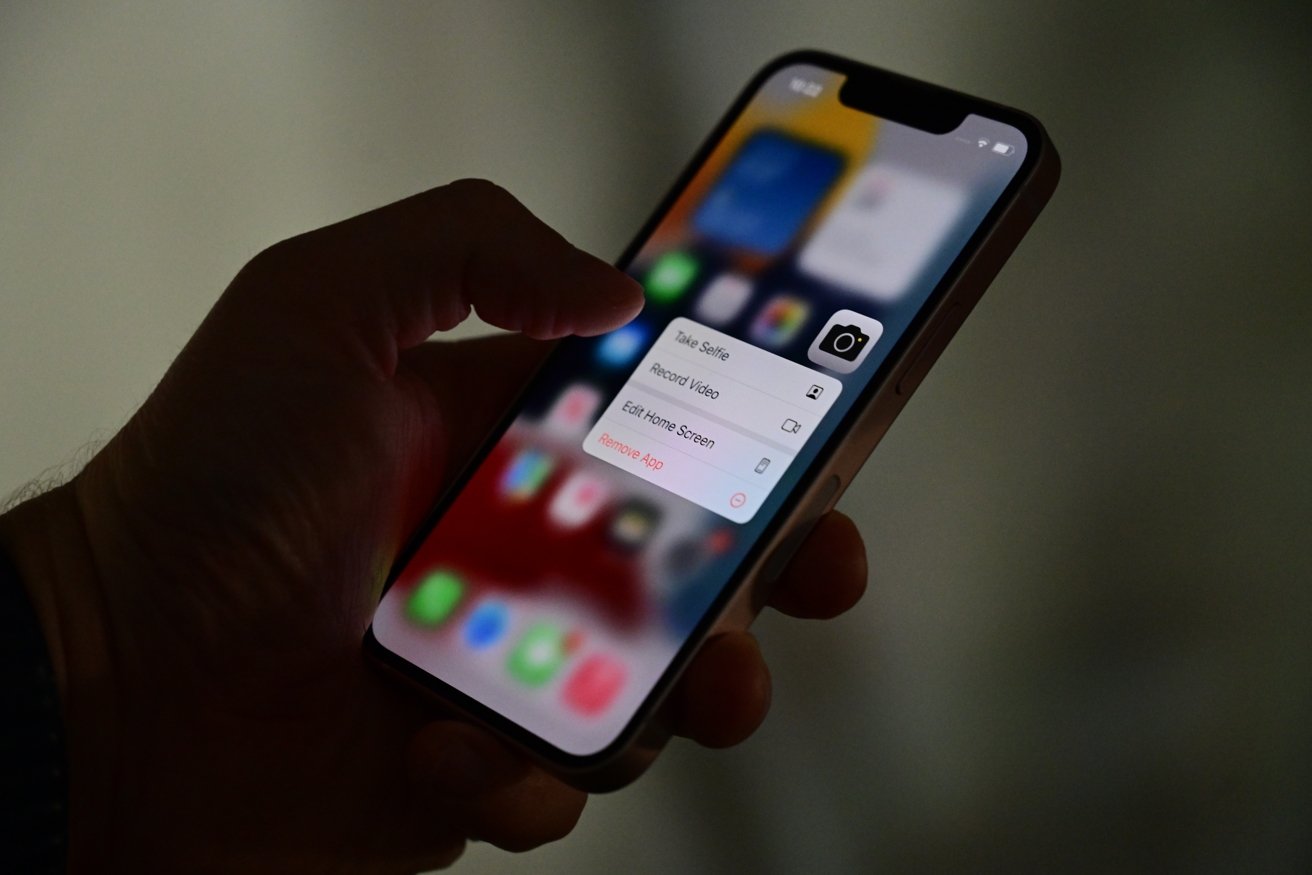 Launching the iPhone 13 camera app
You're getting a dual 12-megapixel camera system, consisting of a Wide f/1.6 camera and an Ultra Wide f/2.4 lens. You're getting 2x optical zoom out and a 5x digital zoom. You're getting True Tone flash with Slow Sync.
All of the expected bells and whistles are also present, including Night Mode, Deep Fusion photography, Portrait Mode, and Portrait Lighting. But that's where things start to branch off.
For a start, you have Smart HDR 4 instead of Smart HDR 3, which is an improvement at the very least. Add in the new Photographic Styles feature, which takes advantage of computational photography to provide more control over contrast and vibrance of a shot with live filters, and things become much more interesting.
The optical image stabilization has also been beefed up, with Apple employing the iPhone 12 Pro Max's Sensor Shift on the Wide camera sensor for even steadier shots. There's also the increased light gathering of both sensors, for clearer low-light shots.
It becomes even more exciting over on the video side. Sure, you've still got 4K video at 60fps and 1080p 240fps Slo-Mo, but now HDR video with Dolby Vision supports 4K 60fps, not 30fps.
There's still Audio Zoom, a 2x optical zoom out, and 3x digital zoom for video, which are nice. The addition of Cinematic Mode will be the main attention-grabbing feature of this generation.
The automated focus-pulling of shallow depth of field video between subjects is the highlight addition for 2021, and opens up the possibilities for amateur video makers who want the same effects without buying a DSLR or expensive Mirrorless camera gear.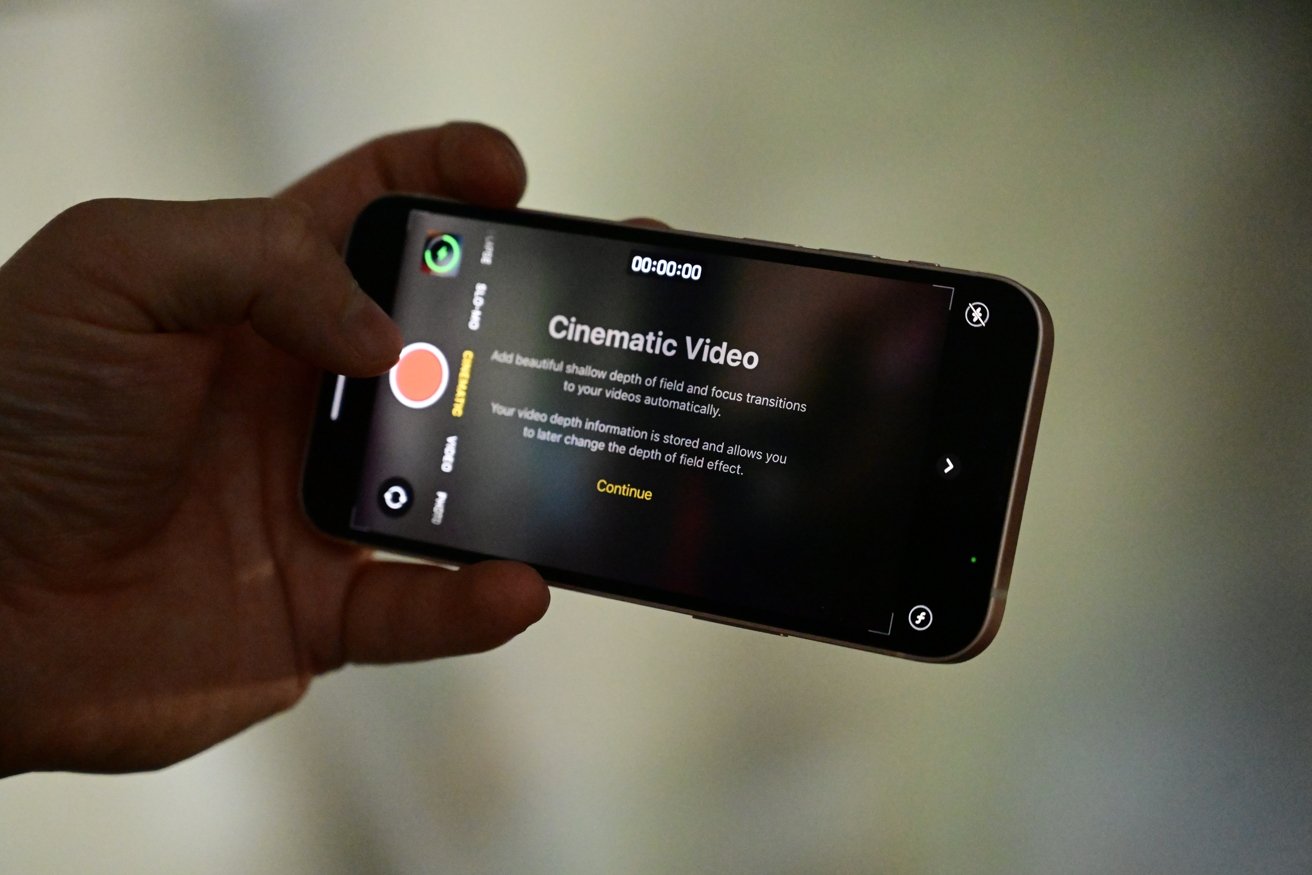 Launching Cinematic Mode for the first time
It's pretty good, but not perfect -- yet. Like with early Portrait Mode shots, if you have an area completely enclosed by your subject, say a loop of hair, or arms on hips, the area that can be seen through that gap is in focus. Distracting, but not a deal-breaker for the first generation of the feature.
Regardless of that, and the 1080p 30fps shooting limitation, Cinematic Mode is still an impressive addition. We'll be talking more about this feature very soon.
Smaller notch, better TrueDepth camera
We've already covered the smaller notch arrangement, which is largely for aesthetics and to marginally increase how much of the screen you can actually see on the iPhone. But, there are improvements here too.
The 12-megapixel TrueDepth camera offers an f/2.2 aperture, Retina flash, Portrait Mode, Lighting mode, Night Mode, Deep Fusion, QuickTake video, and Animoji and Memoji support. No real surprises.
However, it also gains Smart HDR 4 for photographs, like the rear cameras, as well as Photographic Styles. You even get Cinematic Mode, with the depth mapping capabilities of TrueDepth most likely helping improve the results of the feature.
There's also 4K 60fps video, HDR Dolby Vision at the same rate and resolution, and 1080p 120fps slo-mo, rounding out its capabilities.
These improvements to the front camera are nice to have, but the attention will almost certainly be around the back.
A15: An Expected Improvement
One thing you can't get away from is that Apple has upgraded from the A14 to the A15 Bionic, a refinement of its six-core CPU and 4-core GPU setup. This time, Apple claims the CPU is up to 50% faster than its nearest rival, while the new GPU is up to 30% faster.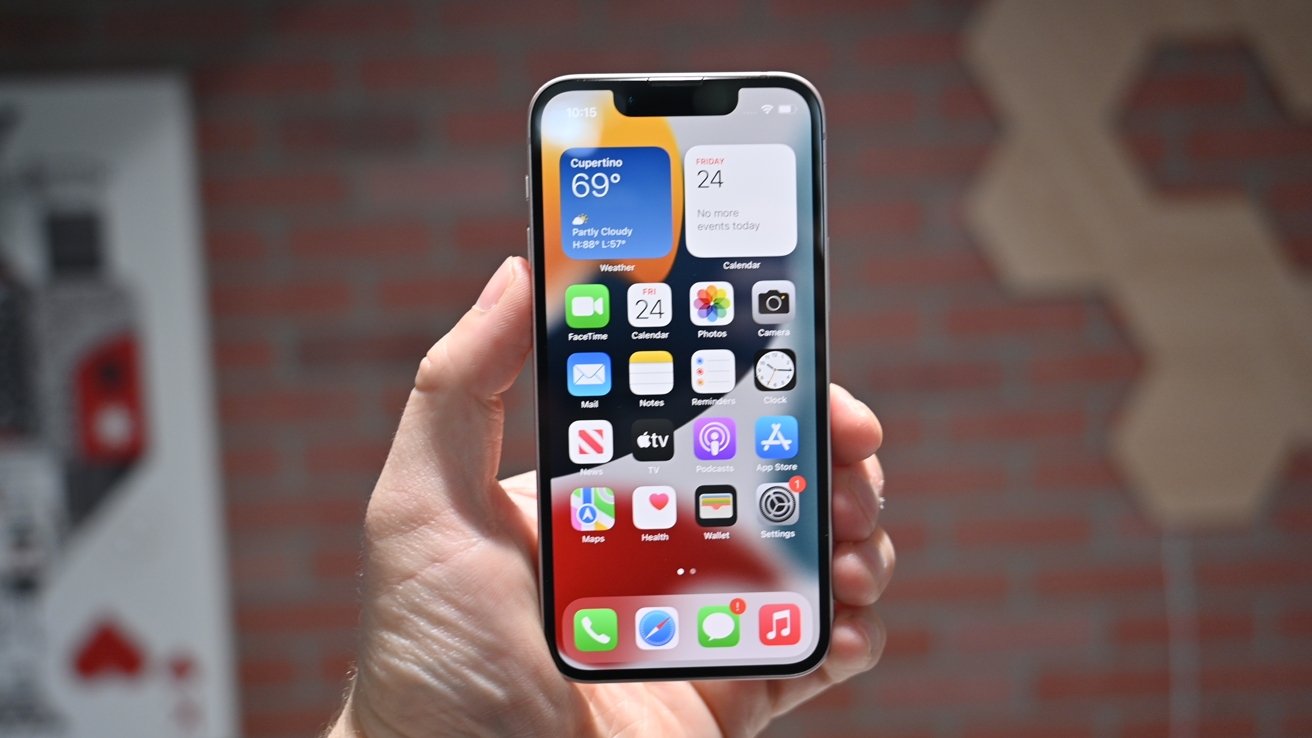 iPhone 13 mini
Then you've got the 16-core Neural Engine, again with improvements that enable it to process 15.8 trillion operations per second. There's also an upgraded Image Signal Processor, which can boost the computational photography of the iPhone.
This all means Apple's made what it considers to be the fastest chip in a smartphone, and one that can easily provide all the processing power you need to drive features like Cinematic Mode.
In terms of benchmarks, we ran a few Geekbench trials as well as the Antutu benchmark.
As far as benchmarks go, the iPhone 13 mini scored a 10712 compute score in GeekBench 5.0. Single-core performance was 1692, and multicore came in at 3888, with multiple runs not moving the scores much.
As a rough comparison, this is as fast single-core as the new iPad Pro, and about the same multicore results as the iPhone 12 Pro Max which outscored the iPhone 12 mini in 2020.
While it isn't quite a direct comparison, it is also faster single-core than the M1 Mac mini - Apple's speed champion for single-core processing. It is roughly the multi-core same speed as the 13-inch i7 MacBook Pro from 2018 and 2019.
The relatively new Geekbench ML benchmark hit 804. Looking at Antutu, the iPhone 13 mini pulled a cumulative 795,024.
5G, power, and other elements
One thing that certainly hasn't changed is Apple's choice of connectivity options for the iPhone 13 mini. There's still 5G, with the mmWave high-speed 5G in the US only, much to the consternation of
AppleInsider
's international staffers.
But, the real-world 5G speeds depend heavily on your carrier and your location. The 5G landscape is slightly different than it was at this time last year, but a vast rollout of the technology as it pertains to raw, deliverable speed will still take many years to build out.
There is the addition of dual eSIM support this time around, so users could do away with physical SIM cards entirely, though again, that does depend entirely on the carriers.
On more localized connectivity, you have Bluetooth 5.0, which is a slight bit of a letdown given that Bluetooth 5.1 exists. There's Wi-Fi 6 with MIMO, and the Ultra Wideband chip, which should get more use by consumers who have AirTags. Still no Wi-Fi 6e, though, which would have been good for future-proofing given the questionable future of the iPhone mini line as a continuing product.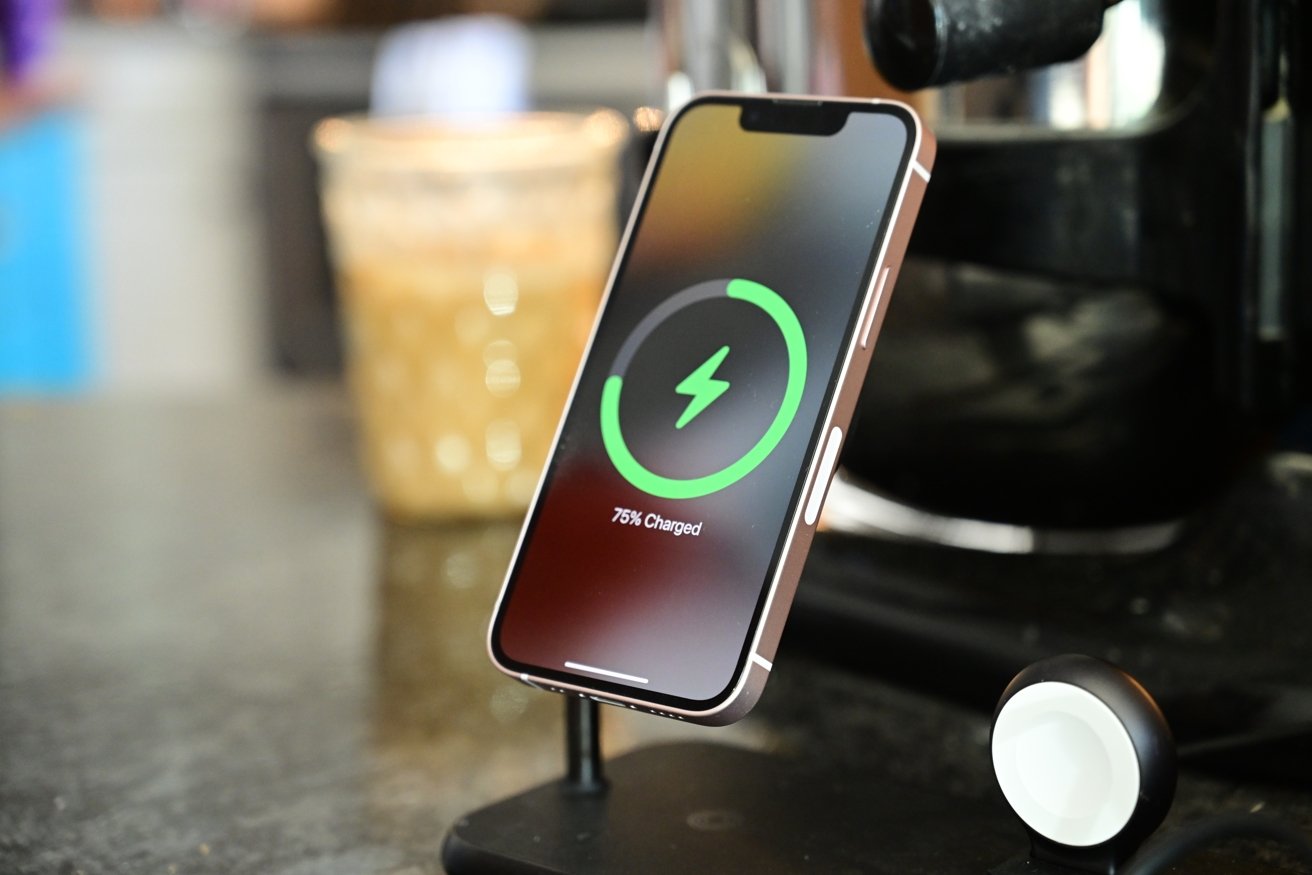 Up to 12W of MagSafe charging
For charging, there's still Lightning instead of the often-rumored shift over to USB-C, along with the still max 12W MagSafe. That means the iPhone 13 mini will be compatible with the MagSafe accessories that have landed on the market in the last year, size permitting of course.
We tested pull-strength versus the iPhone 12 mini, and they were about the same. Both lateral force and a straight perpendicular pull were about the same on both models without a case, as measured by a Chatillon DFX force meter at about 800 gram-force.
Battery has been given a bit of a boost, but not by that much. You can get a maximum of 17 hours of video playback, which is up from 15 hours last year, while audio playback lasts five hours more at up to 55 hours.
Our testing was in this ballpark, but your mileage may vary, depending on your workload and the computational demands that any given user puts on the device. Importantly, though, the first few days of use are pretty rough on battery life as the iPhone indexes and performs similar initial setup tasks as it is able.
Getting power into the iPhone 13 mini is still reasonably quick, with fast-charging of the first 50% of battery within 30 minutes. This of course depends on using a 20W or more powerful adapters, which those little one-inch cube USB-A ones from Apple absolutely are not.
More battery life is always going to be useful, and an extra two hours will be handy. It's not a massive jump, but since Apple has so little space to play with, it's still impressive.
Apple says that the iPhone 13 mini will survive a depth of six meters for up to 30 minutes, which is more than enough protection for most users who live near a swimming pool.
Yes, we depth-tested the iPhone 13 mini. After an incident involving a late-arriving meal, our test unit survived in just under eight meters of pool water treated with bromine for an hour and 10 minutes before we remembered to pull it out.
As a reminder, Apple will not repair water damaged phones under warranty, even if it was only splashed. So, don't try this at home.
But, if you decide to anyway, MagSafe is an excellent assist point for iPhone fishermen.
Storage, colors, and pricing
The data-driven world is a paradox. At the same time, we have greater demands on our storage than ever, and more cloud-based space at a click than ever before as well. This cloud-based storage is one factor that allowed for a (relatively) smooth transition to SSDs in the Mac from spinning hard drives.
As far as local storage goes, Apple has reconsidered that clout to local balance, and has started the iPhone 13 mini at 128GB, versus the previous staring point of 64GB in the iPhone 12 mini. This is far more local capacity for users, with a lot more breathing room than the left-over storage that you got in 64GB models.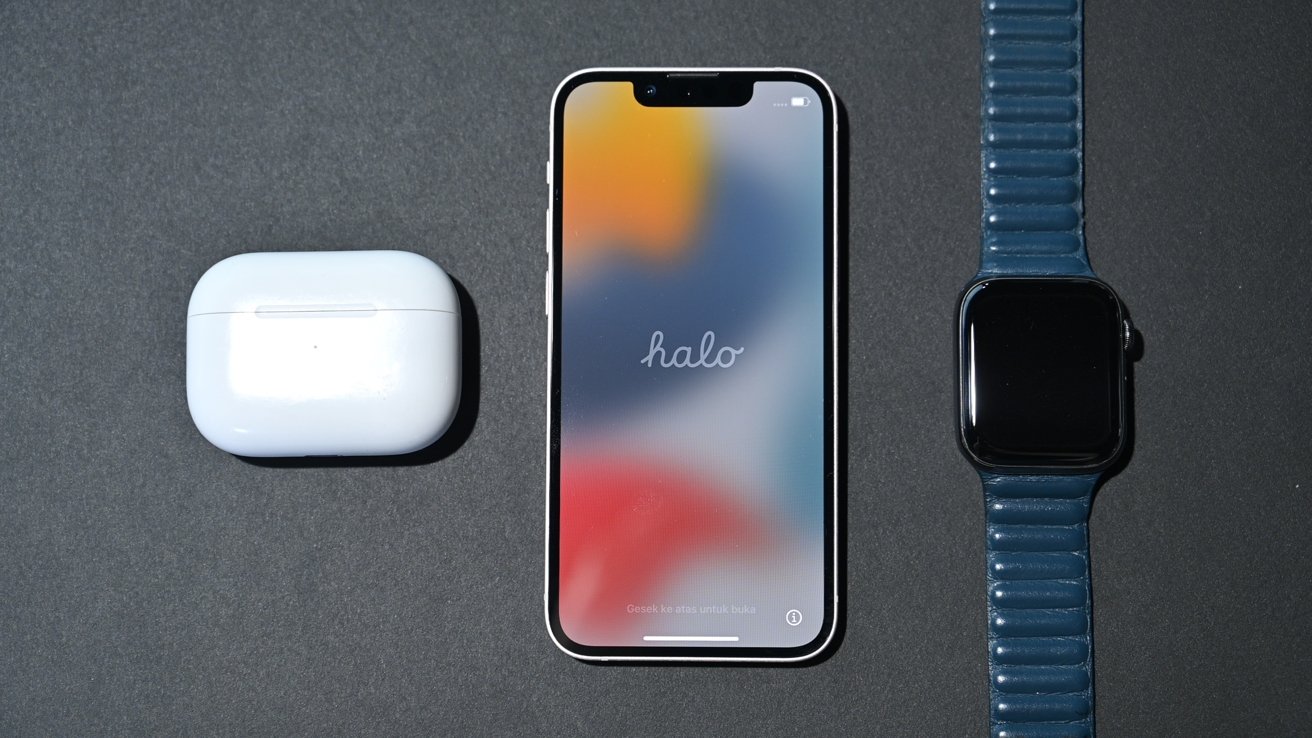 Welcome to iPhone 13 mini
The 128GB model
costs $699
, though if you pay $100 more, you can get 256GB, the previous-highest capacity you could get for a mini model.
For 2021, Apple has introduced a new upper limit, of a 512GB model for $999. That's a very specific need for that much storage in that size iPhone. It's also a steep premium to pay, considering that the iPhone 13 Pro starts at that same $999.
More on that model in the coming days, though.
A fantastic mini iPhone for a relatively small market
The major specifications of the iPhone 13 mini versus the iPhone 12 mini, with the exception of the expected A15 upgrade, haven't really changed that much in a year. You're looking at practically the same screen, very similar cameras, and practically identical enclosures.
Some may mockingly refer to it as an "S" device rather than a full-number upgrade. Like "Pro," the S never meant anything more than Apple wanted it to. It was always used for marketing, and didn't signify that a model was any lesser than a full integer increment.
After all, Touch ID arrived in a S year. Video recording at 1080p did also, Siri arrived in a S year, and so did the dearly departed 3D Touch. Call it the iPhone 12s mini if you want, we won't be offended and neither will Apple.
If you like the idea of the iPhone mini, you already know it, and don't need me to tell you that. If you need a larger screen-size and the photography in the iPhone 13 Pro lineup, nothing that I've written will convince you otherwise. This all boils down to use case -- the what and why you use an iPhone for.
If you're iOS-primary, you're probably looking for that bigger screen, and that's obviously not found on the mini iPhones. Apple hasn't made a lot of concessions to the size, with it displaying the same number of icons on an app screen on the small screen of the iPhone 13 mini, as it does on the iPhone 13 Pro. Instead, icons are bigger as you escalate in size, and UI elements can sometimes be very small on the iPhone 13 mini. This is mostly a problem for third-party app, though. Whether this smaller size is a boon or a curse for everyday use is an exercise for the reader.
As far as hardware goes, there isn't massive progress from the iPhone 12 mini. There also isn't a massive jump in any one-year period since the dawn of the iPhone. As always, iPhones are best viewed with a two-year lens, but we can't quite do that with the iPhone 13 mini.
And we may not be able to in 2022. If the rumors are right, this is the last iPhone mini year. The volume of iPhone minis that Apple sells is probably more than the volume of Macs it sells in a year. Google would probably sell souls for that kind of sales volume in any given Pixel line.
But right now, it doesn't look like there's enough in the way of sales in Cupertino's eyes to justify a third year of an iPhone mini. We'll all see with in fullness of time, of course.
So, if you're a fan of the iPhone mini size, to be sure that you have one that will last you for the five years or more it may take to see another, you should consider buying it before the iPhone 14 hits the stage, or just after, on sale. Unless Apple does something radical with a third-generation iPhone SE, there may not be anything new in the same form factor for some time -- and that would be a shame.
For everybody else, if you need as much processing performance as possible in a very easy to carry around and single-hand hold size for nearly everybody, there's no point looking anywhere else.
Pros
Still the same small & easy to hold design


Improved cameras, again


Fantastic performance from A15


Still that beautiful OLED display
Cons
Screen size may be an issue for some


No Wi-Fi 6e


Likely the last of its kind
Rating: 4.5 out of 5
Where to buy
Apple's iPhone 13 mini can be found at
Amazon
and
Expercom
, along with wireless carriers, including
AT&T
and
Verizon
.
If you're ready to pick up an iPhone 13 mini, manufacturer retail prices
start at $699
, but the
best iPhone deals
regularly include service discounts and
trade-in
promotions -- and even free gift card offers.
Read on AppleInsider