Compared: M1 Max 16-inch MacBook Pro versus Mac Pro
Apple's new 16-inch
MacBook Pro
with the M1 Max processor is undeniably a powerhouse. Here's how it compares to Apple's Intel-based Mac Pro tower, and why folks that rely on that machine may need to consider the laptop as a viable upgrade.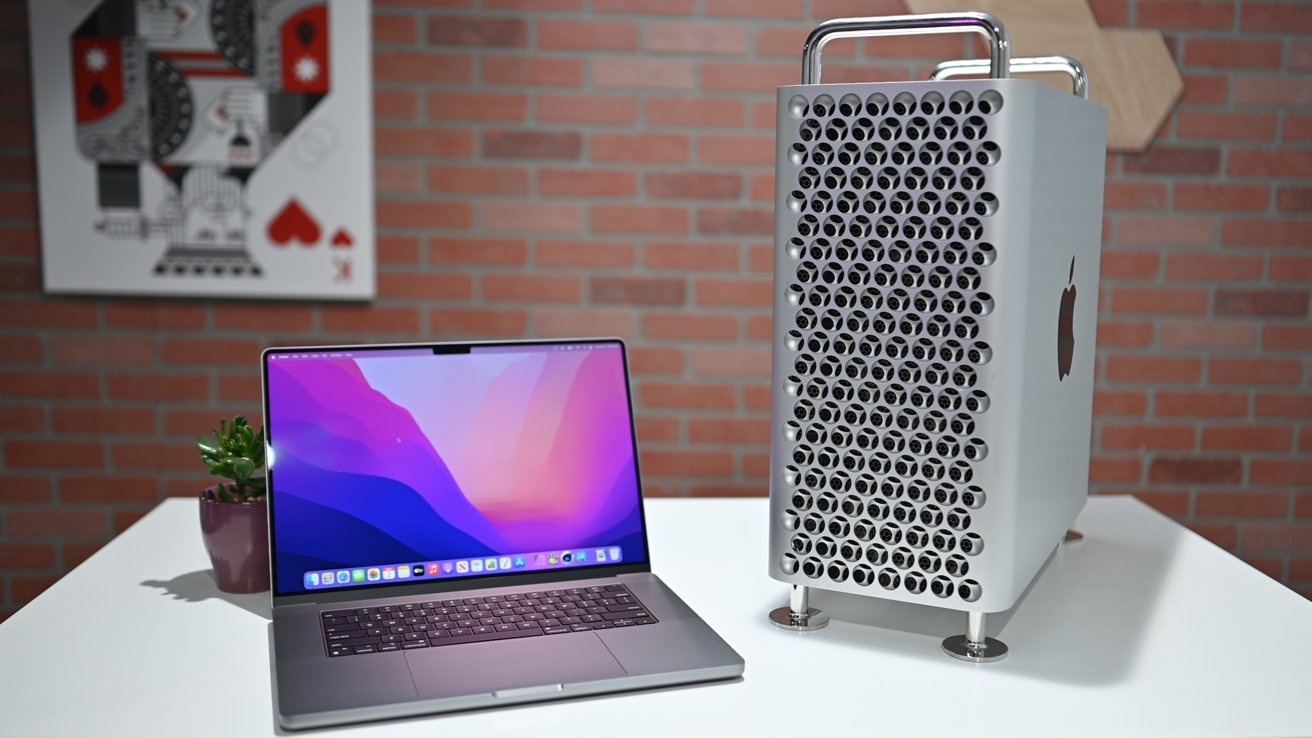 The M1 Max 16-inch MacBook Pro and the Mac Pro
Apple's
Mac Pro
is an incredibly powerful and expandable workstation and is heavily used in video production to edit high-resolution footage as fast as possible. Any opportunity to improve on performance is usually a consideration for creative industries and those with high processing needs.
During Apple's October event, Apple made a lot of noise over the
processing capabilities
of the
M1 Pro and M1 Max
, with the latter offering the highest performance possible for
Apple Silicon
. All of that power is put into a slimline MacBook Pro.
With the baseline Mac Pro costing customers $5,999 before upgrades, the considerably cheaper
16-inch MacBook Pro
could be a more attractive proposition for users.
Here's the low-down on how an M1 Max with a 32-core GPU fares against the incumbent high-performance monster.
M1 Max MacBook Pro vs Mac Pro - Specifications
16-inch MacBook Pro (2021)
Baseline Mac Pro
Comparable Mac Pro
Processors
10-core M1 Max

8-core 3.5GHz Intel Xeon W
16-core 3.2GHz Intel Xeon W

Memory
32GB Unified Memory, up to 64GB
32GB DDR4 ECC 2666MHz
96GB DDR4 SCC 2933MHz
Graphics
M1 Max 32-core

AMD Radeon Pro 580X
AMD Radeon Pro W5700X,

Media encoding/decoding
Media Engine
-
Apple Afterburner
Storage
512GB, 1TB, 2TB, 4TB, 8TB
256GB
256GB
Trackpad
Force Touch
Magic Mouse,
Optional Magic Trackpad
Magic Mouse,
Optional Magic Trackpad

Keyboard
Backlit with ambient light sensor
Magic Keyboard with Numeric Keypad
Magic Keyboard with Numeric Keypad
Ports
3 Thunderbolt 4 ports,
HDMI,
SDXC card slot,
MagSafe 3,
Headphone jack
Four Thunderbolt 3 ports,
Two USB 3 ports,
Two Ethernet Ports,
Headphone Jack
Four Thunderbolt 3 ports,
Two USB 3 ports,
Two Ethernet Ports,
Headphone Jack
Networking
Wi-Fi 6
802.11ac
2 10Gb Ethernet Ports
802.11ac
2 10Gb Ethernet Ports
Bluetooth
5.0
5.0
5.0
Price
from $3,299
$5,999
$11,599
M1 Max MacBook Pro vs Mac Pro - CPU, Neural Engine, and Cores
The core consideration for those who believe they need a Mac Pro for their work is performance, with the CPU being the heart of the operation.
Apple's M1 Max houses a 10-core CPU, using a pair of energy-efficient cores for pedestrian tasks, and eight high-performance cores to attack the more demanding workloads.
It also benefits from having the Neural Engine, a 16-core machine learning element that can be used for tasks where it fares better than a normal CPU. This includes computational photography as well as other similar tasks that typical processors struggle to deal with.
The baseline Mac Pro uses an 8-core
Intel Xeon W-3223
, a 3.5Ghz chip with 16 threads, and a maximum clock speed of 4.0GHz under Turbo Boost. Initially launched in Q2 2019, it's a processor that's starting to show its age.
That becomes quite evident when you look at benchmarks such as Geekbench 5.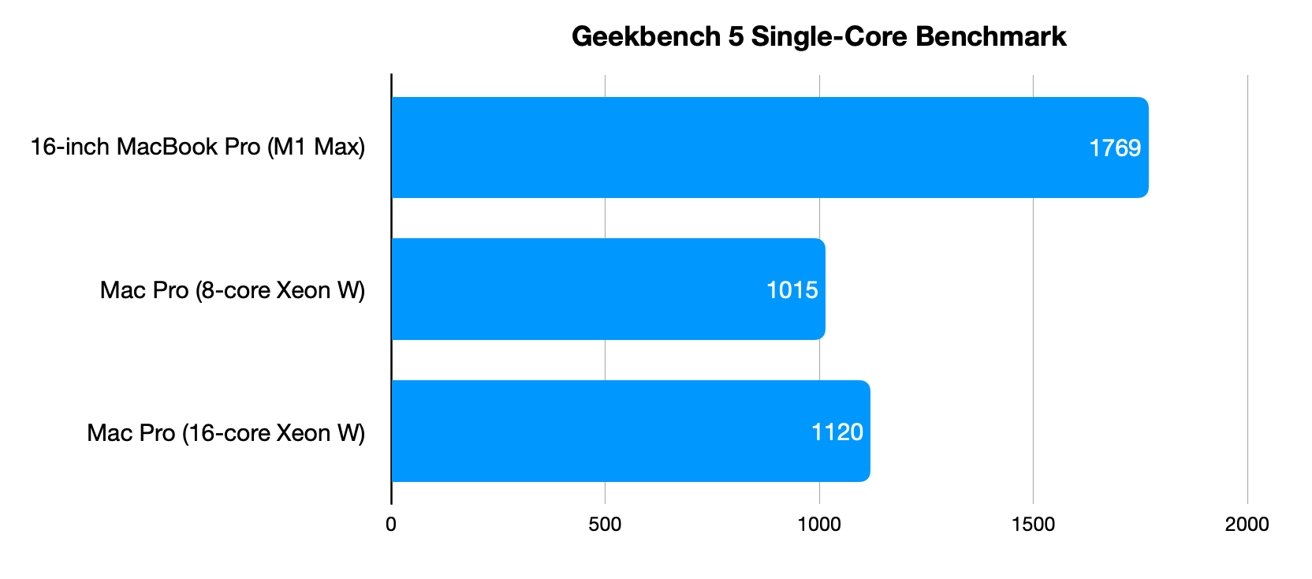 The M1 Max has superior single-core performance against the Mac Pro Xeons.
AppleInsider
ran the benchmark
on a 32-core 16-inch MacBook Pro and saw a score of 1,769 for the single-core test, 12,308 for the multi-core version. According to Geekbench's results table, the Mac Pro using the 8-core W3223 manages 1,015 on the single-core test, and 7,992 on the multi-core.
That is a pretty big difference, but Apple offers more chip options than just the 8-core.
The nearest comparable Mac Pro in terms of multi-core performance would be the
Xeon W-3245
, a 16-core and 32-thread chip with a base clock of 3.2GHz and a Turbo Boosted clock of 4.4GHz.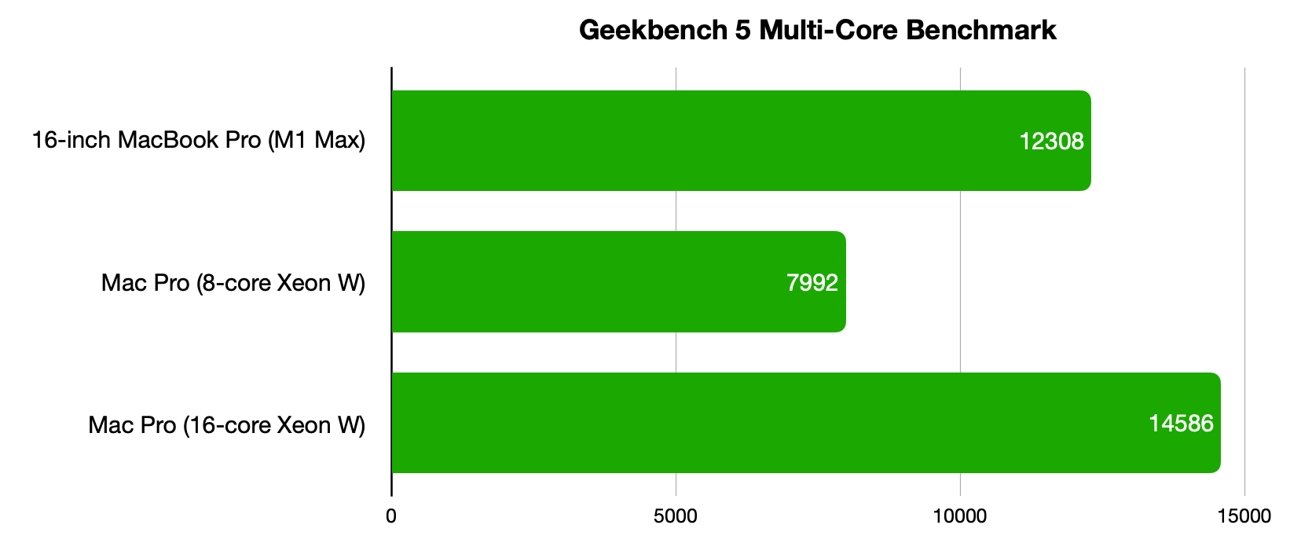 You have to use a 16-core Xeon W to beat the M1 Max at multi-core processing.
It manages a multi-core result of 14,586, making it the lowest in the options list that beats the M1 Max. However, it still is trounced in single-core performance with a score of 1,120.
The stark truth is that there's no single Xeon W chip available for the Mac Pro that can stand up to the M1 Max in single-core performance. While you can easily spend your way to success by getting more cores to boost multi-core performance, there's nothing you can do if it's meant for tasks that run best on a single core.
M1 Max MacBook Pro vs Mac Pro - Memory
The M1 range uses what Apple refers to as Unified Memory, which allows the various elements of the M1 SoC to access data stored in it. This is accomplished without needing the data to be stored in separate item-specific pools of memory, such as dedicated GPU memory.
Apple uses something called Fabric as its intermediary between the memory pool and the rest of the chip. In the M1 Max, Apple's upgrades has enabled it to function with 400GB/s of memory bandwidth, twice as fast as the bandwidth of the M1 Pro, launched at the same time.
The M1 Max also starts with 32GB of memory, with an option to upgrade to 64GB.
The Mac Pro starts with 32GB of DDR4 ECC memory, which in the 8-core operates at 2,666MHz. For all other Xeon chips, Apple instead uses 2,933MHz modules.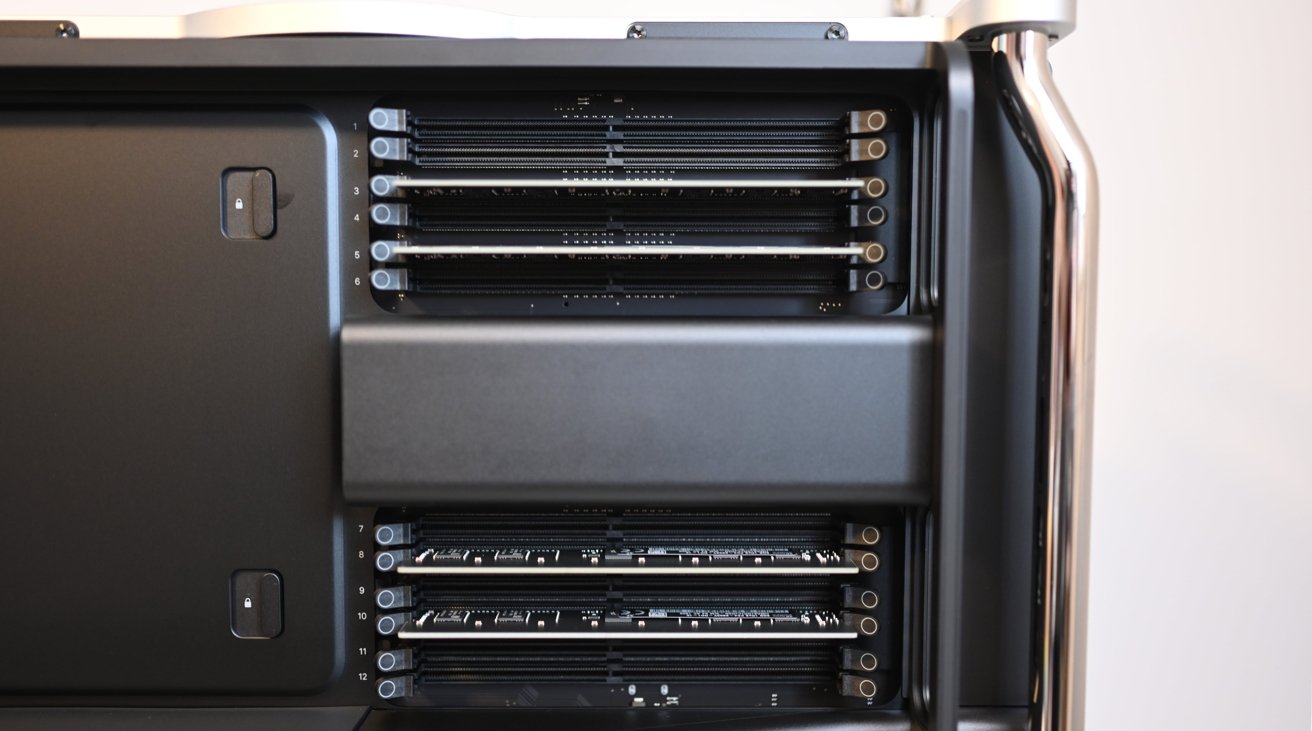 The extensive memory slots of the Mac Pro.
That isn't the limit for memory, though, as there are 12 DIMM slots at play and multiple memory options. You could go up to 48GB as a modest upgrade, but there are also 96GB, 192GB, 364GB, 768GB, and 1.5TB options available.
Admittedly, the last RAM selection requires either a 24-core or 28-core Xeon W to be used, but the potential to add massive amounts of memory can't be understated. There are sometimes applications that require to deal with considerably high amounts of data in one go, and few situations that could warrant such expensive memory upgrades.
It's also user-accessible memory, so it could be reconfigured with different amounts by adding or removing memory modules. This isn't an option for the MacBook Pro, as you're stuck with whatever memory you initially configured for your device.
M1 Max MacBook Pro vs Mac Pro - Graphics
The M1 Max chip is available in two variations, consisting of the 24-core GPU model and the 32-core version. Since we're talking about performance, we will be looking at the 32-core edition primarily.
Apple's promotion for the M1 Max included various claims about its integrated graphics being on a par with discrete GPUs in gaming notebooks. While offering high amounts of performance, it also does so while using comparably less power.
The baseline Mac Pro includes an AMD Radeon Pro 580X, a GPU with 8GB of GDDR5 memory, and houses 36 compute units and 2,304 stream processors. In the Mac Pro, this is offered as a half-height MPX Module, a form factor that Apple introduced with the pro desktop itself.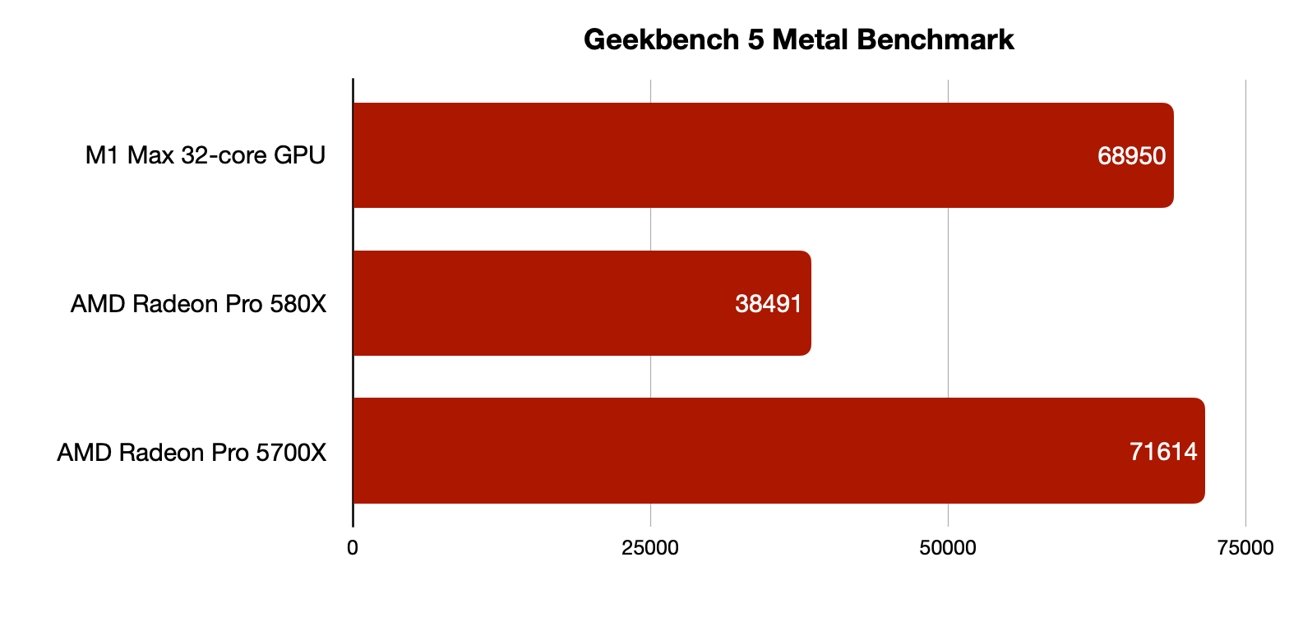 Apple's integrated 32-core GPU in the M1 Max is blisteringly fast.
Using Geekbench's Metal test,
AppleInsider's
trial of the M1 Max's 32-core GPU resulted in a score of 68,950. According to Geekbench's browser, the Radeon Pro 580X only achieves 38,491 under the same test.
Going through the list of GPU options in the Mac Pro, the AMD Radeon Pro 5700X with 16GB of GDDR6 memory seems to be the nearest rival, with it managing 71,614 in Geekbench 5.
However, this is not the whole story.
Lead Affinity Photo developer Andy Somerfield performed
extensive testing
of the software's benchmark and determined that the M1 Max outperformed a 12-core Mac Pro equipped with a Radeon Pro W6900X, a card that has 32GB of GDDR6 memory and a $5,600 price tag in Apple's configurator.
According to Somerfield, the M1 achieved a "Raster (Single GPU)" score of 32,891, while the W6900X was marginally lower at 32,580.
Another element to consider is that the Mac Pro's GPU can be switched out and replaced by another using the MPX Module system. There's even the option to augment an eGPU enclosure to externally add a card, something that isn't possible on Apple Silicon due to a lack of support.
M1 Max MacBook Pro vs Mac Pro - Media Engine vs Afterburner
When Apple introduced the Mac Pro, it highlighted a component known as the
Afterburner
, an extra card you can add to the setup. Afterburner is a PCI-E based accelerator card that handles the decoding of ProRes and ProRes RAW video codecs in Final Cut Pro X, QuickTime Player X, and other supported third-party applications.
This card effectively became a must-have addition for video editors, as it promised to speed up their workflow. The extra performance was not cheap, with the card costing $2,000 on its own.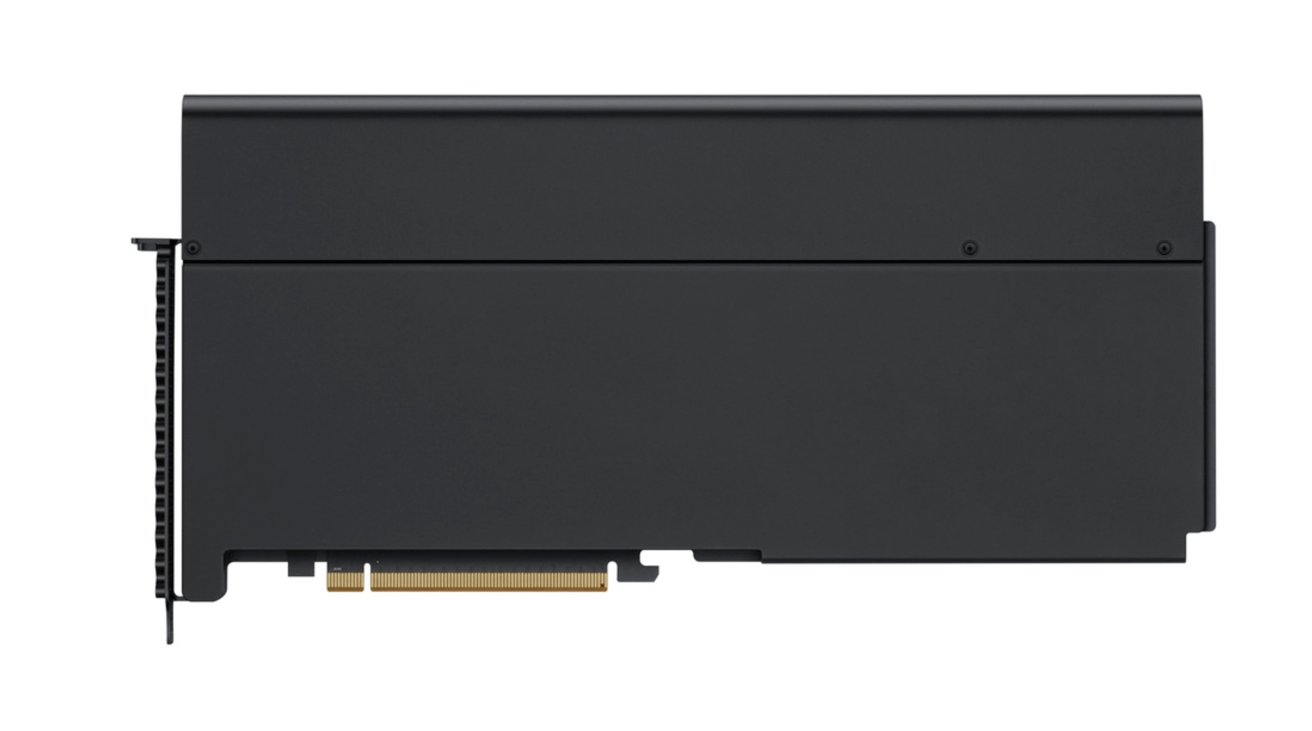 Apple's Afterburner, a $2,000 add-on for the Mac Pro to help with video tasks.
The M1 Max in the 16-inch MacBook Pro includes its own equivalent, with the Media Engine designed to deal with video encoding and decoding in hardware. It can process H.264, HEVC, ProRes, and ProRes RAW content, with the M1 Max specifically having a video decode engine, two video encode engines, and two ProRes encode and decode engines.
In effect, the M1 Max has its own on-silicon Afterburner, making it a much cheaper alternative for those working in video.
The performance of the Media Engine and the M1 Max has previously been enthused about by Apple executives. On an
October 24 podcast
, Apple's Shruti Haldea and Luke Tristram said the performance was at a level that you could run seven streams of 8K ProRes content in Final Cut Pro. "That's more streams than on a 28-core Mac Pro with an Afterburner card, so you're literally out-doing a workstation," they boasted.
This is on top of other claims where project renders and exports would be much faster on the MacBook Pro than on the Afterburner-using Mac Pro.
We put this to the test by exporting a 53 minute 4K video from both machines using Final Cut Pro. It took our Mac Pro a whopping hour and six minutes to finish the task while the 16-inch MacBook Pro with the M1 Max and 32-core GPU crossed the finish line in a mere 17 minutes.
M1 Max MacBook Pro vs Mac Pro - Upgrades and other main features
While the thrust of the comparison revolves around performance, there are still quite a few areas that need to be touched upon. There's the nature of the desktop Mac Pro and the portable MacBook Pro to consider for a start.
The MacBook Pro includes a high-resolution display, speakers, a keyboard, and trackpad, among other typical notebook elements, all in a very compact and easily moved package. Not to mention the inclusion of a battery enabling it to be used practically anywhere, making it great for on-location video editing jobs.
Meanwhile, the desk-bound Mac Pro is a box that you have to add a display and a lot of accessories too, and isn't really "portable" even knowing there are handles and optional $400 wheels. You do at least get a keyboard and mouse.
It's also reasonably unfair to go into specific details such as size comparisons. The MacBook Pro is 14.01 inches long, 9.77 inches deep, and 0.66 inches thick, and weighs 4.8 pounds.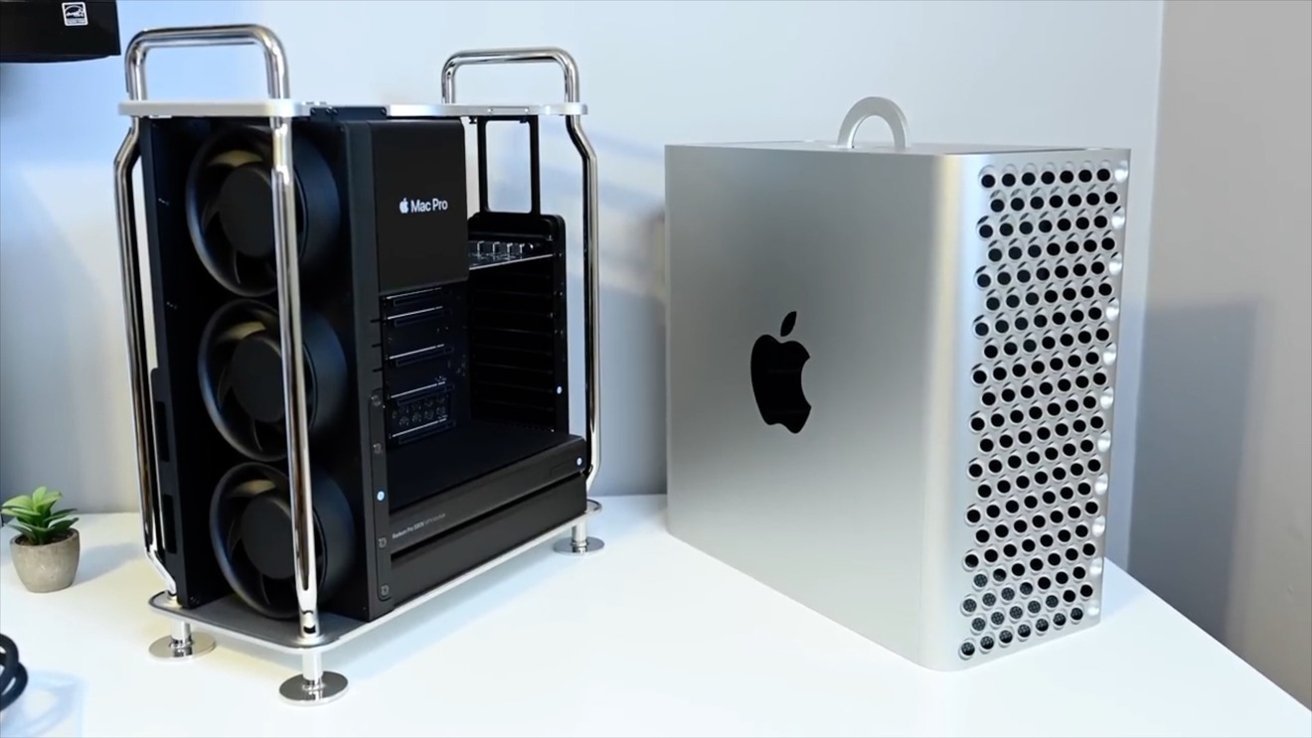 The Mac Pro's main benefits lie in its potential for upgrading, as well as its styling.
The tower version of the Mac Pro is 20.8 inches by 17.7 inches by 8.58 inches and weighs in at a massive 39.7 pounds. There's also a rack-mountable version, which is 21.24 inches by 18.98 inches by 8.67 inches, and a better but still substantial 38.8 pounds in weight.
Obviously, we're dealing with two very different types of Mac here, for completely different use cases.
While the MacBook Pro's promise is in providing high performance while on the move, the Mac Pro takes the high ground in being extremely customizable and expandable.
We've already mentioned that the memory is user-upgradable, but there's also a pair of MPX Module bays that can accommodate two modules or four PCI Express cards, along with a trio of PCI Express gen 3 slots and a half-length x4 PCI Express Gen 3 slot.
These slots can be used for multiple purposes, including non-MPX graphics cards and PCIe-based expansion, making the Mac Pro even more flexible for those with particular computing needs.
While Apple doesn't allow eGPUs to run on Apple Silicon, you can still use breakout boxes to add PCIe hardware to the 16-inch MacBook Pro as a form of upgrade. We'll be talking about options for that soon.
Connectivity is arguably better on the stock Mac Pro, with it including four Thunderbolt 3 ports, two USB-A ports, two 10Gbps Ethernet connections, and a headphone jack, along with the option to increase the port selection by installing cards.
The MacBook Pro doesn't have Ethernet, but it does have three Thunderbolt 4 ports, HDMI out, MagSafe 3, a headphone jack, and an SDXC card slot. Wi-Fi 6 support in the MacBook Pro is better than 802.11ac in the Mac Pro, though both still rely on Bluetooth 5.0.
M1 Max MacBook Pro vs Mac Pro - Pricing
The cheapest configuration of the
M1 Max 16-inch MacBook Pro with the 32-core GPU
costs $3,299 and includes 32GB of unified memory and a 512GB SSD. To move to 64GB of memory costs an extra $400, making the total $3,699 for the highest-performance MacBook Pro configuration, ignoring storage capacity.
Upgrading the storage from 512GB to 1TB costs $200, rising to $600 for a jump to 2TB, $1,200 to 4TB, and $2,400 to 8TB.
The
base-model Mac Pro
with the 8-core Intel Xeon W, 32GB of memory, Radeon Pro 580X, and a 256GB SSD costs $5,999. The rack-mountable version with the same specification starts from $6,499.
To configure what could be a comparable Mac Pro to the high-performance and RAM, low-storage MacBook Pro, you're looking at the 16-core Xeon W, 96GB of memory, and the AMD Radeon Pro W5700X.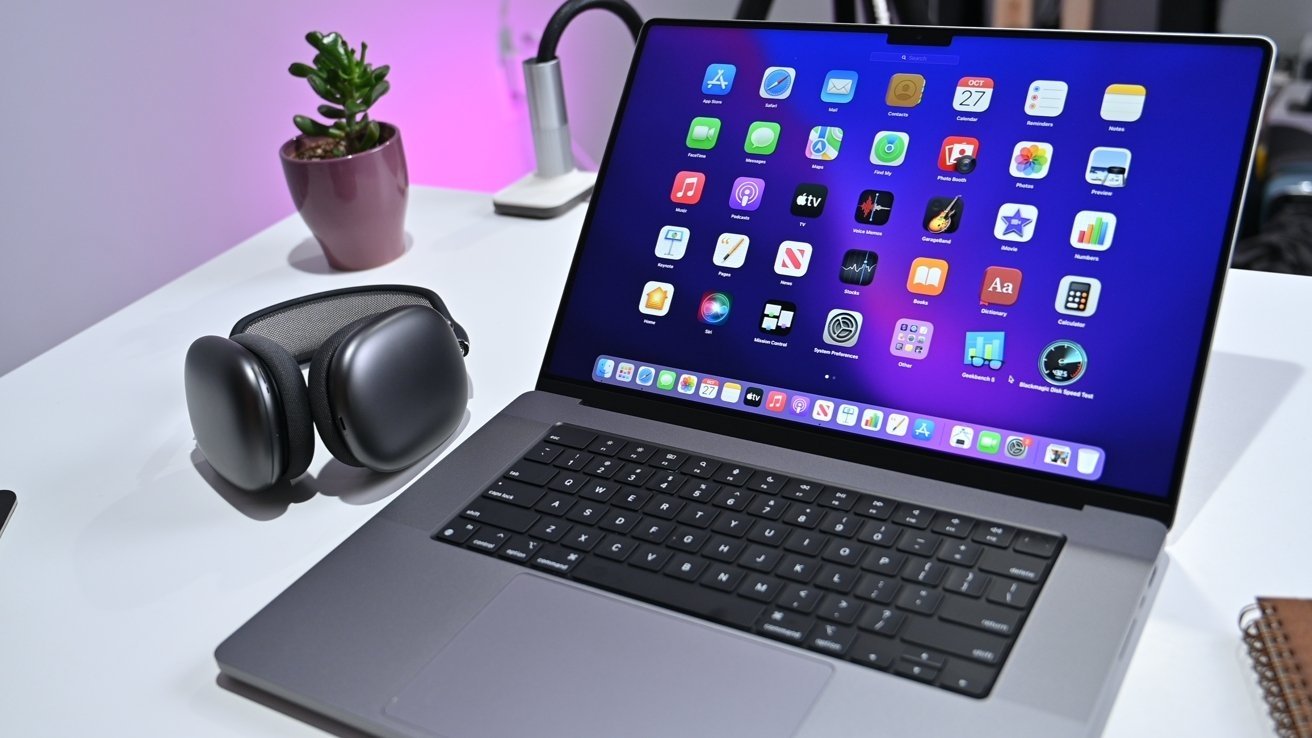 The 16-inch MacBook Pro can become expensive at high-spec configurations, but it's a steal compared to the baseline Mac Pro.
That configuration alone costs $9,599, before you add in the $2,000 Afterburner card to take on the Media Engine, and that's not even touching the storage capacity changes. With Afterburner,
it's $11,599
.
To put that into perspective, you could buy three of the aforementioned $3,699 MacBook Pro configurations, and still have over $500 left over. Alternately, three of the same configurations but with the 1TB storage upgrade, for just $98 more than the cost of the comparative Mac Pro.
For the financially endowed, there's many options to play with in the Mac Pro configuration, and you can reach nosebleed territory quite quickly. It is possible to spec out a Mac Pro with a 28-core Xeon W, 1.5TB of memory, a pair of Radeon Pro W6900X MPX modules, 8TB of storage, and an Afterburner card for $54,199.
Whether you actually need to spend over $54 thousand on a single Mac is another matter entirely.
M1 Max MacBook Pro beats the Mac Pro -- but not all the time
Apple's uses of the word "Pro" when attached to hardware means nothing at all, beyond "this is a higher-end option." It doesn't imply that if you're a professional that you need "Pro" hardware, nor does it say anything tangible about capability or expandability.
The high performance of the M1 Max at full throttle is undeniable. In most cases, it outpaces Apple's heavyweight workhorse, the Mac Pro, at lower specifications.
If users had to choose between the 16-inch MacBook Pro with the M1 Max, 32-core GPU, and 64GB of RAM or the base model Mac Pro, it would be extremely difficult not to recommend the MacBook Pro. Video editors and most creatives will feel that the portable device offers more than enough for them at a considerably cheaper price.
It's a similar story when you look at what we believe a comparable Mac Pro could be, one that narrowly beats the same spec of MacBook Pro. Including Afterburner, the Mac Pro package is triple the cost for not much better performance, in a package that you have to add a screen and other things to, and without any of the portability.
That being said, the Mac Pro still has a large potential audience. The ability to configure it to use a processor with considerably more cores could be advantageous, not to mention adding more GPUs or other PCI-E hardware to the mix.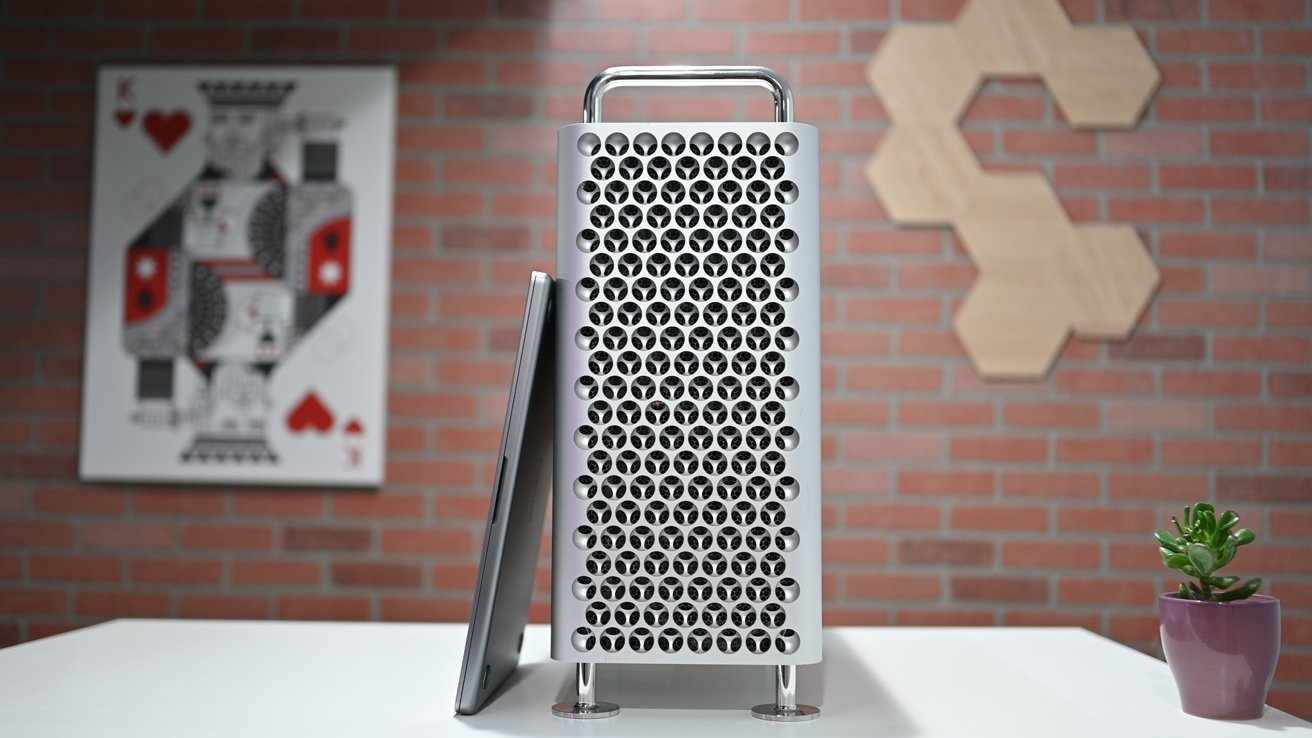 The M1 Max 16-inch MacBook Pro and the Mac Pro
The sheer amount of memory you can put into the Mac Pro is also essential for a small number of applications, especially those that require number crunching on giant data sets.
There's certainly still a market for the Mac Pro, but it's more at the fringes of computing rather than the more general sense. For consumers with slightly more modest needs or work in video, the MacBook Pro is generally the better option.
M1 Mac Pro?
One thing that this comparison underlines is that the M1 Max is a very capable chip. Apple has created something that blows what people consider to be a high-power system out of the water in multiple different ways.
The things to remember here are that the M1 Max is a top-of-the-line Apple Silicon chip aimed at the prosumer and creative markets and that it's still only a 10-core CPU. Apple's also in the middle of a two-year transition of its Mac products away from Intel, and the Mac Pro is the last area of the Mac catalog not to be touched by Apple Silicon.
We know from testing that the M1 Max is a massive jump in performance from the M1, due to Apple increasing the number of high-performance CPU cores among other factors. Since Apple is in control of the designs of M1 chips, it can potentially create versions with even more CPU cores, higher GPU core counts, and other improvements.
If Apple does bring out a Mac Pro with Apple Silicon, the chip it uses will certainly be a very powerful version that outpaces the current Xeon chip crop it currently offers.
Indeed, Apple is thought to be working on an Apple Silicon Mac Pro.
Current speculation
has it at roughly half the size of the current Mac Pro, and with CPU core counts of 20 cores and 40 cores said to be on the docket, potentially launching in 2022.
All that remains is to wait and see what Apple comes up with. Based on what we see in the M1 Max already, it may be quite a large leap forward for Apple's reliable workstation.
Read on AppleInsider