iPad mini 2021 review: Delightfully small with few caveats
Posted:
in iPad
edited May 25
Apple's redesigned
iPad mini
packs a powerful A15 Bionic into a pleasantly small and super lightweight package, with a few trade-offs.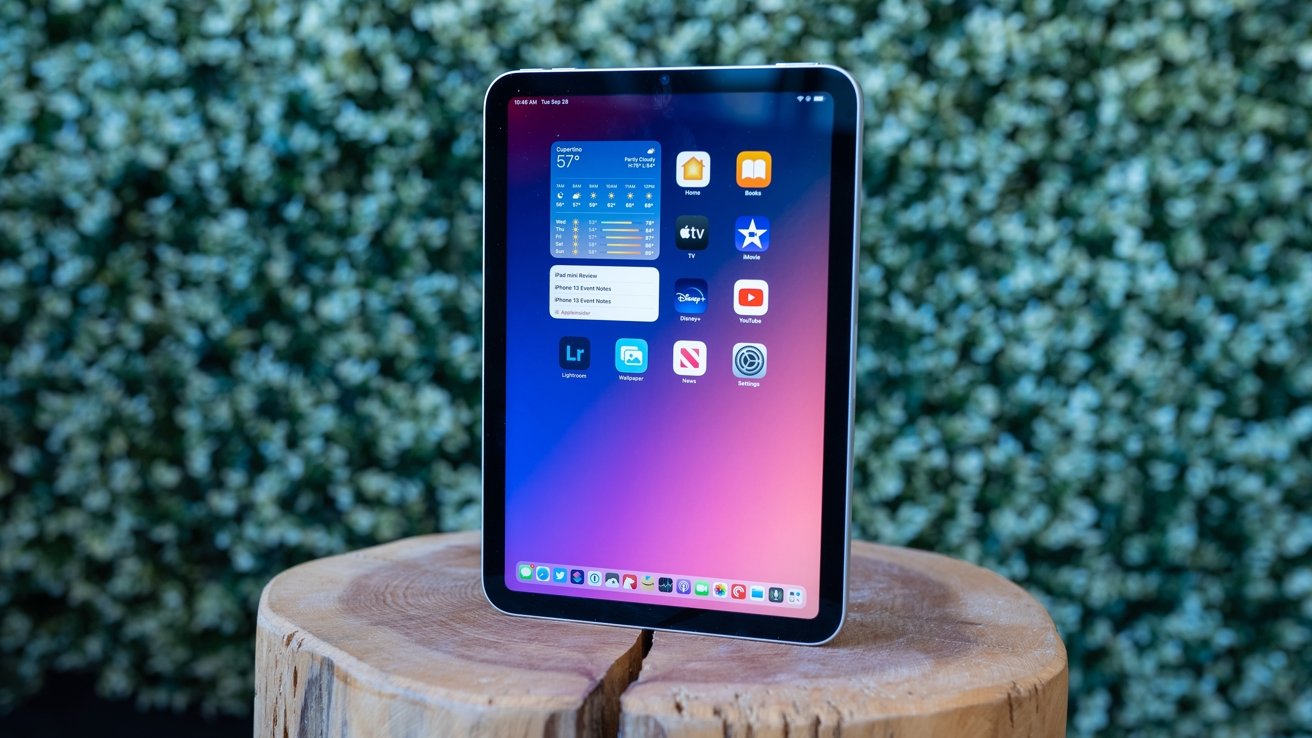 2021 iPad mini
Every so often an Apple product brings a spark of delight with its first use. The first Retina display on
iPhone
4,
Face ID
on
iPhone X
,
AirPods
, and now
iPad mini 6
evokes the same feeling.
While the flat-edge and rounded corner body style originated with the 2018
iPad Pro
, there's something about this design coming to a smaller device that feels futuristic and desirable. Modern iPads are universally thin and light, save the
12.9-inch iPad Pro
, but iPad mini takes the form factor to the portable extreme.
iPad mini may not be a productive powerhouse, and its limited screen real estate can make multitasking cumbersome, but it shines in unique ways compared to other iPads. Especially the Starlight color.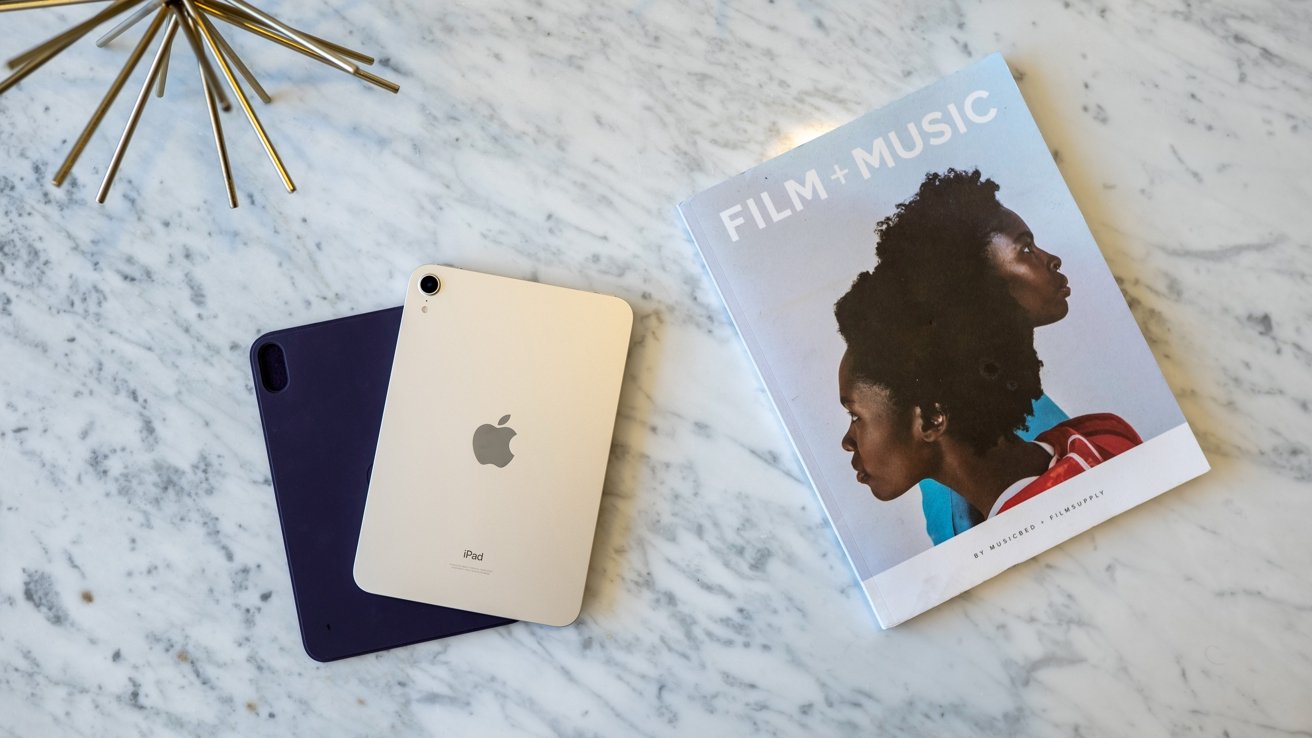 New iPad mini hardware design
iPad mini now shares the same design language as the
iPad Air
and iPad Pro. Even though this flat-edge iteration of the iPad has existed since 2018, it's fun to see it with an 8.3-inch display.
Despite its size, the iPad mini feels sturdy, and it could probably withstand a drop. Though users are less likely to drop this device, considering it can be grasped in one hand. This iPad mini is also the lightest
iPad
in the lineup, weighing in at just 0.65 pounds (293 grams).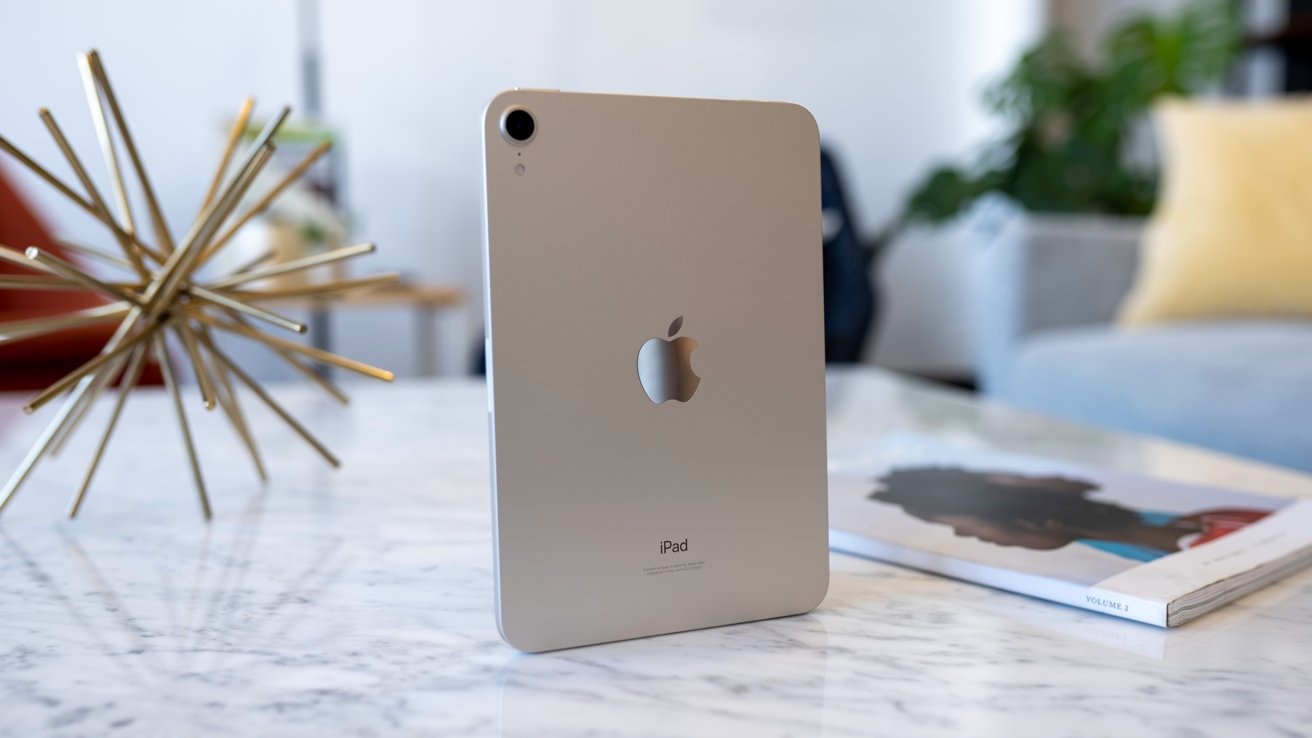 We reviewed the
Starlight color
, which looks excellent across varying light sources and environments. iPad mini comes in four color options, Space Grey, Pink, Purple, and Starlight, two fewer options than the iPad Air.
There is no Face ID on the iPad mini, instead it shares the
Touch ID
/ sleep button combination like on the iPad Air. Coming from an iPad Pro with Face ID, there were times I stared at the screen waiting for it to unlock, only to remember Touch ID was waiting for my fingerprint.
Considering the small size and its need to dedicate an entire side to wireless charging for
Apple Pencil
, the volume buttons are also located on the top of the device along with Touch ID. These buttons are unique in that they change function depending on the orientation of the device.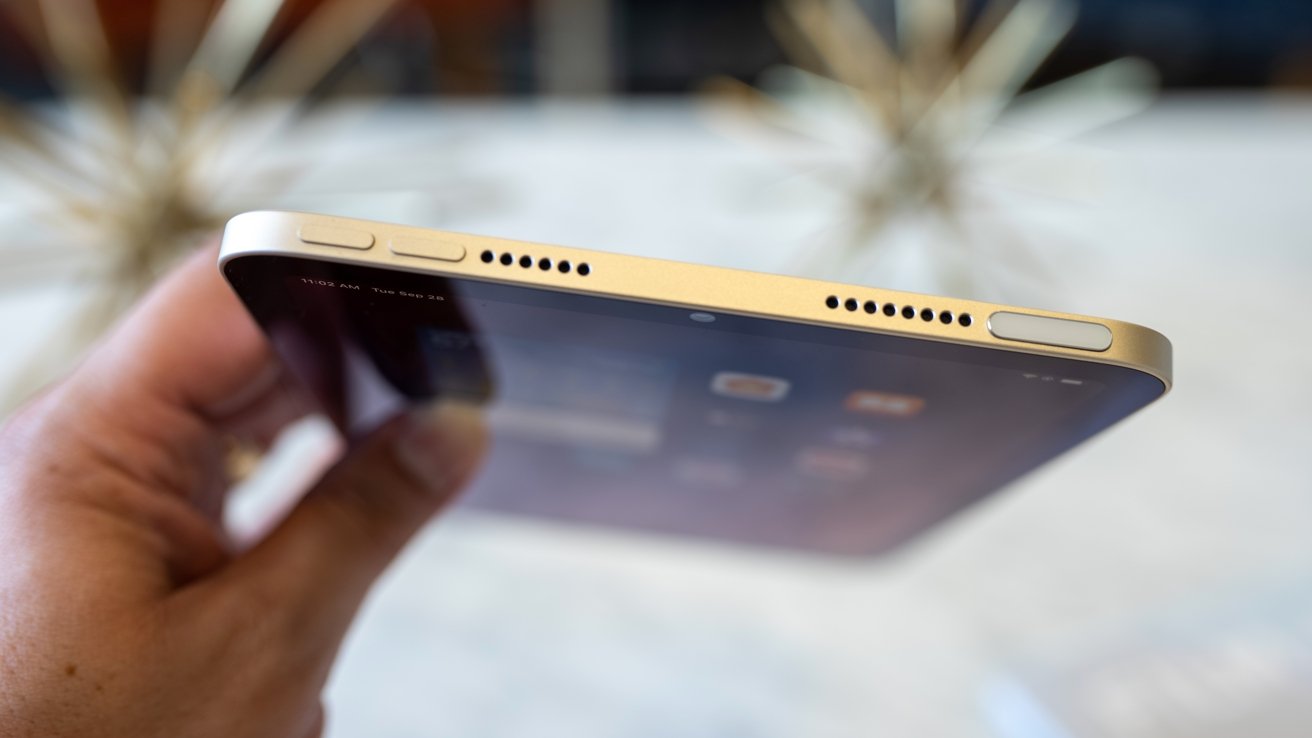 Touch ID on iPad mini
In portrait orientation with the
FaceTime
camera at the top, the right button raises volume while the left lowers it. Flip the iPad mini upside-down, and the buttons flip function to match the orientation of the screen.
While an 8.3-inch display may not sound that much smaller than the iPad Air's 10.9-inch display, the size and weight differences are significant. Having a device as light as the iPad mini translates to longer hand-held use, which is a substantial advantage for reading, FaceTime calls, and various kinds of fieldwork.
2021 iPad mini - performance
iPad mini is powered by the new A15 Bionic with Neural Engine, the same chip in the
iPhone 13
and
iPhone 13 Pro
. Through Geekbench testing, the iPad mini scores 1589 / 4619 in single-core and multi-core respectively. This is slightly lower than the iPhone 13 Pro which scores 1719 / 4469.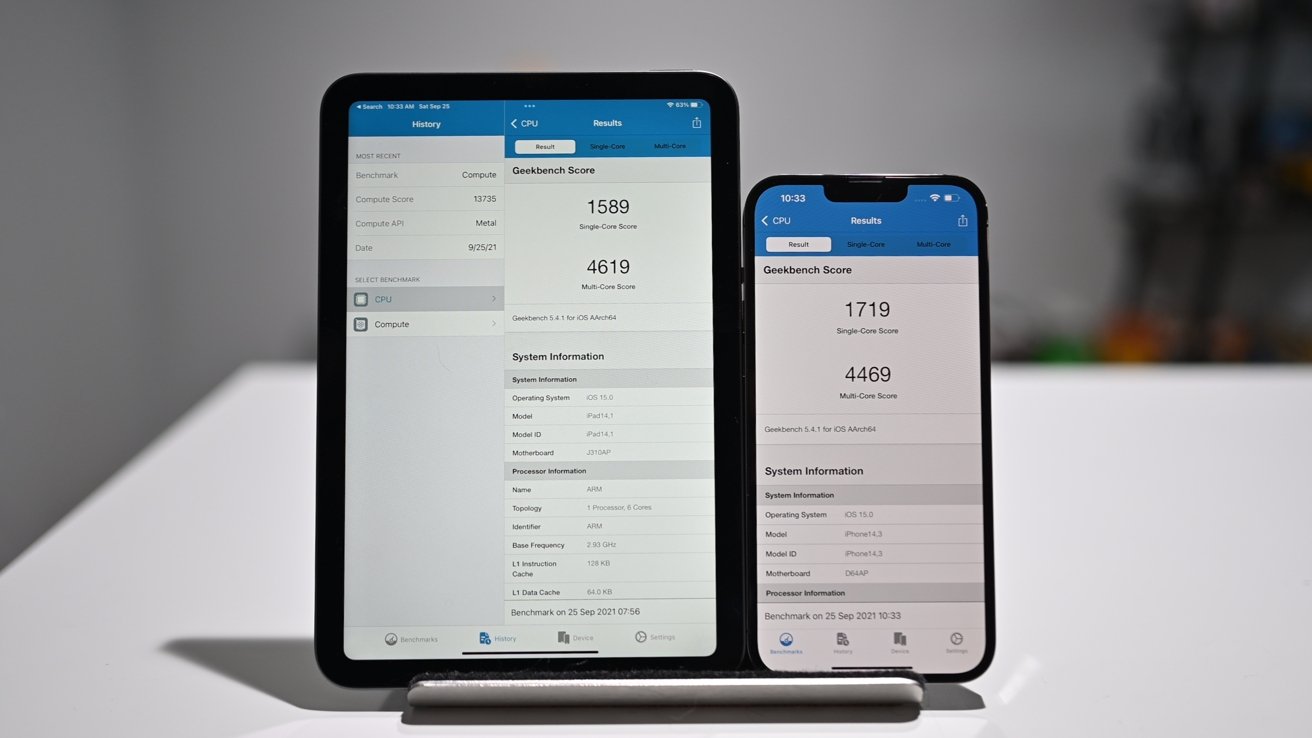 As expected, the iPad mini scores in-between the iPad Air, which still runs the A14 Bionic, and the
M1
iPad Pro. There isn't a noticeable difference in performance between the iPad mini and iPad Air during real-life use.
In our testing, photo exports from Lightroom, audio exports from Ferrite, and video renders are noticeably slower on iPad mini vs. M1 iPad Pro. Depending on your project, it could mean the difference between several seconds or multiple minutes waiting on an app to finish exporting.
As with multiple aspects of the iPad mini, these differences will be most noticeable when compared side-by-side. If the iPad mini was your only tablet device, its performance would be more than adequate in all but the heaviest computational tasks.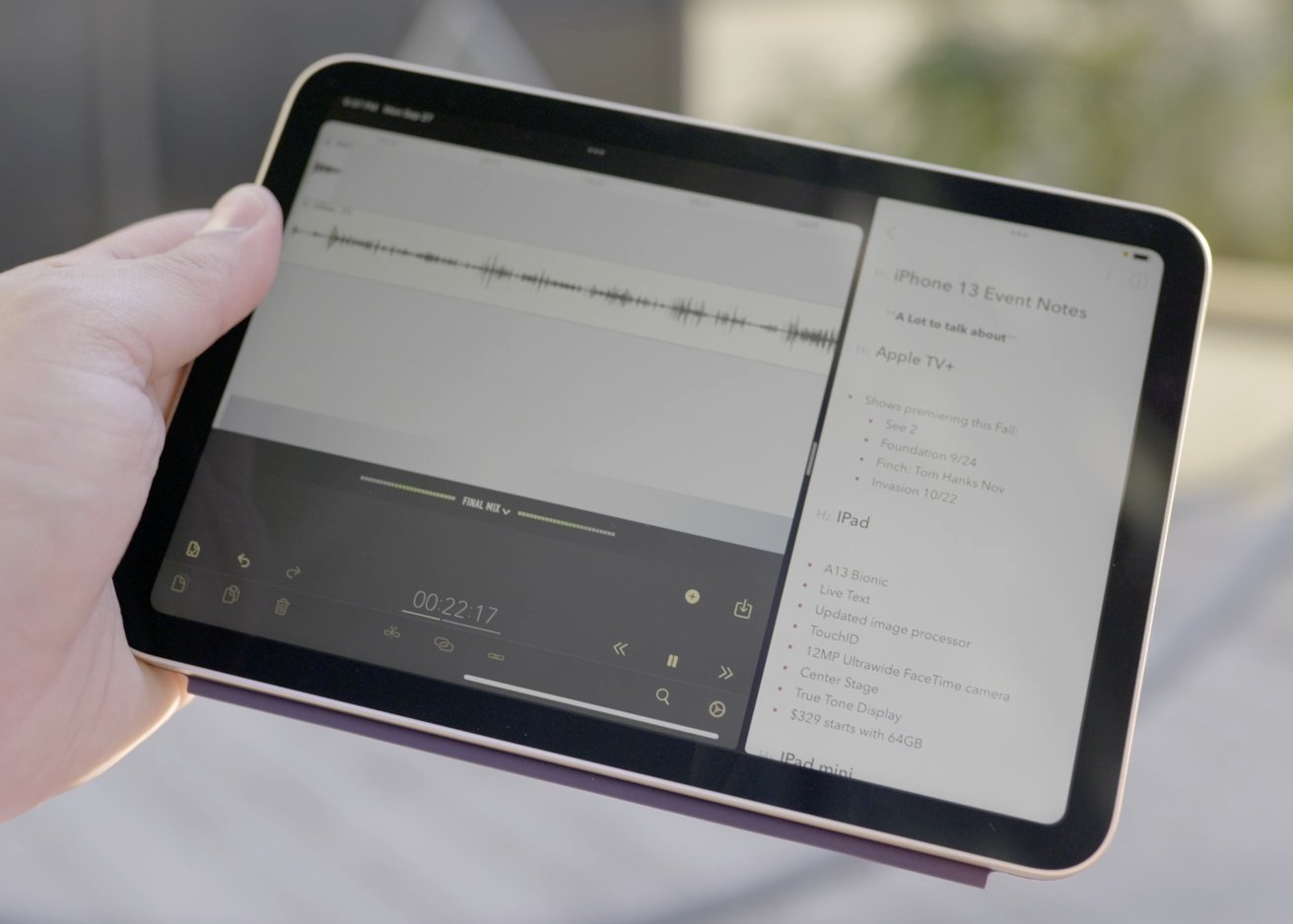 Multitasking on iPad mini also performs admirably. Side-by-side apps, Slide Over windows, and accessing the App Switcher is fluid and speedy. The greater challenge when multitasking is the limited screen real estate on this pocket-size device.
Cameras have also been improved on iPad mini, which sports a 12-megapixel wide-angle camera on the rear, and another 12-megapixel Ultra Wide front-facing camera. Users can now enable Center Stage on iPad mini that will automatically pan and zoom to focus on subjects in the frame.
Apple also brought center Stage to the entry-level
9th-generation iPad
, making the iPad Air the only iPad in the lineup lacking the Ultra Wide, front-facing camera with this feature.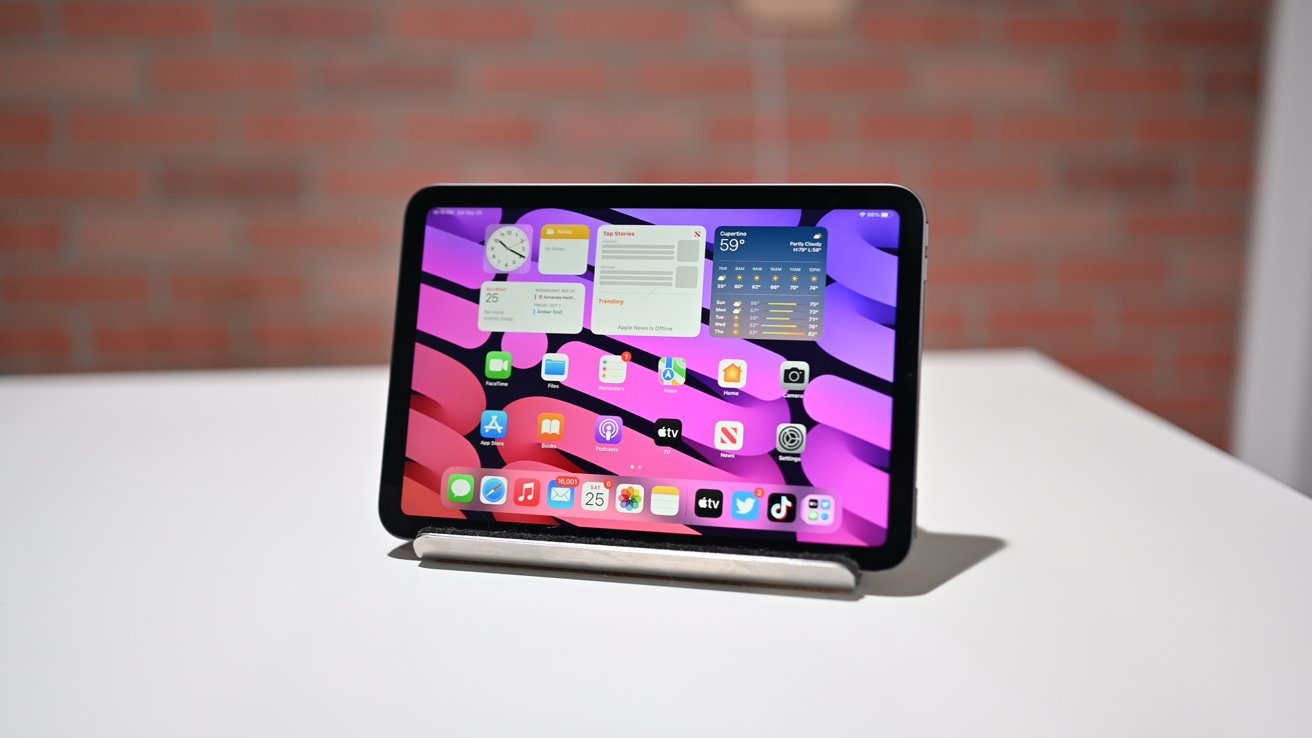 Battery life is good. With moderate use, the new iPad mini will last through a day without issue. Given that a smaller device necessitates a smaller battery, the iPad mini won't see the same longevity as the iPad Air but is more than adequate for most use cases.
iPad mini also includes two speakers that provide stereo sound when placed in landscape orientation. It can't match the superb sound of the 12.9-inch iPad Pro 4-speaker array, but for casual use it sounds terrific.
The Lightning port on previous iPad mini models has been replaced with a USB-C port compatible with hubs and docks. Like they can with the iPad Pro and iPad Air, users can connect external drives, HDMI displays, and other peripherals using the port.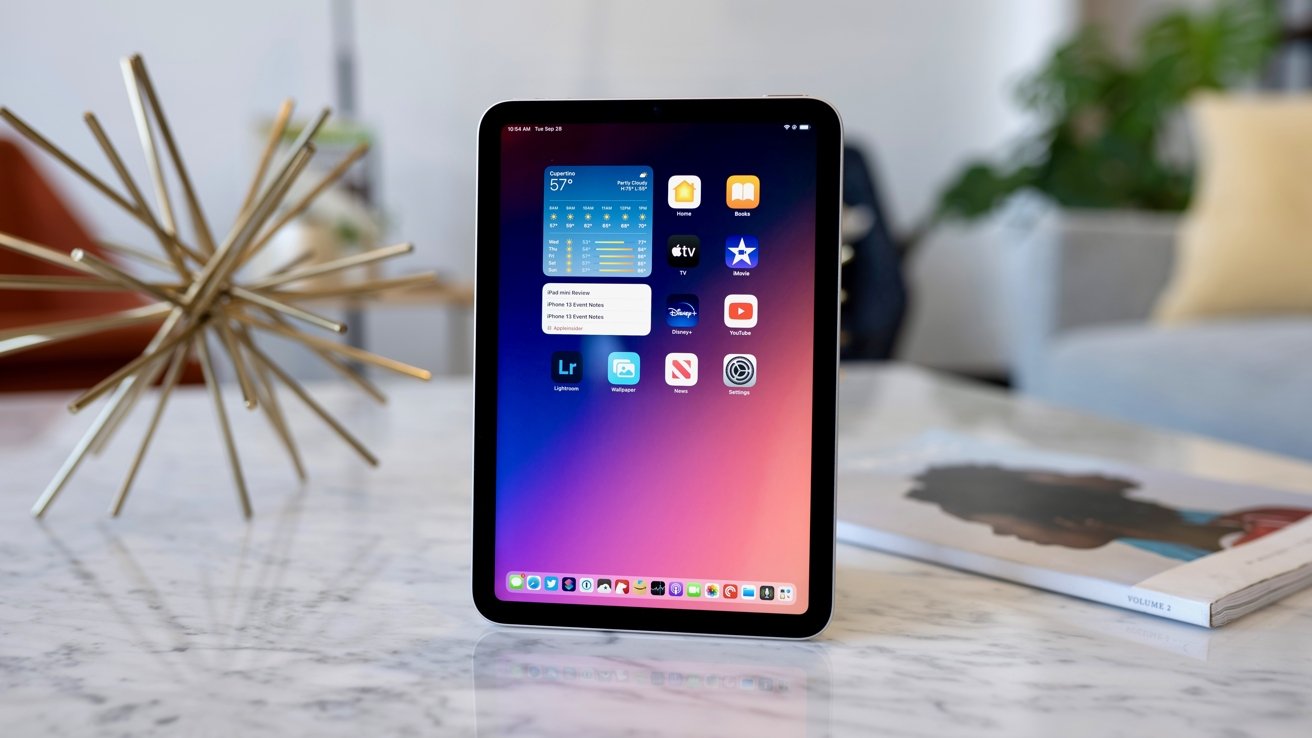 Liquid Retina Display on the iPad mini
The iPad mini's 8.3-inch Liquid Retina display sports a resolution of 2266 by 1488. While these measurements are less than iPad Air and iPad Pro, the smaller screen size gives iPad mini the highest pixel-per-inch ratio at 326 ppi.
This gives the iPad mini an extremely sharp screen and displays app icons and text at a smaller native size. For the first time since owning iPads from the beginning, I had to increase the text size one notch.
Thankfully,
iPadOS 15
allows users to adjust text size on a per-app basis, and there is a toggle for enabling larger app icons on the home screen.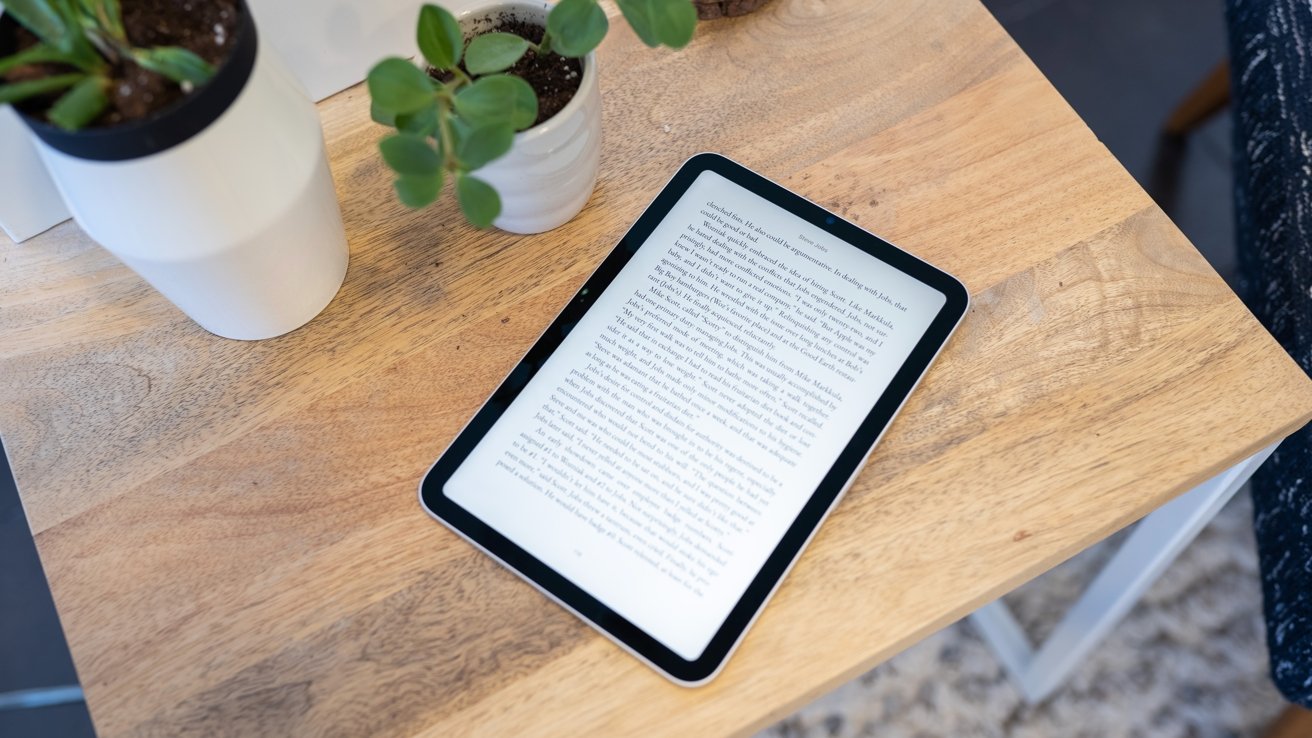 Now that the iPhone 13 lineup includes OLED screens, and the larger 12.9-inch iPad Pro has the incredible Liquid Retina XDR display, the iPad mini display can seem lackluster when viewing these devices side-by-side. The black levels on iPad mini can't compete with OLED displays on the iPhone, or mini-LED on iPad Pro.
Despite not being the best display among Apple's mobile devices, the iPad mini looks great in most scenarios, even outside in bright sunlight. Overall, users will be more than content with the razor-sharp iPad mini display.
Jelly scrolling?
Once the iPad mini started hitting users, reports surfaced about the screen showing a "wobble." While mileage may vary depending on the variances between any two people's eyes, if you look closely while scrolling up and down a list of albums in Apple Music, or when viewing text, the wobble is most visible.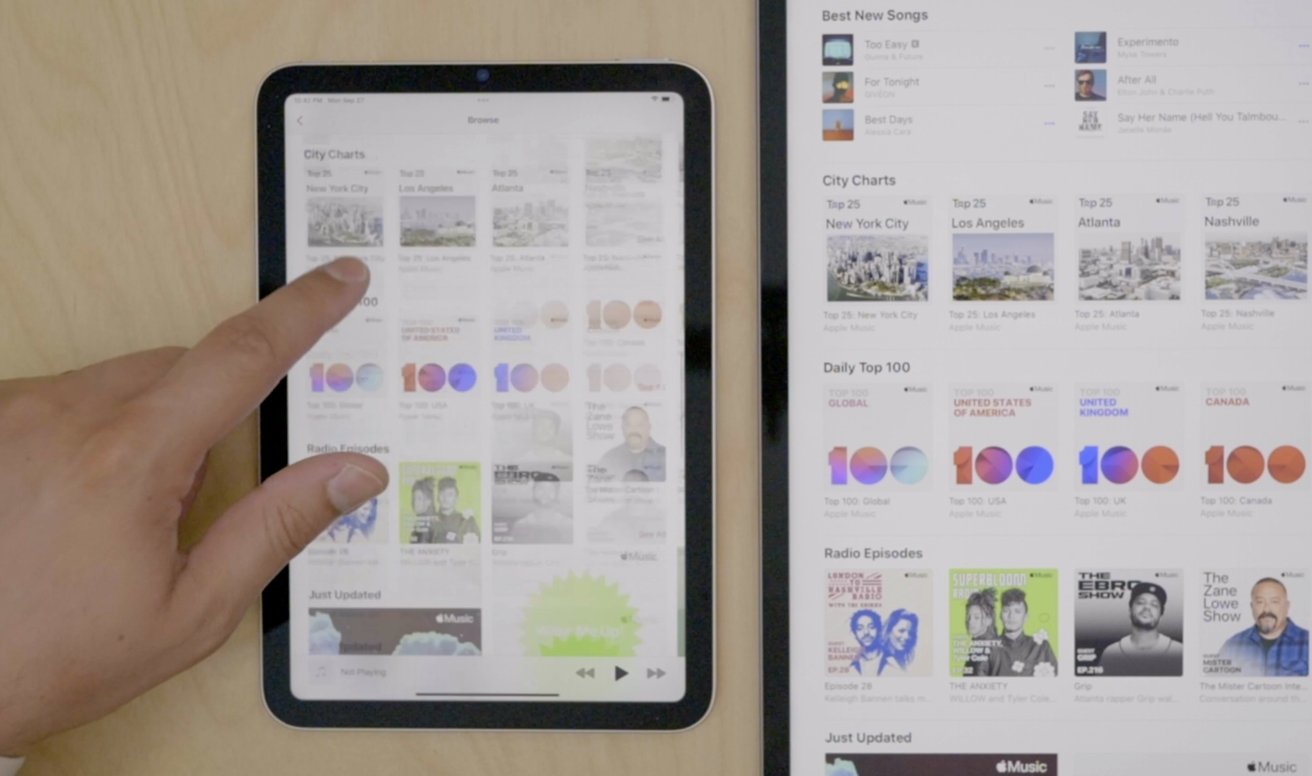 We were able to capture the wobble on the iPad mini in our video review, but observed a similar effect on the 12.9-inch iPad Pro's ProMotion display. The wobble is less pronounced on the iPad Pro, and most users may never see it, but it certainly exists.
Apple says that this happens on all liquid crystal displays, and that's true to some extent, given how LCD works. However, it is more prevalent on the iPad mini than it is on other models.
Sensitivity to this, and for that matter, being able to differentiate between 60Hz and 120Hz in the iPhone 13 Pro models, varies very much person to person. Unless users purposefully stare at the iPad mini's screen while attempting to scroll quickly to find the wobble, it will probably go unnoticed in day-to-day use.
We suggest trying one out in person before purchase to see if this bothers you.
Consuming media on the iPad mini
A device like the iPad mini is perfect for reading. Whether it's reading Apple News, website articles, or eBooks, users should be able to hold the iPad mini for extended periods comfortably.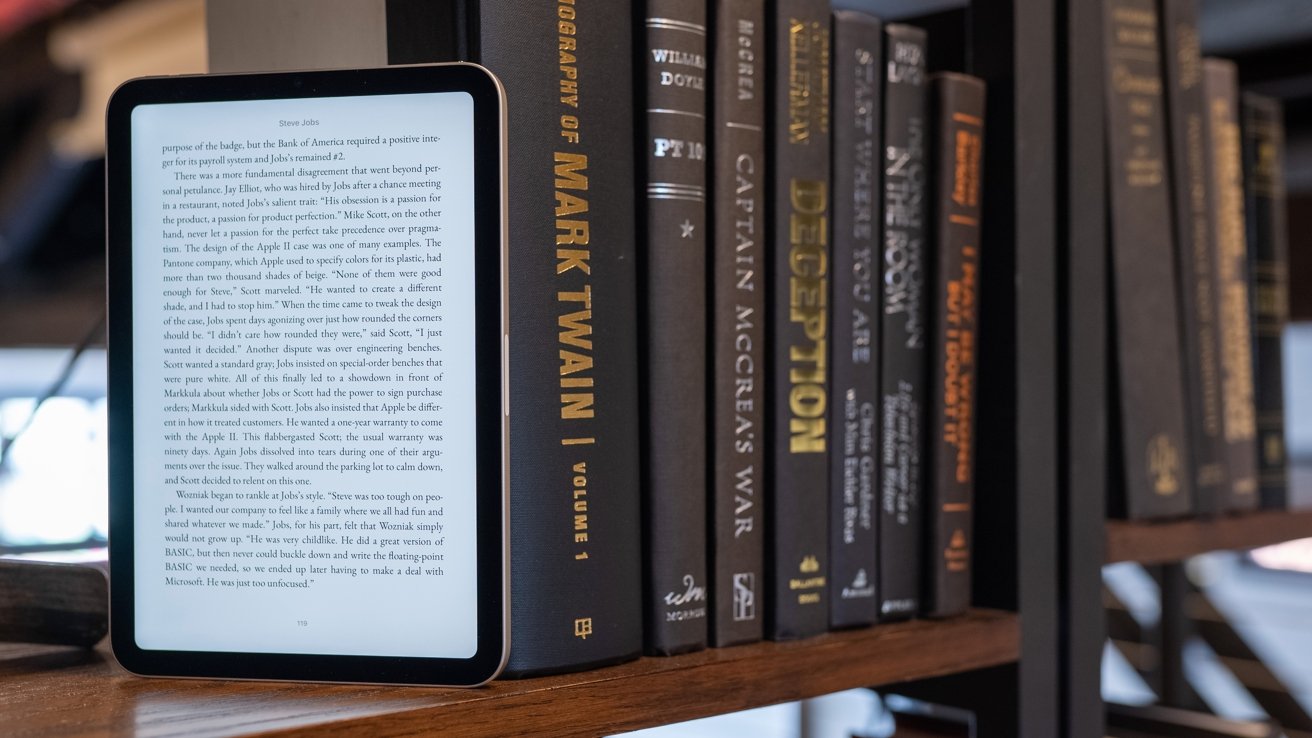 When reading indoors and in shaded areas, the iPad mini's display is top-notch. Things get a little more complicated for those that prefer outdoor reading sessions. iPad mini is bright enough for most days, even in the Florida sunshine where we tested it, but having a glass front still invites lots of glare.
For heavy ebook readers, the decision between a new Kindle Paperwhite and the iPad mini is difficult. If users plan to use their reading devices outside most of the time, like at the beach or poolside, Kindle's e-Ink display can't be beaten. Plus, a new Kindle is hundreds of dollars cheaper.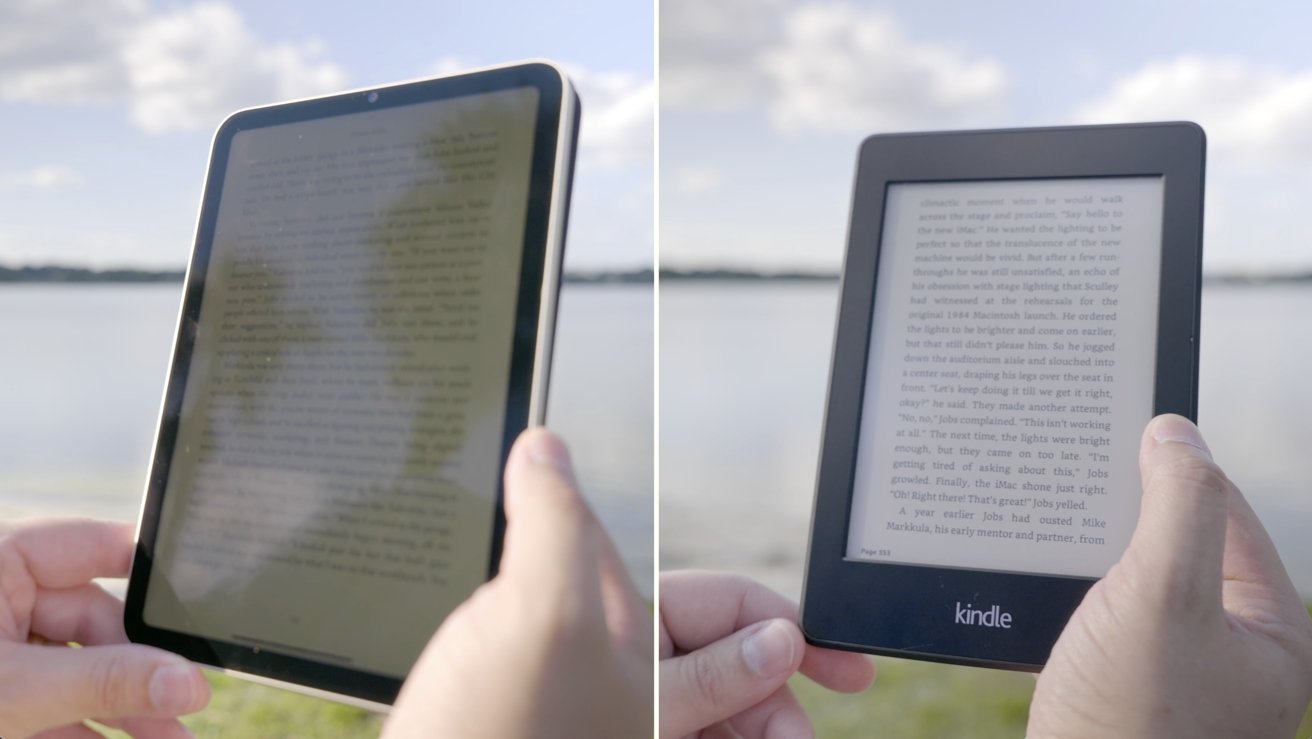 iPad mini vs. Kindle Paperwhite
On the other hand, Kindle is a single-purpose device. If you plan to do
anything
else with your tablet device, the iPad mini wins. For all but the die-hard outdoor ebook users, the iPad mini would be a great reading device.
Wireless Connectivity
iPad mini can be purchased with 5G cellular data support for an additional $150. Unlike the
iPhone 12
and newer models, or the M1 iPad Pro, iPad mini does not support mmWave 5G speeds.
Every iPad mini does support Wi-Fi 6 with simultaneous dual-band and speeds up to 1.2 Gbps, just like iPad Air and iPad Pro.
Accessories
Given the size of the iPad mini, there is no Magic Keyboard case available from Apple. Instead, users can pair any
Bluetooth keyboard
, trackpad, or mouse with the device.
If any accessory is a must-get with the iPad mini, it's the second-generation Apple Pencil (available
at Amazon
). Using Scribble, Apple's handwriting-to-text feature, users can jot down notes, fill out forms, and even search in Safari with ease.
Apple Pencil also transforms iPad mini into a sketchbook, graphic design tool, or podcast editing machine. While the smaller screen can make some of these tasks slightly tedious, iPad mini can handle them all.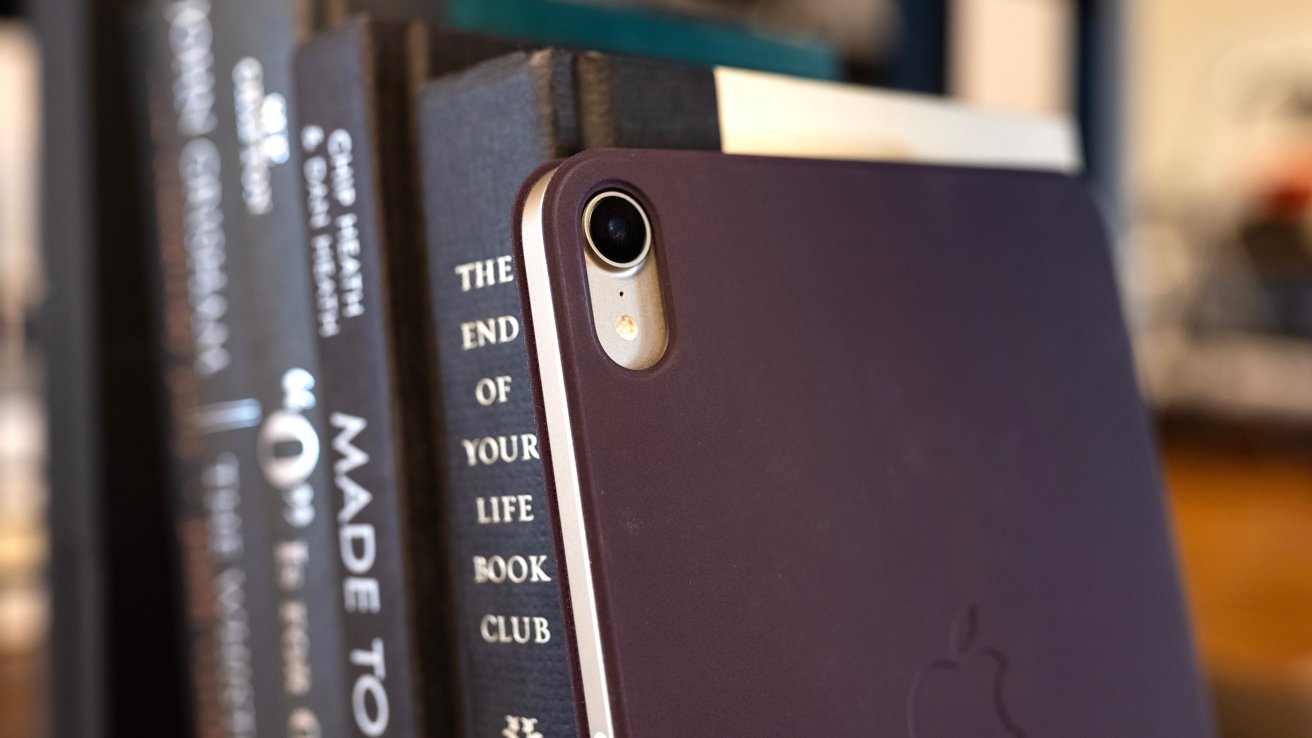 Dark Cherry Smart Folio Case
There is also a first-party Smart Folio case that comes in five colors, English Lavender, Dark Cherry, Electric Orange, White, and Black.
Costing $59
, the Smart Folio case not only protects iPad mini but can fold to make a stand perfect for table-top viewing.
Who should buy the iPad mini?
The new iPad mini
starts at $499
with 64GB of storage. Most users should upgrade to 256GB of storage which
brings the price to $649
. Add cellular connectivity and the total cost of iPad mini
comes to $799
.
Comparing this to a
$139 Kindle Paperwhite
is a tough pill to swallow for the ebook readers out there. If reading books is your primary use for a new tablet, consider the new Kindle devices that include USB-C for charging and an adjustable warm light display.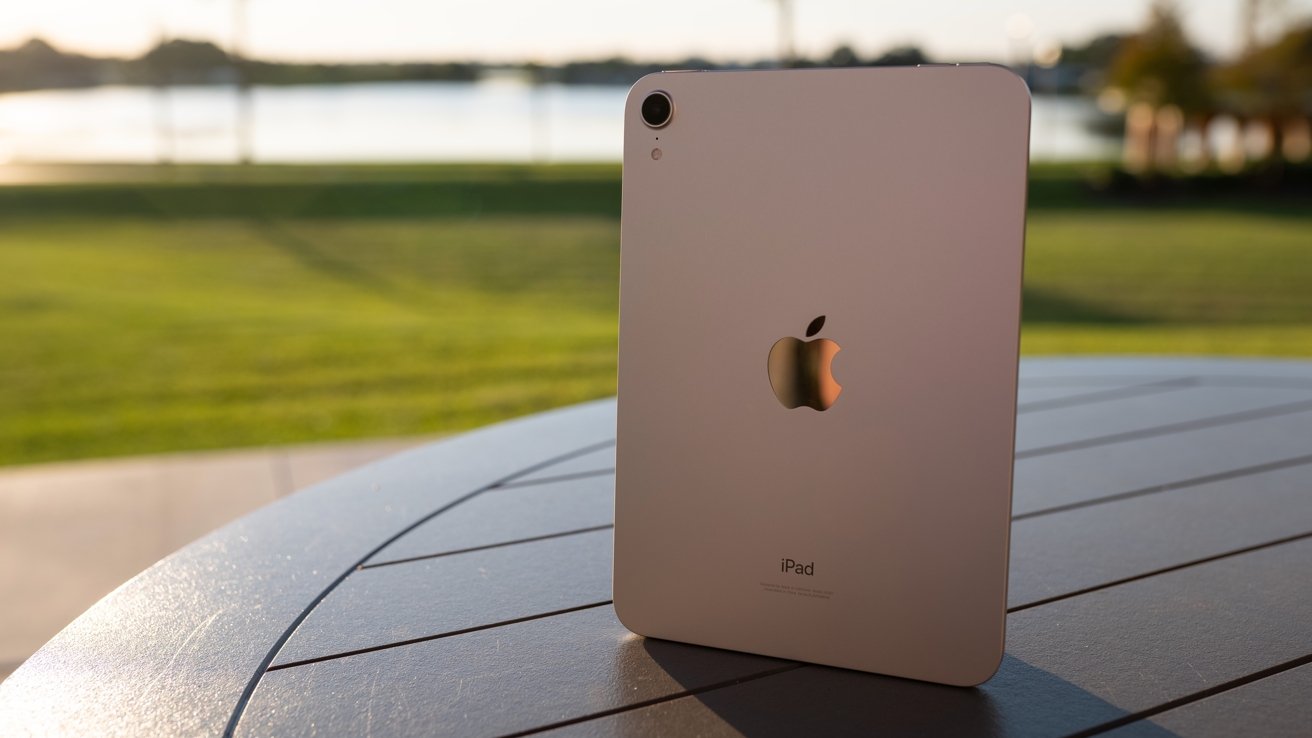 If you don't already own an iPad of any kind, the question of buying an iPad mini is more complicated. Given the small screen real estate, its usefulness as a productivity device is limited.
Users looking to buy their
very first
iPad may want to consider the iPad Air. While it may lack some features like Center Stage, 5G cellular data, and has the year-old A14 Bionic processor, the larger screen and compatibility with Magic Keyboard make it a better combo for work and play.
The iPad mini is a great option for those who already own a larger iPad, especially if it's several years old, and want a smaller, portable device. It will be hard to beat iPad mini's feature set when used to supplement other devices or specialized use cases like heavy travelers or those working in the field.
Plus, it's just fun to use and a delight to hold.
2021 iPad mini pros
Very light and portable


Capable A15 Bionic chip


Sharp, Liquid Retina display


USB-C Port


Beautiful design
2021 iPad mini cons
Tedious multitasking


"Jelly scroll" may or may not make a difference to you


High price tag versus the entry level iPad


No Face ID


Not ideal for outdoor reading
Score: 4 out of 5
Where to buy
AppleInsider
readers can save on every new model in the
iPad mini 2021 Price Guide
, with instant savings and exclusive discounts at your fingertips.
At the time of this iPad mini review, Expercom is marking down every capacity and finish with
this special pricing link
. Amazon also periodically
offers cash discounts
on the tablets.
Read on AppleInsider