iPod Shuffle, cabled EarPods drafted in retro tech revival
The iPod Shuffle and other older devices are enjoying a resurgence, fueled by social media users finding new ways to make use of the outdated technology.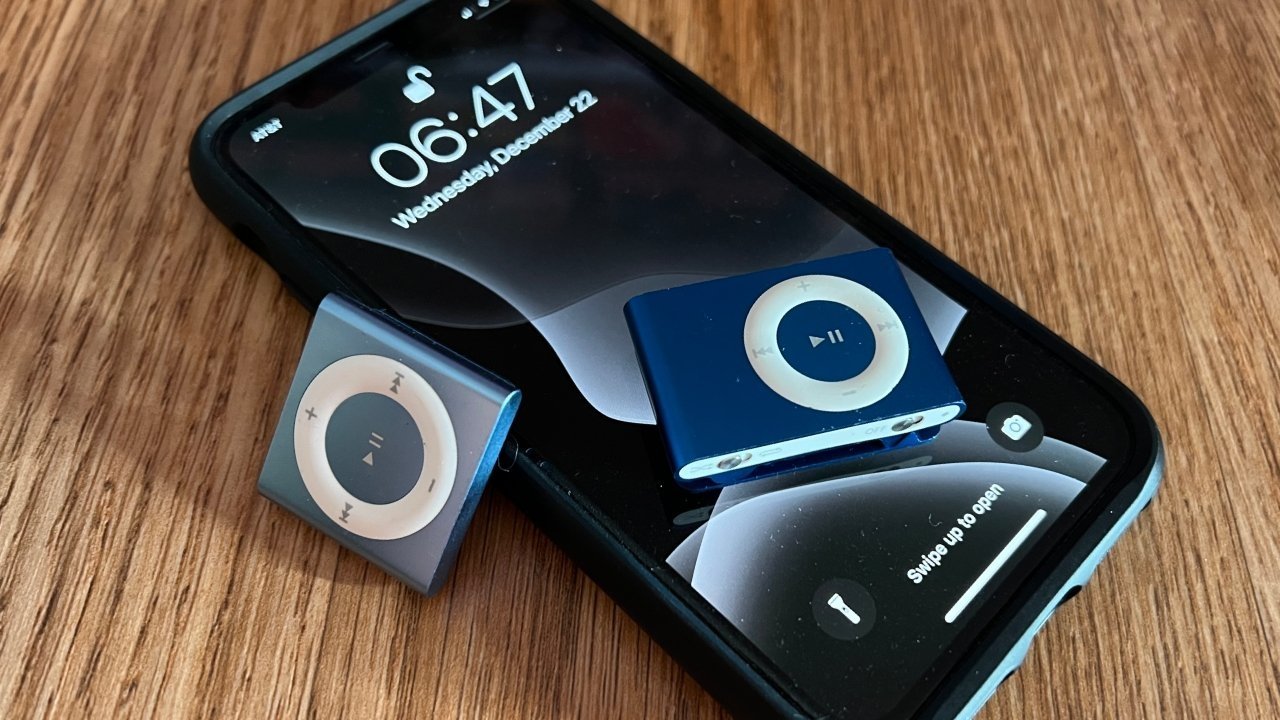 A trend on social media involves old technology, but rather than examining the hardware as artifacts, it's taken a different approach. This time, the trend is all about using bygone devices in new ways, different from their intended purpose.
The profile on the
trend by
The Information
covers a number of initiatives that caught social media user's attention, starting with the viral clip by Celeste Tice. In the viral TikTok video, which
trended in December
, Tice talked about the "vintage" iPod Shuffle, and used it as a hair clip.
Tice wasn't the only one to reuse the Shuffle as a hair clip, with others making the same hair-based move. Examples given included 23-year-old Kira Vaden who bought them specially as hair clips without knowing if they worked, and Jewelry designer Sara Camposarcone transformed a pink iPod Shuffle into a broach.
In some cases, the videos prompted comments about the technology, including how it could "trigger a whole generation" with the seeming misuse of the technology.
It is reckoned that the latest trend is a revival similar to that of Polaroid cameras and vinyl records in 2010s. For 2020, this reuse of older technology extends to hardware including flip phones and the use of Ethernet cables, as well as the aforementioned Shuffle.
According to
After School
culture newsletter writer Casey Lewis, the movement seems to harken back to a pre-social media time. "People are tired of the Internet and the pace - the Facebook of it all right now. And it makes us think about these more niche tech experiences that we had growing up."
Among other retro-tech efforts brought up in the report is the idea of the "wired it' girls," referring to celebrities using wired earphones typically bundled with smartphones, such as the iPhone's EarPods. As well as being sported by celebrities and influencers, the trend apparently caught traction due to the high accessibility of it, due to many people typically keeping hold of the included earphones.
Lewis saw the trend surfacing in Williamsburg, and put it down to the immediate ability for people to try it out. "People are like, Wait, I have that in my drawer right now, like I can just participate in this trend without even buying anything new."
The trend may have to rely on older EarPods provided with earlier iPhones. Except for
specific countries
, Apple doesn't provide consumers with complementary EarPods with their iPhone purchases anymore.
It remains to be seen what the next wave of tech revival will bring, but there's a good chance Apple's hardware will be involved at some level. It's entirely possible that, years away, fashionable social media users could be wearing
Apple Glass
while enthusing about the original models of the
Apple Watch
to their followers.
Read on AppleInsider