How AppleInsider staff continue to work from home, two years later
All AppleInsider staff work from home offices but how we do it became suddenly more relevant when COVID-19 forced so many people to do the same. Two years after the first time we talked about it, here is how we've each moved on and what new gear we now rely on.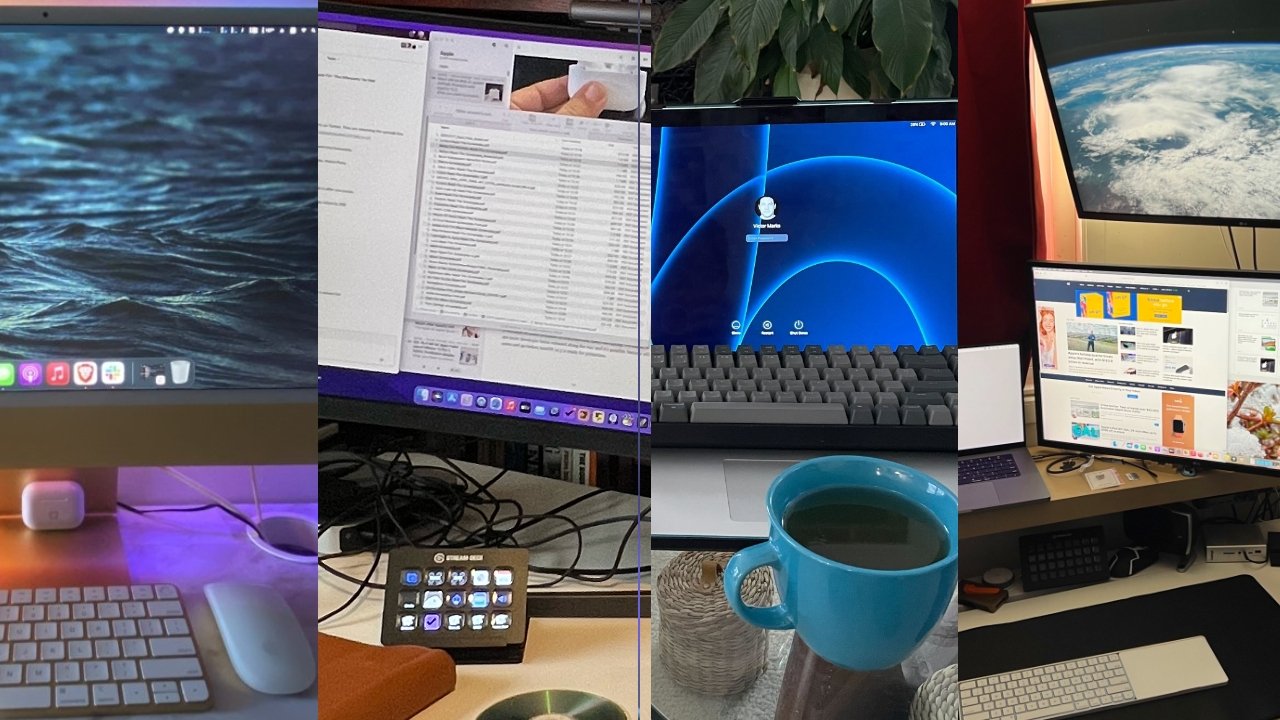 Seeing how other people set up their working desks did become almost practical when the coronavirus pandemic forced so many to work from home for the first time. But otherwise, there's no justifying it, there is simply something interesting about how other people work.
What's surprised
AppleInsider
staff, though, is how much things have changed in the two years since
we first looked at this
. On the one hand, all of the staff were already working from home so we had experience to share, yet in this one sense we weren't dramatically affected by the pandemic.
Then on the other hand, two years ago, most of us were very happy with what we'd done in our offices. We had the right tools to do our jobs, we had the tools we enjoyed.
So over and over again, as
AppleInsider
staff were asked what has changed since our 2020 article, the same things kept happening -- and in the same sequence.
First there would be certainty that nothing significant had altered, then a realization that, okay, maybe one thing was a little different. And finally, usually when we'd taken the photographs, there was surprise at just how very altered all our work, all our offices, and all our lives are.
It's the same for you. And we're waiting in the
AppleInsider
forum to hear all about what tools you use, and what helps you get your work done. Especially if you've had to get used to working from home for the first time.
William Gallagher, writer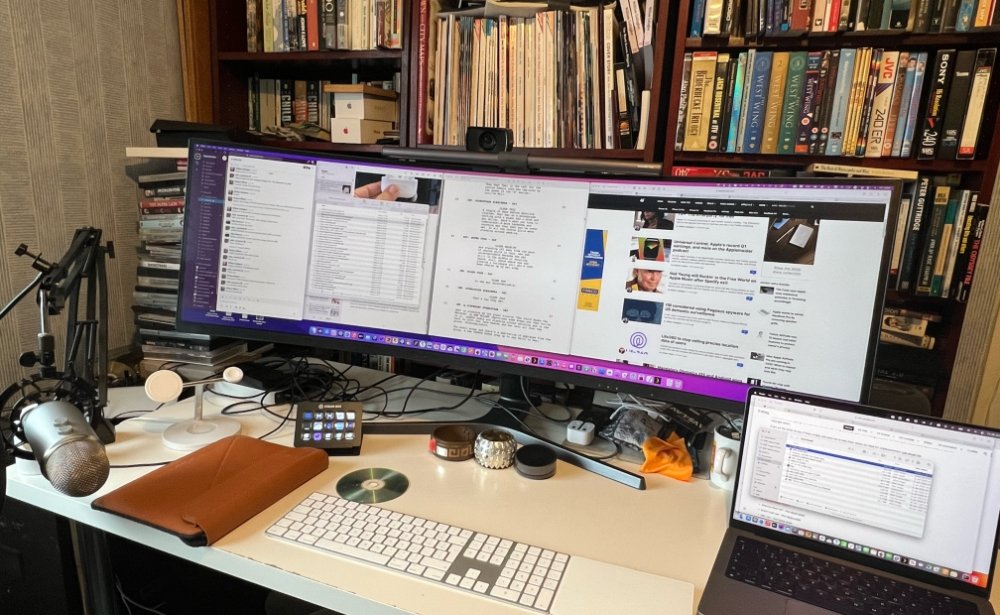 William Gallagher's 2022 desk
My changes were chiefly necessitated by the loss of the 34-inch monitor I used to have. It was on loan, it had to go back, but it was 34-inches wide and I had tasted blood.
I couldn't go back to a regular monitor after that, and maybe I didn't have to go the other way, but I did. I bought a
49-inch Samsung LC49RG90SSUXEN monitor
.
If you're struggling to quite picture a 49-inch monitor, let me explain that walking from one side to the other is enough to close my exercise ring.
And in comparison to monitors I've had before, it's also a joy to read text on. As long as I avoided seeing Apple's
Pro Display XDR
, I could enjoy the resolution on my monitor and just occasionally wish that it were taller.
Now I have a new
14-inch MacBook Pro
and the screen is so gorgeous that I could eat it before lamenting how much poorer the Samsung one plugged into my Mac mini is.
The size of the monitor necessitated a change in desk position, plus what I leave on top all the time. The most notable changes around the desk include the addition of an
Elgato Stream Deck
(on sale
at Amazon
) which has proved remarkably useful, especially in Zoom video calls.
There's also now a
Belkin 3-in-1 MagSafe charger
($149.99
at Amazon
) which used to be my bed until a different furniture rearrangement. Now I charge my
iPhone
on it overnight to keep me from reading it in bed, and I charge my
Apple Watch
on it during the day, in order to use that for an alarm in the early morning.
I've had some bad experiences with Belkin products, but
AppleInsider
podcast host Stephen Robles talked me into this one and I've been very happy with it.
Just a day or two before I took the photo, and tidied the desk, I also fitted a ScreenBar Halo light (
from $109
) to the top of the monitor. And I expect to be very happy with that, too.
I'm reviewing it and have really only just started, but especially at night, that downward-facing light creates an unexpectedly cosy atmosphere. I can have my office lights off, be concentrating on my writing, and feel rather cocooned away from the world.
Amber Neely, writer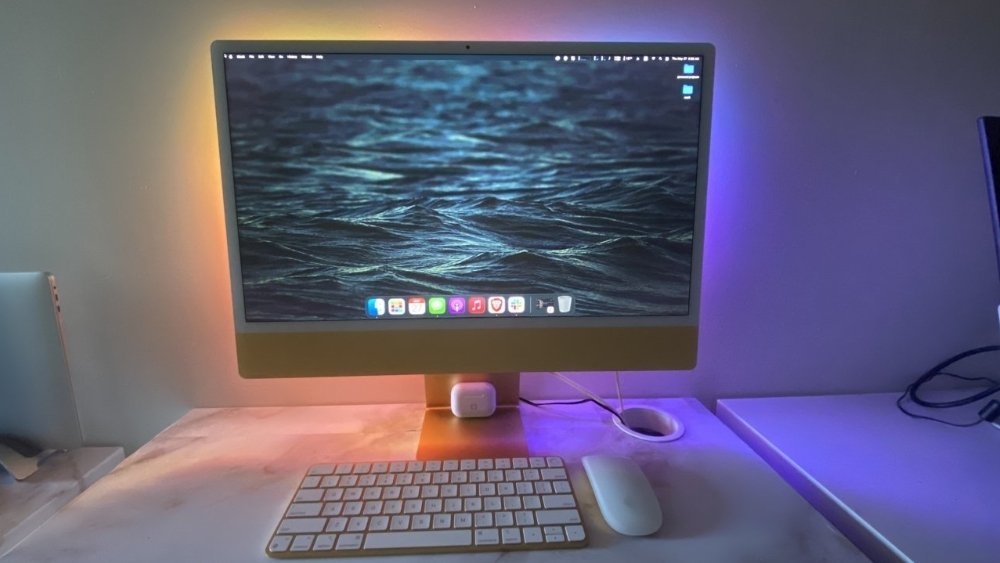 Amber Neely's 2022 desk
Long before the M1
24-inch iMac
was even announced, I'd decided to switch to the next Apple all-in-one desktop. The choice was a total no-brainer -- I do not particularly like portable computers.
I've never been able to find a comfortable way to use a laptop in its intended form. The screen is too low to use comfortably without straining my neck, and if I put it up on a stand, I wind up needing to attach an external keyboard and mouse. The screen of the 15-inch MacBook Pro was also too small.
This meant that I was already using my MacBook Pro in clamshell mode, attached to a cheap, less-than-ideal external monitor. I had to pair an external mouse and keyboard with it, and at the end of the day, I felt like I was drowning in cord clutter for a setup that didn't work well.
By switching to an iMac, I reduced the number of cords attached to my computer. In addition, I gained a significantly higher quality 24-inch screen that is at a decently comfortable angle.
The only complaints I've had about the iMac are that it didn't have enough ports that I needed, which was remedied by adding a
HyperDrive iMac Hub
($79.99
at Amazon
).
It's a nifty little device that clips onto the bottom frame of your iMac and adds in three USB-A ports and two front-facing USB-C ports. Now I don't need to worry about scratching the back of my iMac trying to plug in a cord when it comes time to charge my mouse.
Andrew O'Hara, video producer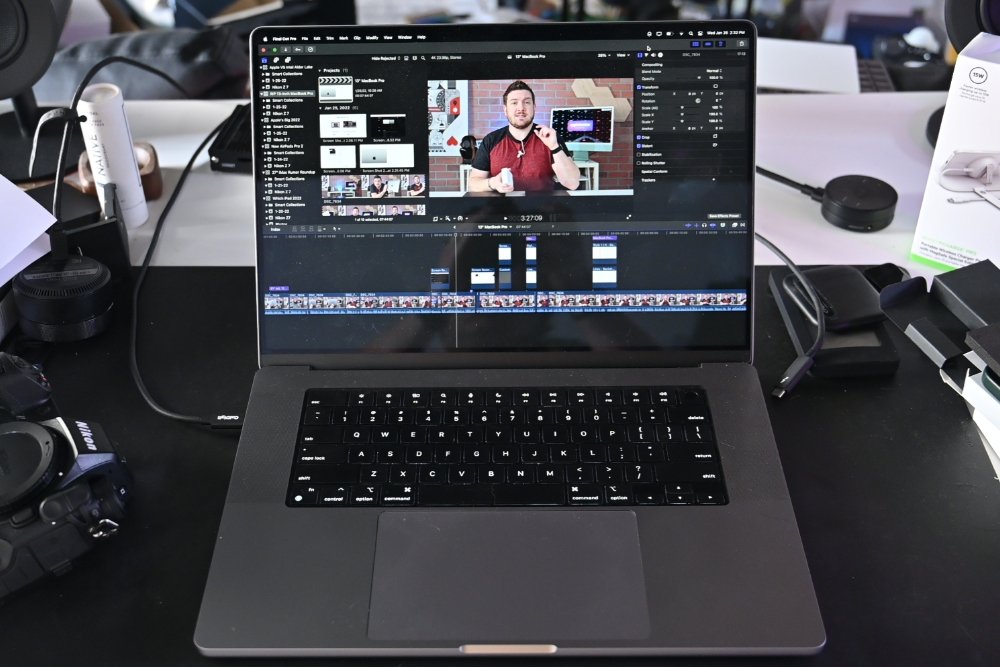 Andrew O'Hara's 2022 desk
Things have certainly changed since the last time we took a look at my desk setup. As it stands, my desk is in a state of disarray as I still try to nail down what works for me and what doesn't.
I've since traded in my
Mac Pro
tower for the new
16-inch MacBook Pro
with the
M1
Max processor. My monitor also kicked the bucket, leading me on a search for a replacement. This has upheaved my existing desktop setup.
Right now, I have the new MacBook Pro connected to a temporary
CalDigit Thunderbolt 4 Element hub
($249.99
from CalDigit on Amazon
). The hub is great with multiple
Thunderbolt
and USB-A ports but it lacks a hardwired Ethernet port. I'm looking to upgrade that.
That CalDigit hub connects a Thunderbolt Sonnet CFExpress card reader, my Akitio Node outfitted with an Intel Optane SSD, and a temporary 15TB TerraStation RAID array.
One new addition has been the
Razer Nommo Pro
2.1 desktop speakers. I've also begun relying more frequently on my
iPad Pro
as a secondary display until I find one I like or Apple releases a more consumer-level offering.
Mike Peterson, writer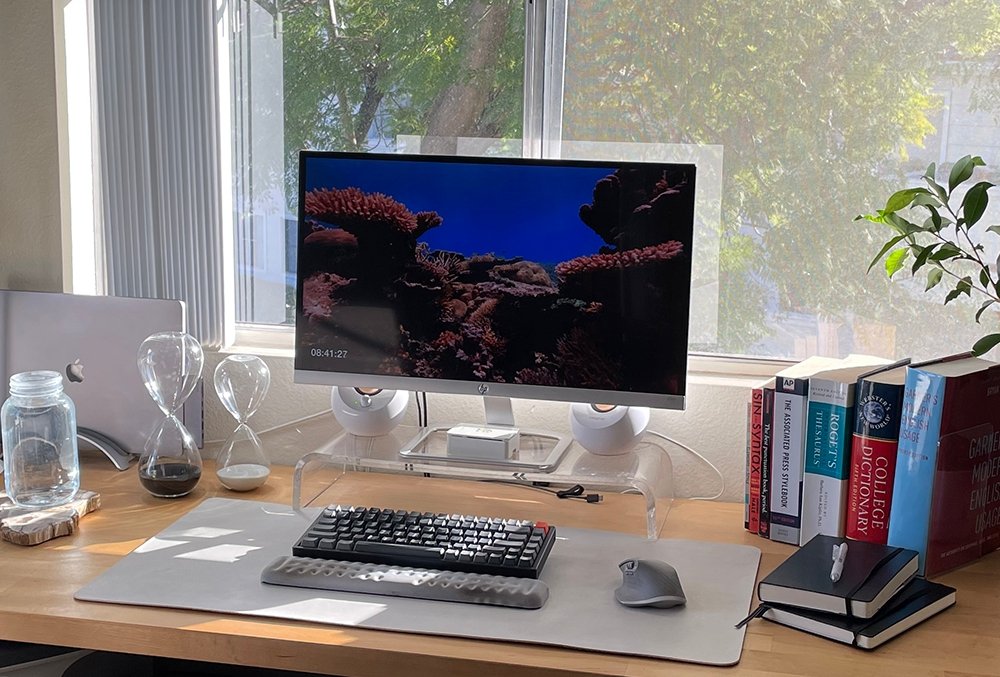 Mike Peterson's 2022 desk
Before taking account of how my setup has changed in the past two years, I incorrectly assumed that nothing was different.
The desk itself hasn't changed -- it's an Ikea kitchen countertop on two Alex cabinets. I still use the same 25-inch HP monitor,
Keychron K2
, and
MX Master 3 mouse
from two years ago. I even have the same lamp, speakers, Bonsai tree, and coaster (which is actually a piece of petrified wood).
Beyond those stalwart work-from-home accessories, however, there have been quite a few significant updates in the last two years. Most of them were added gradually. For example, my daily driver is now a 2019 16-inch MacBook Pro with an 8-Core Intel Core i9, 32GB of RAM, and a 2TB hard drive.
While I still use the same Twelve South BookArc stand (on sale
at Amazon
) for the Mac and the same USB-C hub to add ports, I now have a proper monitor riser. Previously, my monitor sat on top of my MacBook Pro box.
Another significant addition is the office chair. I replaced the inexpensive Amazon chair with a much nicer Branch Ergonomic Chair. It wasn't cheap, but I live by the motto that you should never skimp on anything that separates you from the ground.
The aging iPad Pro is gone and is now used in the kitchen for recipes. I found that I mostly read articles on the
Mac
or my iPhone.
I suffer from pretty bad eye strain when I look at a computer too long, so I try to have some analog items around. That includes a couple of notebooks for note-taking and journaling, a few additional reference books for writing, and two hourglasses that were a Christmas present from my wife. The latter two items look nice on the desk and help me track how often I should get up and stretch my legs throughout the day.
My cable management, of course, is still terrible. I predict that won't change.
Wesley Hilliard, writer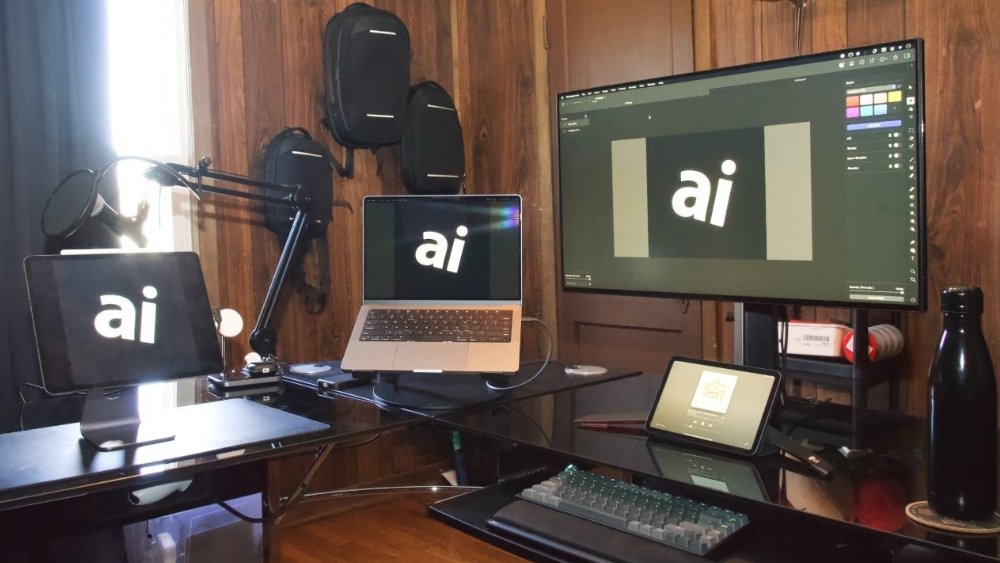 Wes Hilliard's 2022 desk
A lot has changed since our 2020 article showcasing desk setups. Back then, I lived in Virginia Beach, working from a corner desk in my living room. I used an iPad Pro and
iPad mini
to get through my workday.
William called my old desk set up something akin to "Darth Vader's portable office," but I've since moved to Tennessee, got an office space to work from, and revamped my entire workflow and setup.
First, I got out of the corner. I now work from an
L-shaped desk
in the center of a room. I stuck with the iPad-only setup for a while but recently moved to the 14-inch MacBook Pro as my primary work machine.
Moving to the MacBook Pro for my primary work device wasn't because of the iPad's failings, rather it was due to the Mac's successes. Apple has finally made the Mac interesting with its M-series processors and macOS Monterey features. You can read more about my transition from iPad to Mac in
the full story
.
This desk offers a wide space for me to spread out and get work done. The MacBook Pro is connected to the LG 27GN950 monitor ($799.99
at Best Buy
) and peripherals via a CalDigit Element Hub ($249.99
at Amazon
). The iPad Pro and iPad mini act as second screens or alternate workstations depending on what's being done.
The iPad Pro still serves as an essential part of my workflow. It is sometimes a photo editing tool using
Sidecar
. It also plays the news or a video I need for a story. When it's time for lunch, I grab the iPad Pro from the magnetic Lululook stand ($85.99
from Lululook on Amazon
) and take it with me to watch TV from the kitchen.
When I need a break from the office, the iPad Pro leaves with me, not the MacBook. The MacBook Pro stays in its Twelve South Curve stand ($59.99
at Amazon
) unless I am traveling. I find the iPad Pro in its Magic Keyboard is a better laptop to work from around the house thanks to its versatile form factor.
The iPad mini may seem overkill, but it works as a media control center, second display with SideCar, or another reference screen. Universal Control will only enhance the experience of having multiple devices around my desk once it releases.
IA Writer, Pixelmator Pro, and Picsew are still in my software lineup for day-to-day work. I rely upon many Apple apps as well, like Notes and Reminders.
When it's time for the
AppleInsider
podcast, I plug in the Audio Technica ATR2100x microphone ($99
at Amazon
) and record over Quicktime. I use the iPad Pro to navigate the show notes and view links, so I'm not facing away from the microphone during the show.
My desk setup is constantly evolving along with my workflows. I will never be satisfied and will try every new technology as it releases to see if it will make work a little bit easier. I'm excited to see what my desk looks like in another two years.
Victor Marks, writer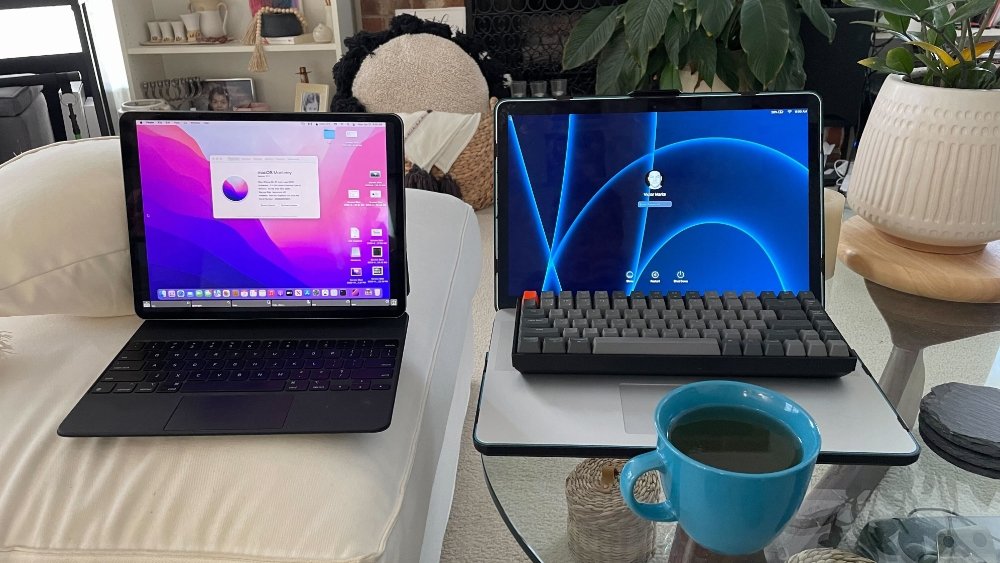 Victor Marks's 2022 desk
The 2014 Macbook Pro on the right is on its last legs. The battery warns, :Condition: Replace Now," and the keyboard doesn't register well.
So while I still have that machine I did two years ago, keyboard duties on it have been replaced by the excellent Keychron K2.
The 2020 iPad Pro with
Magic Keyboard
does the job for many things, and Screens.app connects to a headless mac running Monterey for Mac duties when the MacBook Pro falls over.
The iPad does many things well, but I remain strongly looking forward to an M2 MacBook, or an iPadOS that takes better advantage of the M processor.
Malcolm Owen, writer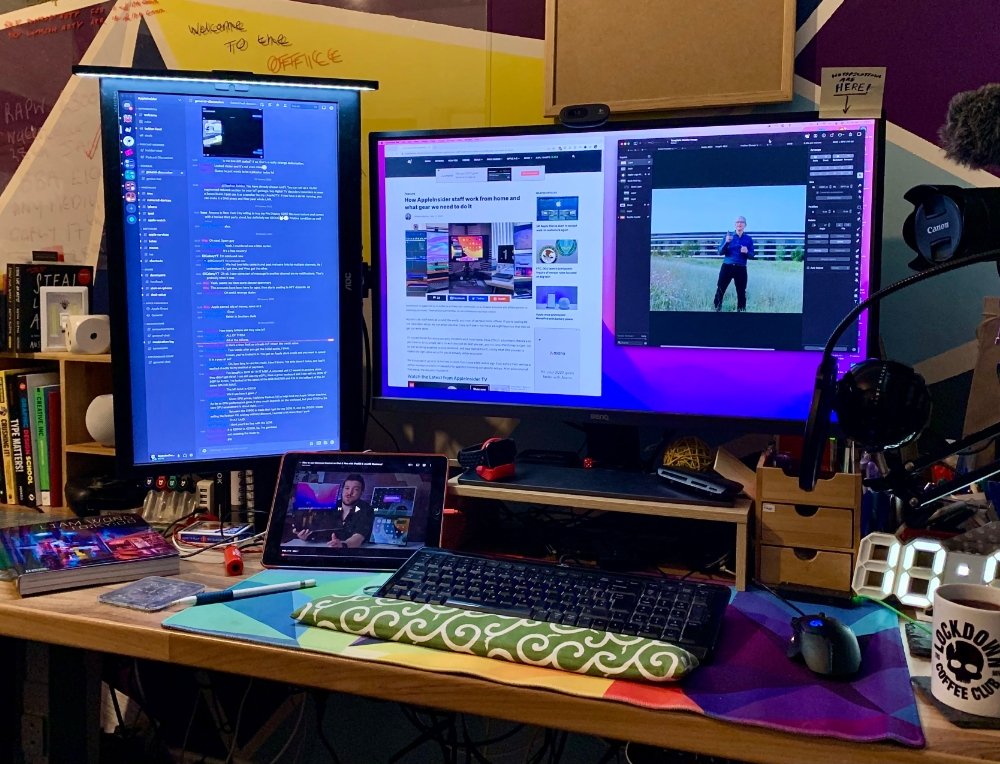 Malcolm Owen's 2022 desk
Two years ago, I was writing my contribution to this article's predecessor approximately 60 miles away, with the change of location down to a house move last winter. However, I've actually changed offices twice in that time.
On moving in, the plan was for me to use the small bedroom upstairs as the office, which was decorated, treated with acoustic foam and other soundproofing, and made into a well-engineered office space. Unfortunately, the lack of air circulation and cramming a large human with tons of electronics into a small space results in too much heat.
Now, my office space is a larger downstairs room, shared with my girlfriend as she works on artwork. It has a lot more space to work in, isn't as cramped, and shouldn't be sweltering in the summer.
The worksurface is a standing desk frame from
Flexispot
combined with a spare 5-foot-long kitchen worktop. Behind the desk is a perspex sheet as a transparent chalkboard next to a more conventional whiteboard.
The main work device is an M1
Mac mini
, an upgrade from the Intel Mac mini I used before. It's a breath of fresh air from what I had before, and has become my main computing platform, though I do run into storage problems. Extra capacity is provided by a 1TB SanDisk Extreme SSD, with a slower drive used for Time Machine backups.
It's attached to the AOC monitor I had last time, which is in a vertical arrangement for reading websites and using communications apps such as Slack or checking the AI Discord, next to a BenQ 31.5-inch 4K display.
On the peripherals side, there's an ancient chicklet-style Logitech keyboard, a
Logitech G402 mouse
, a Razer headset, my old reliable Blue microphone, a SanDisk memory card reader, and an old Logitech webcam. All of these are attached to USB Hubs, with some connected to a switching USB hub so they can be used both on the Mac and the PC mounted under the desk.
Other things on the desk include a
9.7-inch iPad Pro
, an iRig guitar input, wireless charging for the iPhone and Apple Watch, a
HomePod
, and a
Canon EOS RP
and light used as a higher-quality webcam for streaming. Aside from the cable mess inherent with standing setups, I have a rolling trolley containing various supplies, and attached with velcro to the desk's underside is a network switch and a Raspberry Pi.
The seat is a Noblechairs Hero with blue stitching and built-in lumbar support ($459.99
at Amazon
) that I wish I had splashed out on it a little bit sooner in my writing career.
I really cannot stress how important great seating is when you're stuck in a chair all day. Your back, and your backside, will thank you.
Mike Wuerthele, editor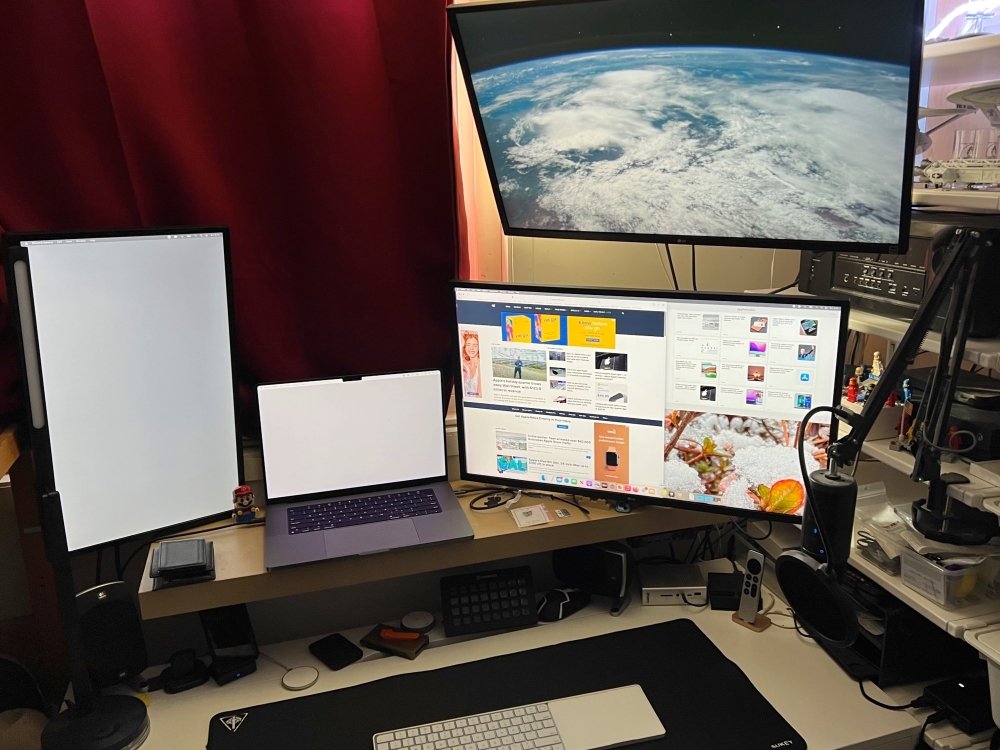 Mike Wuerthele's 2022 desk
Nearly everything about my life changed since the last time we did a desk post. A lot has changed from then to now, and a lot more will change in the next year.
The only thing that didn't change hardware-wise on my desk is accessories. The Elgato Stream Deck is still there, and so is the CalDigit TS3+ Thunderbolt dock ($299.95
at B&H Photo
).
Some additions and replacements are obvious. At a glance, the new-to-me 28-inch 4K display is in portrait orientation to the left of my MacBook Pro. And that MacBook Pro isn't the 2018 i9 MacBook Pro that was there before, replaced by the M1 Max
16-inch MacBook Pro
.
This necessitated the complete removal of my beloved eGPU setup. That shelf-void hasn't been filled as of yet, and I'm not sure it will be.
Next in line to go is the Denon receiver, which will be replaced by a refurbished Logitech Z906 (available in new condition
at B&H
) as soon as I get around to making the purchase. I'm not shuffling around video inputs between the upper and lower displays as much as I thought I would, so it's time to simplify.
The full-size HomePods for the
Apple TV
have been moved to the living room, and replaced with HomePod minis. This room is just too small for a pair of big ones, and the minis sound almost as good. The original
Apple TV 4K
has been replaced with the new model, and the older one has cascaded into the rest of the house, retiring the last of the third-generation Apple TVs in service.
That same
12.9-inch iPad Pro
is sitting in that filing desk accessory being used as an ersatz charging station. Added is a fourth-generation iPad mini, because I got tired of the big iPad smashing my face while reading before bed as I drifted off.
For a while, well after the first desk post, I had my M1 Mac mini at the core of my macOS-based home server that's under the desk. That was overkill, but for that matter, so is the 2018 Mac mini that I put back in its place.
As for why, as it turns out,
Apple Silicon
doesn't have good driver support for some RAID enclosure chipsets, specifically, the eight-bay Highpoint unit I picked up on the cheap.
So, for now at least, Intel for that it is. And, Intel it may stay, as there's no sign of that driver coming to Apple Silicon
macOS
just yet, and I'm not sure it will ever arrive.
Read on AppleInsider