Mophie 3-in-1 Travel Charger with MagSafe review: On-the-go convenience
Posted:
in iPhone
edited March 7
Mophie's impressive 3-in-1 travel charger with
MagSafe
is a unique offering in an expanding landscape. Its compact design and included carrying case make it an almost-perfect companion for home and away.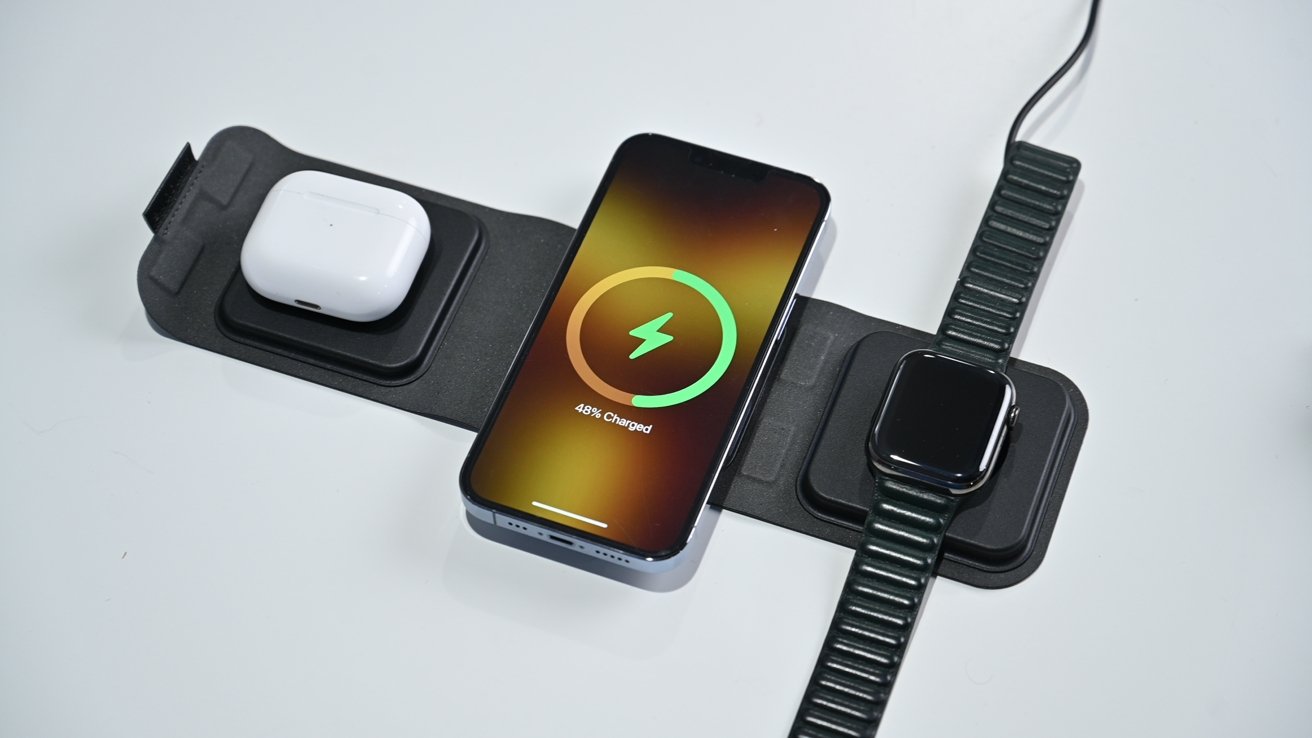 Mophie 3-in-1 MagSafe Travel Charger
Third-party MagSafe accessories have been scarce since Apple launched the new standard within the
iPhone 12
line, but we're now seeing several options come to market. Mophie
joins other accessory makers
such as Belkin, Nomad, and Hyper in introducing various chargers with MagSafe built-in.
With the Mophie 3-in-1 travel charger, everything is included in the box. This is uncharacteristic of accessory makers as of late who frequently opt to omit power adapters with purchase.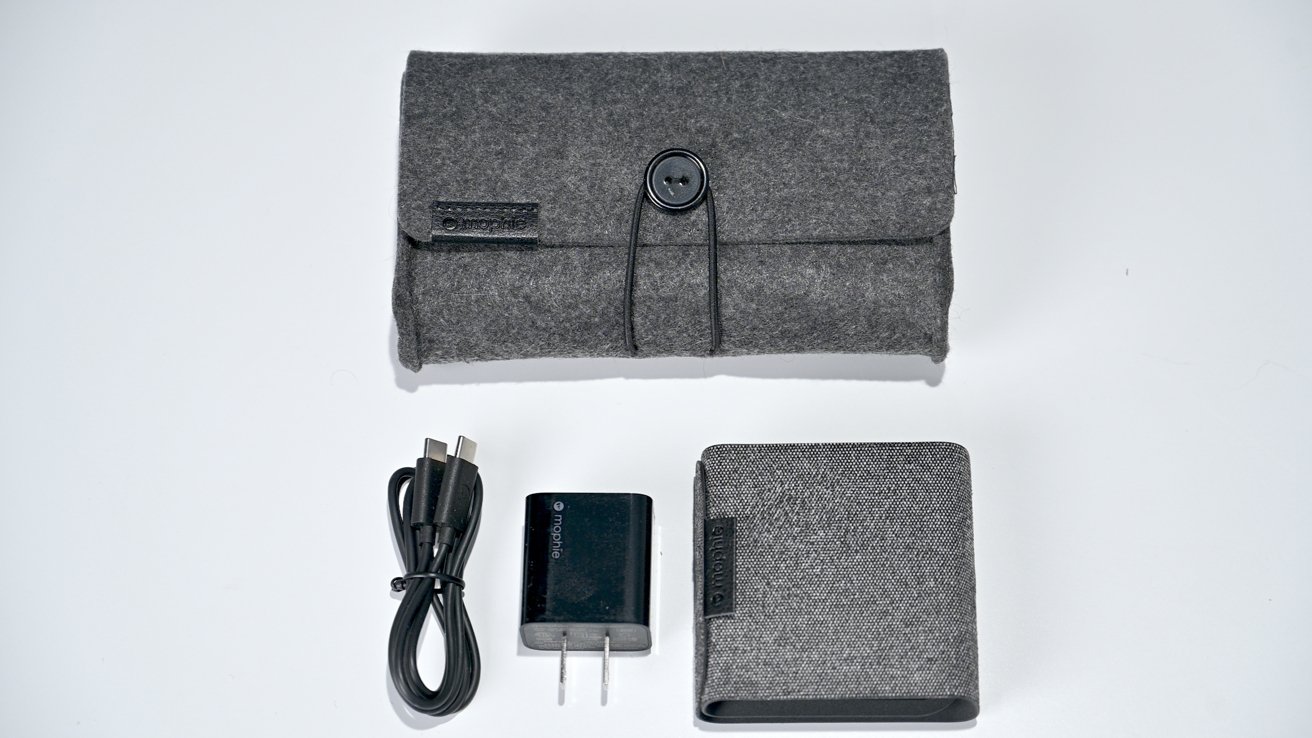 Mophie 3-in-1 MagSafe Travel Charger components
But Mophie goes further, not just including the charger, cable, and power brick but a travel case as well.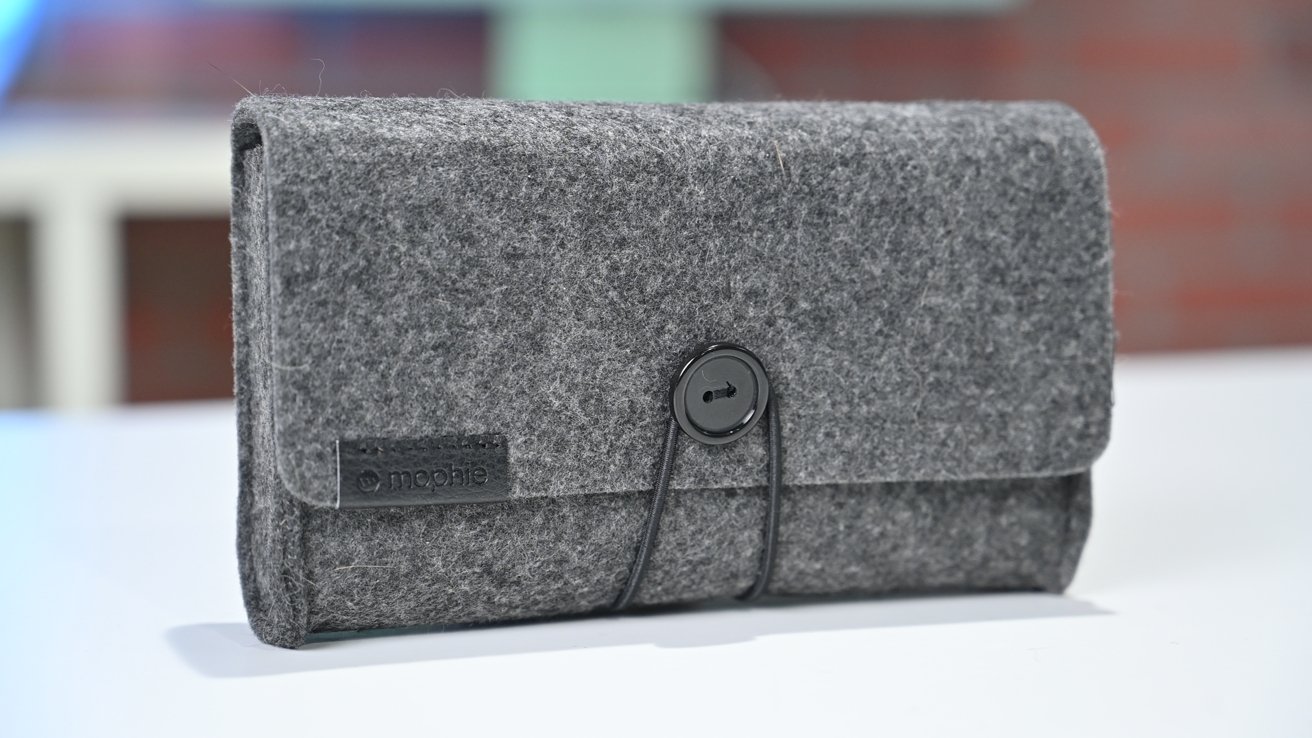 Mophie 3-in-1 MagSafe Travel Charger case
This handy carrying case wool felt and will protect any of your metal gear that comes in contact with it, though it is admittedly a pet hair magnet. A simple button is sewn to the front flap that holds an elastic cable when shut.
A small Mophie logo is stitched to the front on what looks like a piece of black faux leather.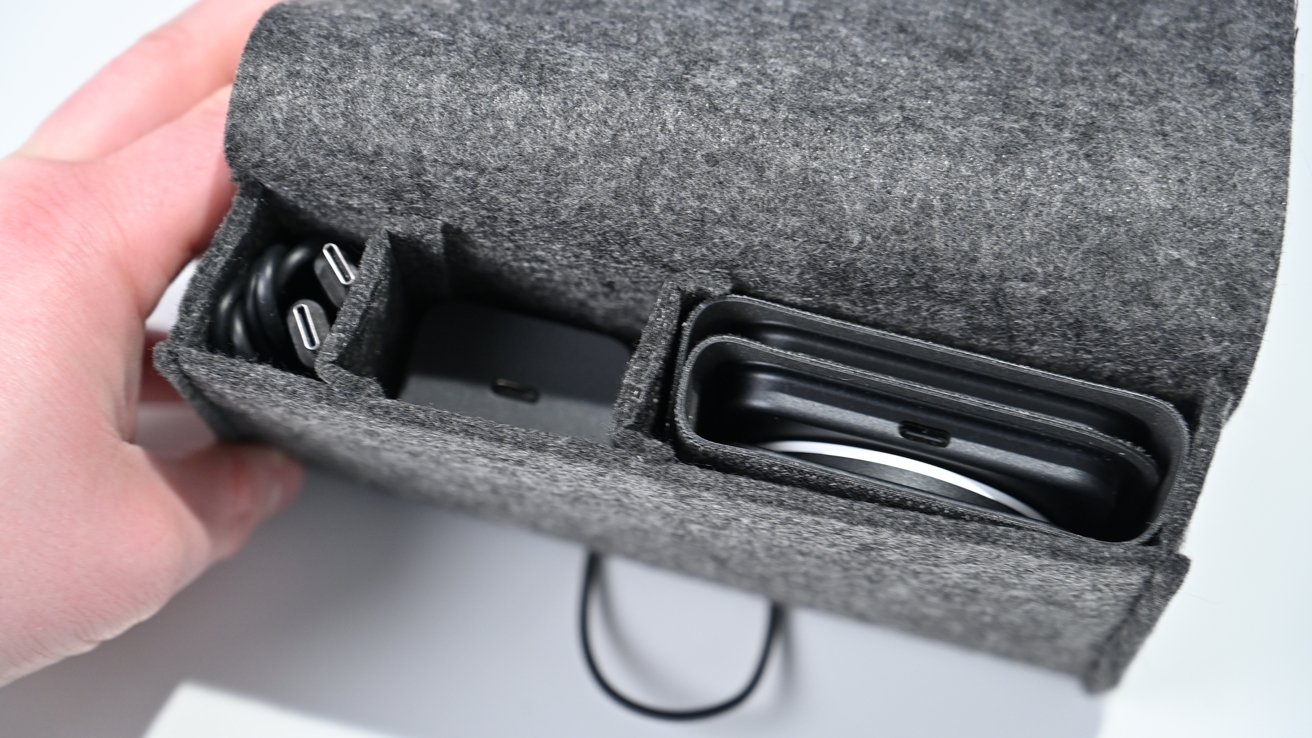 Comparements in the carrying case
Inside this carrying case are three distinct compartments. Each compartment is home to one of the necessary accessories. Everything gets perfectly nestled in place, though the tight fit means it isn't as easy to swap out the charger or the cable for other versions.
The cable is a bit short for our liking and relatively thin, but trying to bring a two-meter braided nylon cable just wouldn't fit in this case.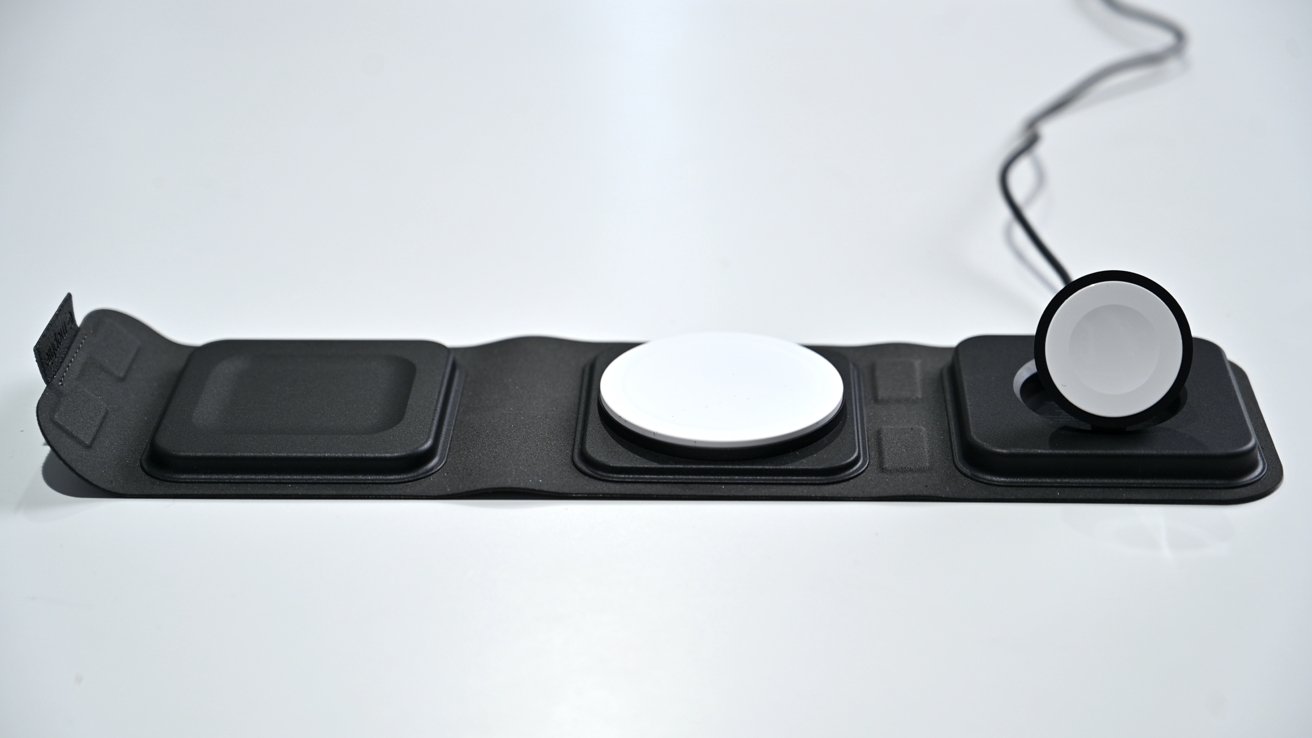 Mophie 3-in-1 MagSafe Travel Charger from the front
The whole charger unfurls out of the case to lie flat on your desk or nightstand. The outside of the charger has a svelte heathered fabric that feels soft, like suede or microfiber. It's a great look in keeping with modern design trends and a material we've seen Mophie employ before.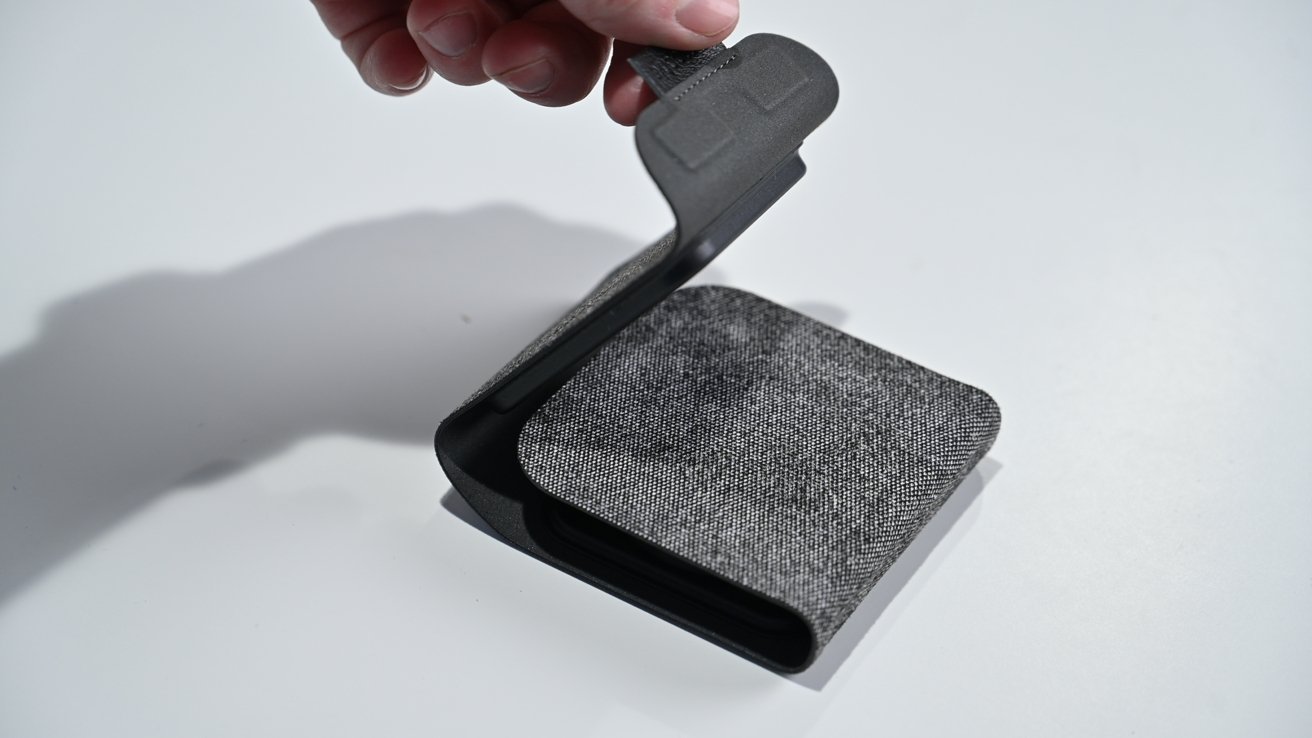 Mophie 3-in-1 MagSafe Travel Charger magnetic closure
Mophie appears to heat seal the edges of the charger to prevent fraying, which does result in a semi-abrasive edge. It's surprisingly rough and something we also noticed on Mophie's MagSafe
stand
.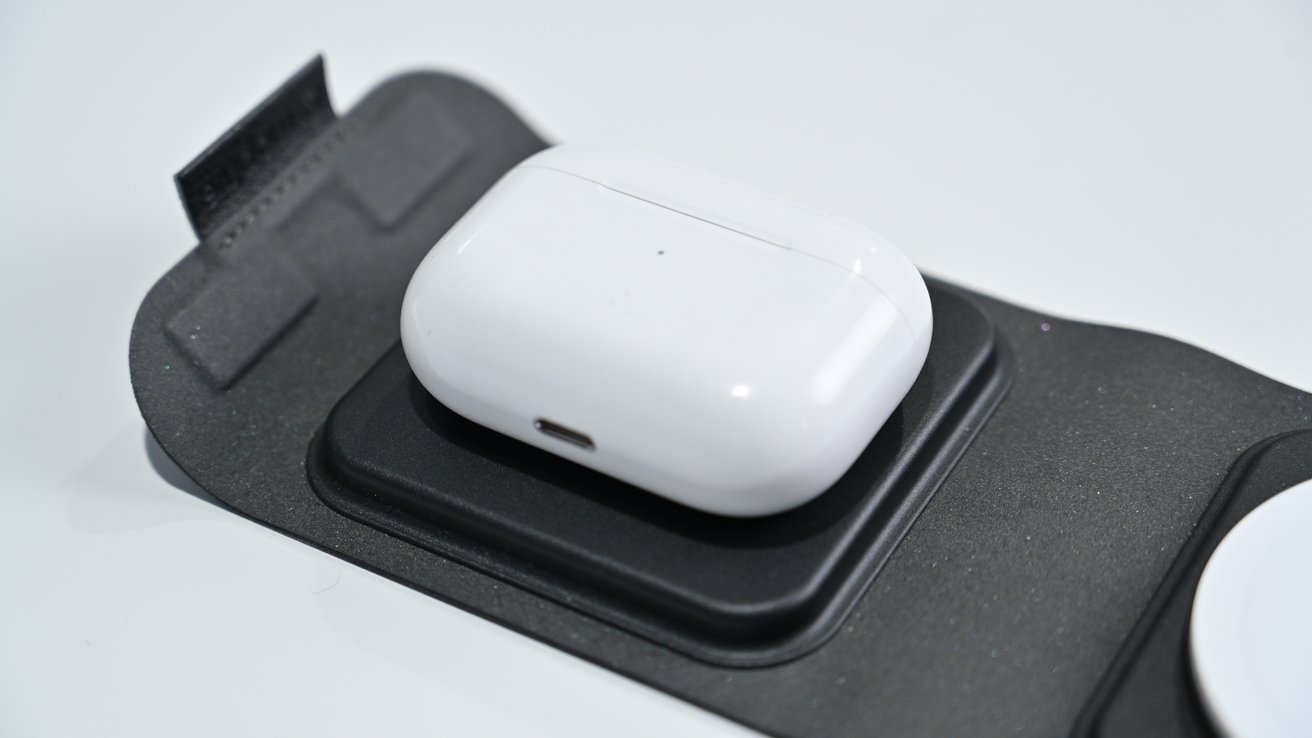 Mophie 3-in-1 MagSafe Travel Charger works with all AirPods
When you're ready to head out, roll the charger up. It will magnetically close thanks to a pair of magnets concealed in the end. Those magnets are unnecessary while the case is stored in the pouch but prove useful when carried on its own.
Each charger occupies one-third of the device. The far-left is home to a shallow tray where
AirPods
can be placed. It will fit all generations of AirPods that support wireless charging.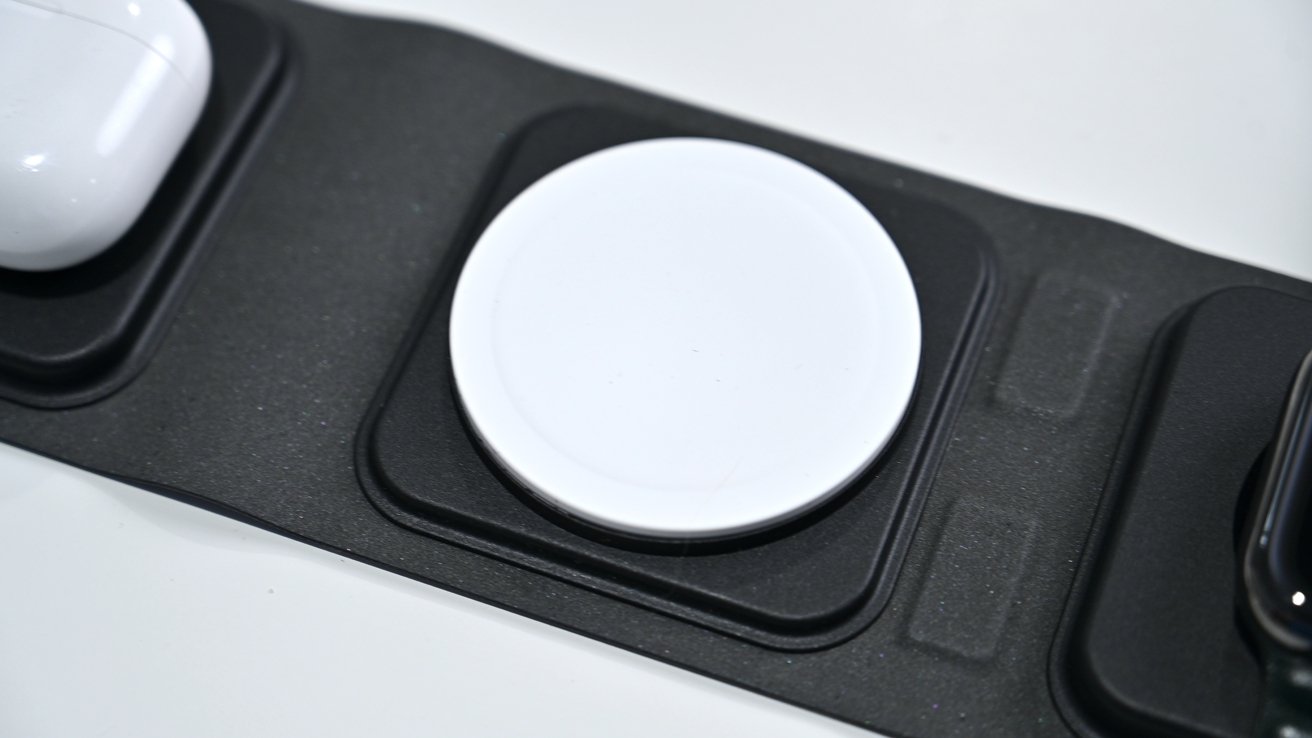 The official MagSafe puck
In the center is the MagSafe puck itself. It uses Apple's official MFi-certified MagSafe puck, so it still has the soft-touch silicone exterior to protect your phone or the case it's in.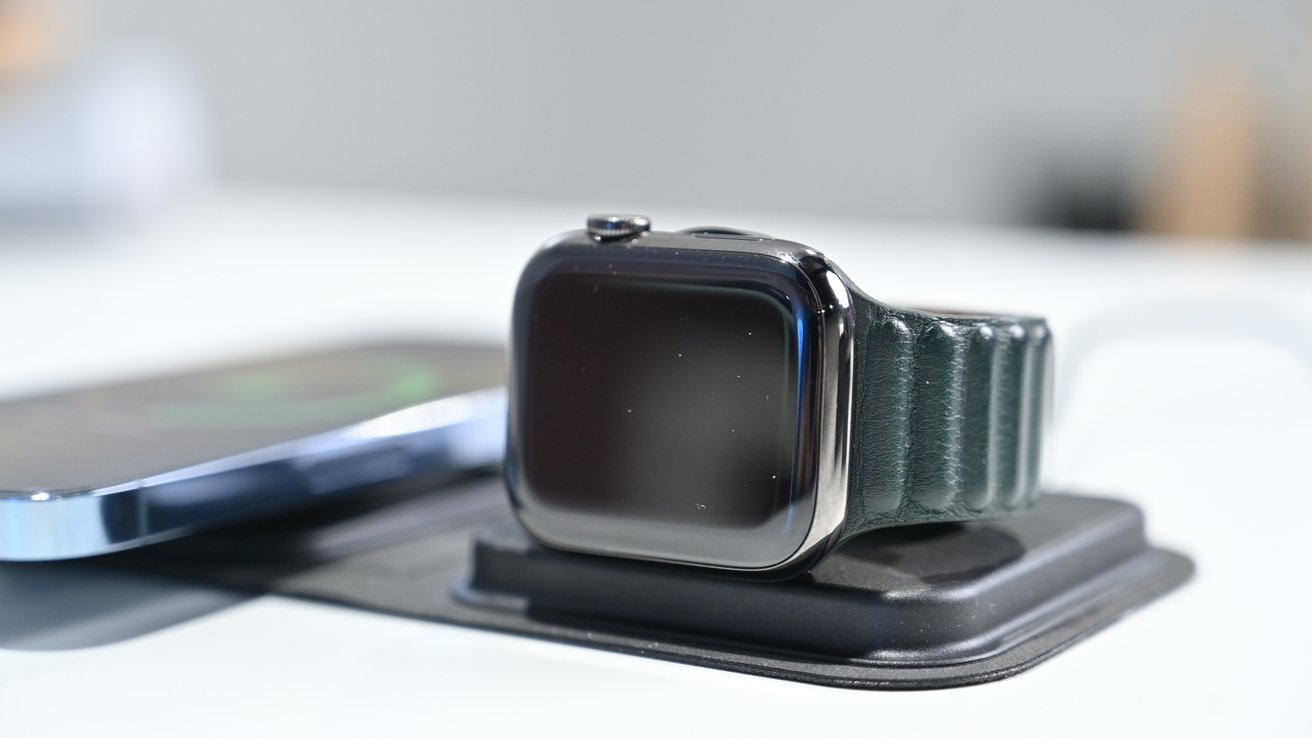 Mophie 3-in-1 MagSafe Travel Charger with Apple Watch
That leaves us with the Apple Watch puck on the far-right. It can lie flat but can also pivot up to view. Some Apple Watch bands won't work if lying flat, making this puck beneficial for those users.
This is a standard Apple Watch puck, though, which means it can't fast charge the
Apple Watch Series 7
. Mophie tells us this is because it had started the development of this charger before Apple introduced the new fast charge puck and wasn't able to incorporate it in this version.
Like the MagSafe puck, this is Apple's official watch puck as well.
Mophie takes on MagSafe Duo
The biggest competitor in this space is Apple itself. In December of 2020, Apple released MagSafe Duo. This two-in-one charger could power up iPhone via MagSafe as well as an Apple Watch with a pivoting puck.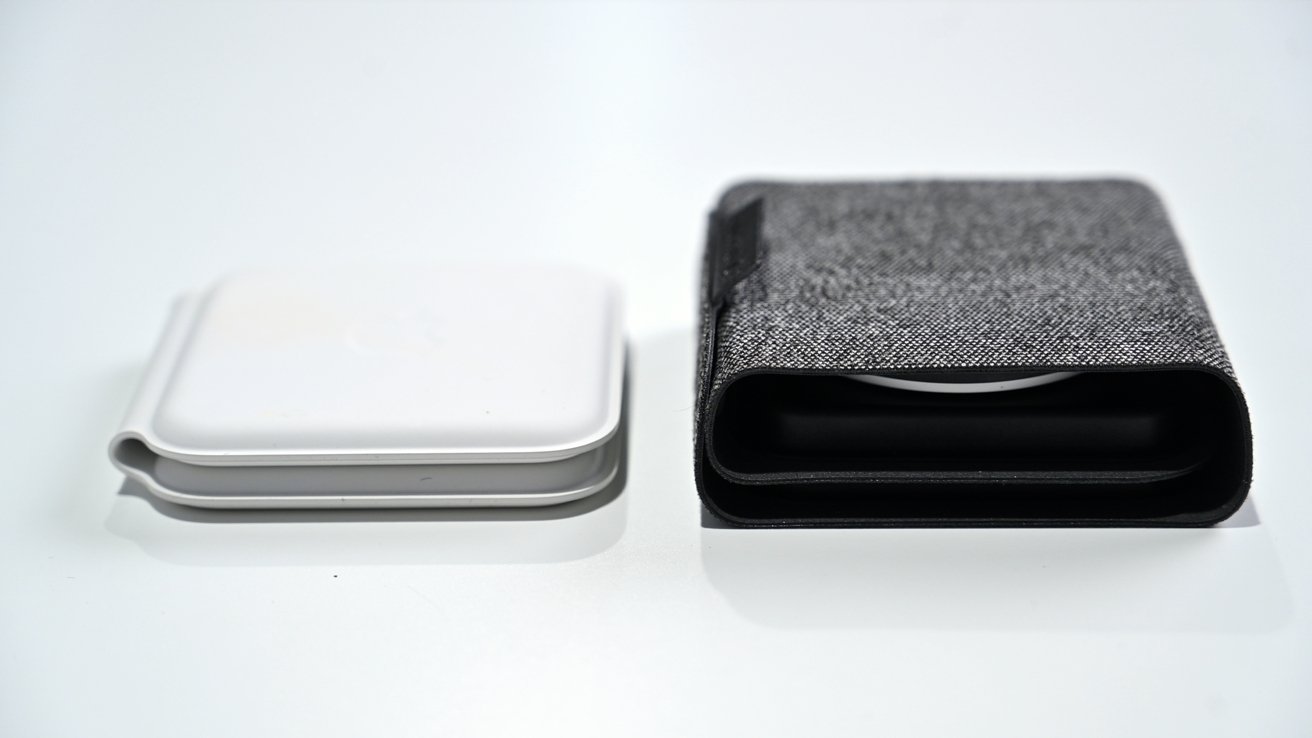 Mophie 3-in-1 MagSafe Travel Charger versus MagSafe Duo
There are some distinct differences between the two, the biggest being in the functionality. Mophie can power up to three devices at once, while MagSafe Duo can -- as the name implies -- only charge two.
On top of that, Mophie is a better value by bundling the requisite charging brick in the box. This helps offset that additional $20 price difference between the two devices.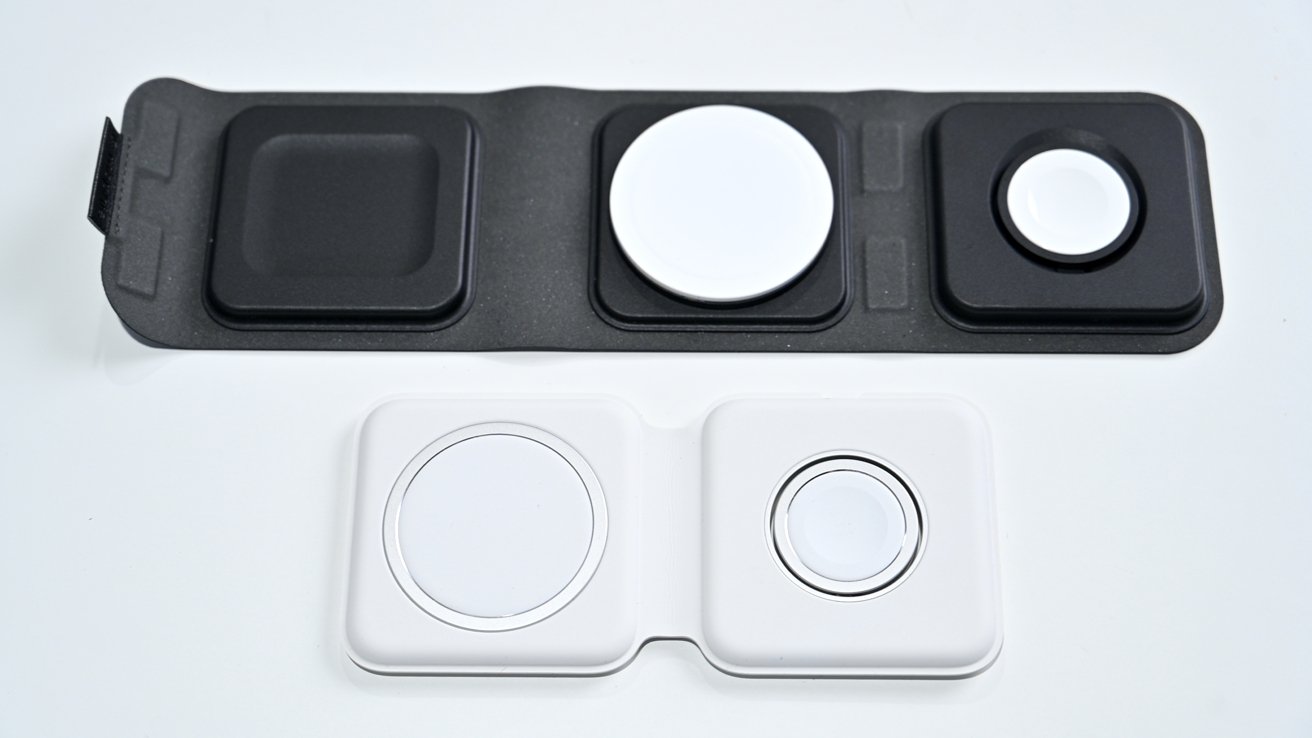 Mophie 3-in-1 MagSafe Travel Charger and MagSafe Duo
Apple's MagSafe Duo still has a superior build quality. Its MagSafe puck is encircled by metal rather than plastic. The same goes for the adjustable Apple Watch puck with a smooth metal hinge versus plastic.
For size, they are very comparable, with Mophie's charger being just a bit thicker since it has three sections compared to just two.
Perfectly portable
Mophie nailed this portable MagSafe charger as best it could. There are minor shortcomings, such as the lack of fast charging for Apple Watch and the plastic interior.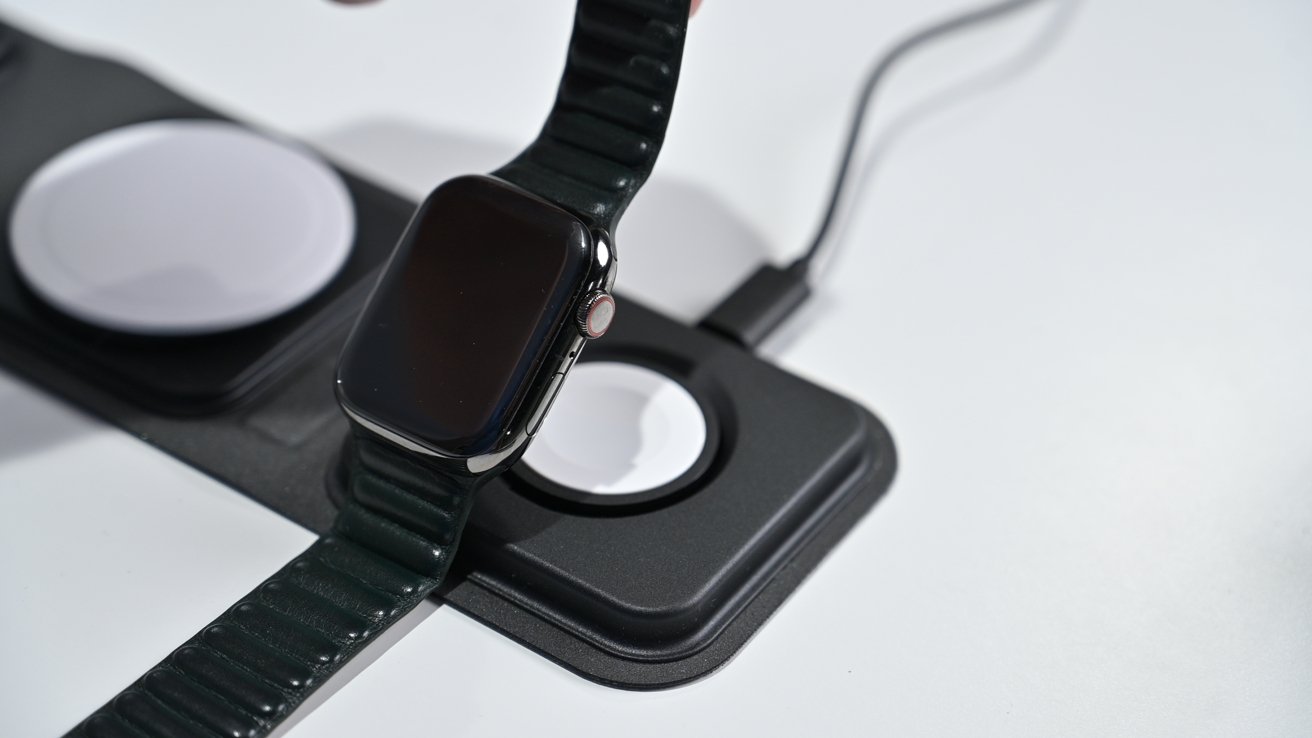 Mophie 3-in-1 MagSafe Travel Charger
It also doesn't weigh much -- which is a good thing when you travel. But that lack of weight means as you lift your iPhone, the charger has the propensity to come with it. Don't forget about this if you're groggy in the morning and quickly reach for your phone.
We love how well Mophie thought through the user experience and designed a capable multi-device charger that is great for at home but can easily be grabbed at a moment's notice.
Sometimes, we don't bother to bring the carrying case. The charger is so small we can bring just the charger and utilize our existing USB-C cable and power adapter we bring along for use with our
iPad
and other accessories.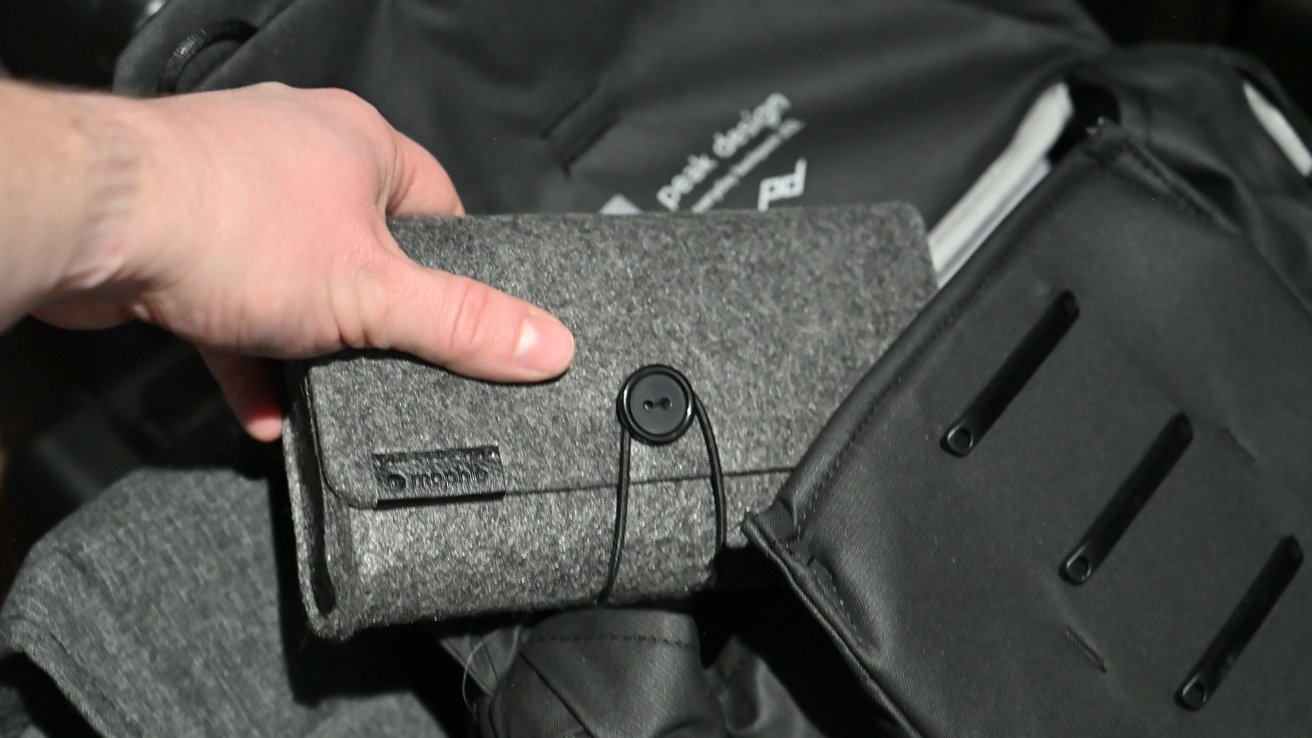 Mophie 3-in-1 MagSafe Travel Charger going in our backpack
Some users will still prefer Apple's MagSafe Duo, but if you're looking for an all-in-one solution that is ready to go, Mophie's got a good answer.
Pros
Handsome heathered fabric on the exterior


MFi-certified MagSafe and Apple Watch pucks


Carrying case and USB-C power brick are included


USB-C plug rather than a barrel connector means you can use any cable


Only slightly larger than MagSafe Duo though it charges three devices


Great grab and go charging solution
Cons
Lightweight is good for travel, but means the charger lifts with your phone


30W may not be enough power to charge three devices at full speed


Case attracts dust and pet hair


No Apple Watch Series 7 fast charge support
Rating: 3.5 out of 5
Where to buy
Grab the Mophie 3-in-1 MagSafe Travel Charger from the
company's website for $149.99
.
Read on AppleInsider