Compared: M2 iPad Pro vs. Microsoft Surface Pro 9
Microsoft's Surface Pro 9 updates the Windows tablet with both Intel and ARM options, in a form that competes directly with Apple's
iPad Pro
lineup. Here's how the rival tablets square up.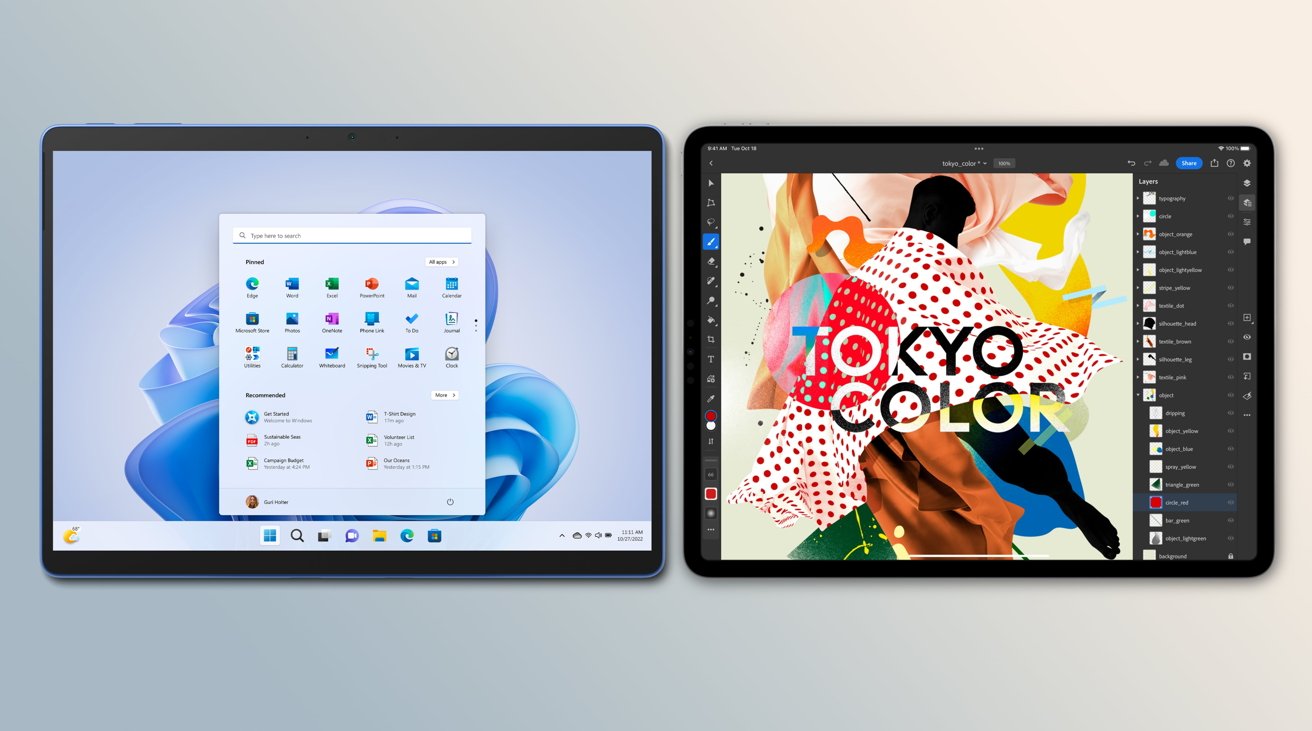 Microsoft Surface Pro 9 (left), 12.9-inch iPad Pro (right)
Microsoft updated its Surface product range
in October,
with the Surface Pro 9 combining the usual Surface Pro and Pro X into a single form factor. With the choice of an Intel chip or an ARM processor with added 5G connectivity, Microsoft effectively shrunk down the model range by turning them into separate processor options while keeping almost everything else identical.
As a 13-inch tablet with "Pro" in the name, it naturally competes against Apple's iPad Pro range, which itself has undergone a fall refresh. While not as major as other Apple products, it does sport a chip upgrade to the
M2
.
With the holiday sales period bearing down on the two companies, this is how the two lineups fare when their specifications are compared.
Surface Pro 9 vs M2 iPad Pro - Specifications
Specifications
2022 iPad Pro
Microsoft Surface Pro 9
Starting Price
$799, $1,099

$999
Dimensions (inches)
9.74 x 7.02 x 0.23,
11.04 x 8.46 x 0.25
11.3 x 8.2 x 0.37
Weight (pounds)
1.03, 1.5
1.94 (Intel), 1.95 (SQ3)
Display
11-inch Liquid Retina,
12.9-inch Liquid Retina XDR,
Mini LED (12.9 only), LCD (11-inch)
Liquid Retina,
ProMotion,
True Tone,
Wide Color (P3),
Fully Laminated
13-inch PixelSense Flow Display,
3:2 Aspect Ratio,
Dynamic Refresh Rate to 120Hz,
sRGB and Vivid Color Profiles,
Dolby Vision IQ support,
Adaptive Color
Resolution
2,388 x 1,668,
2,732 x 2,048
2,880 x 1920
Processor
Apple M2
12-gen Intel Core i5-1235U,
12-gen Intel Core i7-1255U,
Microsoft SQ 3 with Neural Processing Unit
Graphics
10-core GPU

Intel Iris XE Graphics,
Adreno 8CX Gen 3
Memory
8GB (512GB model and under),
16GB (1TB and 2TB models)
8GB, 16GB, 32GB (Intel),
8GB, 16GB (SQ3)
Storage
128GB,
256GB,
512GB,
1TB,
2TB
128GB,
256GB,
512GB,
1TB (Intel)
Battery
28.65Wh lithium-polymer (11-inch),
40.88Wh lithium-polymer (12-inch
Up to 10 hours web (Wi-Fi),
Up to 9 hours web (Celular)
47.7Wh,
Up to 15.5 hours (Intel),
Up to 19 hours (SQ 3)
Networking
802.11ax Wi-Fi 6E
Bluetooth 5.3,
5G Cellular option
802.11ax Wi-Fi 6E,
Bluetooth 5.1,
5G Cellular (SQ 3)
Security
Face ID
Windows Hello
Rear Camera
12MP wide,
10MP ultra wide,
LiDAR
10MP
Front Camera
12MP TrueDepth
1080p with Windows Hello
Audio
Four-speaker audio,
Five studio-quality microphones
2W stereo speakers with Dolby Atmos,
Dual far field studio microphones
Ports
Thunderbolt/USB 4,
Smart Connector

2 USB-C USB 4.0/Thunderbolt 4 (Intel),
2 USB-C 3.2 (SQ 3),
Surface Connect,
Surface Type Cover Port (Intel),
Surface Keyboard Port (SQ 3)
Stylus Support
Apple Pencil Gen 2
Surface Slim Pen 2
Surface Pro 9 vs M2 iPad Pro - Physical Features
Apple's 2022 iPad Pro lineup could be considered an internal spec-bump edition, and for good reason. Instead of making major changes to the outside, Apple instead kept the design as identical as possible to the previous year's effort.
You get the same flat-edge recycled aluminum enclosure, as well as oddly identical sizes and weights. The
12.9-inch iPad Pro
is 11.04 inches tall, 8.46 inches wide, and 0.25 inches thick, while the
11-inch iPad Pro
is 9.74 inches tall, 7.02 inches wide, and 0.23 inches thick.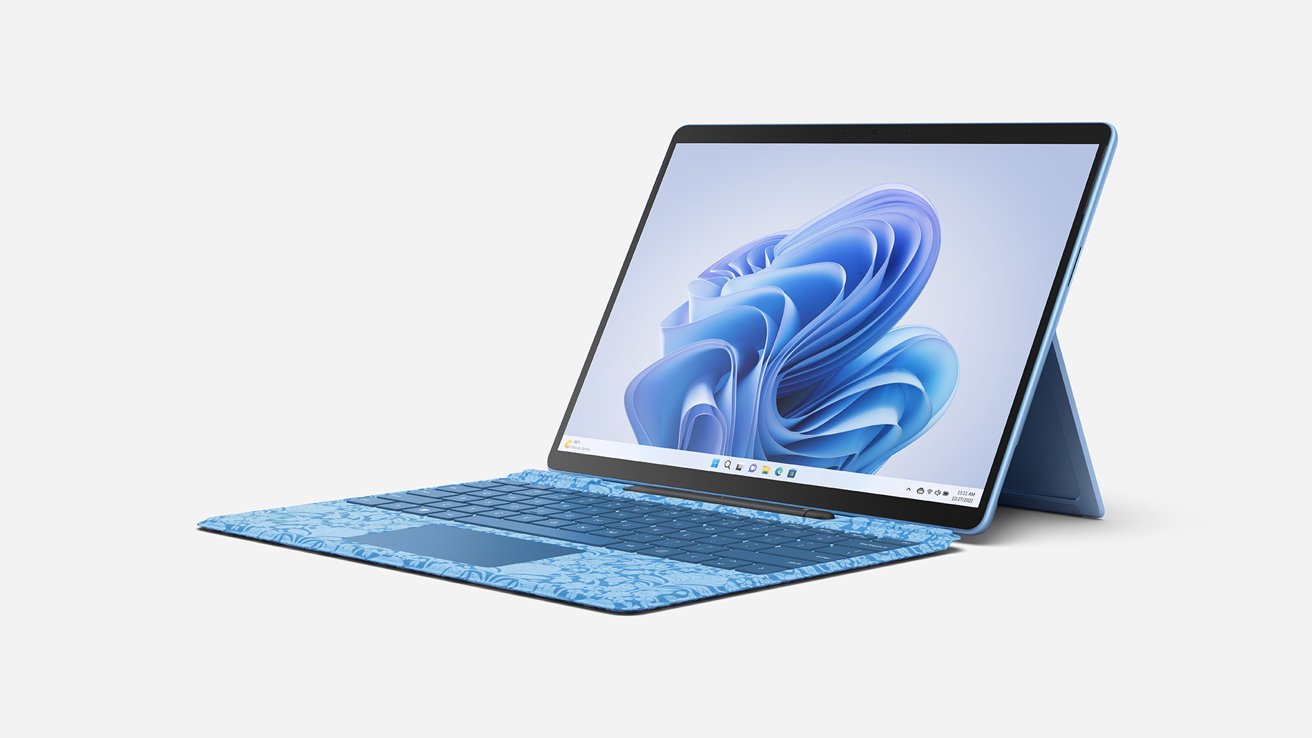 The Studio Pro 9 continues to have a kickstand in the rear.
Made from aluminum, the Surface Pro 9 is roughly comparable to the 12.9-inch iPad Pro in terms of size. At 11.3 inches by 8.2 inches, it's longer but narrower than Apple's large tablet, though it isn't quite as thin at 0.37 inches.
That being said, Microsoft does include the kickstand, a key feature of the Surface lineup. While adding extra thickness to the design, it also means it could be stood up on a table, something the iPad Pro cannot do without some form of cover or accessory.
On the weight side, the iPad Pro measures 1.03 pounds for the 11-inch and 1.5 pounds for the 12.9-inch version. The Surface Pro 9 is either 1.94 pounds or 1.95 pounds, depending on the variant, with either one considerably heavier than the iPad Pro models.
Surface Pro 9 vs M2 iPad Pro - Display
Apple's iPad Pros have different sizes and underlying display technologies, which produce different results.
The 11-inch iPad Pro has a Liquid Retina display, which is a TFT screen with LCD backlighting. The 12.9-inch's Liquid Retina XDR screen offers TFT but with mini LED backlighting, which provides a brighter display as well as better handling of HDR content.
For brightness, the 12.9-inch can manage 1,600 nits at peak for HDR content, while the 11-inch can manage 600 nits. Then there's the contrast ratio, with the 12.9-inch able to get up to a quoted 1,000,000:1.
Both models also include support for Wide Color (P3), True Tone, and ProMotion, Apple's variable refresh rate feature that can go up to 120Hz.
Microsoft's 13-inch PixelSense Flow display is marginally larger than the 12.9-inch iPad Pro, though it doesn't have the mini LED backlighting. Instead it uses the same conventional TFT/LED pairing as the 11-inch iPad Pro.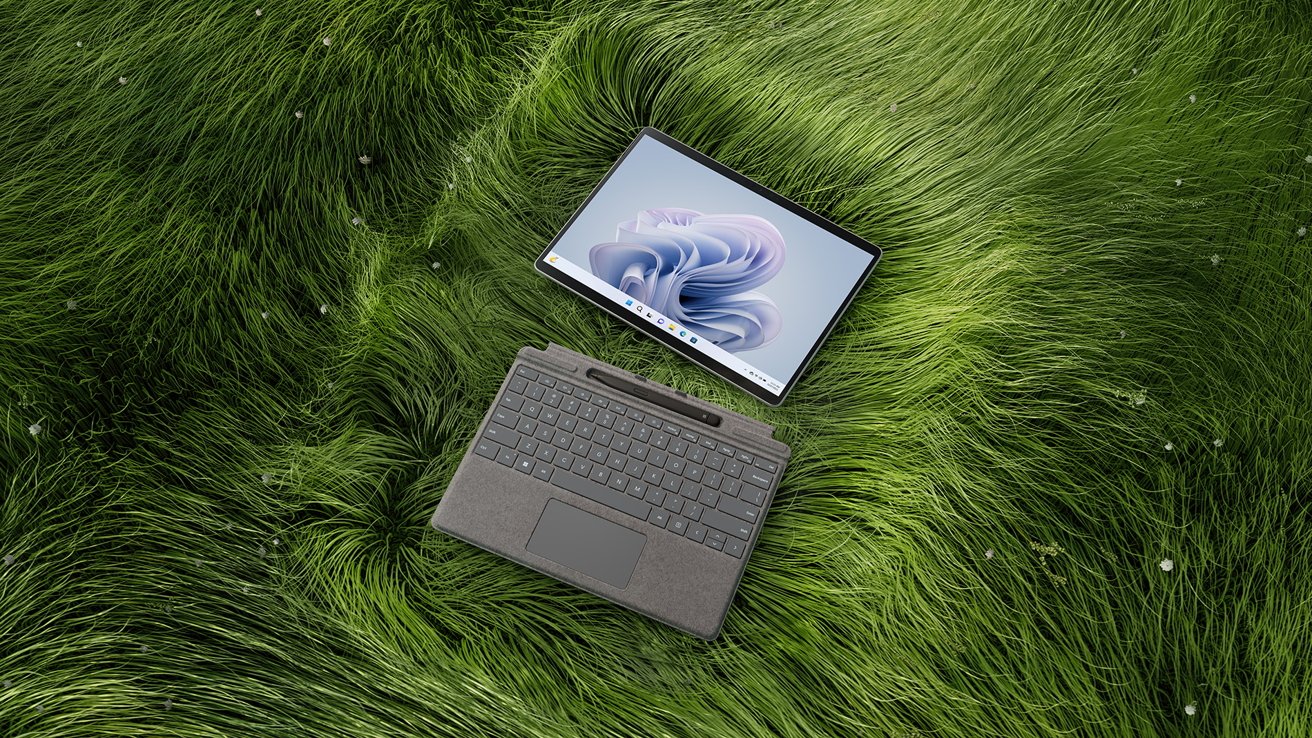 The Surface Pro 9's screen may be bigger than the 12.9-inch iPad Pro, but it doesn't have mini-LED backlighting.
While Microsoft doesn't state a brightness figure for its tablets, it does identify the contrast ratio to be 1,200:1, far below the similarly-sized iPad Pro model.
That said, it does still offer a dynamic refresh rate of up to 120Hz, adaptive color, and support for sRGB and Vivid color profiles.
For resolution, Microsoft does keep up by using a 2,880 by 1,920-pixel display, giving it a pixel density of 267 pixels per inch. The iPads sport 2,388 by 1,668 and 2,732 by 2,048 screens, respective of size, and a shared pixel density of 264ppi.
Both product families support stylus input and multitouch, with the iPad Pro using the second-generation
Apple Pencil
while the Surface supports the Surface Slim Pen 2.
Surface Pro 9 vs M2 iPad Pro - Processing and Performance
Apple's main update to the iPad Pro lineup is the M2 chip, which includes an 8-core CPU with four performance cores and four efficiency cores. That's accompanied by a 16-core Neural Engine, a 10-core GPU, and a Media Engine to handle encoding and decoding of H.264, HEVC, ProRes, and ProRes RAW video.
Microsoft uses three chips in its Surface Pro 9 lineup: two from Intel and one ARM-based version.
The two Intel chips are the 12th-gen
Core i5-1235U
and the
Core i7-1255U
. According to Microsoft, they provide up to 50% more performance than the Surface Pro 8.
The Core i7 has ten cores, including two performance cores and eight efficient cores, a total of 12 threads, a max turbo frequency of 4.7GHz, and an efficient core max turbo frequency of 3.5GHz.
The Core i5 is the same, except it manages a max turbo of 4.4GHz and 3,3GHz for the efficient cores.
The third chip, the ARM-based SQ 3, is a bit of a mystery. Microsoft hasn't provided any hard details about the chip, except it's "powered by Qualcomm Snapdragon." It also has a "Neural Processing Unit," which is Microsoft's equivalent of Apple's Neural Engine, which can help with tasks that could benefit from that sort of processing.
For graphics, Apple is using the 10-core GPU version of the M2. Microsoft's Intel models use Intel Iris XE Graphics, namely integrated graphics, and an Adreno 8CX Gen 3 on the SQ 3 chip.
Early benchmarks for the Surface Pro's SQ3 score it at about 1,125 for Geekbench's single-core test, and around 5,800 for the multi-core. Meanwhile, the Core i7 variant manages around 1,175 and 6,500, respectively.
By contrast, results for the M2 put its single-core result at 1,898 points, 8,941 for multi-core.
Evidently, the Apple Silicon strategy is doing well for Apple, and despite having time to catch up and even leveraging the pretty decent Snapdragon platform for its own ARM chip, it seems Microsoft still has more to learn about performance from its long-time rival.
Surface Pro 9 vs M2 iPad Pro - Cameras and Biometrics
The iPad Pro models have two cameras on the back, with a Wide 12-megapixel shooter joined by a 10MP Ultra Wide version. There's a 2x optical zoom out, a 5x digital zoom in, a TrueTone Flash, auto image stabilization, and autofocus with Focus Pixels on the Wide lens.
They also benefit from a LiDAR sensor on the rear, enabling some depth mapping of the environment, which can also help with things like focusing at night. Video extends to 4K at 60fps, including ProRes at up to 4k 30fps, and a 240fps 1080p slo-mo, among other features.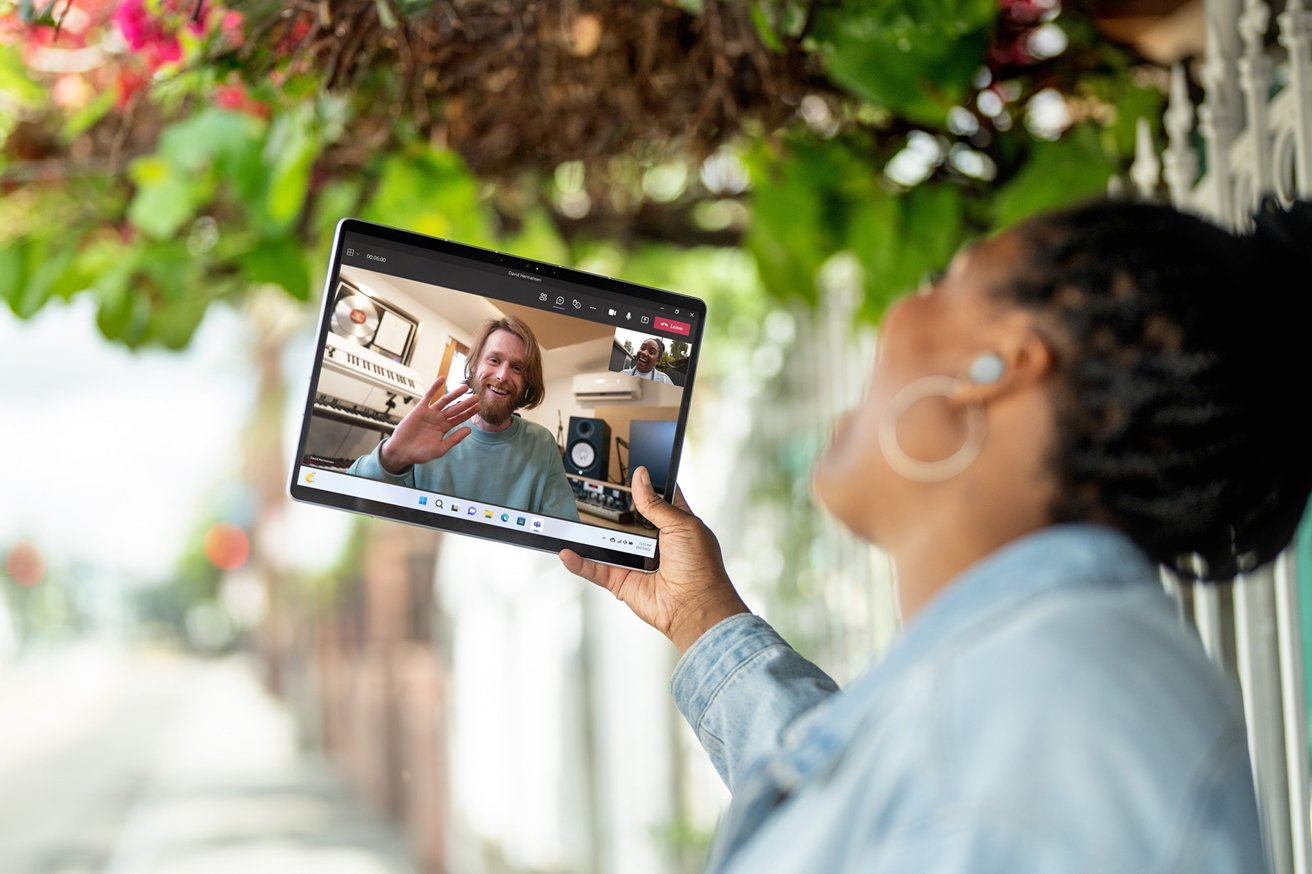 The front-facing camera of the Surface Pro 9 offers Windows Hello security.
The Surface Pro 9 has just one camera on the back, with a 10-megapixel sensor featuring autofocus and 4K recording capabilities.
At the front, Apple uses a TrueDepth camera array, with a 12MP Ultra Wide camera capable of 1080p 60fps video, cinematic video stabilization, and depth mapping. This last point is used for
Face ID
identification of the user, as well as Animoji and Memoji support.
Microsoft's front camera is capable of 1080p video recording, but it's also functional with Windows Hello for authentication.
Microsoft adds that its front camera uses the Neural Processing Unit for its Automatic Framing feature, reframing the video feed to fit the subject or subjects in the middle of the screen. Apple already offers Center Stage in its iPad Pro, a practically identical feature.
Surface Pro 9 vs M2 iPad Pro - Connectivity
For local wireless networking, both Apple and Microsoft include support for Wi-Fi 6E, which will be handy when on appropriate networking infrastructure. Apple does use Bluetooth 5.3 in the iPad Pro, while Microsoft errs to Bluetooth 5.1 in the Surface Pro 9.
Apple includes 5G cellular support in its iPad Pro as a paid extra, which supports both sub-6GHz and mmWave connections.
Microsoft limits its 5G connectivity to models sporting the SQ3 chip, complete with sub-6GHz and mmWave support. You cannot get cellular on the Intel models.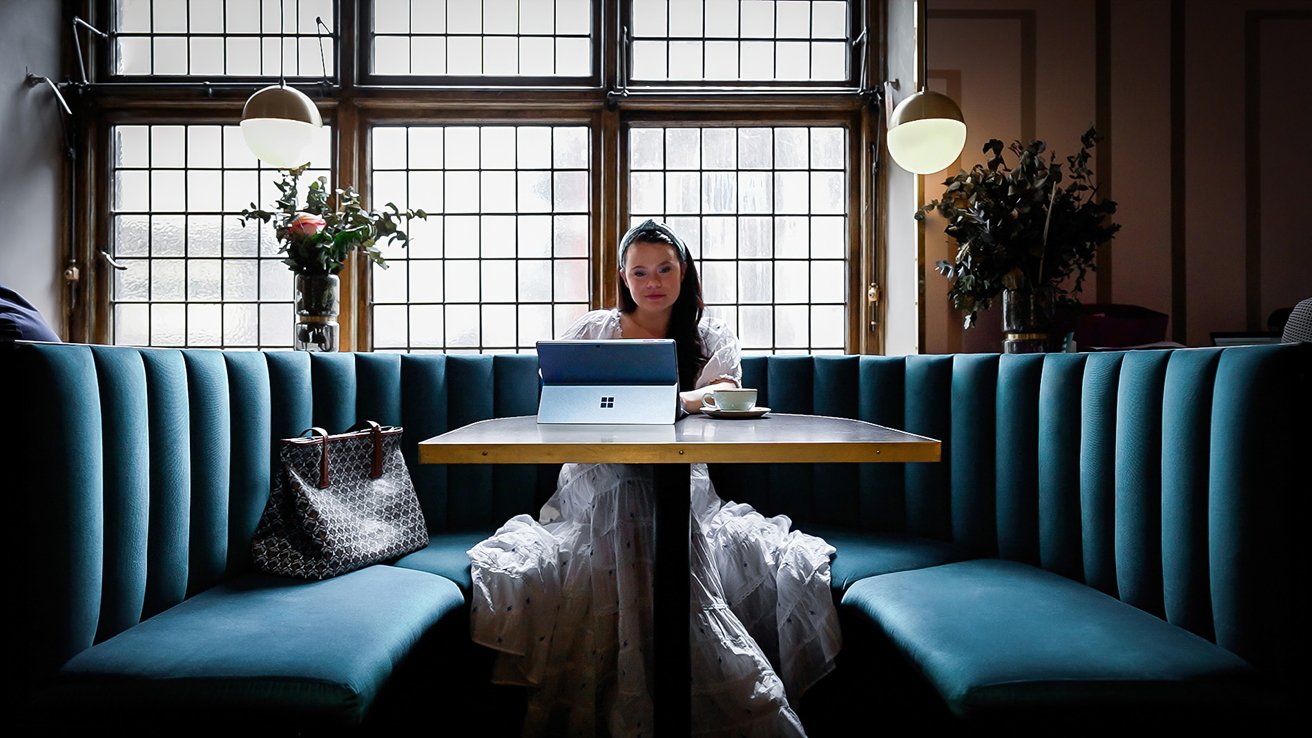 You can use 5G on the ARM-equipped Surface Pro 9, but not ones with Intel chips.
On to physical connectivity, and this is where Microsoft pulls ahead.
The Intel models have two USB 4.0/Thunderbolt 4 ports, a Surface Connect port, and a Surface Type Cover port. The SQ 3 versions have two USB-C 3.2 ports, as well as the Surface Connect port and a Surface Keyboard port.
Apple includes a single Thunderbolt/USB 4 port, though it also has a Smart Connector for connecting with accessories.
Surface Pro 9 vs M2 iPad Pro - Audio
Apple's iPad Pro line has included a quad-speaker system for quite some time, enabling stereo playback of media regardless of how the tablet is oriented.
Microsoft lists its Surface Pro 9 models as having 2W stereo speakers with Dolby Atmos support, though the iPad Pro models also support Dolby Atmos too.
For microphones, Apple uses five "studio-quality" mics, while Microsoft goes for dual far-field studio microphones.
Surface Pro 9 vs M2 iPad Pro - Power
Apple has long tried to keep its iPad Pro line at 10 hours of battery life for typical web usage, and it does so again for the 2022 models. For cellular variants, that figure dips to 9 hours when surfing online using the connection.
Microsoft claims the Surface Pro 9's Intel models can manage up to 15.5 hours of battery life based on typical Surface device usage, while the SQ 3 can get up to 19 hours.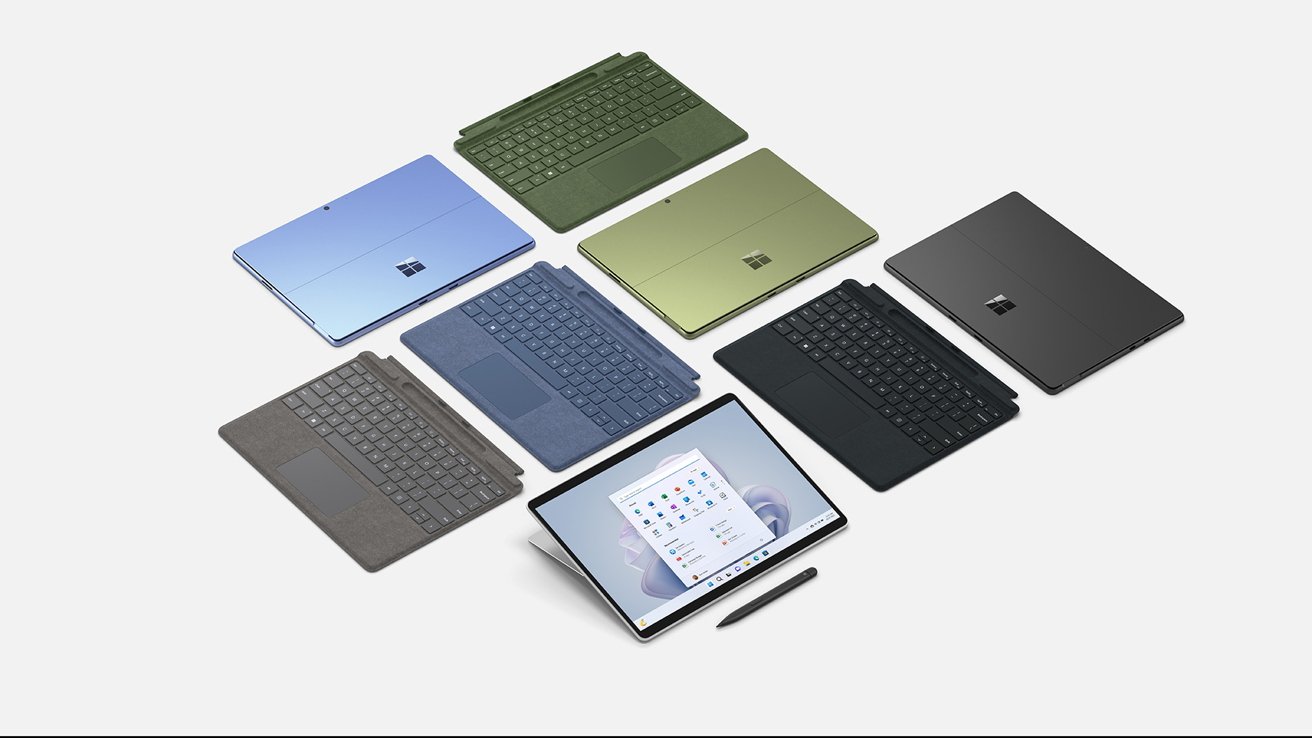 As usual, Microsoft offers the Surface in a variety of colors and with a multitude of accessories.
This "typical Surface device usage" is defined as a combination of "active use and modern standby," including web browsing with multiple tabs, productivity tool usage, and applications left idle.
While there can be a bit of disagreement in terms of how to measure battery life, it's safe to say that both Surface and iPad Pro can handle a day's work.
Surface Pro 9 vs M2 iPad Pro - Memory and Storage
The iPad Pro start with 128GB of storage, with options for 256GB, 512GB, 1TB, and 2TB. Apple also advises that the non-terabyte capacity models have 8GB of memory, while the terabyte ones have 16GB.
Microsoft's Intel models are available in configurations with 8GB, 16GB, and 32GB of LPDDR5 RAM, while the SQ 3 version has 8GB and 16GB LPDDR4x variants.
Microsoft also includes 128GB, 256GB, and 512GB options across all models, though the Intel models also have a 1TB option. These are also labeled as being "Removable," but Microsoft also says it can only be done by an authorized technician.
Curiously, the 256GB and higher capacities of the Intel models are labeled as being built on Intel's Evo Platform. All this really means is that the device is certified by Intel to meet specific goals when it comes to performance and other factors.
Surface Pro 9 vs M2 iPad Pro - Pricing
Apple starts the iPad Pro at $799 for the 11-inch model with 128GB of storage. It costs $899 for 256GB, $1,099 for 512GB, $1,499 for 1TB, and $1,899 for 2TB.
The 12.9-inch iPad Pro commences at $1,099 for 128GB of storage. The storage increases are $1,199, $1,399, $1,799, and $2,199 respective of size.
These prices are also for the Wi-Fi models. Adding cellular access to any configuration costs an extra $200, regardless of capacity.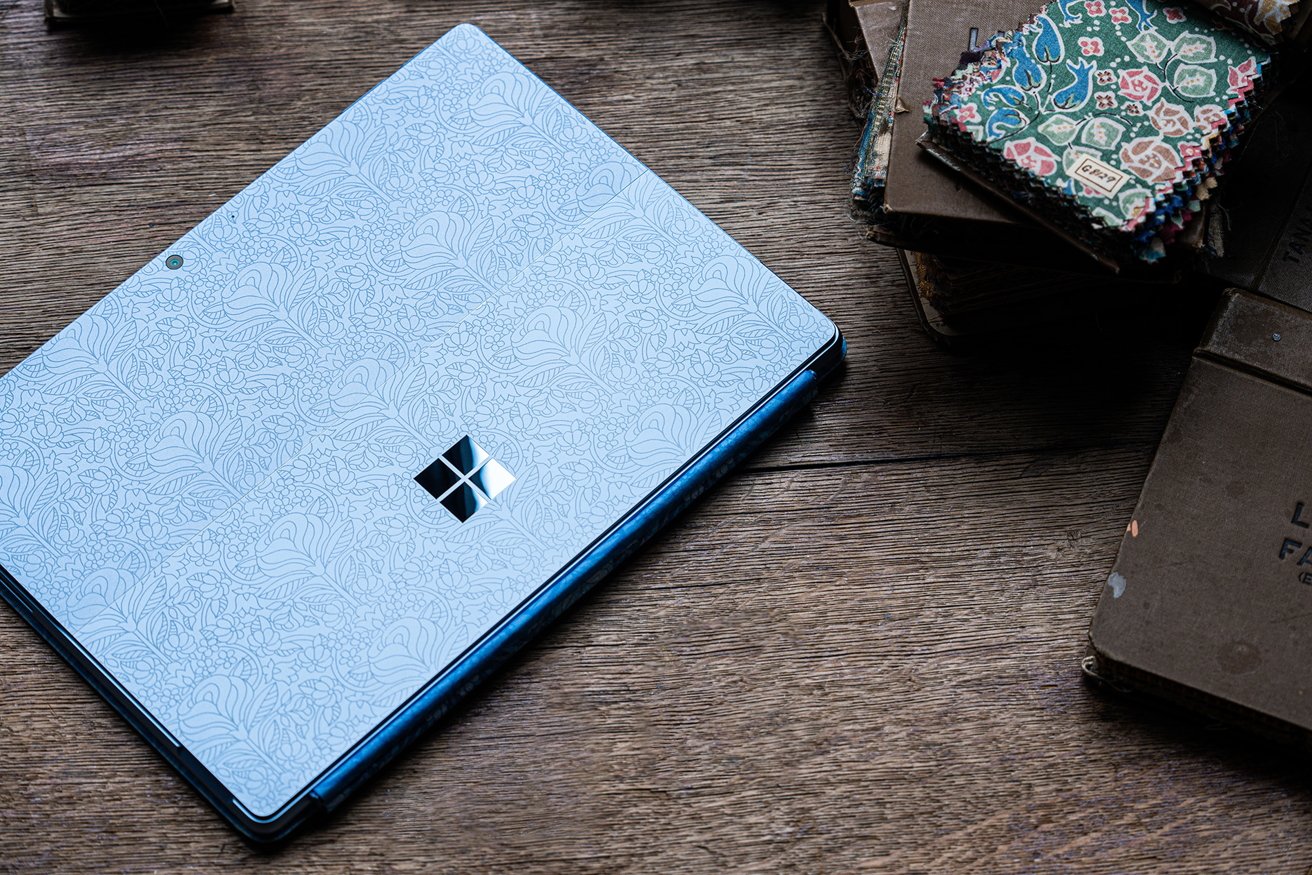 A special edition print version of the Surface Pro 9 is available.
Microsoft's Surface Pro 9 is available in 11 different configurations.
The Core i5 starts at 8GB RAM and 128GB of storage for $999.99, with a jump to 256GB of storage shifting the price to $1,099.99, and 16GB of RAM and 256GB of storage is $1,399.99.
The Core i7 begins at 16GB of memory and 256GB of storage for $1,599.99, with 512GB for $1,899.99. The 16GB of memory and 1TB of storage option is $2,199.99, while the 32GB RAM, 1TB SSD is $2,599.99.
The SQ 3 version starts with 8GB RAM and 128GB of storage for $1,299.99, with 256GB at $1,399.99. The 16GB RAM and 256GB SSD option is $1,599.99, and the 16GB RAM, 512GB SSD is $1,899.99.
Apple sells its iPad Pro models in a choice of Silver and Space Gray. Microsoft offers its tablets in Platinum, Sapphire, Forest, and Graphite, though not all colors are available for all combinations.
Decent for a Windows Tablet
On its own, the new Surface Pro 9 lineup is pretty good. That's with promises of high battery life and good performance in a tablet that happens to have a good resolution.
The selection of Intel chips is also great, and if Microsoft's Snapdragon-based SQ 3 is in the same ballpark, it should offer a lot to consumers in the market for a Windows desktop.
However, things start to fall apart when you slide it against Apple's iPad Pro range, especially when you look at the 12.9-inch model.
We know that, at least for the Intel models, the M2 will offer tons more performance overall. Sure, you can get a few more hours of battery life out of the Surface, but 10 hours is still damned good for a productive workday.
We also know that Apple has a handle on cameras, with its rear options providing a lot more to users than Microsoft's version.
Even when we look at the cost of the hardware itself, the Surface Pro 7 starts off cheaper than the 12.9-inch iPad Pro, but it overtakes to cost a few hundred dollars more for the highest-spec models.
The SQ 3 models start off relatively more expensive and stays that way for comparable storage capacities of the 12.9-inch iPad Pro. And that's giving Microsoft the benefit of the doubt on performance.
If you want the smaller screen, the 11-inch iPad Pro is always an option, and given the further cost savings, a pretty good one at that.
For anyone in the market for a Windows tablet, the Surface line has continually proven itself to be a great example of the form. For a productive tablet, the iPad Pro continues to be the far better option.
Where to buy the M2 iPad Pro vs Microsoft Surface Pro 9
Retail prices for the 11-inch iPad Pro M2
start at $799
, while the 12.9-inch iPad Pro M2
starts at $1,099
.
You can find the
best iPad deals
across popular Apple Resellers in our
iPad Price Guide
, which is updated multiple times a day. Or quickly jump to M2 iPad Pro listings
at B&H
,
Adorama
and
Amazon
.
The Surface Pro 9, meanwhile, can be purchased
from Microsoft directly
, as well as
at B&H Photo
and
Amazon
. Prices start at $999.
Read on AppleInsider