Hands on with all the best Apple accessories at CES 2023
There was a lot to see that works with your iPhone at the 2023 CES. Here's what we loved.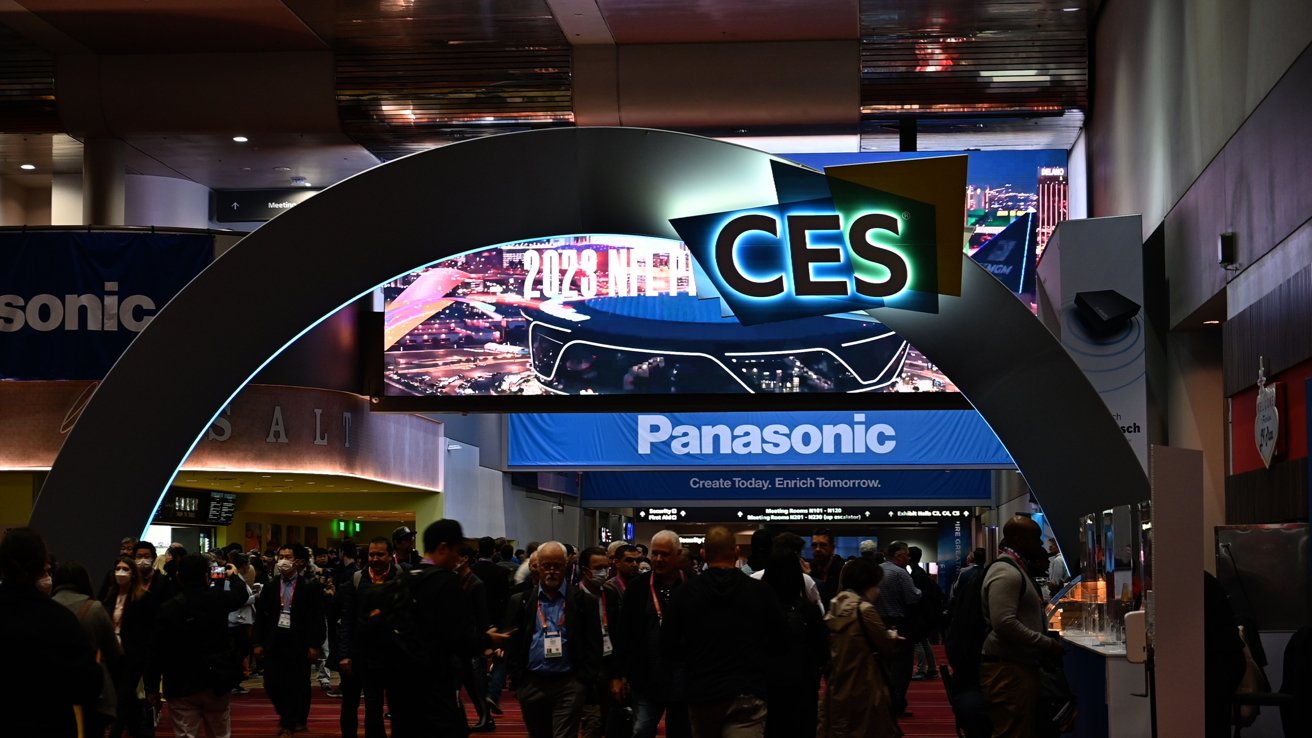 Our favorites ran the gamut from smart beds, bags, health devices, cases, and much more. We'll also be rounding up smart home tech and Find My gear in other dedicated pieces.
Withings U-Scan
There was a lot of press surrounding the Withings U-Scan and for good reason. It's a first-of-its-kind device that can measure various levels in your urine to help pinpoint possible issues.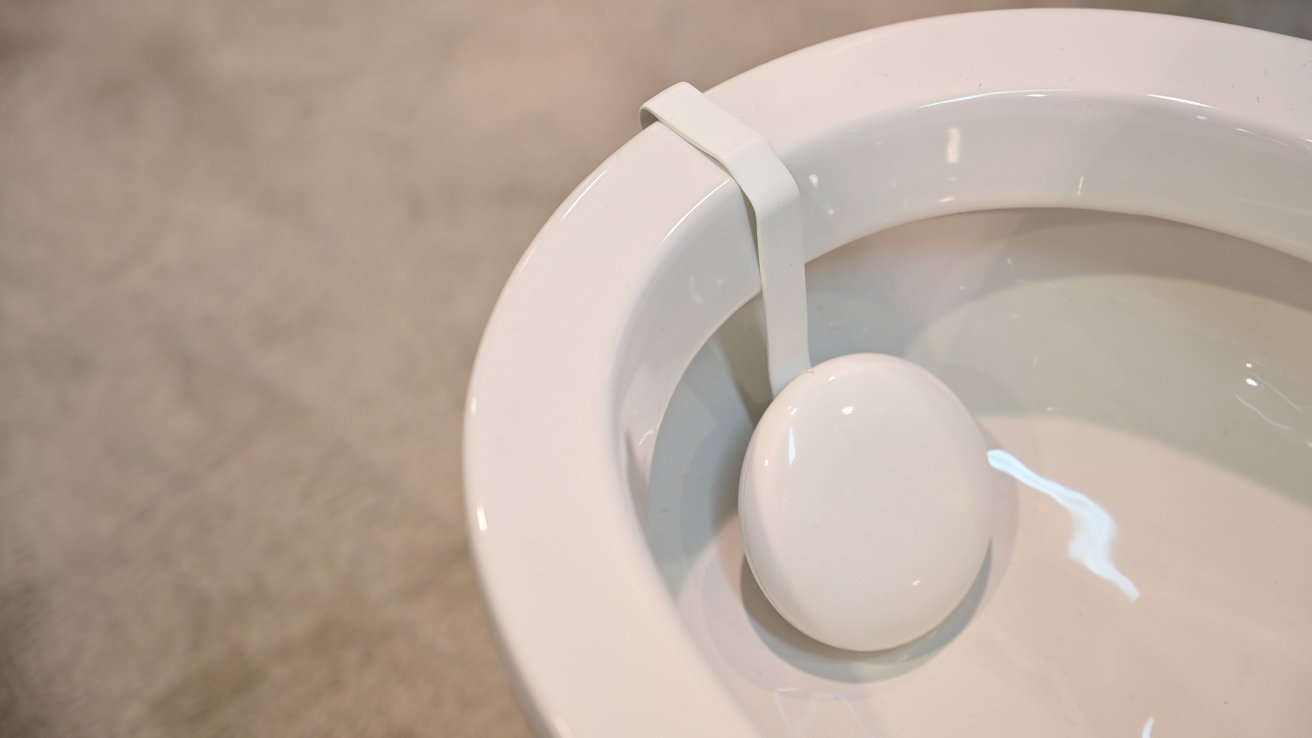 The device clips into the front of your toilet bowl and performs a scan each time you use the restroom. As the toilet flushes, it will rinse the device.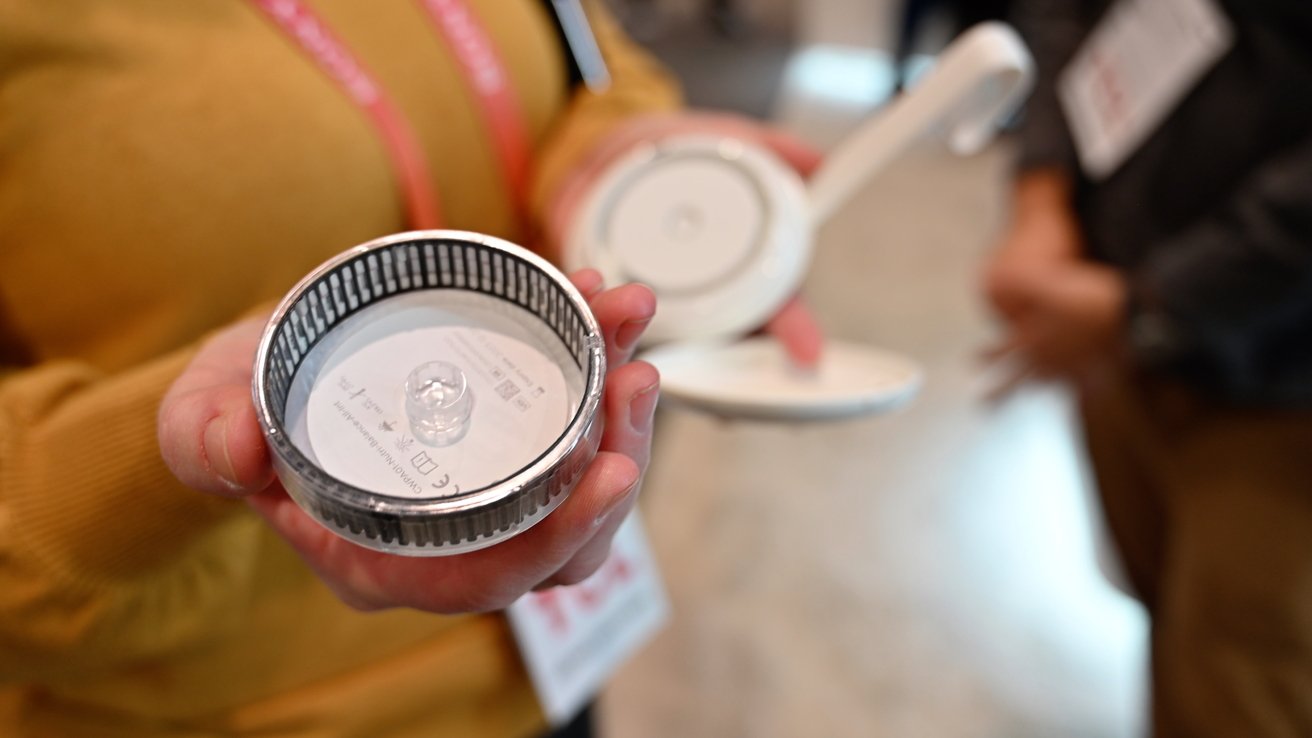 The pod is filled with a circular cartridge that contains 100 tests, or roughly three months' worth. There is one cartridge that can help women to track ovulation, a general-purpose health cartridge, and a professional pod for more monitoring.
Pepaminto
Pepaminto is a new mattress topper first launching in Europe before hopefully making its way stateside later this year.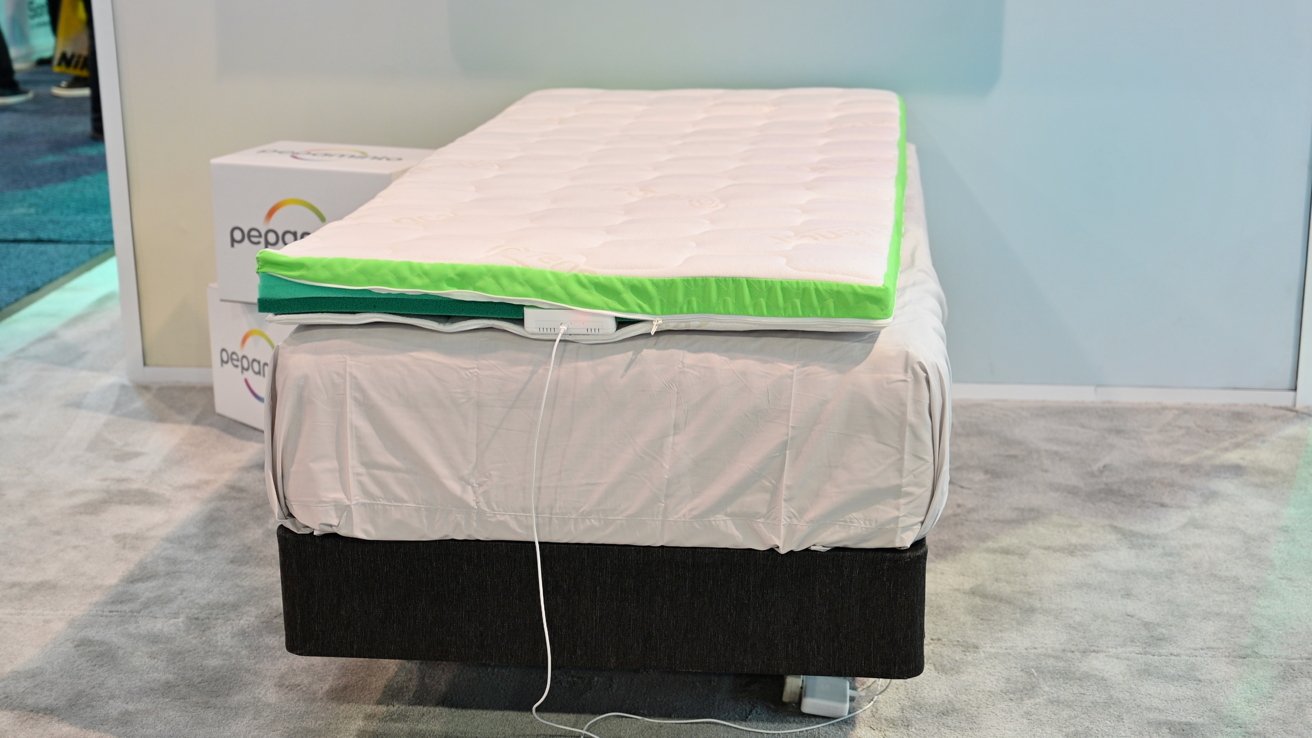 The topper can heat and cool you throughout the night, including variable temperatures at various parts of your body. It can keep your core one temperature but keep your feet cool if that is your preference.
It does this using a native
Apple Watch
app. The app will give you a mini quiz about how you like to sleep and then it will track your comfort throughout the night using the watch's sensors.
In the morning, it will ask how you slept and what you would change. It will learn from this and make adjustments for the next night.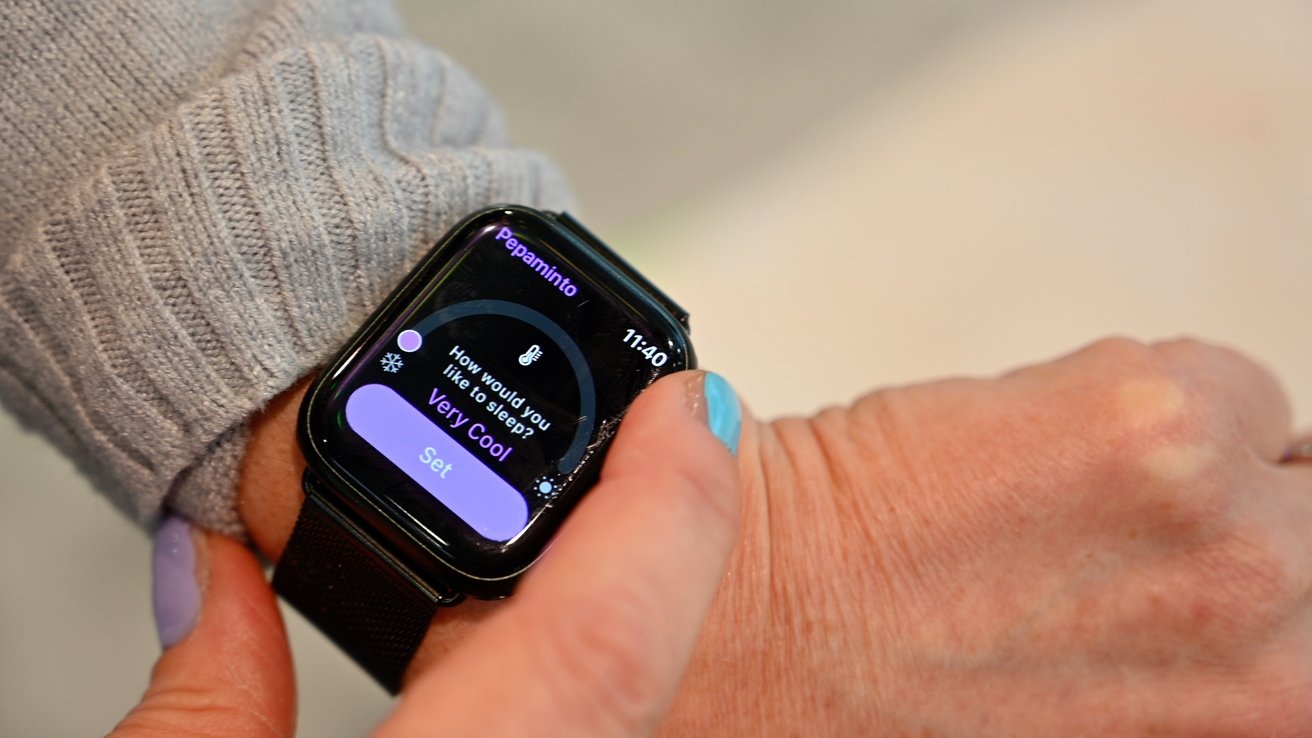 The whole device is powered via USB-C and uses low energy, plus two can be used in a larger bed at once with independent controls for each user based on their biometrics.
j5 Create 200W USB PD 3.1 GaN charger
This new 200W GaN charger from j5 Create is unique as it is one of the early products to support USB PD 3.1. The 3.1 version of Power Delivery can handle wattages from 140W to 240W.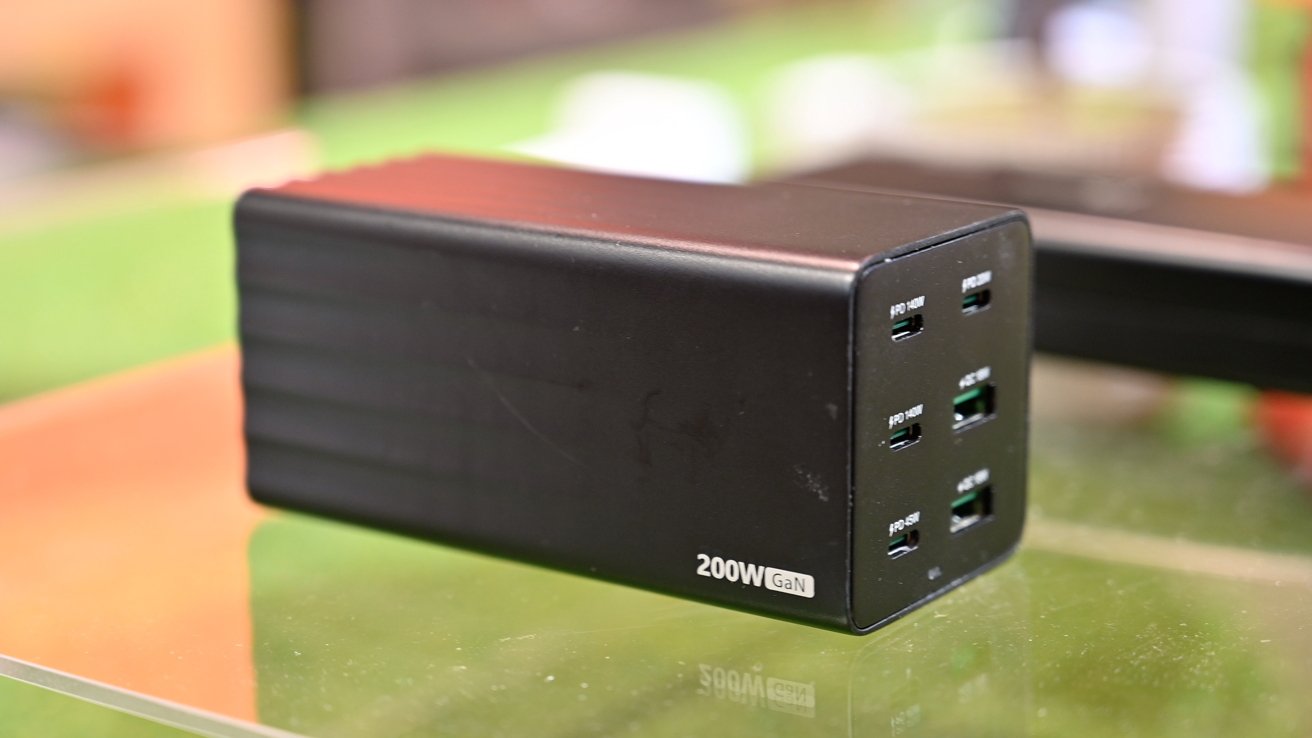 Apple's 16-inch MacBook Pro uses a USB PD 3.1 MagSafe charger at 140W making this charger compatible. It has six outputs in total: four USB-C and two USB-A.
Hyper Toolless SSD Enclosure
We've tried a lot of different SSD enclosures but Hyper turned our heads with its new toolless enclosure. This all-aluminum enclosure houses a standard M.2 SSD module.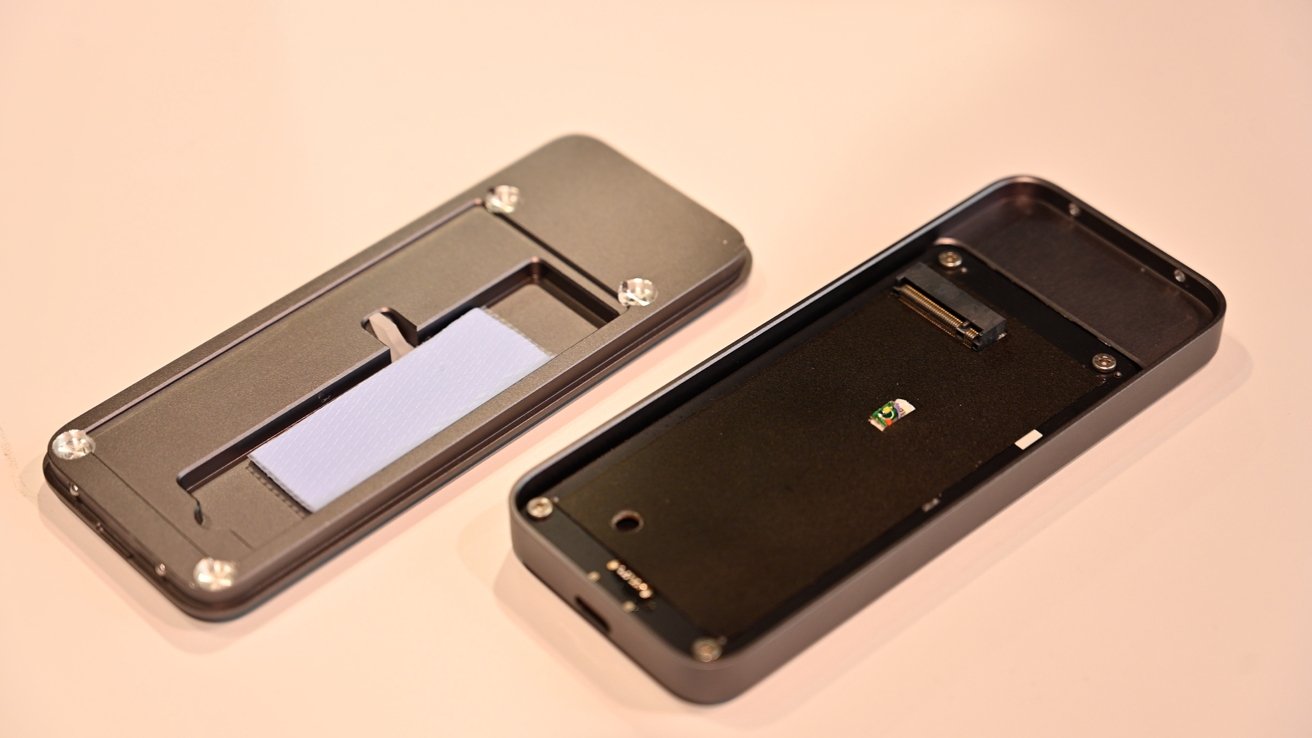 It is held closed by two spring-loaded ball bearings that securely keep the device sealed and water-tight. The device has a great-looking pattern on the enclosure that doubles as a heat sink.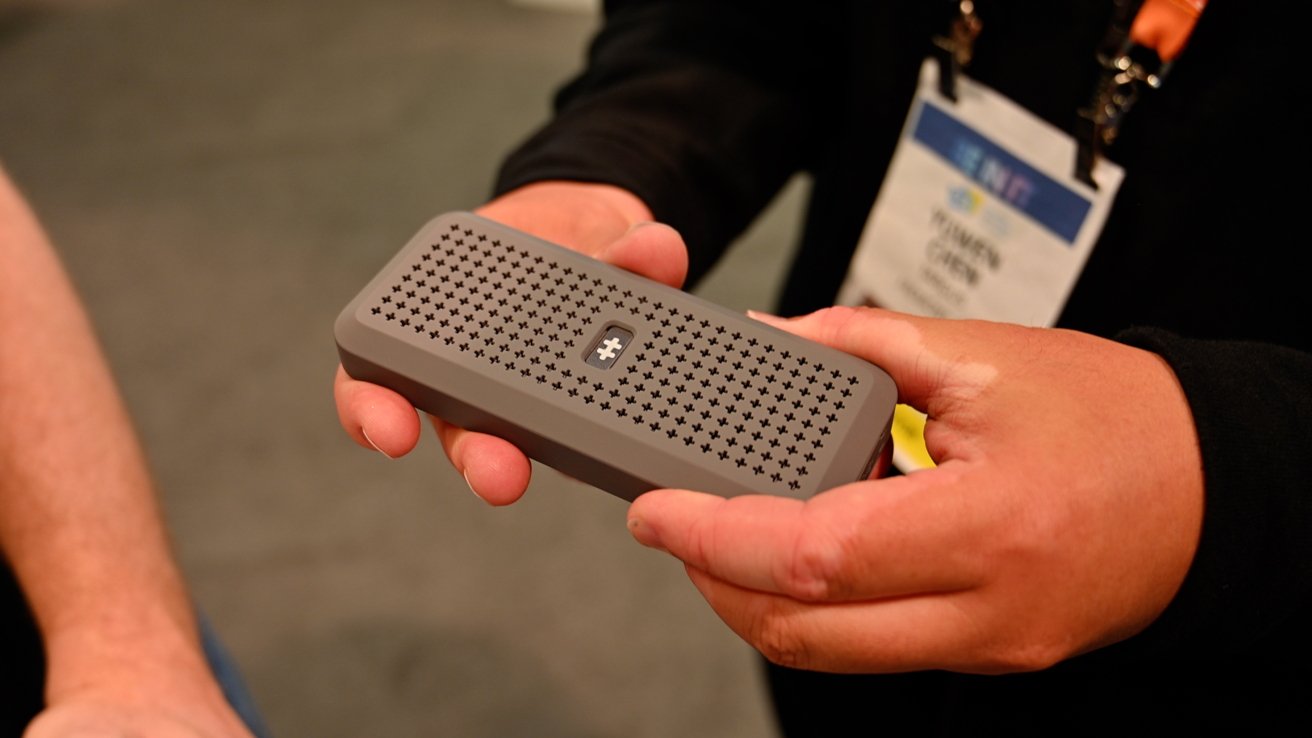 It's USB-C and bus-powered for work on the go. For added drop protection and water resistance there's a sleek silicone cover that can slip over the top of it.
Qi2
Qi2 is based on Apple's
MagSafe
and aims to be the de facto wireless standard used by Apple, as well as other device manufacturers like Google and Samsung.
With MagSafe at its core, it can deliver up to 15W of power and uses a magnetic ring to keep devices connected and aligned.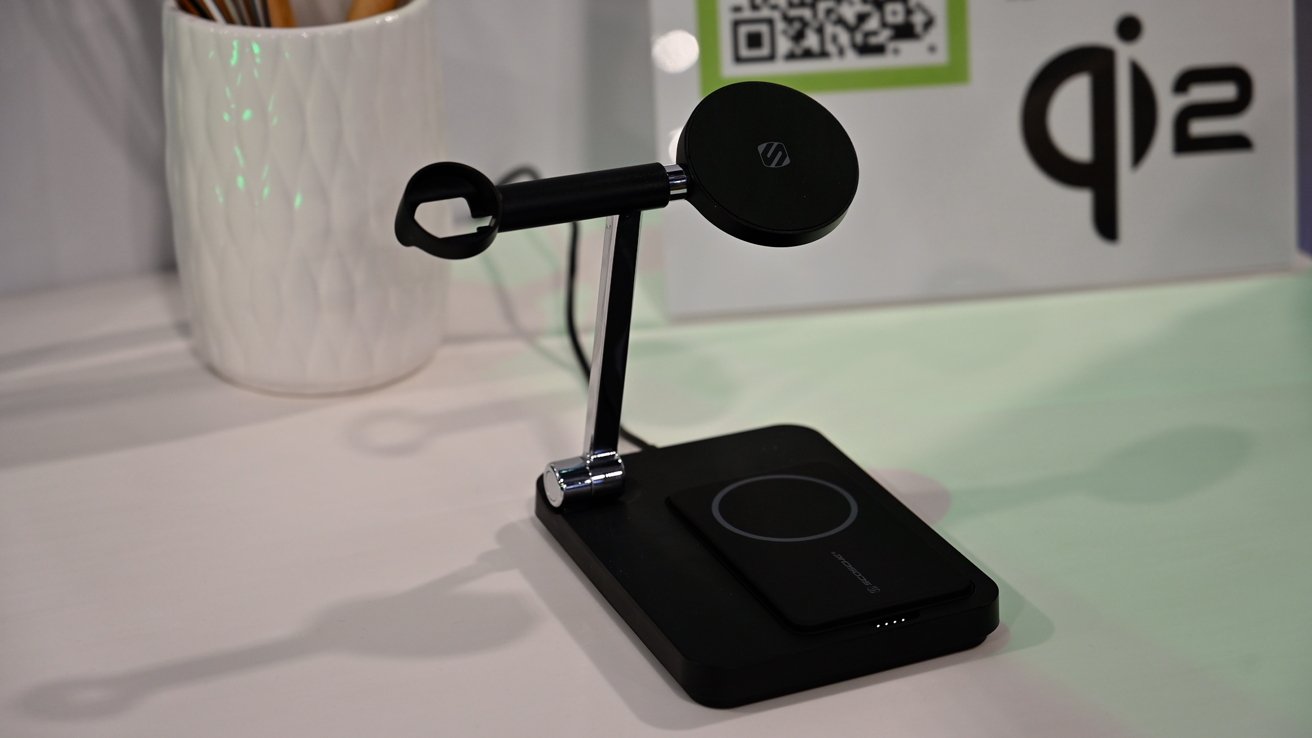 Qi2 is coming
We got to test out a prototype unit from Scosche using Qi2 that features a slot for an Apple Watch puck, the Qi2 charging module, and a dock for a Qi2 portable battery pack.
Qi2 is expected to arrive in accessories by the end of 2023.
AirPods Art Skins
Apple allows slight customization of AirPods with its emoji and monogrammed cases but that's it. These new AirPods Art Skins are ultra-durable stickers that fit around the stems to offer additional personalization.
Each sticker is precision cut in unique shapes versus just a rectangle. To apply, each set includes two applicators that clip onto your AirPods and properly line up the adhesive. Then you can just roll it on.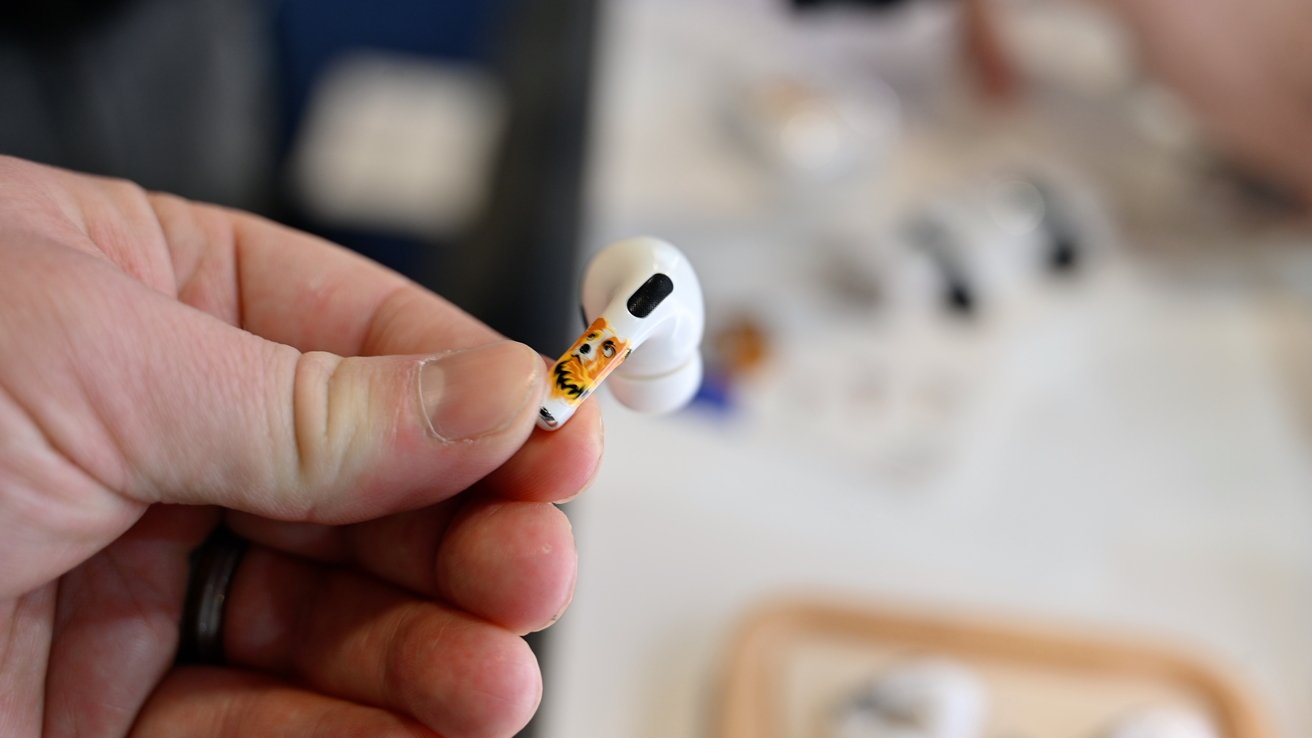 In-person, these felt more like they were printed on the buds versus stickers. We got to see a set that were applied a year ago and they still held their color and weren't even close to peeling off.
Ring Car Cam
Ring is moving from your home to your car with the new Ring Car Cam. It has both front and rear-facing cameras and records footage at 1080p.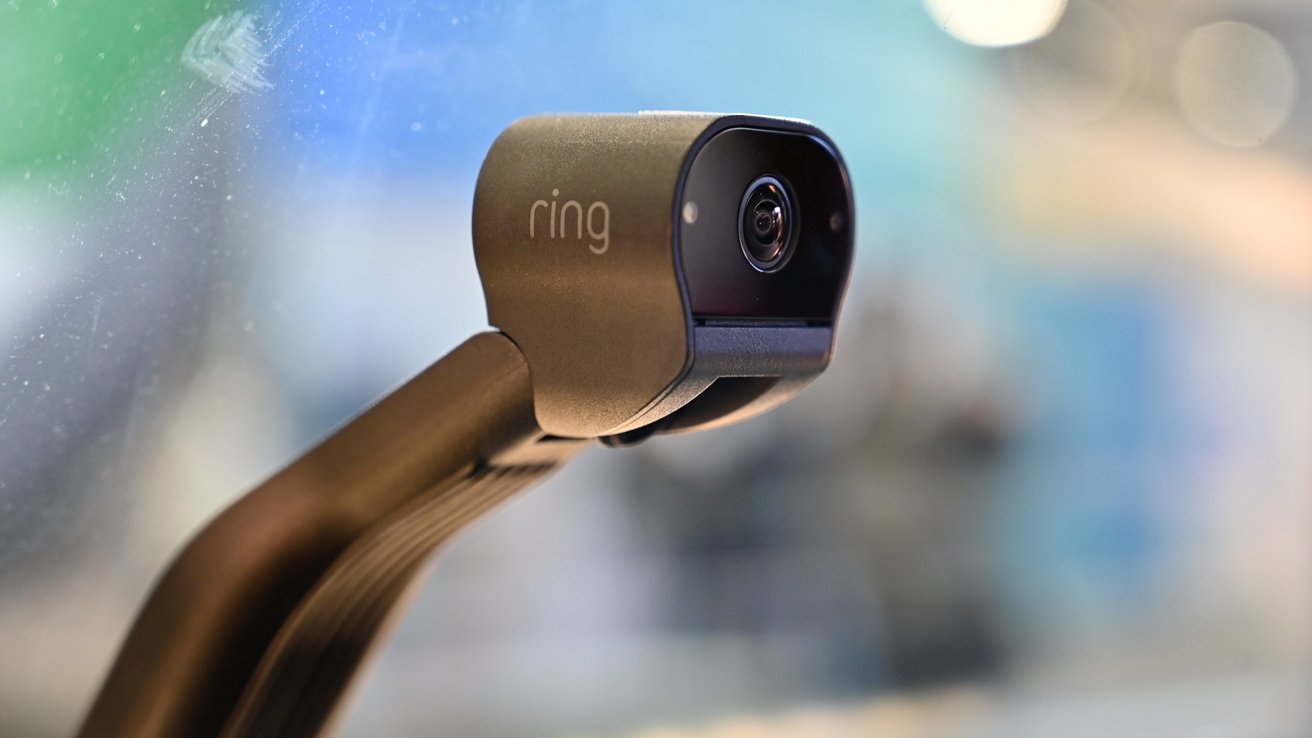 It's mounted at the bottom of your windshield and has sensors to monitor for collisions and tampering. It has a constant cellular connection which means it won't interfere with the use of wireless
CarPlay
.
Razer Kiyo Pro Ultra
Razer has a new 4K webcam it was showing off at CES that is well beyond most other webcams. It looked great in our demo and there was notable background bokeh for a webcam.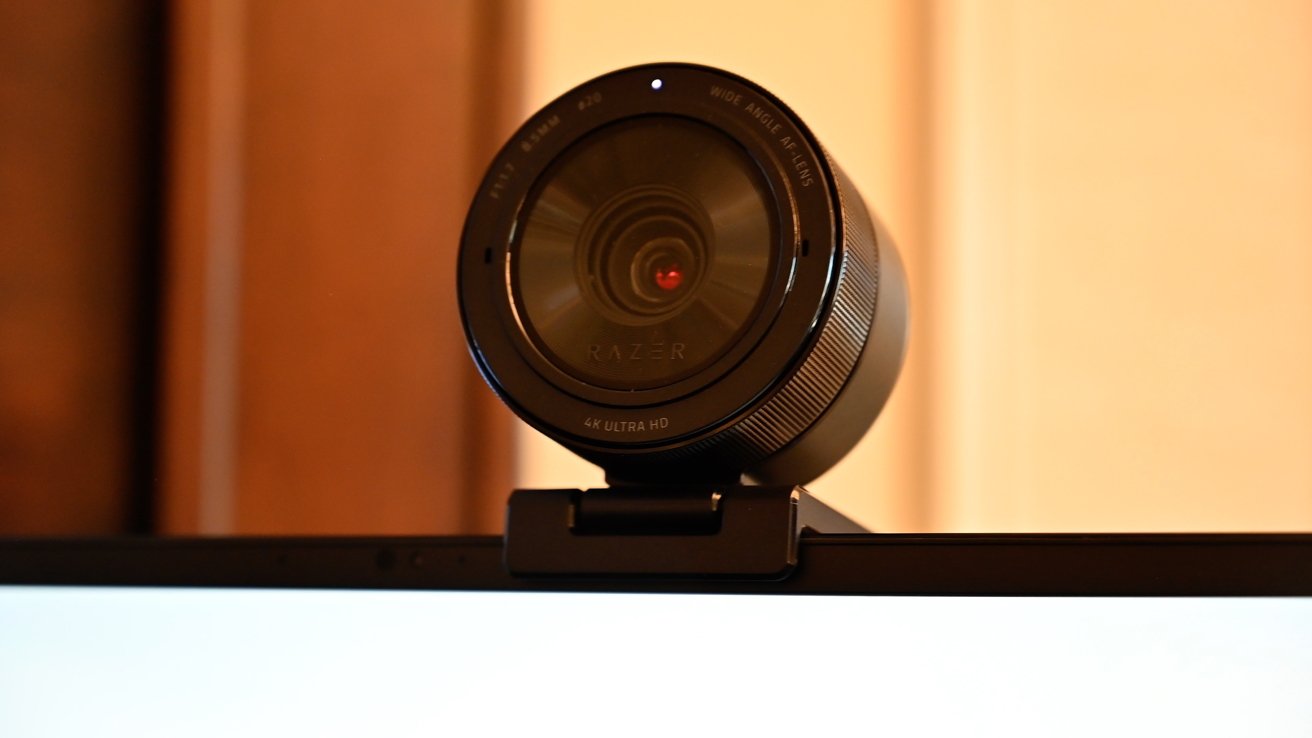 It has a portable lens cover and a built-in privacy shield when mounted on your computer. An integrated mount will fit almost any display but there's a tripod mount too.
Hyper HyperPack Backback
Hyper has its new HyperPack 22L backpack designed with an eye toward creative professionals and Apple users alike.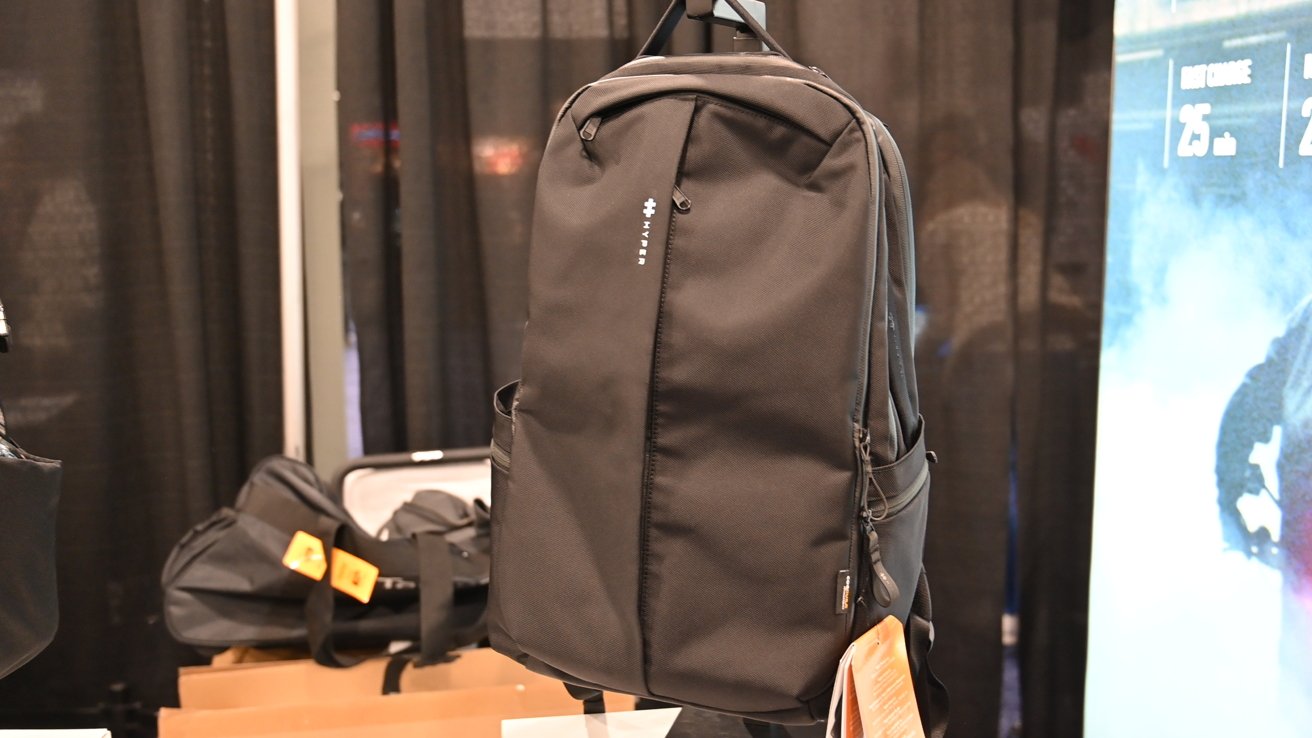 There's plenty of space inside and tons of pockets, compartments, and other nice touches. A battery can fit into the main body of the backpack and route charging cables to the front compartment, the side pocket, and the back compartment.
The back panel is large enough to hold documents, a 16-inch MacBook Pro, and an iPad Pro. The devices hover in the pocket, so they don't make content with the ground if your bag falls.
It has a nylon exterior, water-resistant security zippers, and can slip over the handle of a roller bag. The Find My module is at the top of the bag on the outside, making it easy to hear when you ring it from the Find My app.
iOttie Velox Elite
The iOttie Velox line was the brand's premium take on MagSafe chargers with a great look and high-end materials. The Velox Elite line has two upgrades.
The line now uses Apple-certified MagSafe modules rather than just 7.5W Qi chargers which can more than double the speed. It also now has active cooling to increase performance.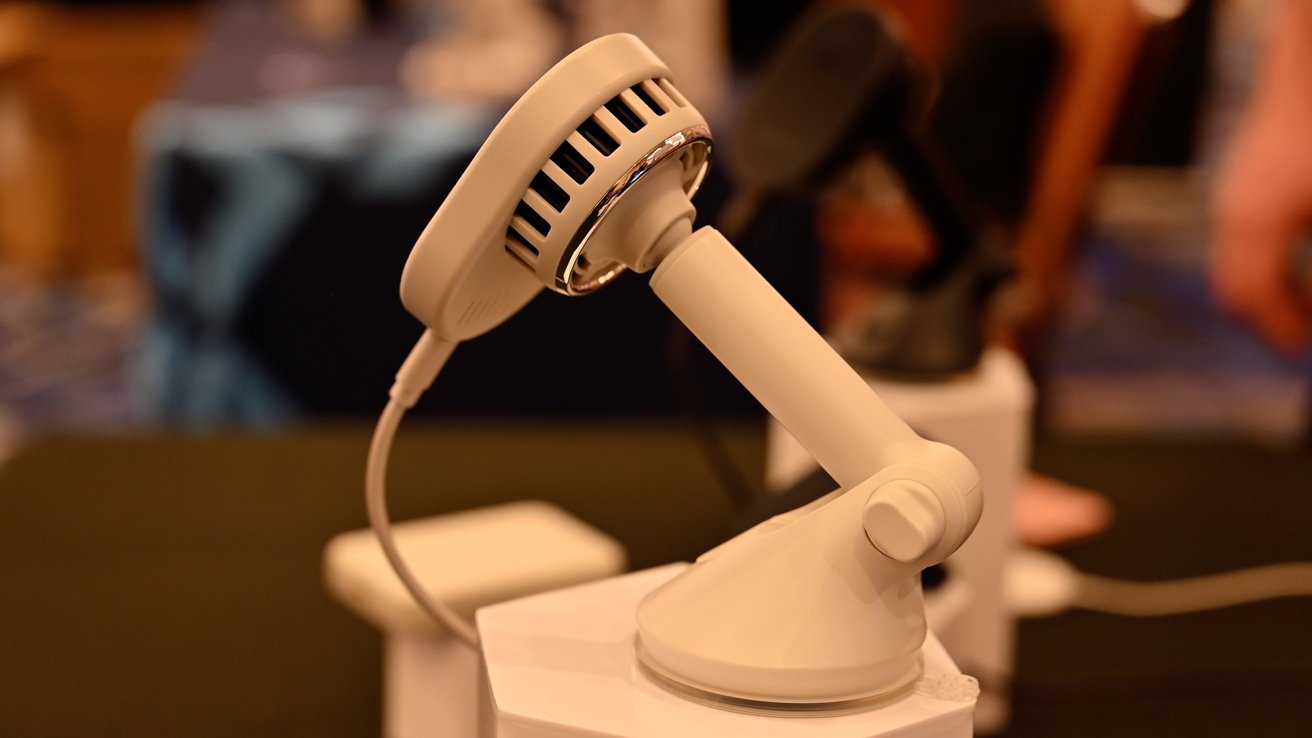 The company tells us that at 72 degrees, there's a 20 percent improvement compared to a normal MagSafe charger. As the temperature goes up, the performance gains grow.
We got to check out the suction car dash mount at CES which will surely come in handy for road trips. Navigating via CarPlay is a surefire way to warm up your phone, especially while wireless charging.
OtterBox OtterGrip Case
There was a ton of interest in OtterBox's latest case at CES this year -- for good reason. The OtterGrip is an all-in-one replacement for PopSockets.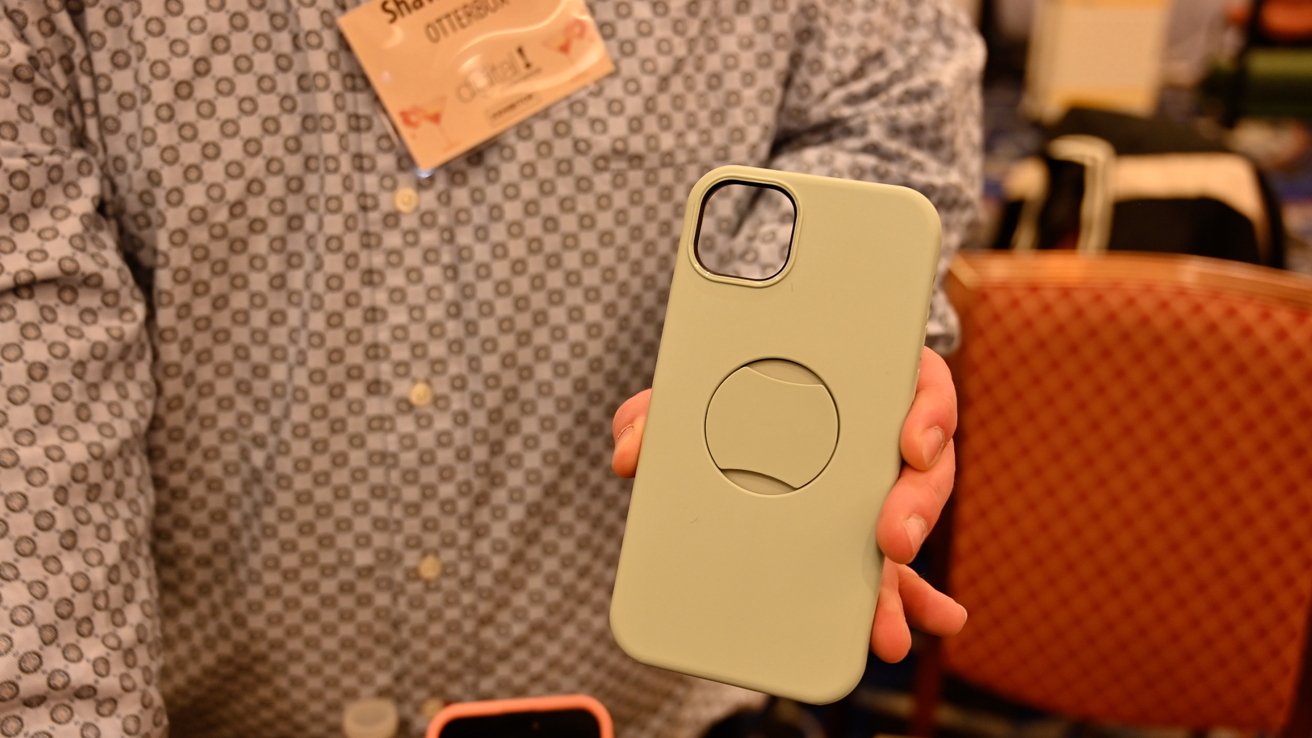 The case, built on the brand's Symmetry body, has an integrated grip on the back that can pop out when needed and sit flush when not. It can rotate a full 360 degrees to work at any angle.
The best part is the case works with MagSafe. Just collapse the grip and any MagSafe mounts, chargers, or other accessories will work.
Samsung ViewFinity S9 Monitor
If the Samsung ViewFinity S9 monitor looks familiar, that's because it bares a streaking resemblance to Apple's
Studio Display
.
It sports a thin design, a 27-inch 5K panel, and an all-metal stand. Samsung opted for a matte finish on its monitor, coming standard rather than costing an extra fee like Apple's.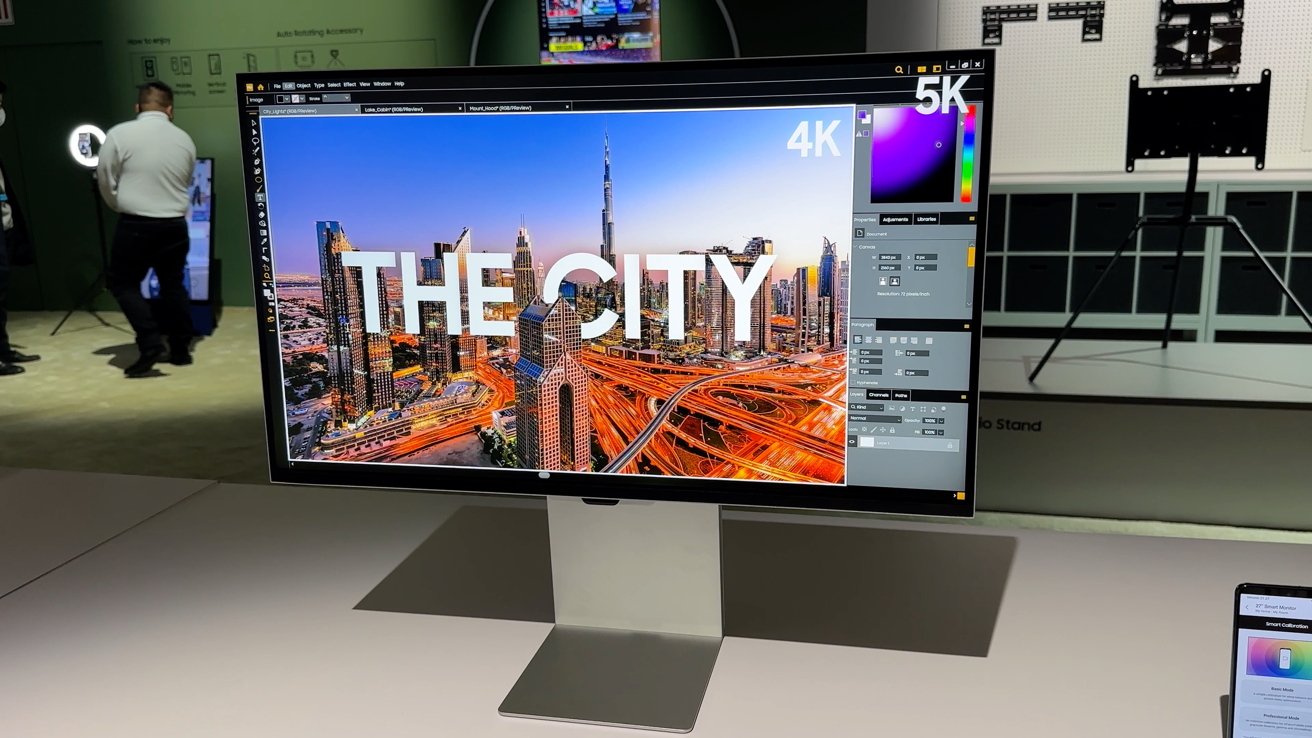 The monitor builds integrates Samsung's TV interface, works via Thunderbolt and has a 4K SlimFit webcam.
One of the more unique aspects is the ability to calibrate the display with your smartphone. With the SmartThings app, you can hold the phone's camera up to the screen and it will automatically calibrate the screen based on your room.
Tempo Workouts
The Tempo workout kit is an all-in-one solution for HIIT and weight training at home. In the equipment box, you'll find all of your color-coded weights that are well-organized.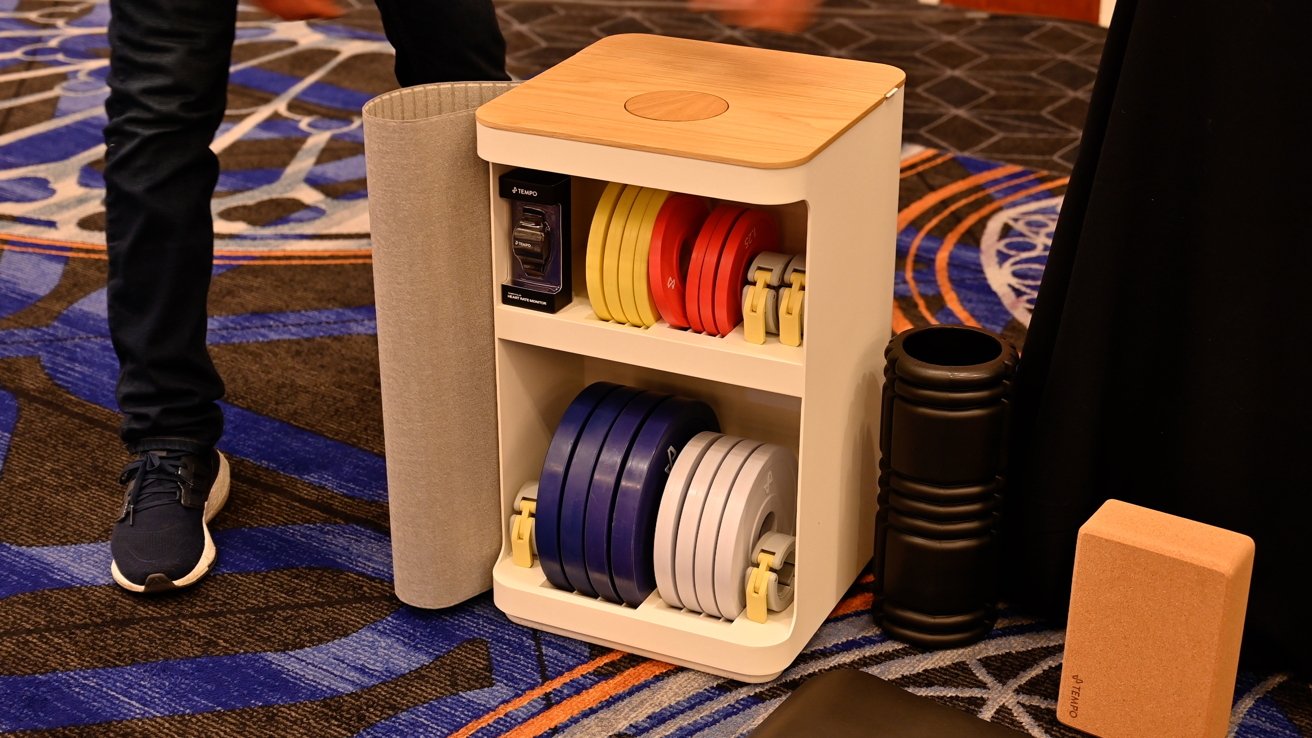 Tempo then uses the TrueDepth camera system in modern iPhones to analyze your form and the weights you use during your workout. It ties into your Apple Watch to adjust your workout in real time such as extending your rest period or adding additional reps.
It all counts towards your Activity Rings and is an optimized way to maximize your workout.
Garmin Dash Cam Live
Garmin has a compelling new dashcam this year to add to its ever-growing lineup. The new Dash Cam Live has a high-resolution 1440P camera and various sensors to detect collisions or tampering.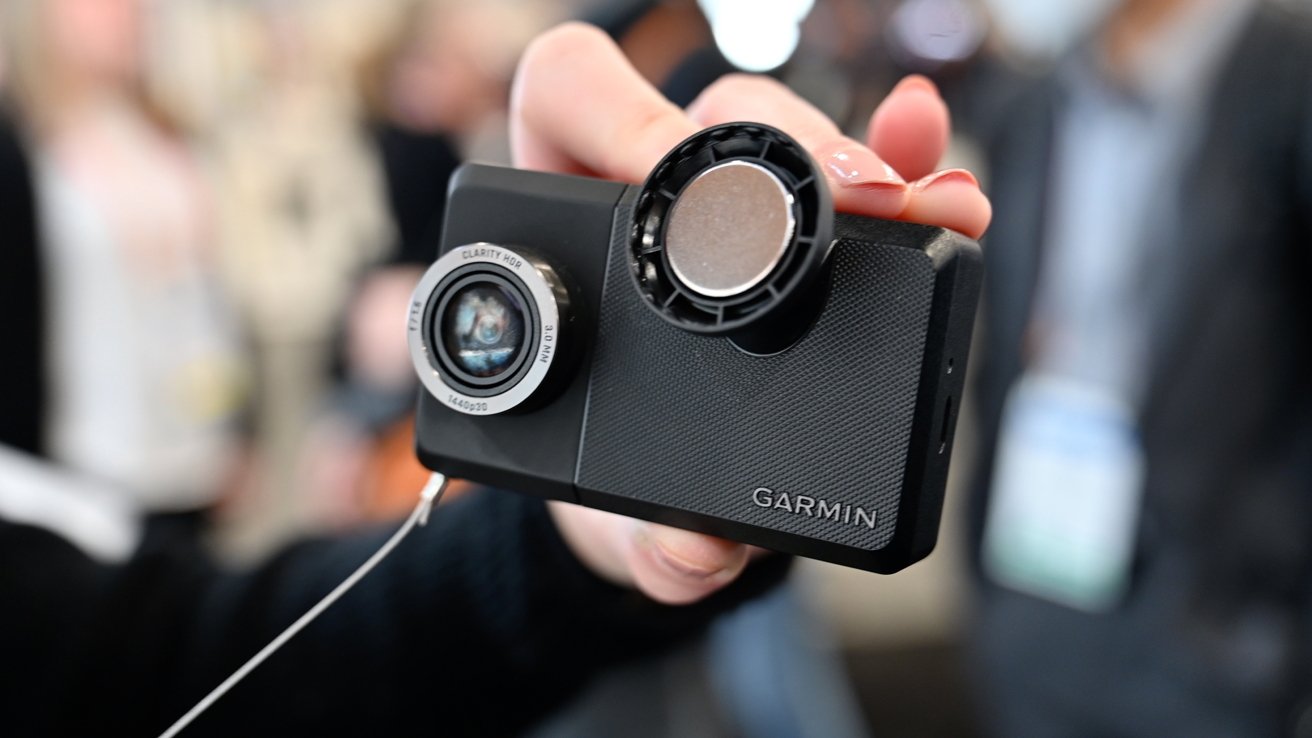 It has a cellular connection so no matter your location -- in your vehicle or not -- you'll be alerted to collisions, accidents, or break-in attempts. Compared to others, it also offers a timelapse video mode to record your whole trip.
Read on AppleInsider