Google unveils $1799 Pixel Fold, the latest Android folding smartphone
Google's new Pixel Fold smartphone merges the utility of its Pixel line with a folding design that expands into a sleek tablet -- for $1799.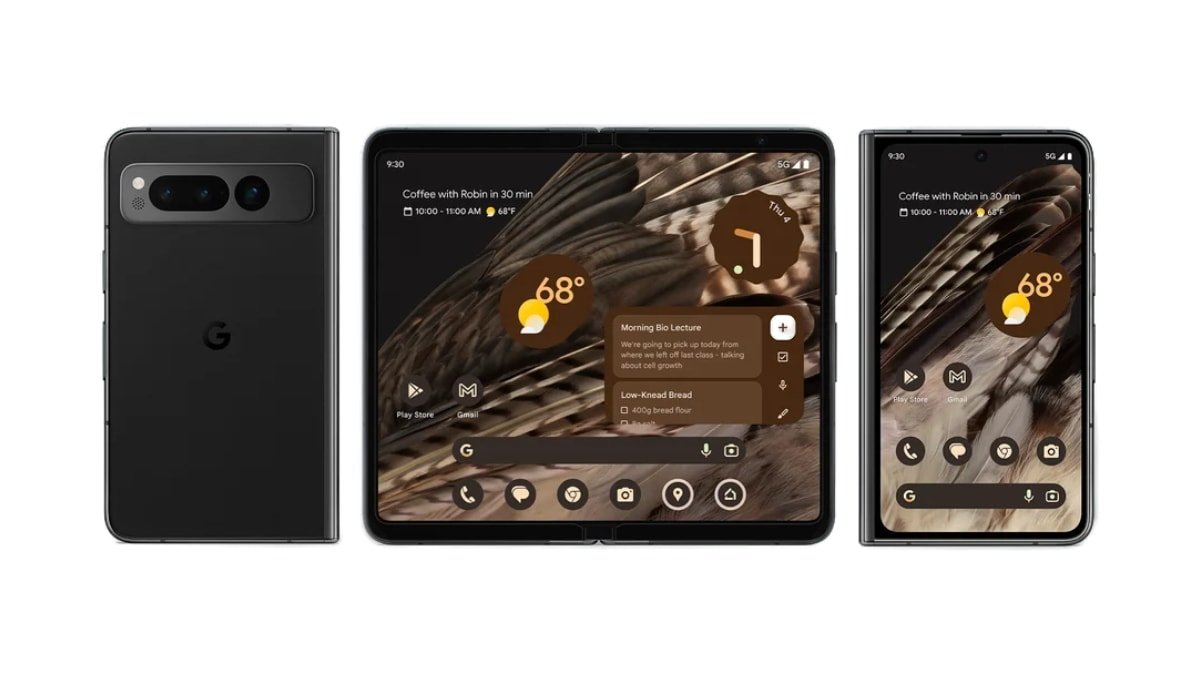 Pixel Fold
When Pixel Fold is closed, it has a conventional smartphone shape that comfortably fits in a hand and slides into pocketd. However, upon opening, it unveils a 7.6-inch screen that has a slimmer profile than any other foldable phone currently available in the market.
In designing this foldable device, Google says that it ensured form and function were not compromised. The majority of the Pixel components, including the camera, battery, speakers, and haptic technology, were "ingeniously redesigned" to fit within the slender profile.
https://schema.org/
","@type":"VideoObject","name":"Google Pixel Fold: The Only Foldable Engineered by Google","description":"Introducing Google
#PixelFold--
power and innovation, folded into one. ","thumbnailUrl":"
https://i.ytimg.com/vi/9wobcM-WPQk/sddefault.jpg
","uploadDate":"2023-05-10T19:06:17Z","duration":"PT2M9S","embedUrl":"
"}
Furthermore, the custom-built hinge contributes to the phone's thinness while simultaneously doubling as the most durable hinge available. Finally, Pixel Fold has an IPX8 rating for water resistance.
The external screen on Pixel Fold allows users to perform all of the typical tasks from a Pixel phone, such as responding to messages, browsing the internet via Chrome, and utilizing Google's Call Assist features, which include Direct My Call, Call Screen, Hold for Me, and Clear Calling.
Once fully unfolded, the interior screen on Pixel Fold provides all of the advantages of a tablet. Many apps are optimized to utilize the larger screen fully, allowing for an immersive experience when watching shows, reading books, or playing games.
Additionally, the expanded screen provides extra space to get more tasks done. The Taskbar can seamlessly switch between apps or handle dragging compatible apps into splitscreen mode to multitask.
While in splitscreen, users can move files between different applications, such as transferring photos from Google Photos to Messages and Slides. The Taskbar is dynamic and disappears when users are done with it.
Pixel Fold offers a range of camera features, including Super Res Zoom with 5x optical zoom, Real Tone, Night Sight, and Portrait photography. Additionally, the phone provides professional-level modes found in Pixel 7 Pro, such as 10-bit HDR video.
The exterior screen on Pixel Fold, which measures 1080 x 2092 pixels, can achieve a brightness of up to 1550 nits, while the interior display, which measures 2208 x 1840 pixels, can reach up to 1450 nits. As a result, both screens should be sufficiently bright to be easily visible outdoors.
Pixel Fold -- Pricing & Availability
The Pixel Fold is available
to preorder
for $1,799, and includes a free Wi-Fi Google Pixel Watch. Orders made today will arrive as soon as June 27.
This story is breaking. Refresh often for the most currrent information
Read on AppleInsider