Fopo S17 triple monitor review: Portable but precarious
The Fopo S17 triple monitor can give you two more screens for your MacBook on the go -- but be aware of its downsides.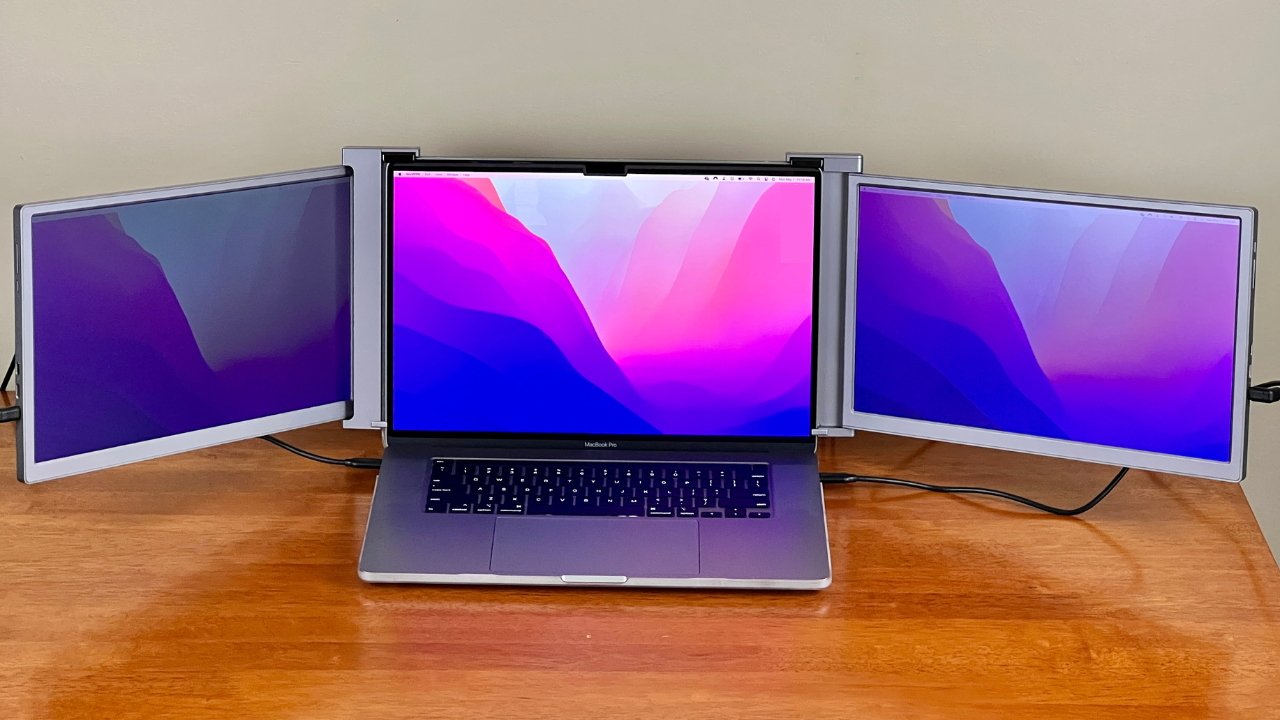 Review: The Fopo S17 triple monitor
Due to its portability, the Fopo S17 could be a practical device for MacBook users who need more screen space wherever they go. It has a foldable design that makes it easy to pack and carry and a built-in kickstand that supports the monitor when you unfold it.
If you're looking for a way to boost your productivity while traveling, you can use the Fopo S17 to turn your MacBook into a three-screen workstation. However, it will not work for everyone.
Setup and portability
The Fopo S17 is a portable monitor that attaches to your MacBook lid and gives you two extra screens to enhance your workflow, even on the road. It may look hard to set up at first, but once you learn how it works, it only takes a few minutes.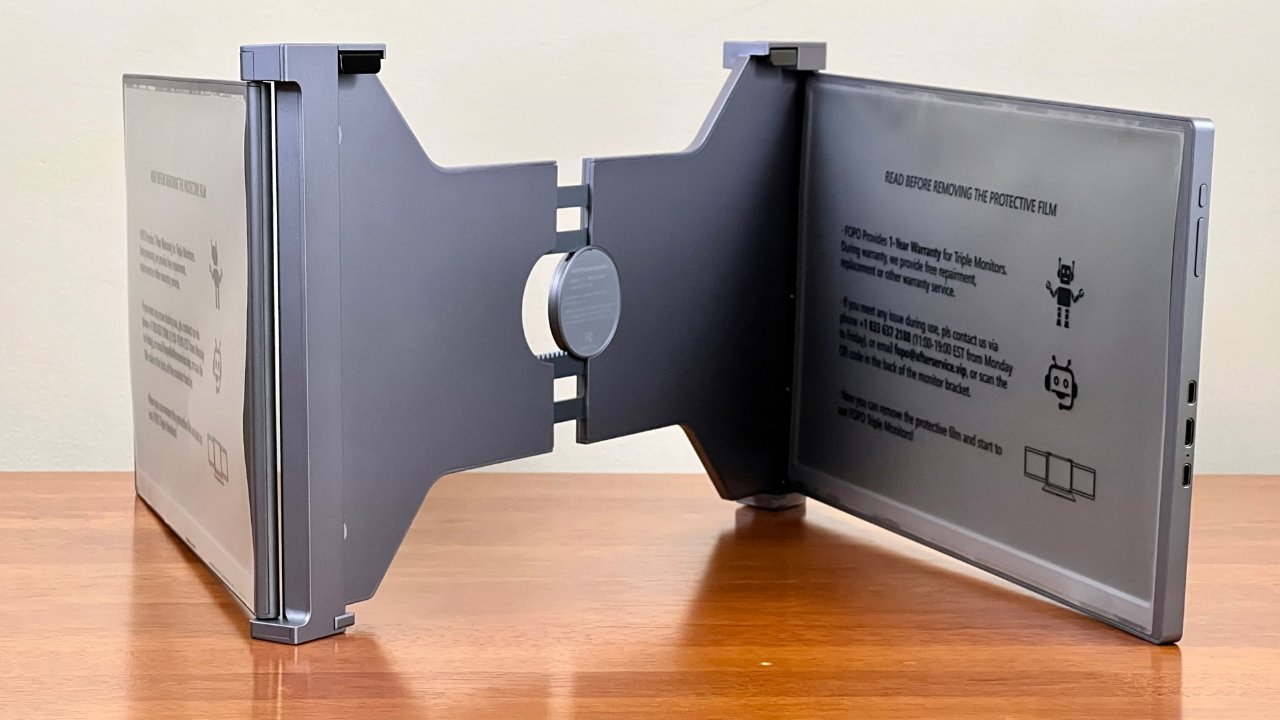 The Fopo S17 is portable, and it attaches to a MacBook with small brackets on the middle panel
To set this up, you just need to fit the small brackets to your laptop lid and lift the kickstand to support the monitors. Then, you can adjust the kickstand's length to fit your laptop's angle and use the rubber foot to keep it steady.
The kickstand may look weak and flimsy, but it held up the Fopo S17 and MacBook lid without issues. The MacBook used during this review was placed on a stable desk in an office setting, and the kickstand was tested by applying some pressure on the MacBook screen and slightly wobbling it.
Surprisingly, the kickstand didn't budge when tested at different times throughout this review. Although the Fopo S17 stayed in place, this setup might seem too precarious for some MacBook users.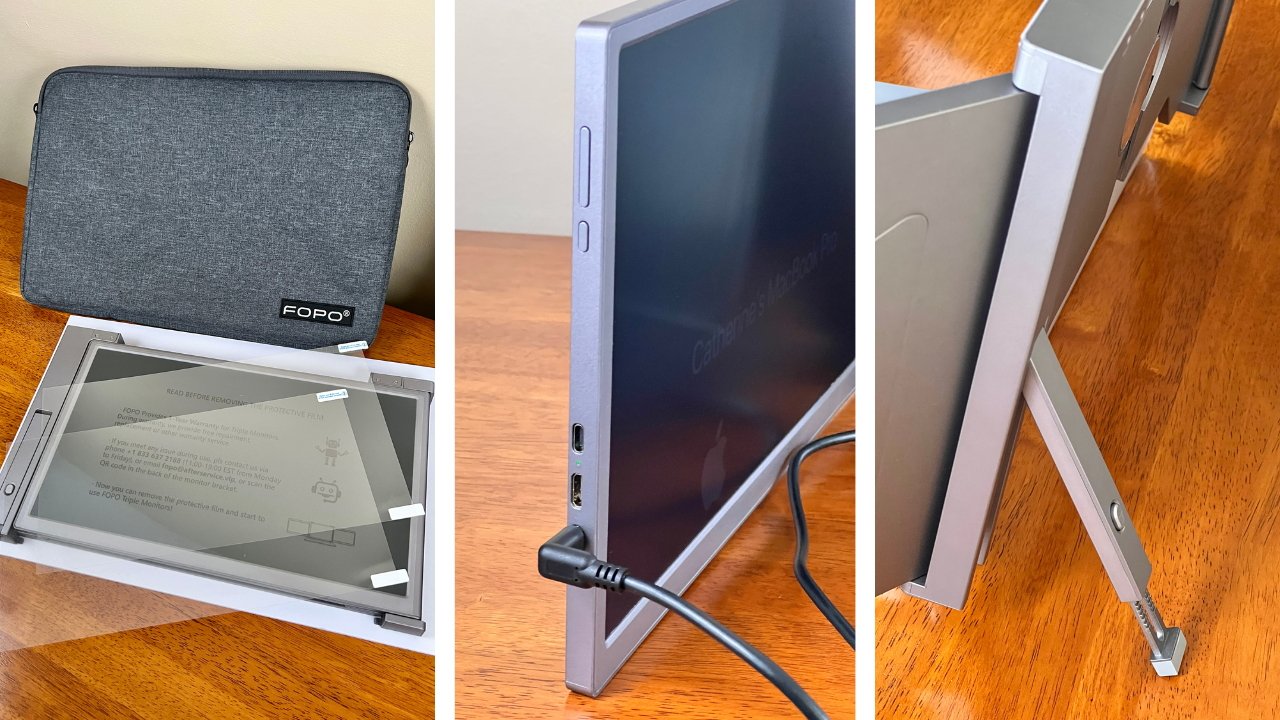 The Fopo S17 includes a carrying case and screen protectors, and you can use it with a USB-C cable and kickstand
The Fopo S17 can adapt to different MacBook sizes. It was tested on a 16-inch
MacBook Pro
with a thin protective case, and it fits just fine. The back of the Fopo S17 can expand horizontally, and you can customize it to your MacBook size.
To help protect the screens while in transit, the Fopo S17 comes with a zippered carrying case with soft interior padding and two screen protectors.
Since the triple screens use a lot of space, the Fopo S17 is best suited for a hotel room instead of a cafe. Also, you might draw undue attention in public because when the monitors fully extend, they look like someone left the cab doors open.
Specs and compatibility
The Fopo S17 is best suited for those who value quantity over quality for screens. According to the user manual, the Fopo S17's screen resolution is 1920x1080 pixels with a 60 Hz refresh rate, so don't expect the Fopo S17 to have the same screen quality as your MacBook.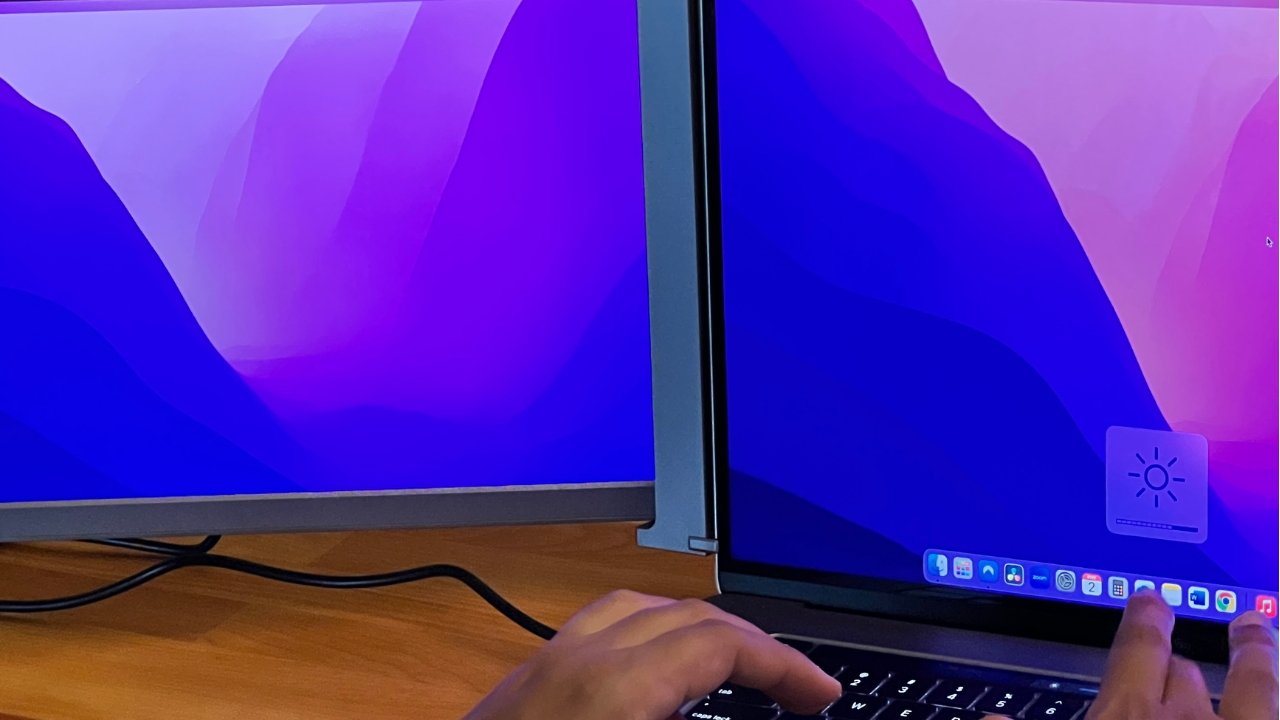 A comparison of screen displays of the Fopo S17 and MacBook -- the S17 is at maximum brightness
We observed that the Fopo S17 screens were not as bright, sharp, and vivid as the MacBook screen when they were powered on next to it.
You can change some settings on your MacBook and the Fopo S17 to make the screens more similar in brightness, so your eyes don't have to strain when switching between them. The MacBook screen's brightness was reduced to about 75 percent while the Fopo S17 was at maximum brightness, and while they looked closer in brightness, they were still not the same.
While the Fopo S17's screen quality is terrible for detailed color grading and precise photo editing, it would be fine for work involving programming or data processing.
For creatives who work with colors, you can keep your MacBook screen free for coloring work and have other windows open on the Fopo S17 for things like emails, file folders, or playing music or podcasts while you work.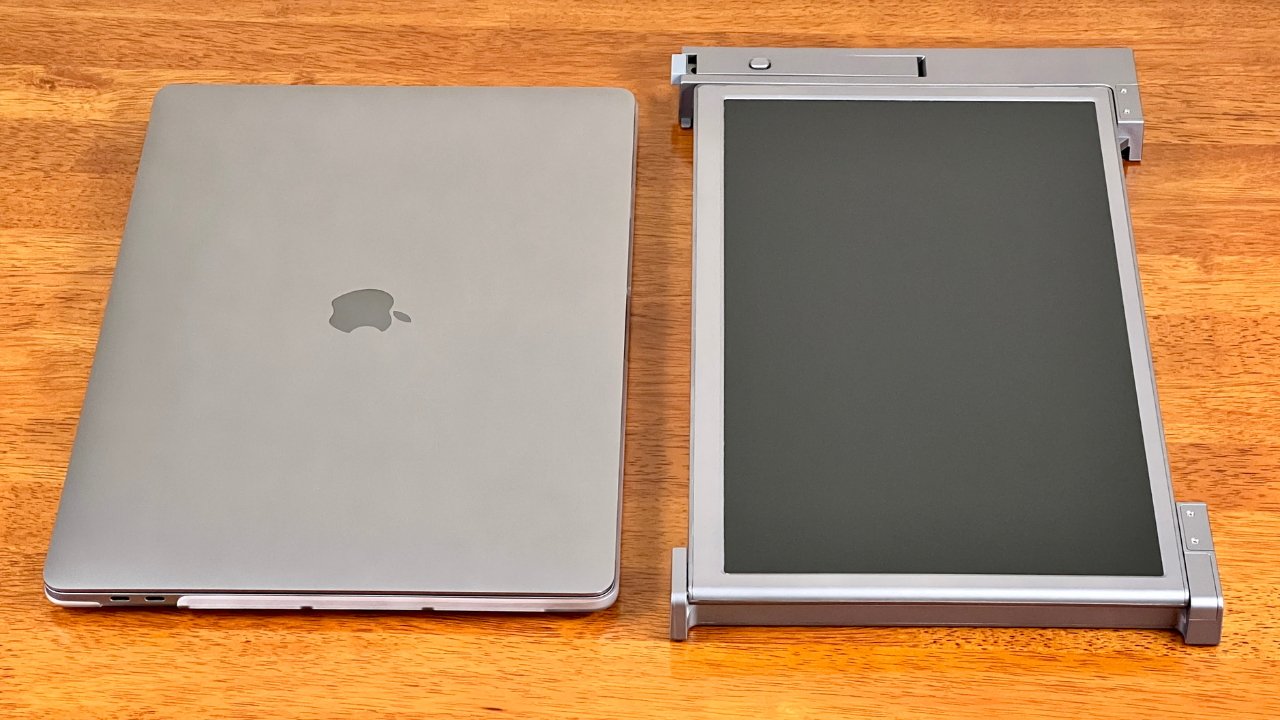 When folded up, the Fopo S17 is easy to take with you on the go
According to Fopo, the S17 works with
MacBook Pro
15 inch 2016 to 2019, MacBook Pro 16 inch 2019 and 2021, Apple
M1
Pro and M1 Max, as well as the
M2
Pro and M2 Max. It is incompatible with Apple's
M1
and
M2.
Depending on your equipment, you will need different connections. Fopo includes various cables in the box -- two Type-C cables for video and power, two HDMI cables for video only, two USB-C to USB-A cables for power only, and one power adapter.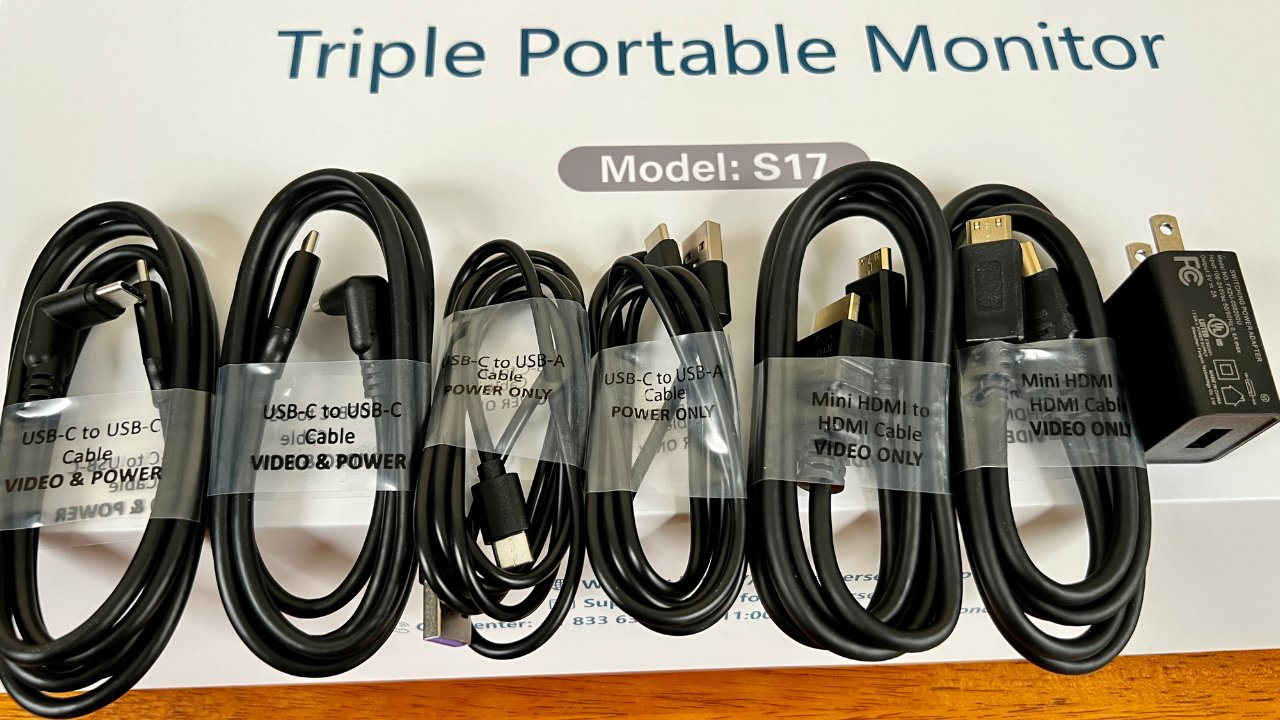 The Fopo S17 comes with different cables to connect it to various laptops
The Fopo S17 was tested with a
16-inch MacBook Pro
, and the connection was very easy to set up. When the powered USB-C cables were plugged in for each monitor, they turned on without any software or drivers, and the best part was not having to download any software or drivers as it is plug-and-play.
The Fopo S17 lets you work on three screens simultaneously, no matter where your travels take you. The downside is that the screen quality is not the best, and it takes some time to adjust to the setup. However, this might be worth a try for frequent flyers who need more screen space for their work.
Fopo S17 triple monitor - Pros


Connects directly to a MacBook via USB-C to USB-C cable


Plug-and-play; no need for additional software


Portable for working while traveling


Plentiful screen space for multitasking


Screen protectors and carrying case included


Fopo S17 triple monitor - Cons


Incompatible with some MacBook models


Precarious setup with a small kickstand


Lackluster screen quality


Rating: 3 out of 5
Where to buy
You can buy the
Fopo S17 15-inch
triple monitor on their website. It's on sale now for $649.99, and you can use code FOPOASD to save an extra $100 sitewide. You can also buy it
from Amazon
, where it's on sale now for $552.49.
Read on AppleInsider