iOS 17 rumored to turn an iPhone lock screen into a smart home display
Posted:
in iOS
edited May 25
In preparation for WWDC 2023, Apple is developing a new interface within
iOS 17
for iPhones that will act like a smart home display, showcasing essential information.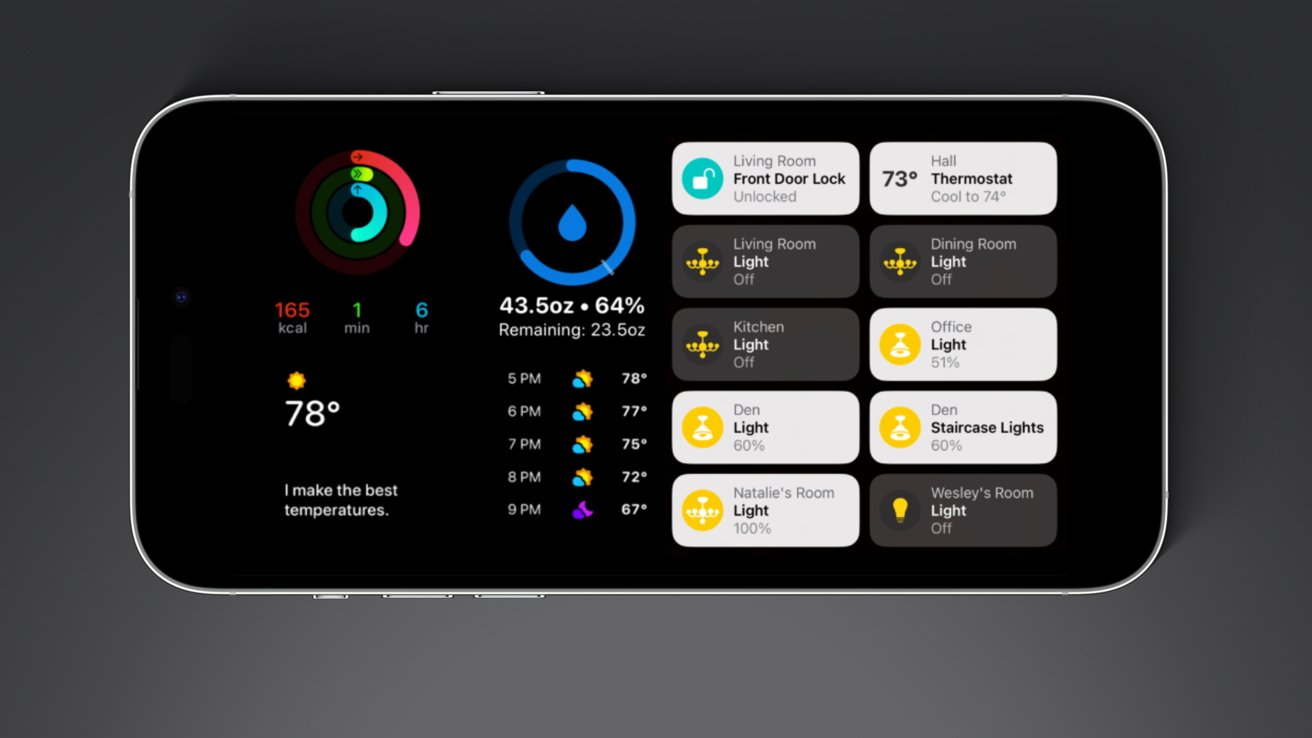 As reported by
Bloomberg
, iOS 17
is set to
introduce enhanced functionalities to the always-on display hardware, which could potentially serve as a stepping stone towards a future Apple smart display. It's part of a broader effort to incorporate real-time information into various aspects of the company's software.
According to sources familiar with the project, a similar display will emerge when an iPhone is locked and placed horizontally, resembling the Apple Watch in nightstand mode. This feature aims to enhance iPhones' utility when placed on a desk or nightstand, making them more convenient for users in such scenarios.
It will employ a dark background with bright text to enhance readability. This builds upon the lock screen widgets in iOS 16, allowing users to view condensed information, such as stock tickers, news updates, and temperature, below the time on their vertically oriented screen.
The iOS 17 horizontal mode could display calendar appointments, weather, and notifications.
Apple is actively investigating alternative methods to transform its devices into smart-home displays. This includes developing an affordable tablet device that magnetically adheres to walls and stands.
However, progress in that area has been relatively sluggish. The envisioned tablet device holds the potential to become Apple's foray into smart-home displays, intended to regulate devices such as thermostats and lights, display videos, and facilitate FaceTime conversations.
Other features in iOS 17 include
notable updates
to the iPhone's Wallet app and enhancements to location services. Additionally, a
journaling app
is set to debut, aiming to introduce note-taking functionality and amplify the social aspect of the device.
The Worldwide Developers Conference (WWDC) 2023 is set to take place on June 5th at 10:00 am PT, 1:00 pm ET, with announcements for iOS 17 and other products. The event will be accessible for viewing through multiple platforms, including Apple's website, the Apple Developer app, the Apple TV app, and YouTube.
Read on AppleInsider