iPhone 15 Pro benchmarks show big speed improvements & 8GB RAM
Initial results on benchmarking site Geekbench have confirmed that the iPhone 15 Pro has more RAM than previous models, and show a performance boost of around 10%.


Apple's new iPhone 15 Pro range


Now that the iPhone 15 Pro and iPhone 15 Pro Max have been unveiled, benchmark results have begun appearing on Geekbench and reveal both performance and specification details. Despite previous rumors, for instance, it appears that the two Pro models ship with 8GB RAM, up from the previous standard 6GB.

As first spotted by MySmartPrice, the scores show that the new A17 Pro chipset brings 10% faster performance than last year's A16 Bionic. Part of that performance boost comes from how the A17 is the first iPhone chip to be made using TSMC's 3-nanometer process.

In terms of performance, the iPhone 15 Pro -- known internally at Apple, and shown on Geekbench, as iPhone 16,1 -- scored 2908 in the single-core tests. For multi-core, it scored 7238.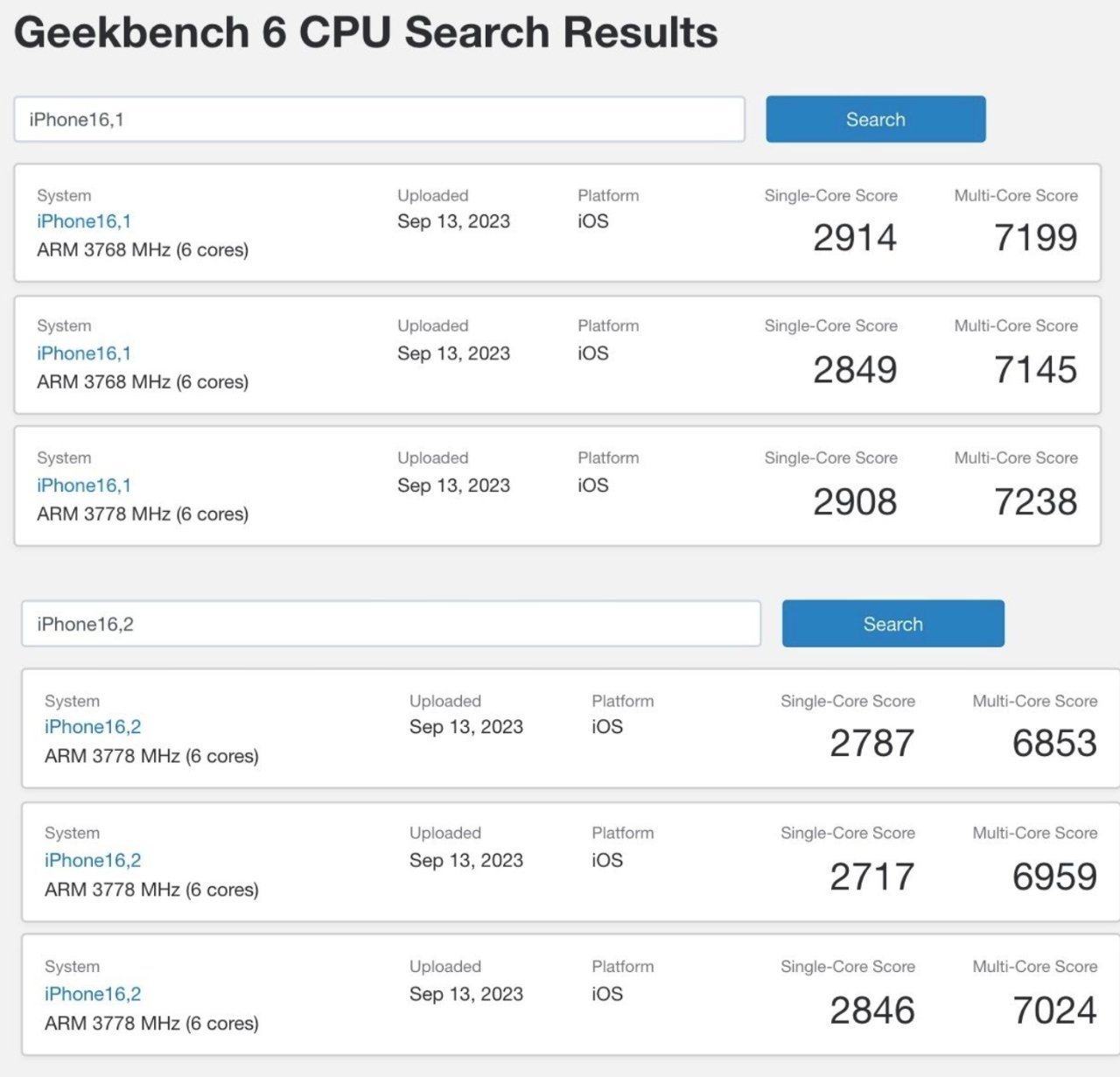 Geekbench scores for the iPhone 15 Pro and the iPhone 15 Pro Max


By comparison, the iPhone 15 Pro Max -- iPhone 16,2 -- scored 2846 single-core, and 7024 multi-core.

That does mean that the smaller iPhone 15 Pro scores higher than the larger version. But it's the size that makes the difference -- the iPhone 15 Pro Max has more pixels to drive.

In either case, the new scores significantly improve on the A16 Bionic processor in the iPhone 14 Pro Max. That scored 2546 single-core and 6631 multi-core.

Read on AppleInsider