AppleInsider podcast discusses Apple Watch sales in Europe, 'iPad Pro,' plus special guests
This week's all-new
AppleInsider podcast features Daniel Eran Dilger sharing his experiences from Colette, one of the few fashion boutiques selling Apple Watches. We also discuss the latest 'iPad Pro' rumors, and special guests tech journalist Georgia Dow and Dell UX designer Jim Young join us for a talk on the Apple Watch.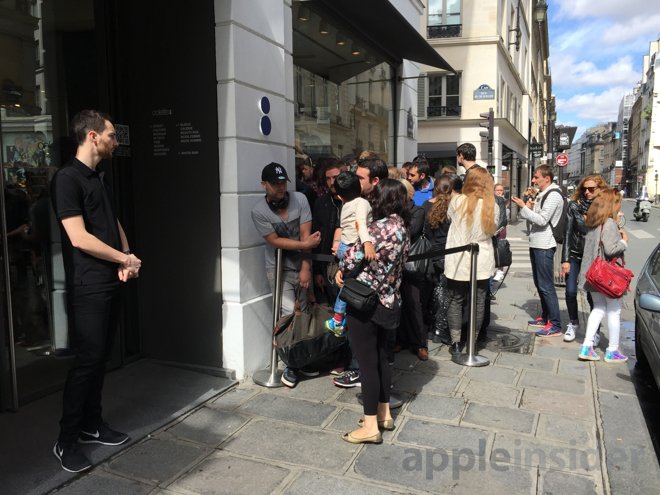 AppleInsider staff members Neil Hughes, Daniel Dilger, Shane Cole, and Stephen Robles discuss the top stories:

Apple Watch at Colette fashion boutique
Apple publishes Apple Watch band design guidelines
Rumored 12.9-inch "iPad Pro"
Apple details new "AppleBot" web crawler
Special interview with Georgia Dow and Jim Young on the Apple Watch

The show is available in iTunes and your favorite podcast apps by searching for "AppleInsider". Click here to listen, subscribe, and don't forget to rate our show.







You can also listen to it embedded via SoundCloud below:



Show note links:


Over a week after launch, Apple Watch still draws long line of buyers at Colette in Paris
Apple publishes Apple Watch band design guidelines for accessory makers
Apple updates Apple Watch Human Interface Guidelines website with new design, more resources
In-store Apple Watch pickup 'available soon,' Apple Store iOS app says
Rumor: Purported industrial renderings of Apple's 'iPad Pro' back 12.9-inch display
Hands-on with alleged 'iPad Pro' case gives comparison to Apple's iPad Air
Apple's 12.9" iPad will feature Bluetooth stylus, Force Touch, NFC & more, source says
Apple has confirmed the existence of a long-rumored web crawling service used by Siri and Spotlight
Apple challenges Google with growing Web search program, fueled by Topsy acquisition


Follow our hosts and special guests on Twitter: @thisisneil, @danieleran, @georgia_dow, @jimyoung, and @stephenrobles

We'd appreciate your feedback and comments, as well as any questions that we can answer on future episodes. Send your responses to the AppleInsider Podcast at

[email protected]

and follow or tweet at us @appleinsider.

Finally, anyone interested in sponsoring the show can reach out to us at

[email protected]

.