Apple AirPods concept finalized since at least mid-2015, patent filing shows
In debuting AirPods, Apple also introduced a seamless, dead simple Bluetooth pairing method powered by its new W1 chip. A patent application published Thursday appears to detail exactly how the system functions.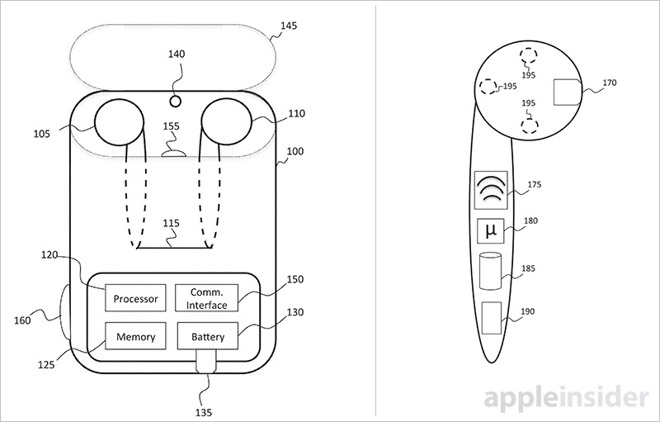 Source: USPTO
One of the first
AirPods
patent filings to be made public, Apple's application for "
Wireless audio output devices
" describes a method by which two untethered earbuds communicate with each other, an accompanying carrying case and a host device like iPhone.
The document includes a basic description of Apple's AirPods: a pair of untethered wireless earbuds seated in a charging case that pulls double-duty as a physical pairing interface.
As already revealed in an extensive hardware
teardown
, each AirPod comes with its own processor and communications package -- the W1 chip -- microphone, infrared proximity sensors, accelerometer, supporting hardware and a small battery. Beyond a few custom components, AirPods is basically a wireless headset broken down and stuffed into a pair of earbuds.
The charging case also sports its own processor and communications suite, a larger battery cell for recharging both earbuds, a motion-detecting lid for starting the pairing process and a button for manual pairing. These latter physical controls make the charging case a key system component, as users have no means of interacting with AirPods beyond taps detected by the onboard accelerometer.
Aside from the brief hardware description, necessary as a reference point for claims made later in the document, today's patent deals mainly with device pairing and communication.
Starting with pairing, Apple notes the earbuds are unable to start the process themselves since they lack a physical input mechanism. During this early phase in operation, the charging case handles most of the heavy lifting.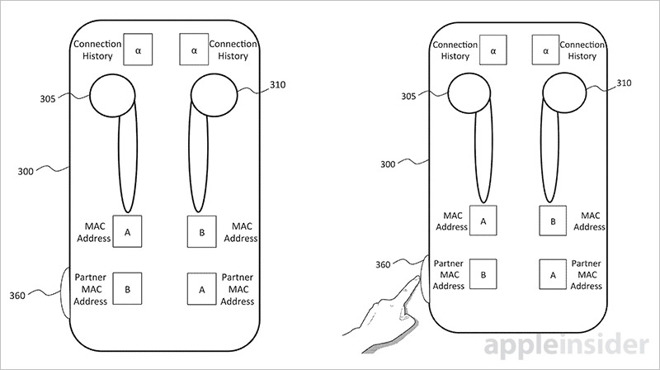 In some embodiments the case incorporates a lid and a pushbutton, either of which can be manipulated by the user to signal intent to pair with a host device. With AirPods and an iOS 10 or macOS Sierra device, opening the case cover initiates a pairing mode that requires only a single onscreen tap to bind the earbuds with its new host.
Of note, Apple's patent calls for the system to first distinguish a primary earbud that pairs and communicates with a companion device, and a secondary earbud which receives data and audio signals from the first earbud. In some cases, the primary designated earbud is determined to have the latest firmware.
Once paired and connected, the primary earbud might update the second earbud with current firmware so their roles can be switched at a later time, perhaps when a user removes one earbud when taking a call. Uncoordinated swaps, or switches that occur when one earbud is not connected, are also supported.
Interestingly, Apple's document states users can manually disable role swapping by changing the capability of an earbud. For example, a user might configure the right earbud as a so-called "Mic-Bud," which as its name implies enables that earbud's microphone. In this case, the Mic-Bud becomes the primary earbud, while the "Mute-Bud" takes a secondary role.
Apple apparently nixed user control before AirPods shipped, as the current solution automatically switches from one Mic-Bud to another depending on perceived noise and other factors. While users can select a Mic-Bud in Settings, the oltion to choos a primary earbud is unavailable.
Memory modules in each AirPod store a connection history that includes Bluetooth link information and unique MAC addresses for identifying each earbud separately. This solution is likely in play with AirPods, as iOS is able to display battery levels for both right and left AirPods, as well as for the charging case, in the custom AirPods info pane.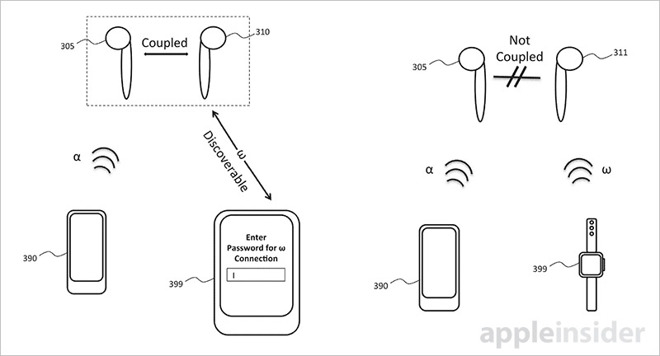 The document offers a number of variations as to how best manage device linking. Llink data and companion device MAC address information might be deleted upon pairing with a new host depending on policy decisions accomplished in tandem with the charging case processor. This measure ensures complete user privacy.
For example, when two earbuds in a case are not communicatively connected (perhaps when two users accidentally mix up their AirPods), policy protocols call for a complete deletion of connection histories. In other cases, the information is not deleted so as to enable a seamless listening experience among an ecosystem of devices.
Apple also details a method by which the charging case enables the two earbuds to send a shared secret over a physical link during a secure communicative coupling session to prevent bad actors from maliciously connecting to one or both earbuds over the air.
The document goes on to detail pairing variations, host connectivity options and operating alternatives.
While today's patent application is perhaps best described as banal in its description of earbud pairing, the depth at which Apple dives into sample scenarios and contingencies offers insight into the complexity of producing a high quality pair of completely untethered headphones. The document also sheds light on potential issues that could have led to reported
engineering troubles
.
Apple's AirPods patent application was first filed for in June 2015 and credits Robert D. Watson, David John Shaw, Ganesha Adkasthala Ganapathi Batta, Chandrahas Aralaguppe Chandramohan, Gregory Robert Burnsand, Benjamin Huth Byer as its inventors. Considering the detail of today's application and its similarities to Apple's final shipping product, it is likely that initial work on AirPods began many months or even years prior to the original filing date.