Review: D-Link's HomeKit-connected Omna 180 is a great pet, baby or nanny cam, but securit...
If you don't feel a need to be covert with a live camera feed from your home, the D-Link Omna 180 is a great choice for keeping tabs on your pets or loved ones. It's also the first HomeKit-enabled camera on the market, but security-focused users should probably wait for another option.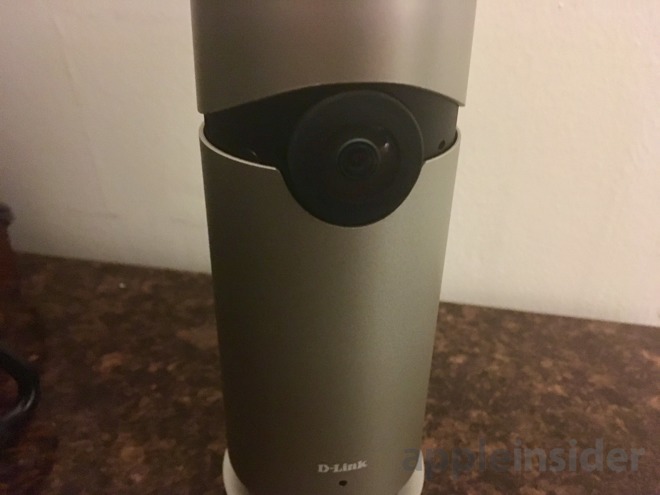 Now available and priced at $199.95, the
D-Link Omna 180
has the distinction of being the first camera compatible with Apple's HomeKit ecosystem and the Home app in iOS 10. That alone will make it a tempting option for users looking to build the smart home of their dreams.
There's a lot to like about the Omna 180, including dead-simple ease of use and no need for any sort of subscription plan.
But to get away with not offering a cloud storage solution, D-Link had to settle on a glaring security flaw -- the use of a locally stored microSD card -- that could be a dealbreaker for some.
Design and hardware
The Omna 180 is not exactly what you'd call discreet.
About the size of a "slim" beverage can, like Michelob Ultra, D-Link's smart camera is not an eyesore. But in a market where some users may prefer to have a camera that is less obvious for maximum security, the Omna is not going to fit that bill.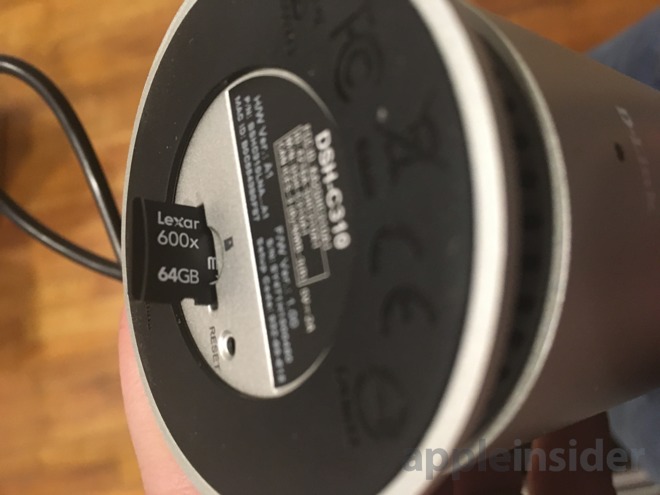 Where it excels is a fantastic 180-degree field of view that truly captures the width of the room it's in.
For our testing, we kept the Omna 180 next to a cabinet in the kitchen, peering out at the rest of the home. The camera needed to be placed at the very edge of the counter, as far forward as it could go, because the 180-degree lens captures everything to the left and right. Having the camera recessed even just a little bit would block some of the view.
The camera is flanked by a pair of infrared sensors that allow it to work at night as well. Even in a pitch-black room, we were able to see clearly everything in the room in black and white.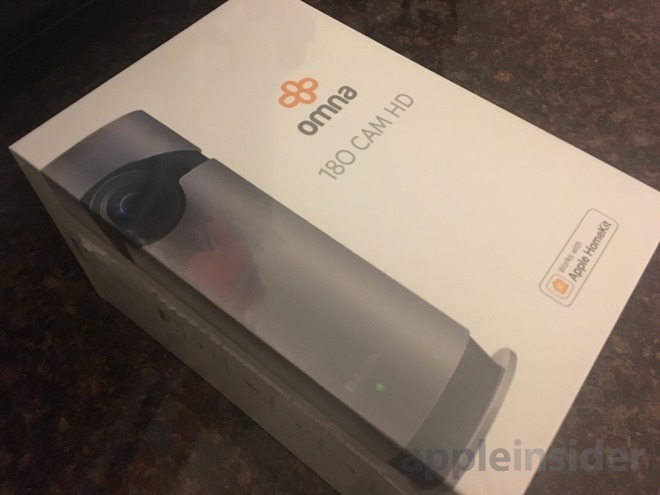 It also features a speaker and microphone, so you can hear live and recorded clips and also speak through the device remotely, either to comfort a pet or baby.
On the back, the unit is powered by a micro USB cable. So you'll need to have some sort of power outlet nearby in order to use this camera.
Finally, on the bottom, there is a slot for a micro SD card.
This is very likely the feature that will make or break the Omna 180 for many users.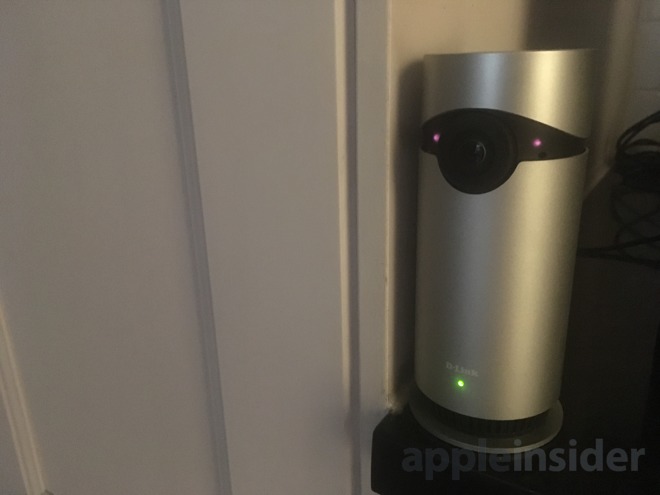 For us, we don't need a security camera so badly that we'd be willing to pay a monthly fee for cloud storage. The fact that the Omna 180 saves its video files locally is good for data security and it's easier on the wallet. The $200 you spend on the Omna, plus the micro SD card you use, is all you will need to spend to have a fully functional accessory.
But D-Link does not currently offer any sort of cloud backup solution at all. That means that if someone were to rob your house and snatch the Omna 180 on their way out, all evidence of the crime would be gone.
We suppose a user could work to hide the Omna 180 in their home some way, but given the size of it and the shape, it would take some work.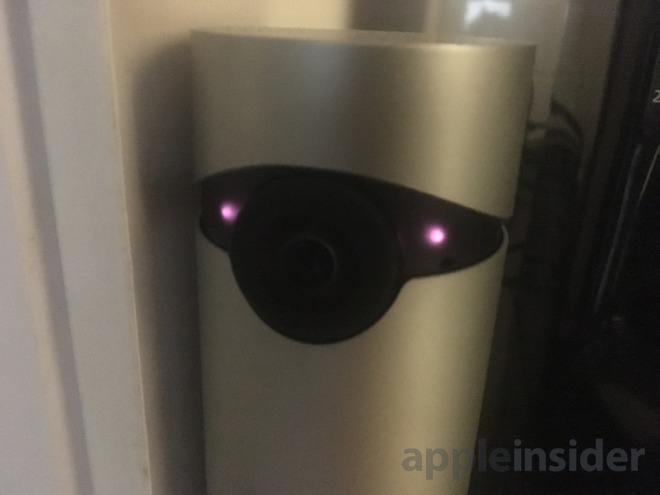 It should also be noted that the unit does run hot, constantly. A rather privacy-conscious member of our household placed a cup over the camera one evening, and we removed it a few hours later to find that the temperature had become quite high. You'll need to give this camera some breathing room, depending on where you place it.
Software and HomeKit integration
To really get the most out of the Omna 180, you'll need to download D-Link's Omna app and customize the camera. Specifically, you'll want to choose which "zones" of the camera's lens are "hot spots" for motion detection.
Once the portions of the camera you want tracked are selected, you can enable a custom service -- called Motion Detection by default -- that taps into Apple's HomeKit and the iOS 10 Home app. Now you can create scenes and triggers based on motion detected from the selected portion of the camera lens.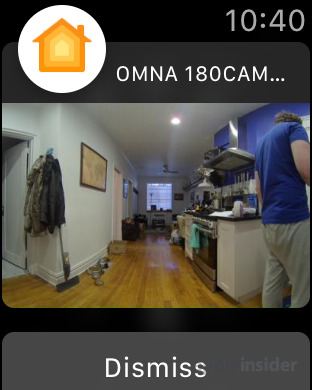 In our tests, it works great. We configured our camera to trigger whenever activity happened around the front door. Without fail, whenever the door opened or anyone moved in front of it, the motion sensor was triggered.
With Apple's Home app, you can have this send an alert to your iPhone, if you want. Users will probably want to toggle this on and off as needed, because getting push notifications every time a motion sensor is triggered can be a bit much.
When you receive a push notification from the Home app, it comes with a screenshot of what was captured at that particular moment. Unfortunately, upon opening the notification, you are whisked away to the Home app, where the user is presented with a live feed from the camera. The screenshot cannot be accessed once it is dismissed from the notification.
In the Home app, users can see live video and hear sound from the camera. There's also a microphone button that can be enabled to speak through the device. In our tests, all of this worked very well, even while away from home.
Back to D-Link's Omna app, users can enable "SD Recording" in the camera's settings. Once turned on, 20-second clips leading up to and following the motion sensor trigger will be saved to the SD card inserted into the Omna 180.
We've already touched on how the SD card could be a major security issue. But it would be nice to see D-Link offer the best of both worlds, giving users both a free local storage option and a cloud-based solution.
In fact, since the Omna 180 supports HomeKit, it would be nice to see D-Link tap into the Apple ecosystem even further and give users the option to have their recordings uploaded to iCloud Drive.
Another flaw with the Omna 180 falls squarely on Apple: There is no way in the Home app, in its current incarnation, to tap into the SD card recordings. You'll need to open the Omna app to access them.
Considering how basic this functionality seems, it would only make sense for Apple to support remote video playback from HomeKit cameras within the Home app. We hope this is a feature that will be added in subsequent updates to iOS.
Finally, the video files accessed in the Omna app cannot be deleted in bulk, based on the day, week or month. Users can select and delete them one by one, or format the entire card. In future updates from D-Link, it would be nice to have the option to delete all recordings from a set period of time, or even a window of the day.
In short, there is room for improvement, both in D-Link's app and in HomeKit itself. If you're willing to work around the kinks, you'll likely be pleased with the Omna 180.
Conclusion
For all of the pros and cons of the hardware and software associated with the Omna 180, for most users it's going to come down to a decision of whether the free local micro SD storage is an asset or a detriment.
If you're OK with the SD card usage and the camera's appearance, you'll likely be happy with the Omna 180. It's extremely simple to use -- we had it up and running within seconds of getting it out of the box -- and it works exactly as advertised.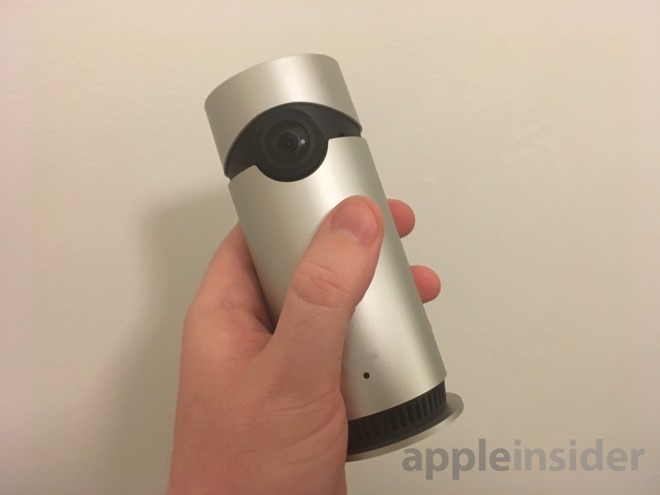 For $200, it's not the cheapest camera out there, but comparable devices on the market exist in a similar price range. Canary and Nest Cam, for example, both charge $199 for their products -- and that doesn't include cloud video storage plans. Neither product boasts HomeKit integration either.
Then there's the Withings Home, which is also priced at $200, but is due for a HomeKit upgrade soon. That's not available yet, though, and we don't know how well it will perform. The Withings product has some advantages over the Omna 180, including an air quality sensor, Ethernet port, and a wood cover that can be turned to stop recording. But its camera is not as wide-angle, at just 135 degrees, and it also depends on paid cloud storage plans with no local storage.
Based on what it offers at the $199 price point, we think Omna 180 buyers will be happy, even as some competing products finally make their way to the market. The first official HomeKit camera on the market fills a much needed gap in Apple's smart home lineup, and it's a solid product to boot.
Score: 3.5 out of 5