Review: Garmin's iPhone-connected Forerunner 935 offers Fenix features at lower cost
Posted:
in iPhone
edited January 2021
Garmin's Forerunner 935 is essentially a carbon copy of the Fenix 5, but with a few sacrifices for the sake of price -- and that, ironically, probably makes it a better buy for all but the most hardcore athletes and outdoor trekkers.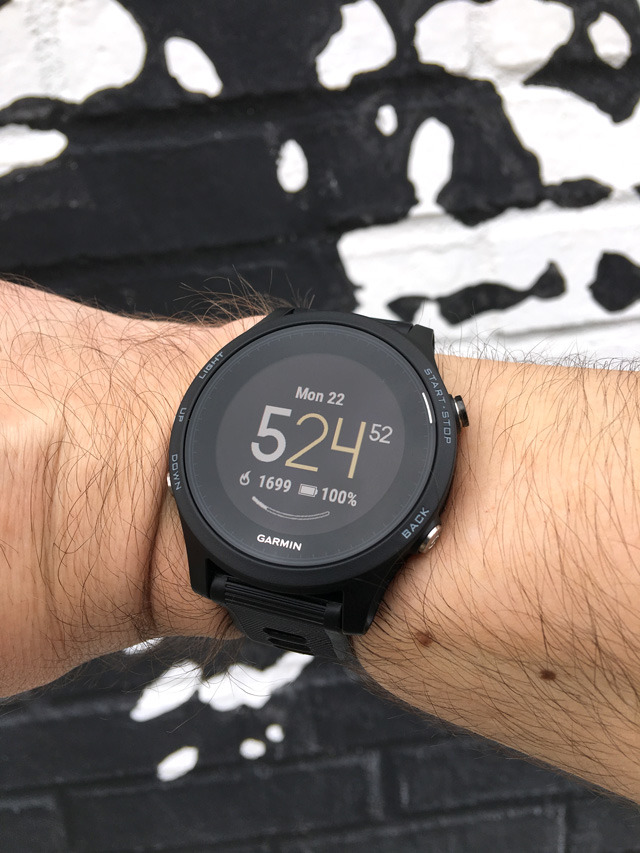 Like
the Fenix 5
, which we reviewed in April, the Forerunner 935 is an iPhone- and Android-connected smartwatch with very little concern for anything that isn't fitness or navigation. Yes, owners can do things like check the weather, control music playback, and download apps for various other functions, but it's not meant to be an Apple Watch -- even the Uber app simply lets people see their ETA and driver after they've already called a car.
The 935 also shares the exact same interface as the Fenix 5, once again foregoing a touchscreen in favor of side buttons. These can be cumbersome to learn at first, but they work well enough for what the 935 is capable of, and somehow the watch even feels a little faster than its sibling.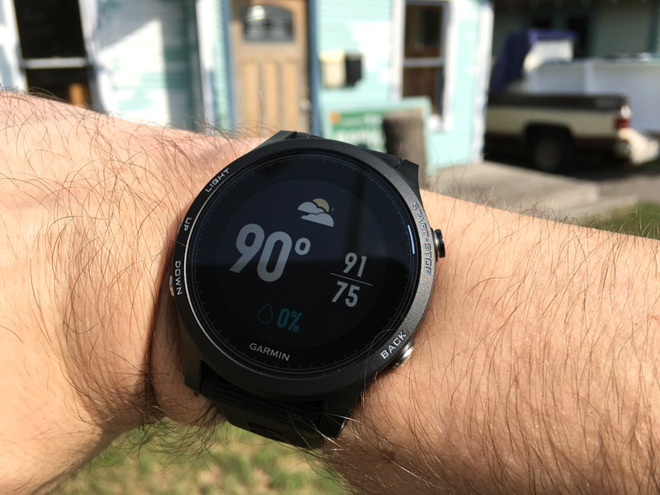 Owners can track a variety of activities -- a few of them auto-detected -- ranging from swimming, cycling, and running through to things like golfing, skiing, and boating. As before, the watch is heavily geared towards cardio. It can be used for strength training, but provides little more than time and heart rate data in that scenario.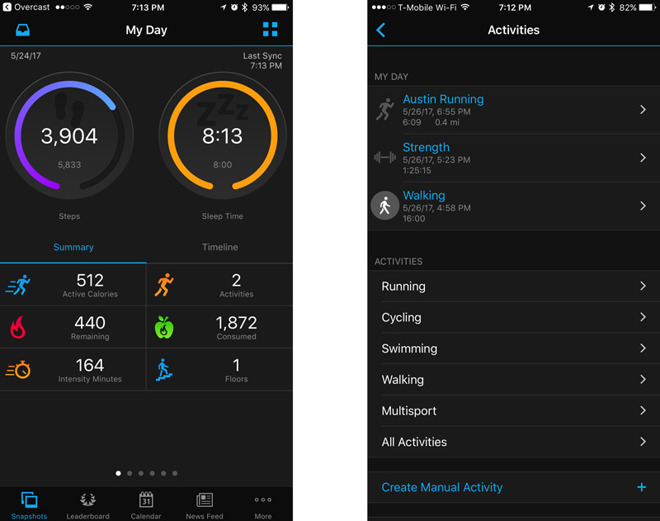 The same set of sensors are present, others including a compass, a barometric altimeter, and GPS/GLONASS. Accuracy seemed largely on par with the Fenix 5, though we did have a couple of instances in which part of a short run was left out of GPS mapping.
In fact, let's put it bluntly: people considering buying the 935 should probably read
our Fenix 5 review
for more details, since virtually everything we said there applies here.
What is different though? Above all, build quality. Where the Fenix 5 uses stainless steel, the 935 uses plastic. There's no sapphire option to make the display tougher, and even the bundled wristband feels more flimsy, if still plenty durable. It's not a quick-release band, so swapping it out requires tools.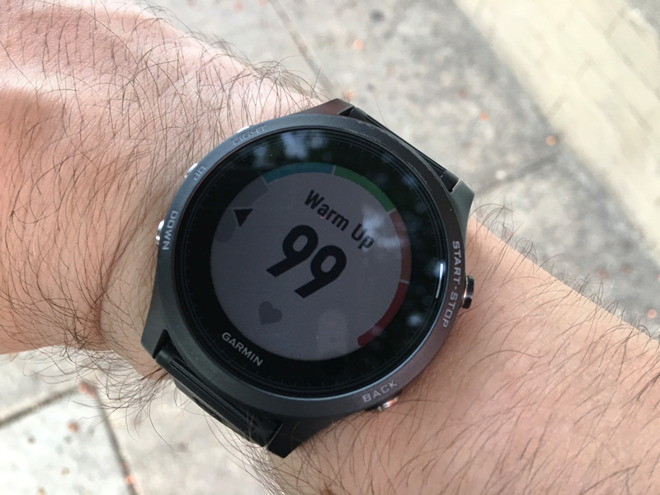 Similarly the 935 is waterproof to just 50 meters (164 feet) versus the Fenix 5's 100 (328 feet), though that's unlikely to matter to most people.
One perk, oddly, is that the 935 comes with both Wi-Fi and Bluetooth, whereas Fenix 5 buyers have to pay extra for a sapphire model if they want Wi-Fi.
The 935 is slightly weaker when it comes to battery life. Technically it offers 10 fewer hours in its battery-saving UltraTrac mode -- but that amounts to 50, and it remains capable of 24 hours of regular GPS tracking, or up to 2 weeks of regular watch (and/or non-GPS workout) use. Runners could do two marathons in two days and still have battery life left over -- in that respect, an Apple Watch simply doesn't compare.
Conclusions
The Forerunner 935 remains aimed at serious fitness fans, no doubt. People who walk or jog a few times a week probably don't need to know their VO2 max, for example, or how much recovery time they need. The watch can even estimate completion times for marathons, and pair with a chest strap for improved heart rate accuracy. Chances are an Apple Watch or a low-cost Garmin device is more than good enough for people looking to lose a little weight.
Arguably the 935 a smarter choice than the Fenix 5 even among serious athletes, since it's at least $100 cheaper, includes Wi-Fi by default, and by using plastic, actually becomes lighter and more comfortable.
The only people who might need to step up are people who expect to put their watch through a gauntlet of abuse. That means the likes of triathletes, multi-day hikers, or simply those prone to breaking expensive electronics.
Score: 4 out of 5
Where to buy:
With retailers such as
Best Buy
and
Amazon
sold out or temporarily out of stock, those looking to get their hands on the Forerunner 935 can order the device at B&H for
$499.99
with an expected ship date of June 6. The watch also qualifies for free expedited shipping -- and B&H will not collect sales tax on orders shipped outside NY and NJ.