Take a movie theater bathroom break at the perfect time with RunPee app for iPhone
Posted:
in iPhone
edited October 2020
This weekend's highly anticipated release of "Star Wars: The Last Jedi" clocks in with an epic-length runtime of 2 hours and 32 minutes. That's a lot of Star Wars action for your eyeballs, but can your bladder handle it? If not, the iPhone app RunPee is here to help.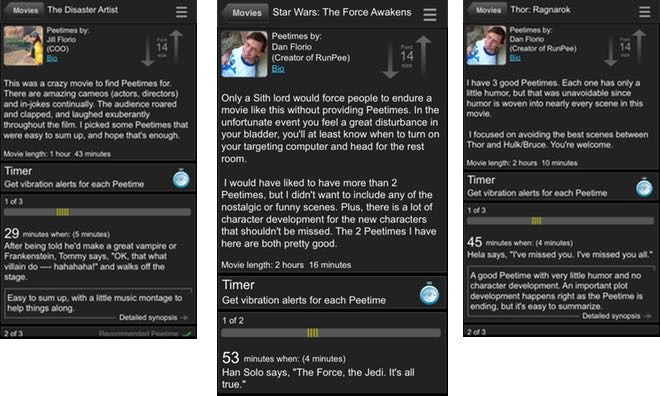 Before we get started, we'll note that the
RunPee app
is not exactly a shining example of iOS software development. It's serviceable, but its web-like interface is rather spartan.
But we're not talking about RunPee for its design chops -- this tip is all about practicality, and the RunPee service is certainly unique in the problem it addresses: Ideal bathroom break times during a movie.
In the app, select your movie to find a quick summary of "Peetimes" from a reviewer, who might note that it was tough to find some downtime in a particularly action- or laugh-packed flick.
RunPee is also spoiler-conscious, giving users a vague, out-of-context line of dialogue that precedes the pee break. Movies often have at least two or three listed "Peetimes," and a review often recommends one as the best option to run to the loo.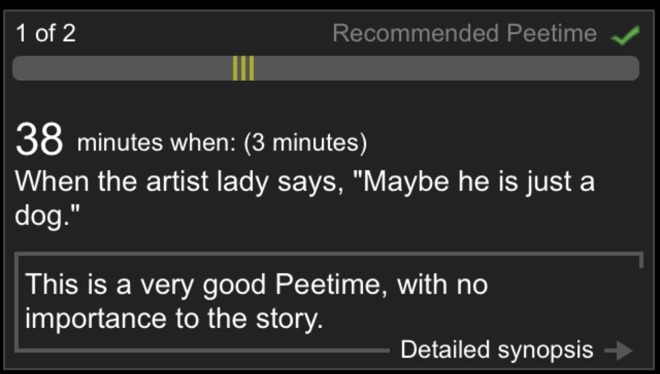 The app even comes with a built-in timer that can be started when the movie begins, vibrating in the user's pocket when it's an OK time to take a trip to the restroom. Just, please, leave your phone in your pocket so as to not disturb other moviegoers.
While you're doing you business, you can tap on the "Peetime" you took advantage of to get a quick text summary of what you're missing.
The RunPee app goes beyond bathroom breaks, too, offering relevant data for users who might be pressed for time. It lets users know if the film has any bonus content that plays after the credits (count on that if it's a Marvel movie), and it even provides a synopsis of the first three minutes of a film for those who are running late.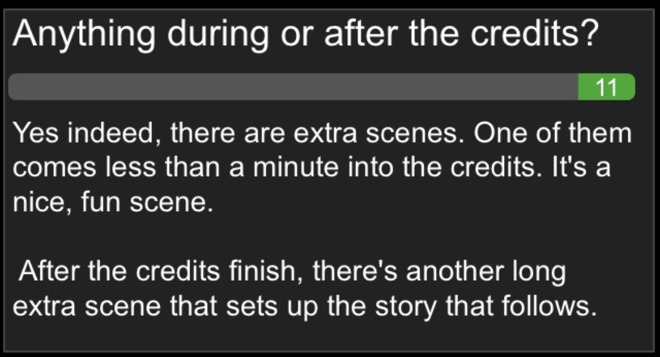 RunPee is a
free download on the App Store
, supported by interstitial ads that display when opening the app or viewing lavatory suggestions.
Users can support the app by buying "Peecoins," "priced at 7 for 99 cents, in bundles up to $3.99. Peecoins remove the ads from the app at a cost of 15 cents per movie. Unfortunately, it apparently does not sync purchases with your iCloud account (remember what we said about design?), so the developer requires that users share their email address in order to purchase "Peecoins."
RunPee requires iOS 6.1 or later, and is a 52.8-megabyte download.