How to snag an invitation to play Fortnite on iOS and an early hands-on
Posted:
in iPhone
edited October 2020
Epic Games on Thursday began the process of sending out a first wave of invitations to play the iOS port of its popular game Fortnite, which the company claims will deliver a "full battle royale experience" on mobile. Here's how to sign up.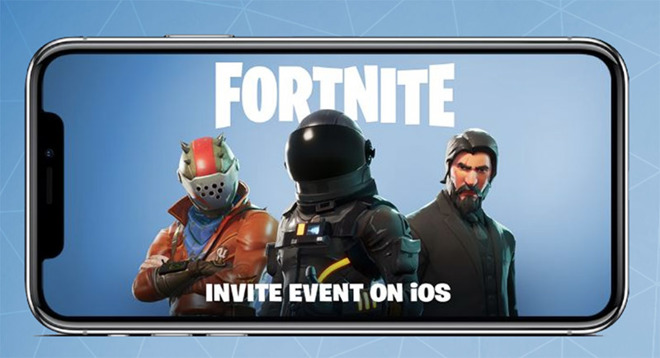 Announced
earlier this month
, the frenetic 100-player multiplayer game made popular on PC, Mac, Xbox One and PlayStation 4 is coming to iOS, complete with the same maps, content and gameplay made popular on more powerful platforms.
Those interested in signing up can visit Epic's
invite portal
and click on the large, yellow
"Sign up for email invite"
button.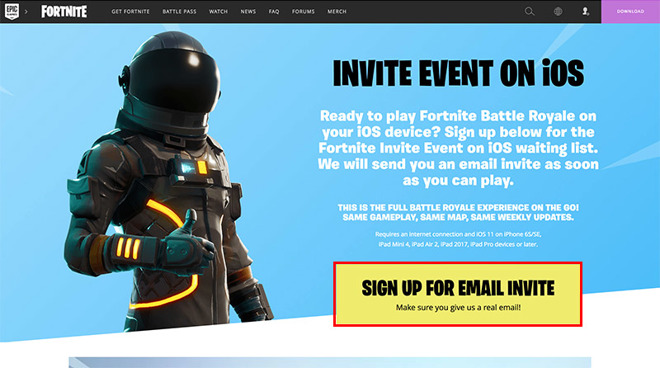 Users who have played Fortnite on another platform will be able to sync progress and purchases by linking their respective PC, Mac, Playstation or Xbox Live account with Epic's servers. On the "Do you already play Fortnite" pop-up page, clicking on "yes" leads to a platform selection screen for
PC/Mac
,
Playstation
and
Xbox
.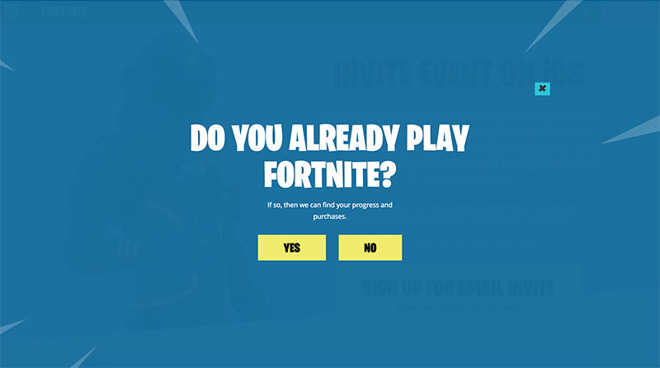 Clicking on
PC/Mac
takes users to Epic's account login page, where players can sign in with a valid email address and password, Facebook or Google+ account. Alternatively, users can sign up for an Epic account by entering an email and password combination.
Selecting
Playstation
or
Xbox
from the platform selection page redirects users to respective Sony and Microsoft login pages, which then point back to Epic for completion.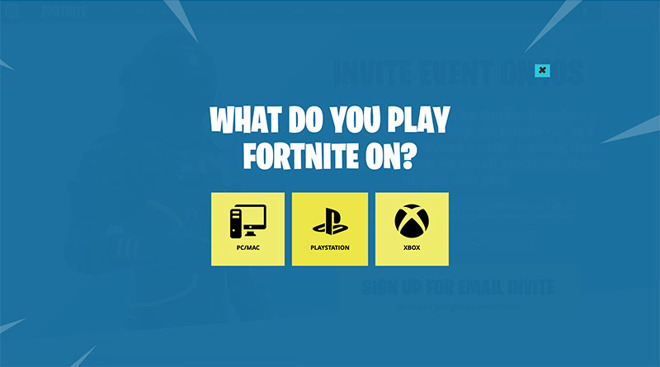 For those who are new to Fortnite,
click "No"
on the "Do you already play Fortnite" page and follow onscreen directions. At the time of this writing, Epic's servers are overloaded with people attempting to snag an invite, so don't be surprised if your initial request times out.
Once through to the sign up page, enter your credentials to
create an account
and be added to the invitation waitlist. A prompt will ask what device you intend to use when playing the game, including Android products, which will see support in the "next few months."
Fortnite requires at least an iPhone 6S or SE, iPad Mini 4, iPad Air 2, iPad 2017 or iPad Pro running iOS 11 to function.
Once registration is complete, simply wait for Epic's invitation. The email will include a download link from the iOS App Store and a code for a friend, the latter of which can come in handy if you have a friend who scored a first-round invite.
Epic is rolling out invites as it takes new servers live, so the company asks gamers to be patient. The company also notes the mobile version is in an "early state," suggesting players might run into a few bugs. Epic asks users to leave feedback to help improve the gaming experience.
Hands-on
Fortnite
debuted as an early access co-op game survival game in 2017, incorporating scavenging, resource collection and building mechanics into a sandbox style shooter. Seeing the enormous success of battle royale upstart PlayerUnknown Battlegrounds, Epic released a version of Fortnite that takes the game's unique features into a 100-person multiplayer mode. In Fortnite Battle Royale, players can team up with friends to take on other squads, or go solo in tense last-man-standing gameplay.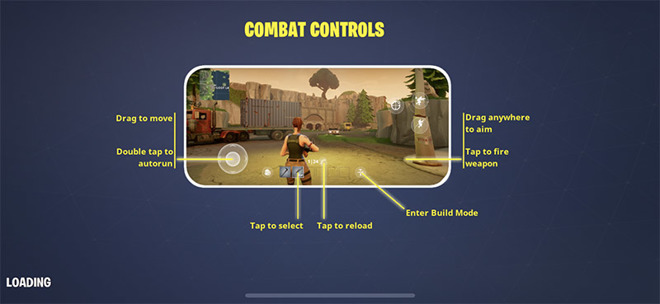 As seen in the screenshots above and below, Fortnite looks good and plays smoothly on iPhone X. Graphics are surprisingly close to what gamers have come to expect from the PC version, though controls could take some getting used to.
While a keyboard and mouse with dedicated buttons for weapons and tools is preferable in a game like Fortnite, a controller-based scheme still works. Epic translated console-style controller input onto iOS in onscreen joystick and button overlays. Along with movement controls, the game features dedicated reload, fire, crouch and jump buttons, an equipment select bar and a button to enter build mode.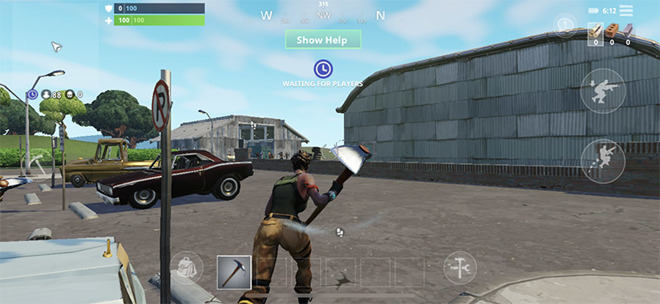 Epic designed the heads-up display to be relatively unobtrusive, but there is a lot of information to display. Aside from a mini-map in the upper-left corner, a health and shield meter sit next to a large compass at the top of the screen, while available build materials are nestled above crouch and aim buttons. Device battery information, time and a sandwich menu icon are squeezed into the top right of the screen.
We can already foresee trouble with the equipment select bar, which is located dangerously close to iPhone X's home indicator. That said, the controls are fairly intuitive and the game as a whole runs well for a title dubbed "early access."
We will have a full hands-on in the coming days, so stay tuned.