Review: Netgear's Arlo Baby camera with Apple HomeKit
Posted:
in iPhone
edited January 2021
It doesn't come cheap, and its newfound HomeKit support is actually the least interesting thing about it, but the Arlo Baby is a quality baby monitor that has a life beyond the nursery.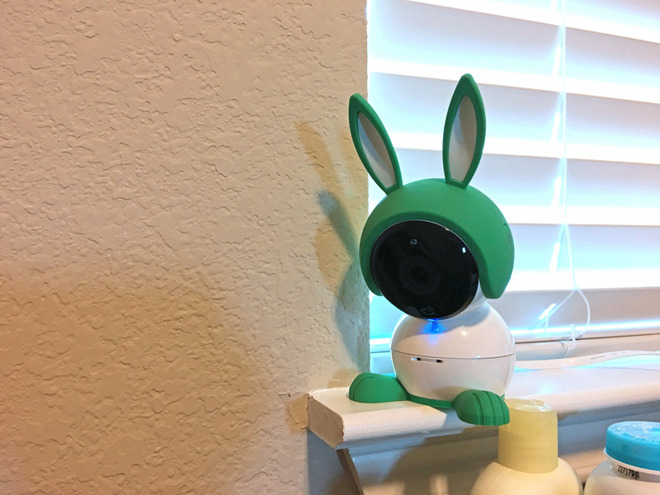 Being a new parent is tough, at least if you want to preserve the illusion of "hobbies" and "a social life." Until they're two or three months old, infants need changing and feeding every few hours, which puts sleep at a premium -- and even then they'll need a watchful eye.
Audio-only monitors are useful and still out there, but video is really the ideal if you want to know exactly what your baby is up to. And in 2018, a lot of people are going to want to watch video from their iPhone or iPad.
You can use just about any iOS-compatible security camera as a monitor, but most are imperfect solutions. They don't let you switch to another app if you want to keep tabs, and their software and notifications are geared towards catching intruders or misbehaving pets, not letting you know if your baby is upset.
Enter the
Arlo Baby
, which immediately counters these problems with two features. The first is support for background audio by hitting a button in the camera feed, letting you use other apps -- or save power -- until you need to turn closer attention. The other is crying detection, which can send out specific notifications, saving you the trouble of checking the nursery when a child is only stirring.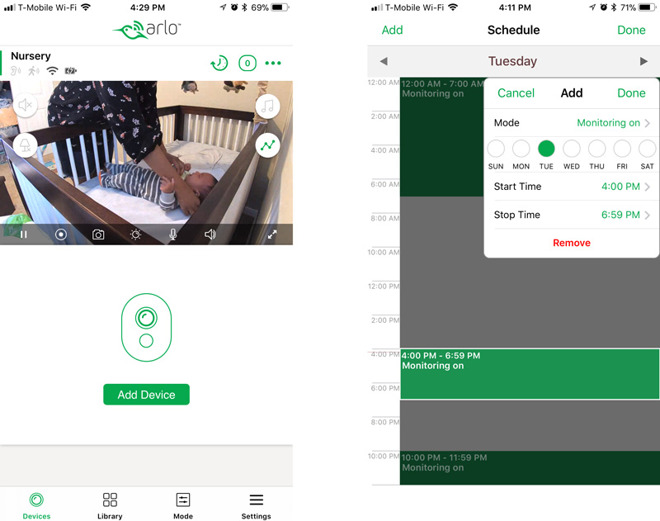 The Baby moreover includes a nightlight with adjustable colors, brightness and shutoff, plus a built-in music player. Tracks are limited to Netgear's library or your own recorded voice, but that combination is more than good enough to put a baby to sleep in our experience.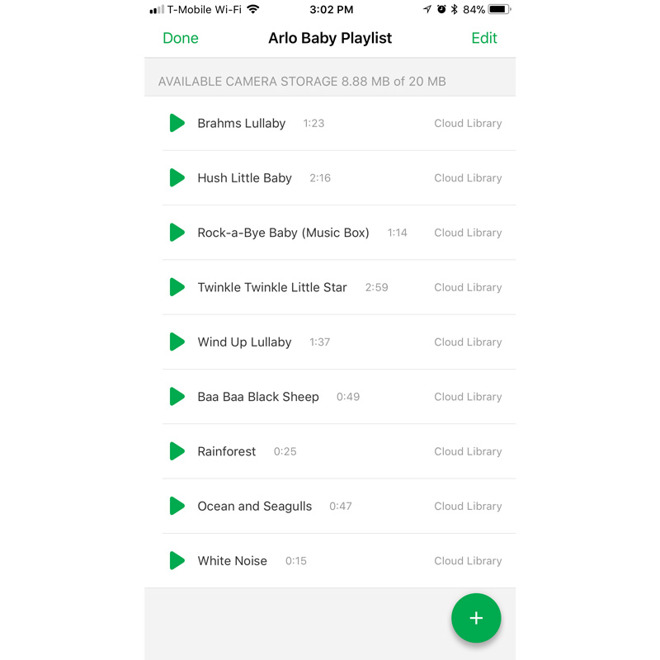 As if that weren't enough there are physical toggles for those features, a backup battery for roaming purposes, and air sensors for temperature, humidity, and dangerous gases. Those combine with common security cam features like night vision, an intercom, and integration with platforms like
IFTTT
, Amazon Alexa, Google Assistant, and of course HomeKit.
Notes on setup
We found initial setup to be fairly easy. Once the camera is plugged in where you want it, the next step is to download the
Arlo app
and follow instructions to get the camera connected to Wi-Fi. HomeKit users will be prompted to scan their code without having to switch to Apple's native Home app.
What's a little trickier is figuring out how to use and customize all the options available. There is a guided tour, but the app interface can still be confusing for the first few days. There are two different speaker icons within the camera feed for example -- one toggles background audio, while the other switches off sound entirely, and it's possible to forget which does what.
Another example is scheduling alert hours. It's not immediately obvious how to do this, and even once we were in the right menu it took us a minute to realize you can't just schedule "10 p.m. to 6 a.m." -- you have to create two entries to cross the midnight hour.
Out of the box the Arlo Baby comes with two sets of snap-on bunny decorations in gray and green, as well as a wall-mount kit. We'd recommend using the latter unless you have a convenient window sill or piece of furniture you know your child won't be able to reach.
Daily (and nightly) use
For the most part, the camera proved very reliable over several days and nights of testing. We set up our schedule to mute notifications during the day, since someone was always close enough to hear him cry, but still used the app to see if the baby was napping or waking up.
The product really came into its own at night, when our routine involved plugging in an iPhone or iPad at bedside with the app running, and background audio turned on as needed. Typically the "baby crying" notifications were just a plus, since we'd often hear the baby live and wake up to go comfort him.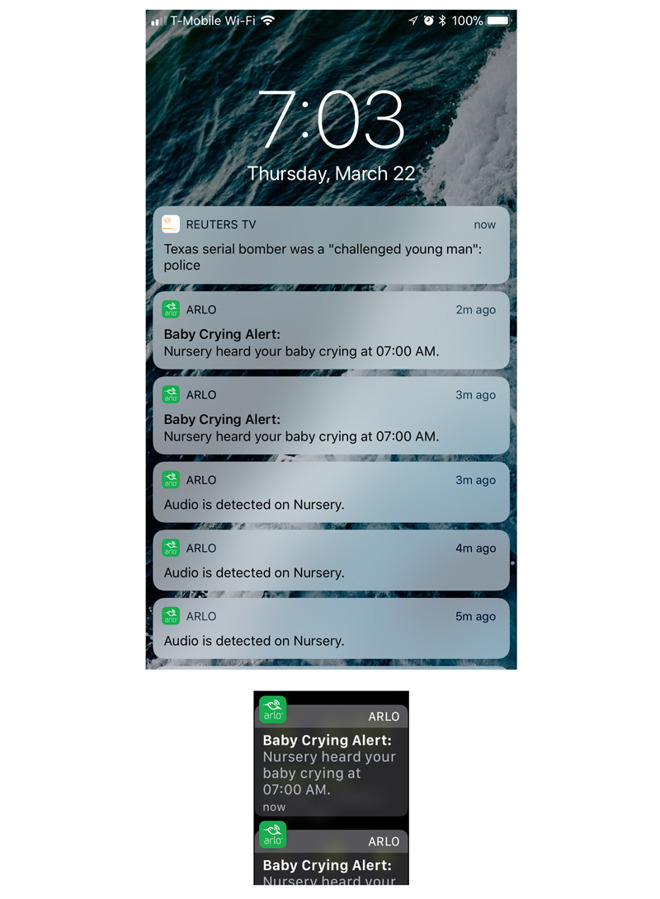 Physical music and nightlight buttons proved to be more useful than expected. When you're up at 2 a.m., fiddling with an app is often the last thing you want to do, and the buttons let us leave devices on our nightstand. They even triggered the last settings we used, meaning we could count on shutoff timers.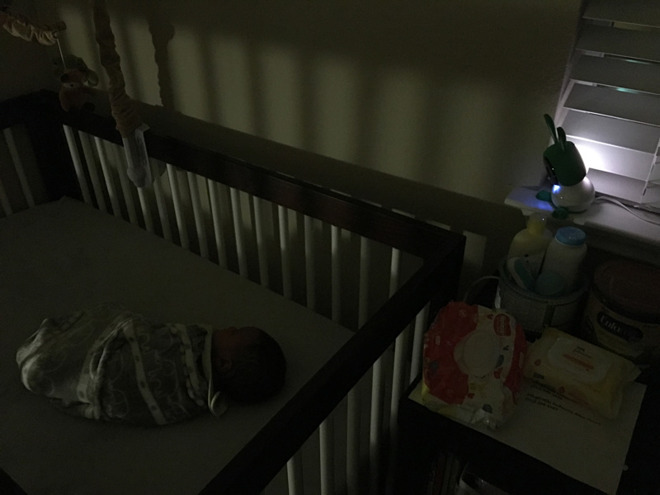 There were some rough edges to our experience. For one the app would sometimes crash immediately after launch on our iPhone 6s Plus, though if it made it past a few seconds it would stay running. It would also sometimes claim that it couldn't connect to the camera, yet opening and closing the event history would typically fix this.
Speaking of which, the Arlo Baby comes with Netgear's Basic recording plan, which stores 7 days' worth of motion and sound highlights for up to 5 Arlo cameras. You can upgrade to
more elaborate paid plans
, including ones with continuous recording, but they're probably a waste of money for a baby monitor unless you have special reason to worry.
We didn't use the air sensors on the camera that often, but we did make the discovery that the nursery was surprisingly hot and humid. We realized we had to switch the baby to cooler night clothes -- a very tangible benefit.
HomeKit
At this stage, the product's HomeKit compatibility is almost irrelevant. You can ask Siri to "show me the Nursery," or view a feed in the iOS Home app, but that's about it. The camera can't be used to trigger scenes, and neither air sensor data nor nightlight controls appear in Home.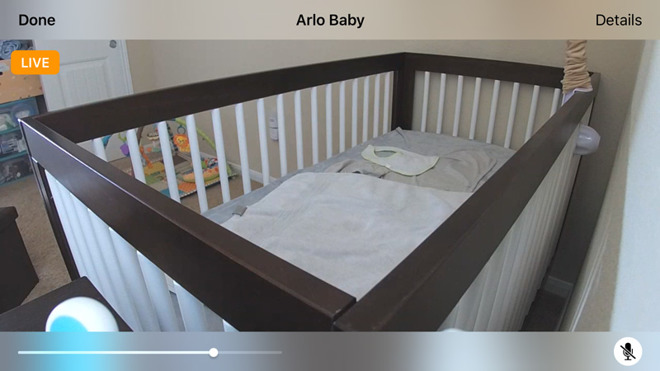 Netgear did confirm to
AppleInsider
that temperature, humidity, air quality, and light control are coming "within the next couple versions of firmware updates," which should make HomeKit support far more useful -- assuming it can be linked to scenes. Our own nursery's problems for example might be fixed by automatically triggering a thermostat and dehumidifier.
Video quality
For as pricey as the Arlo Baby can be, we were a little disappointed with its video. Streams were clear overall, but would sometimes start out ultra-pixellated, only resolving to 1080p after a few seconds. In other instances we would see "scan lines" appear as if we were watching an old analog security camera. Night vision, meanwhile, had remarkably short range. It was enough for a crib, but just barely.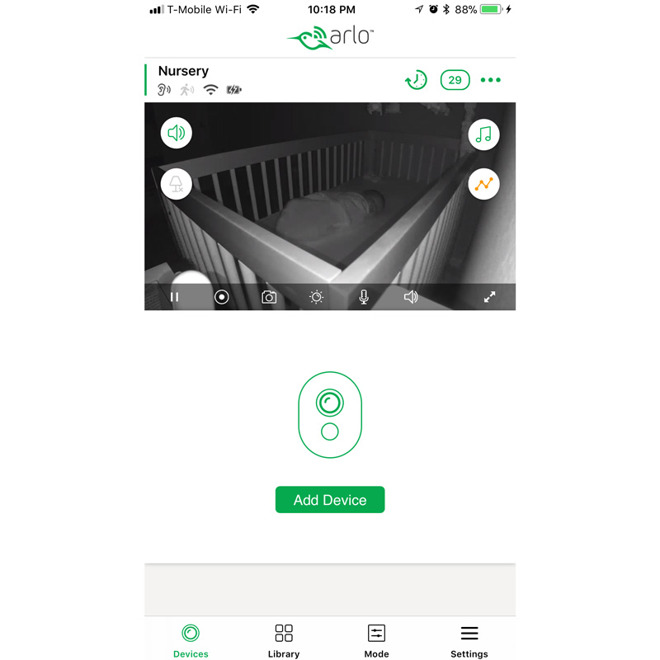 The crazy thing is that we compared the Baby's video against the
WyzeCam
, and found that the latter often offered sharper images and better night vision, despite being available direct from Wyze for as little as $20. There are other reasons you might want to go with Netgear, but this is probably a sign the company should do better.
Conclusions
Parents wanting an all-in-one "put the kid to sleep" gadget should strongly consider the Arlo Baby. Yes, $200 is a lot to spend, but that may come out in the wash if you consider how much it would cost to get its music and nightlight technology separately.
Perhaps more importantly, the camera can be repurposed pretty easily. Take off the bunny ears, tweak a few settings, and it can become a decent security camera. The only Netgear model with HomeKit support, too.
The company's promise that HomeKit integration will get better only helps cement the Baby as a good choice. There are other options out there, but this one should be high on any iPhone owner's list.
Score: 4 out of 5

Where to buy
The Arlo Baby is available on Amazon.com
for $199.99
with free shipping.