Roundup: Headphone mounts and stands from Twelve South, ElevationLab and Satechi help orga...
AppleInsider takes a look at a trio of vastly different headphone stands/mounts to help keep your desk more organized.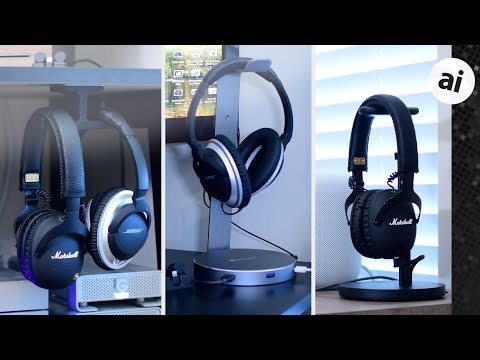 Don't just throw your headphones haphazardly on your desk. You're eventually going to break something regardless if they are wired or wireless. Fortunately, there are several options for headphone stands that can offer additional features while organizing your desk.
Three good options are Satechi's headphone stand, Twelve South's Fermata, and Anchor from ElevationLab.
Satechi USB hedphone stand
This aluminum stand matches perfectly with the rest of
Satechi's desktop lineup
. It comes in several different anodization options including silver, space grey, gold, and rose gold.
It has a matte finish with glossy chamfered edges, with a look reminiscent of the iPhone 5/5s.
Aside from acting as a headphone stand, it can also be used as a USB 3.0 hub. Three USB-A ports are right up front, which can be a lot easier to access than the ones on your computer. Perched on top is a small silicone pad which prevents your headphones from slipping off.
Satechi released this a few years back, which means that it lacks any sort of USB-C functionality. But, this can be a good thing -- add Apple's USB-C to USB-A adapter, and you can have a desktop hub too.
On the back, a pair of cable organizers can found. There are two uses for these depending on if you have wired or wireless headphones.
For those rocking wireless headphones, a USB cord can be plugged into the hub, and wrapped around back to be used for charging the headphones.
Wired headphones have even better integration. The wire can be organized around back, and then plugged directly into the 3.5mm audio port on the base of the hub. It is located around the back for easy access from the cable organizer.
Satechi's headphone stand is the most well-rounded option. Offering the bang for your buck when it comes to price and functionality.
Twelve South Fermata
Fermata is without a doubt the most premium of the three. It is very solid feeling, made largely from metal. It comes in both a matte black or silver finish, to compliment a variety of desk aesthetics.
Instead of silicone, Twelve South opted for a leather covering on top instead, further lending to that premium feeling.
Twelve South designed Fermata primarily for wireless headphones. That is why they integrated a hidden power cable right into the vertical stand. A light tug will free the cable that can then be plugged right into any headphone that is perched atop. As a bonus, it is also reversible.
Since most headphones still rely on micro USB (like even the most recent
TRACK+ headphones we reviewed
from Libratone), that is what Twelve South used for this cable.
Any new Beats headphones that rely on Lightning, or others that have adopted USB-C aren't natively supported, but both Lightning and USB-C adapters are available for micro USB.
Hidden underneath is an additional USB-A port. This is perfect if you have something like a wireless charger or USB dock for your iPhone sitting next to it.
ElevationLab Anchor
Instead of headphones taking up valuable space on your desk, Anchor chooses to hang them under it instead.
Built out of solid silicone and using a removable 3M adhesive, Anchor stays out of the way and keeps headphones within reach. With an arm extending to both the left and the right, one or two pairs of headphones can be hung. If wired, the cable can also be wrapped up and stored on Anchor as well.
Obviously, as it is adhesive and plastic, the Anchor doesn't have any fancy charging system, but it has the smallest footprint and the most affordable price.
Where to buy
Each of our three players has a unique feature that separates them from the others. Which is best, is going to be up to you.
Satechi's USB 3.0 hub and headphone stand
is best for those who want the added benefit of the USB hub, or a more budget-friendly desktop stand. It comes in four colors and runs $34.99.
Fermata by Twelve South
is the most expensive, but the most premium. It has the little details like leather finishes, and a hidden reversible cable. Look elsewhere if budget is important, as this is slightly more expensive at $49.99.
Anchor from ElevationLab
is not only the cheapest, but smallest. It is completely off your desk and instead takes a small footprint underneath. Best yet, it only costs $10.95.