Apple wins ADC award for 'Barbers' iPhone 7 Plus ad, named Brand of the Year
Apple added to a growing stash of ad industry accolades this week with an award from the Art Directors Club of New York, which bestowed its ADC Black Cube for Best of Show on a commercial touting Portrait Mode on iPhone 7 Plus.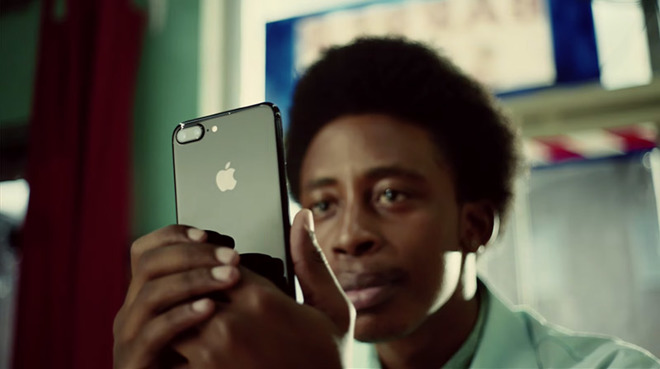 Awarded in a ceremony on Monday, the ADC Black Cube
went to Apple
and production company Furlined for their work on "Barbers," a one-minute TV commercial that first aired
last May
.
One in a series of
iPhone 7 Plus
ads produced as part of the "practically magic" campaign last year, "Barbers" tells the story of a small barbershop that used the smartphone, and its unique Portrait Mode photography feature, to boost sales.
Set to the song "Fantastic Man" by William Onyeabor, workers at "Family Barber Shop" create in-house posters of their clients' hairdo transformations from photos snapped on iPhone 7 Plus. The quality work, highlighted with a little help from Apple's phone, draws in more customers, each of whom gets their photo turned into a poster or framed print.
Like many Apple spots before it, "Barbers" focuses more on results, or catalyst for change, than the actual product. In fact, iPhone 7 Plus appears onscreen for a total of six seconds, one-tenth of the commercial's runtime.
"Barbers" also won Best of Discipline, a Gold Cube in Motion & Film Craft, and three Merits in Advertising at the 97th annual ADC event. Apple was named Brand of the Year, while Furliner picked up Production Company of the Year honors.
Apple's first iPhone 7 ads
debuted shortly after
the handset's announcement in September 2016, with commercials
showcasing Portrait Mode
following a few months later. Two weeks prior to "Barbers," an ad entitled "The City"
threw a spotlight
on the special photography feature.
The company's latest ad efforts continue to push iPhone's picture taking capabilities. A spot aired
in September
, for example, introduced consumers to Portrait Lighting on iPhone 8 Plus.