Review: Rating RAVPower's wireless iPhone charger lineup
Posted:
in iPhone
edited January 26
When the iPhone X and iPhone 8 gained faster 7.5W charging with iOS 11.2, RAVpower was one of three brands to offer compatible high-power solutions. With a slew of third-party accessory makers now marketing compelling options, we examine whether RAVPower's latest chargers deserve a spot on your desk or nightstand.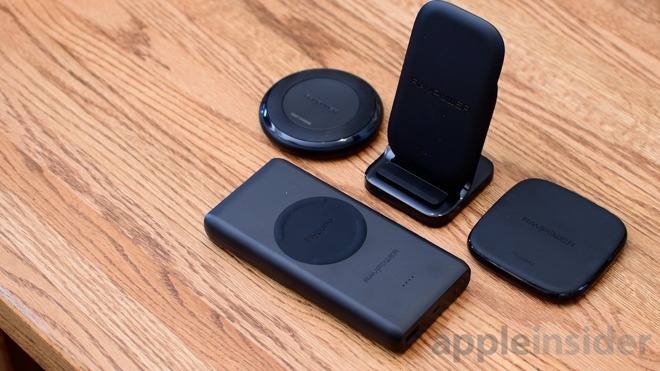 So how does RAVPower's lineup hold up? Turns out, surprisingly well.
Aside from their flagship wireless charger, RAVPower has also released a trio of additional models, known as the HyperAir series. They are meant to be more lightweight, affordable and useful than the original.
A new charging pad, stand and portable battery pack make up the new additions to the lineup.
RAVPower 7.5W charging pad
This is the
original 7.5W RAVPower charger
. Many users and critics claim this is the best wireless charger out there on the market, and when it comes to standard wireless chargers, we don't disagree.
It is a great blend of premium quality and affordability. The body is made out of metal, with a silicone ring on the top to prevent your phone from slipping off. There is a very nice weight to it, clearly contributing to that premium quality.
RAVPower has quite a compact design to it, making its footprint noticeably smaller than much of the competition. This is not just useful for on your desk, but if taken along for travel as well. A small multi-purpose LED is centered on the front and will cycle its hue depending on the charging status of your device.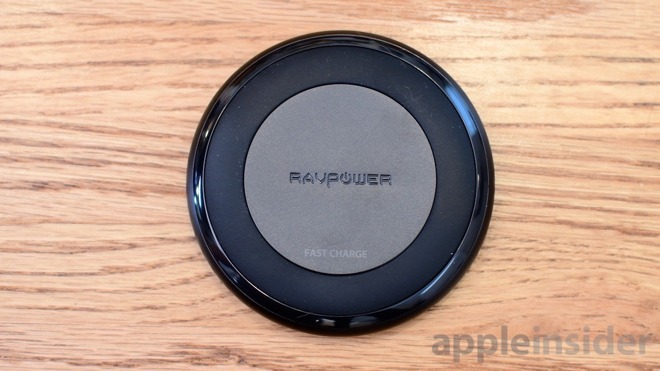 One thing that is particularly nice is that a 24W QuickCharge 3.0 power adapter is included in the box, a part that can range from $10 to $15 by itself. A braided nylon and aluminum USB cable is paired with it as well.
Like the rest of the RAVPower chargers, it supports 7.5W of power, or 10W if you are on an Android device.
When it comes to charging, the numbers are impressive.
DigitalTrends pitted the RAVPower charger
against Mophie and Belkin's, which happen to be the only two endorsed by Apple. They found that RAVPower could reach a full charge 20 percent faster than the others.
Rating: 5 out of 5 stars
We can't find a single criticism of RAVPower's flagship wireless charger. It quickly and efficiently charges the latest iPhones in a sleek, metal design. Additionally, a fast power adapter and premium USB cable are included which can be a rarity.
Where to buy
If you want to pick up RAVPower's best charging pad, you can
find it on Amazon for $29.99
.
HyperAir pad
Alternatively, RAVPower's new
HyperAir charger
is still slim and fast, but it opts for a plastic body.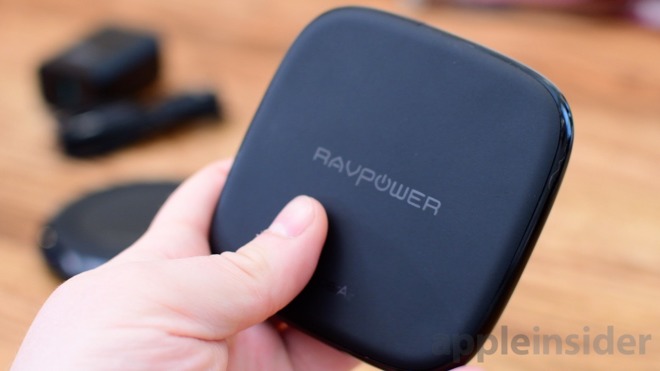 All of the other qualifications stay the same and the device itself boasts features identical to the original charging pad, but it is hard to understand why RAVPower added this to the lineup. The prices, even with our promo discount, are very close to one another. Why it needs to exist is something we are struggling to comprehend.
In a vacuum, this charger is excellent, but when compared to RAVPower's own chargers, it is the lesser of the two options.
Rating: 4 out of 5 stars
While RAVPower's original charger felt premium, the HyperAir charging pad feels cheap. It still charges fast and has the proper included accessories, but it doesn't feel nearly as nice as the original.
Where to buy
If you want to pick up RAVPower's latest charging pad, you can
find it on Amazon for $25.49
. Realistically though, for only a couple dollars difference, we'd highly recommend the above model.
HyperAir stand
One thing that can be burdensome time to time on the iPhone X is Face ID. When using a charging pad, the phone is flat on the table. When it comes time for unlocking, you need to lean over the phone or pick it up, which is much more of a pain than simply touching your finger to a Touch ID home button.
That and improved notification visibility are two big reasons to opt for a stand rather than a pad.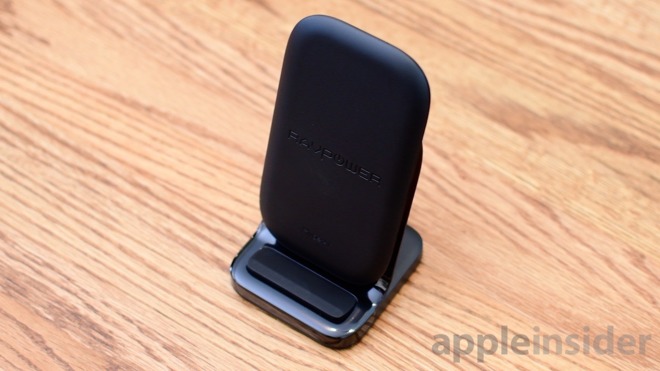 RAVPower's HyperAir Qi charging stand
has two coils inside, allowing it to work with many devices, vertically or horizontally.
It still has the light, plastic design we saw in the HypeAir pad, and RAVPower says that is to help keep it cool. If the temperature rises too high, the charger will slow down. So a key point to consistent fast charging is keeping the charger cool.
Again, like the others, it supports 7.5W charging on iPhone and 10W on specific Android devices.
Between the RAVPower and the Anker charging stand we
we reviewed earlier this year
, we still prefer the former. It has a slightly better build quality, and your phone won't slip off as easily as it does with Anker's.
Rating: 4 out of 5 stars
The cheap plastic feel is what hurts the rating here. We prefer the design of Nomad's charging stand (
review
), but it is considerably more expensive.
Where to buy
RAVPower's Qi charging stand is
available on Amazon for $29.69
HyperAir battery pack
Wireless charging is becoming more and more ubiquitous. Instead of just relying on it at home, in the car, or at the office,
this battery pack
helps you take it everywhere.
Inside is a 10,400mAh battery which will yield roughly two full charges for an iPhone X. As a backup, a USB port is also available. When using the wireless charging, an iPhone X can be charged 1.8 times, and using the USB port it can be charged 2.7 times. This is due to wireless charging not being quite as efficient as wired.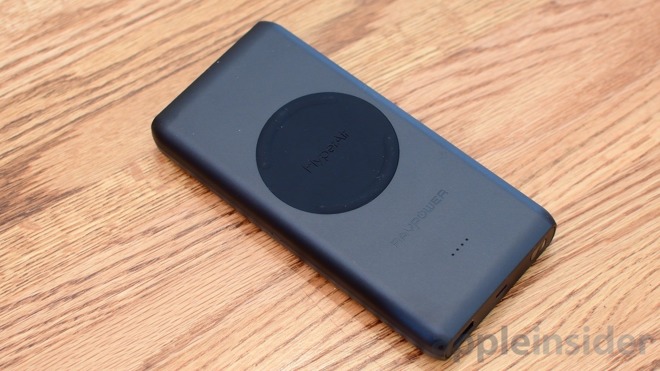 We'd prefer a slightly higher capacity battery as well. 10,400mAh is a bit on the low side, and there is also a complete lack of USB-C.
A distinct hollow feeling can be noticed with this battery, in complete opposition to the other RAVPower battery packs. All others from the company are hefty and wrapped in aluminum. The choice to go with plastic, and add some internal openness was due once more to the desire to keep things cool.
Still, while it does support 7.5W of charging, we did notice that it was a bit slower than the other RAVPower wireless chargers.
In use, another problem arises. Turns out while sometimes wireless can be handy, other times it is a pain. If you are at a bar or restaurant and want to top off your battery, wireless charging can be great as you can rest your phone and charger on the table.
Other times, however, it is entirely impractical, especially when you are on the go. It is tough to throw the wireless charger in a backpack or pocket and have it continue to charge. A small bag is included that could squeeze both devices together, but that arrangement is not ideal. Those USB ports exist, but at that point there are much better traditional battery packs, including those from RAVPower.
Rating: 3 out of 5 stars
The HyperAir Qi battery pack works well, but a wireless power bank is not consistently useful. There were times when it was more of a hindrance to entirely recommend a wireless over traditional portable battery.
Where to buy
If you are looking for something for travel and like the option of having both wired and wireless charging capabilities, the
HyperAir power bank is on Amazon for $65.99
. Using promo code
W7AXHD62
will bring that down to $52.79 through May 24th.
Power up
Wireless chargers have made keeping your phone topped off easier than ever. With several of them placed around our homes and offices, we rarely see our devices drop below 50 percent. Habitually, it is easier to just set our phones down than go through the effort of actually plugging them in.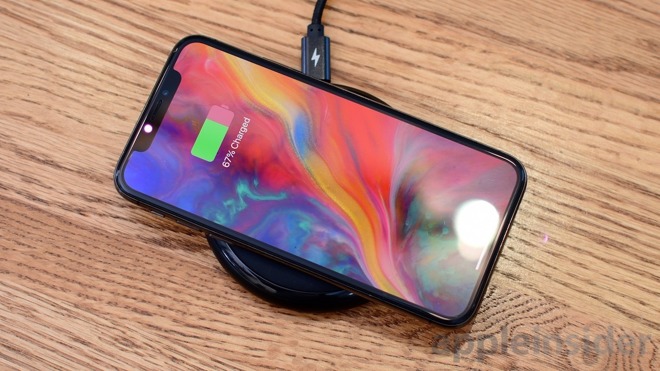 RAVPower has always made exceptional charging products and their flagship wireless charger is a standout. The rest are solid and reliable, though they have their faults.
Using our exclusive discount codes makes this a rare opportunity to get some of the fastest wireless chargers at much more affordable prices. They all have a better quality than the cheaper Anker, but smaller size, features, and speed than the expensive Belkin and Mophie chargers.
For more news, reviews and deals on the latest Apple ecosystem accessories, make sure to follow AppleInsider on Twitter, Instagram and Facebook, and subscribe to our YouTube channel.