Review: Belkin's trio of new wireless chargers target iPhone users
Posted:
in iPhone
edited January 2021
When Apple debuted the iPhone 8, 8 Plus and X last September, the company also announced partnerships with both Belkin and Mophie on a pair of wireless chargers. Just under a year later, much has changed. The market has become increasingly saturated with countless wireless products from competitors, but Belkin is looking to set itself apart from the crowd with its latest offerings.
Apple has remained steadfast in its support of Belkin and Mophie, the only brands allowed in the tech giant's vaunted retail stores.
At CES 2018 earlier this year, Belkin showed off a whole new lineup of wireless charging products, with a pair of those finally being recently released. We decided to take a look at both the BOOSTUP Bold Wireless Charging Pad, the BOOSTUP Bold Wireless Charging Stand, as well as the newly announced BOOSTUP Special Edition Charging Pad, all of which have been optimized for use with the latest iPhones.
BOOSTUP Bold Wireless Charging Pad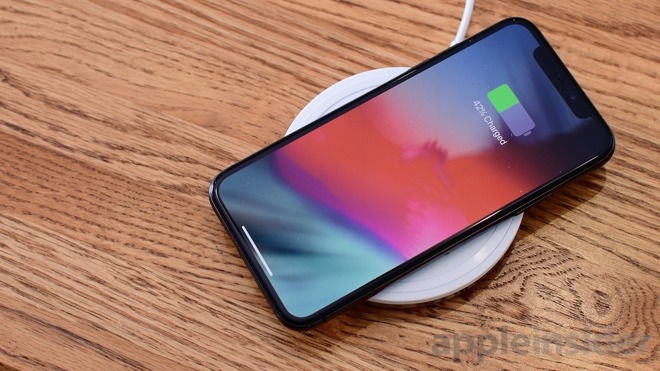 This simplified charging pad is most similar to the
original charging pad
that Belkin released alongside the 2017 iPhones, just in a smaller package.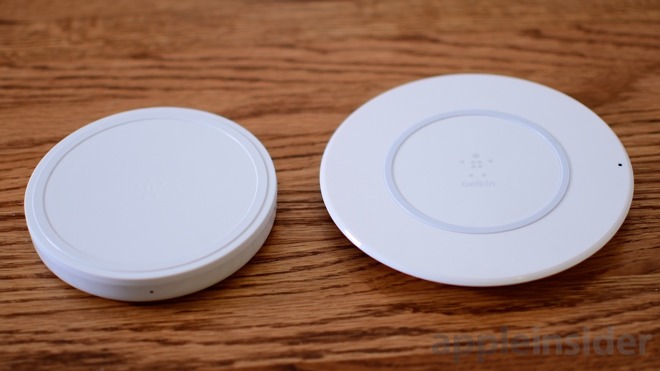 Physically, it is a tad taller, a bit heavier, and with a smaller desktop footprint. Its body is still largely made of plastic, though it is denser than the original model. Silicone still covers the bottom and a silicone ring envelops the top edge to prevent your device from sliding off while charging.
A small status LED has been relocated, instead of being on the top it is now on the front edge which makes for easier viewing when a phone is placed on the top.
It still uses the same barrel connector as in the past, which is a bit of a bummer. We'd have preferred USB-C, making it easier to replace the wall charger if needed. We asked the Belkin team at CES about this design choice and they said it was simply because USB-C licensing can be expensive and it was unnecessary for a wireless charger.
Baked in is a specialized "foreign object detector" that will tint the LEDs red if something obstructs the charger, like keys or a credit card under your phone.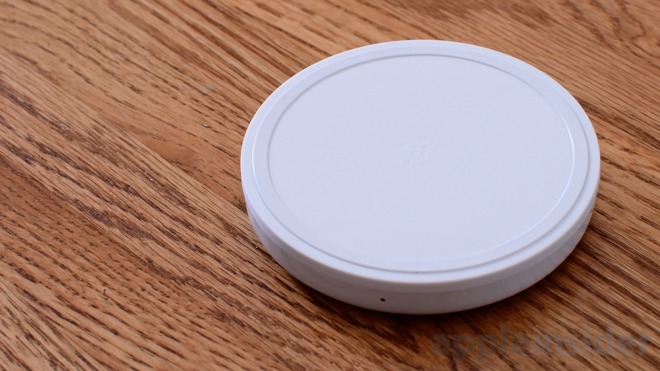 There is support for up to 10W of charging power here, capable of charging phones with cases up to 3mm in thickness. As many people are aware,
iPhones are only capable of accepting up to 7.5W of charging power
, so that extra 2.5W of power is only going to be useful for those with compatible Android handsets. To power all these devices, Belkin uses a special dual-layer charging coil. Aside from the iPhone's 7.5W and the super fast 10W, it can also output 5W and 9W, depending on the device.
Belkin's Bold Wireless Charging Pad
comes in three different colors, a bit less than what was showed off at CES. You can find it in subtle pink, black, and white color options.
BOOSTUP Bold Wireless Charging Stand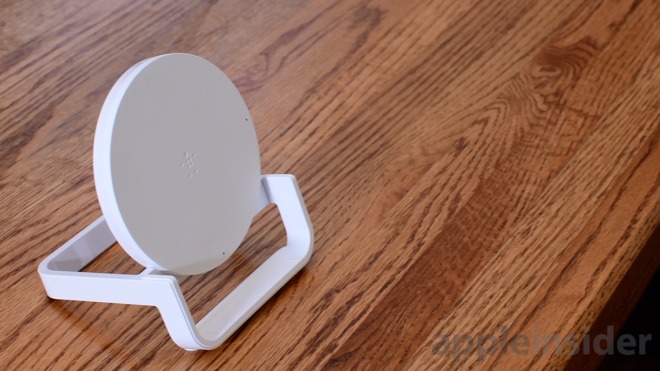 The
charging stand
is very familiar in build quality, but taking a more vertical approach that is well-suited to the iPhone X. Having the phone stand up a bit makes a huge difference when trying to unlock via Face ID. If the phone was horizontal on a charging pad, you either have to pick up the phone or lean over drastically to be able to unlock it.
Belkin's charging stand definitely takes up a bit more desk real estate than others, but it feels very modern and solid at the same time. The target phone is able to rest in two orientations -- horizontal and vertical -- which can be really useful for some users. There are two status LEDs, so regardless of which way the phone is aligned, at least one is visible.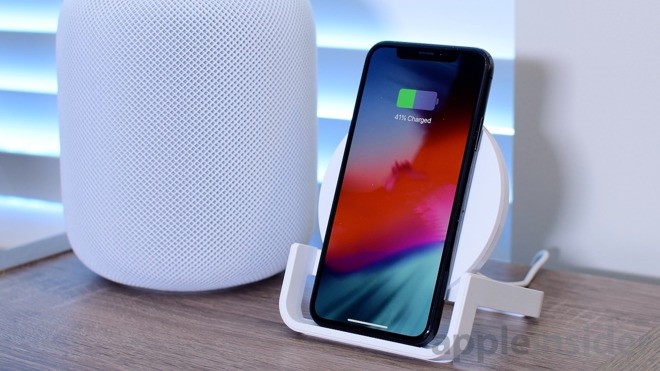 Like the Bold Wireless Charging Pad, the stand is capable of up to 10W of power, features the same "foreign object detection, and has the same dual-layer charging coil. It also comes in the same three colors
BOOSTUP Special Edition
Among the three, the flashiest of all is the
BOOSTUP Special Edition Wireless Charging Pad
. It is the "premium" option among them, with some added metal accents and iPhone specific enhancements.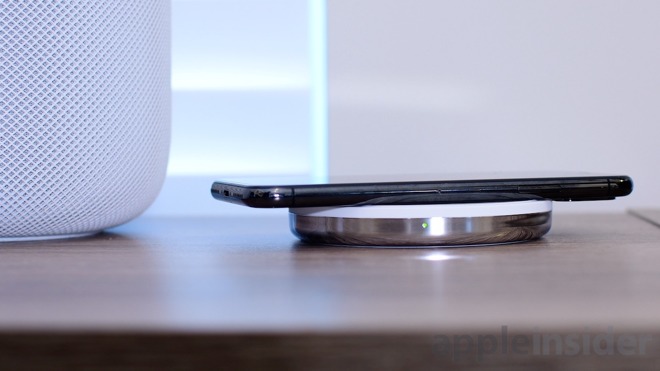 Since Belkin launched their original iPhone wireless charger, they've lowered the price a bit to make room for this new high-end option. Both the Bold chargers we looked at are marketed universally, as great options for iPhone or Android handsets, and as such, aren't available in Apple Stores. When you wander into one, you will only see these two iPhone-specific options for sale.
Unlike the Bold chargers, this iPhone model is limited to 7.5W, since that is all the iPhone can take. However, Belkin once more worked with Apple to develop this charger, to be sure it is able to charge the iPhone as fast, and as safe, as it possibly can.
We noticed right away how much heftier the Special Edition model was, all due to the metal finish around the bottom. This stainless steel base looks excellent with a caseless iPhone perched on top. Even the charging cable got a chrome stainless steel cap to blend in even more. It makes the whole package feel more thought out.
Since Belkin worked so closely with Apple to fine-tune this charger, it is able to keep up those 7.5W speeds without overheating and having to slow down the charge.
Like the iPhone X, Belkin's Special Edition charger comes in only two finishes, black and white, which have a corresponding black/silver chromed steel.
Power up
Users can't really go wrong with any of Belkin's wireless chargers. They are sleek, stylish, and one of only two that have the backing of Apple behind them. With their prominent placement in Apple Stores, there is no doubt that many will opt for Belkin's chargers.
We love the look, feel, and performance of the chargers, with the only dings being a lack of USB-C and a higher-than-average retail price.
Rating: 4 out of 5 stars
Where to buy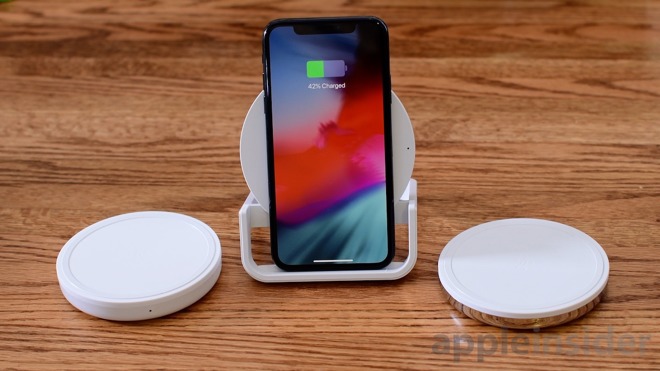 Belkin's BOOSTUP Bold Wireless Charging Pad can be found
on Amazon for $54.20 in white, black, or pink
. The BOOSTUP Wireless Charging Stand carries a $15 premium, selling for
$69.99 on Amazon
. For Apple-specific models, the
original BOOSTUP Wireless Charging Pad can still be found for $49.99
, or the premium
BOOSTUP Special Edition Wireless Charging Pad
can be found for $69.99 from Apple.
We are still waiting on availability for the BOOSTUP Dual Wireless Charging Pad and BOOSTUP Wireless Charging Car Universal Mount that also were shown off during CES.