Review: Logitech Powered Qi charging stand a good stylistic match for the iPhone
Posted:
in iPhone
edited January 2021
There is no shortage of wireless charging stands and docks for the latest iPhones, with seemingly every Apple accessory maker getting in on the game. Logitech is one of the latest with their Powered wireless charging stand, and we've been using it for a while now.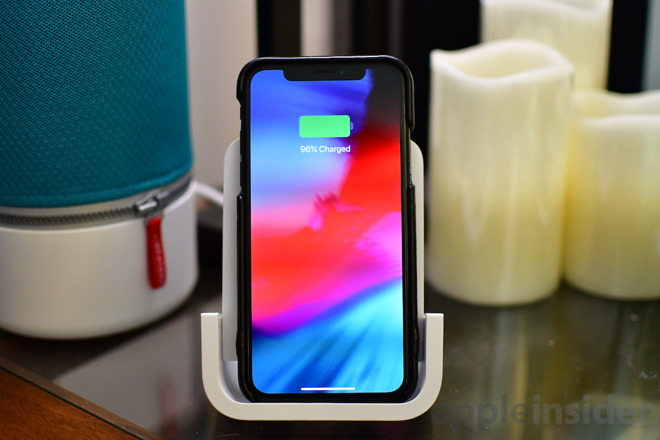 Like the lion's share of the other premium Qi charging devices, the Powered wireless charging stand supports 7.5W of power on the latest iPhones -- the iPhone X, iPhone 8, and iPhone 8 Plus.
Solid design
From a build quality perspective, Logitech has excelled. The stand has a very solid build with a soft-touch finish around most of the sides. This gives the phone a protective surface to lie against, and when on the bottom, helps prevent the charger from moving about.
When the phone is positioned horizontally, there are tiny grooves that prevent the phone from slipping and falling off.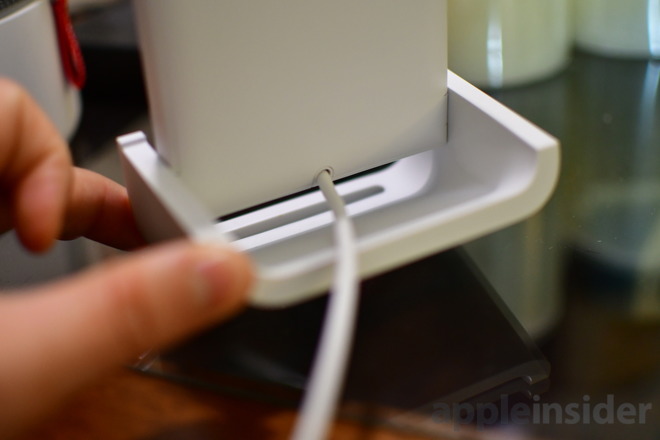 A power cable is permanently attached, which is certainly a downside. Should anything ever happen to the cable, the whole charger needs to be replaced rather than just swapping out a USB cable. The cable is sufficiently long and has a built-in cable wrap to contain any surplus.
It does connect via a barrel cable to the power brick, so that part could be swapped out independently.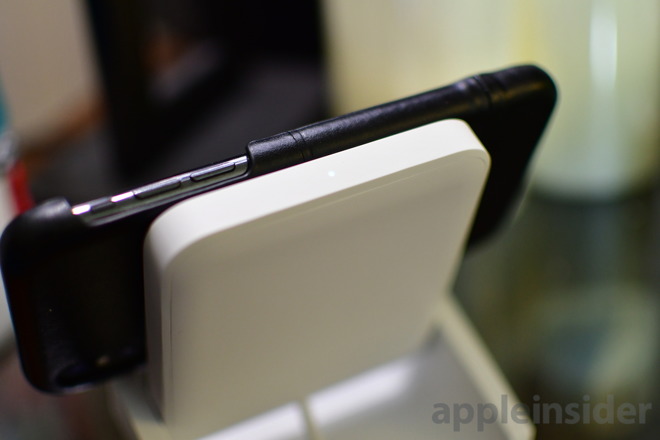 Whenever a phone is placed on the dock and charging, a small LED status light on the top lights up. This is nice because it is nearly hidden from view, but still there. If it had been around the front, it would be obnoxious in a dark room.
Stand vs pad
More often than not we see charging pads rather than charging stands. For those using an iPhone X, charging stands arguably more useful.
The reason lies with Face ID. When the iPhone X is laid down on a pad, the user would have to lean directly over the phone to unlock it while still charging. This is awkward, if possible at all. Those rocking an iPhone 8 don't have this issue because Touch ID can be used in any orientation.
Using a wireless charging stand -- like Logitech's Powered -- then a simple glance can unlock the phone.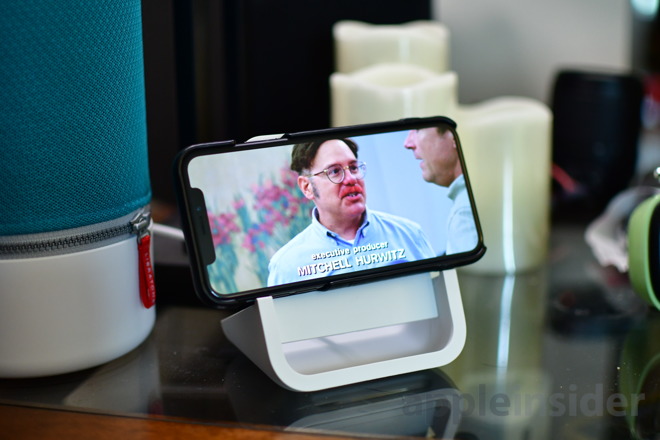 There is another benefit to a charging stand that applies to all users. Your charging phone can be used both vertically, as well as horizontally. This means while your iPhone is charging, you can binge the fifth season of "Arrested Development" -- or any other video of choice.
Apple-specific design
Much attention to detail has gone into making sure this charger works perfectly with Apple's handsets. That includes intricate testing of the Qi charging coils to make sure they operate at very specific frequencies and don't interfere with any of the iPhone's radios.
There was plenty of media attention saying that Apple had co-designed these chargers, where in fact, Apple just assisted in the wireless design. They provided assistance "ensuring optimal charging for iPhone 8, iPhone 8 plus, and iPhone X as well as a built-in overheat protection system that helps regulate temperature."
Many wireless chargers out there have had this assistance from Apple including
Belkin's latest lineup
and the
NightPad from ElevationLab
. That isn't to understate Apple's influence here, but it falls in line with the assistance provided to other iPhone wireless charging partners.
Power up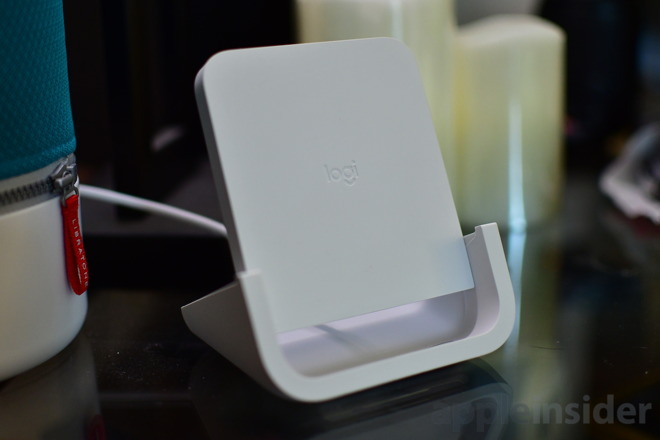 Powered is without a doubt an Apple-inspired charger, designed with the iPhone first and foremost. The stark white exterior looks great, and the vertical nature works well with Apple's flagship iPhone X.
If we changed anything, it would be a swappable USB-C cable rather than the non-removable integrated solution.
Rating: 4 out of 5
Where to buy
Right now, you can pick up one of Logitech's new Powered Qi wireless charger directly from
Logitech's website
for $69.99.