Review: Master and Dynamic's MW50+ 2-in-1 wireless headphones -- move aside Beats Studio3!...
The Master and Dynamic's 2-in-1 MW50+ wireless headphones represent a "master" class on build quality. These hefty over-the-head cans sound great and look great at the same time. AppleInsider takes them for a spin and compares them to Apple's similarly-priced Beats Studio3.
The MW50+ isn't an entirely new headphone for Master and Dynamic.
They've upgraded their popular MW50
set with easily swappable earpieces, keeping the rest unchanged.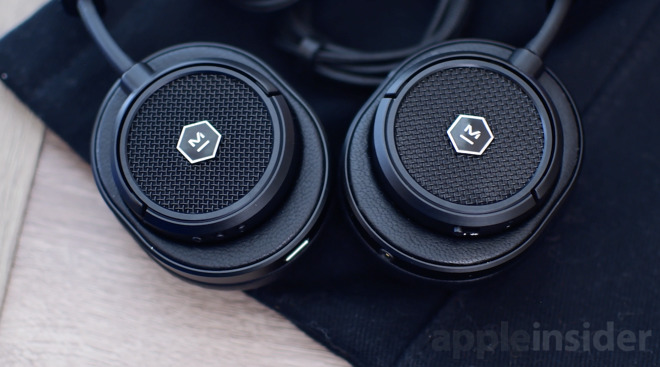 There are a lot of components in any headphone review. From what is included, to the possible frustrations that only present themselves after long bouts of listening. So, let's get started.
In the box
Opening the box, you are greeted instantly by the headphones, with a soft leather box nestled between the earpieces. Below is a trio of compartments housing a travel bag, a getting started guide, and a pair of cables.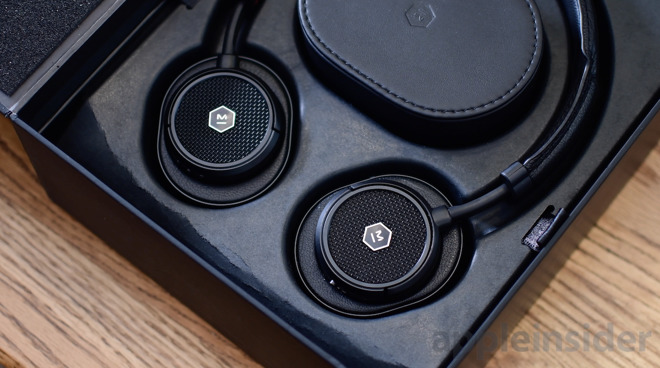 The small leather box is home two a set of replacement ear pads that go over-the-ear rather than sitting on it. Herein lies one of the most unique aspects of the MW50+ that separates them from any other headphones on the market, which we'll get back to in a bit.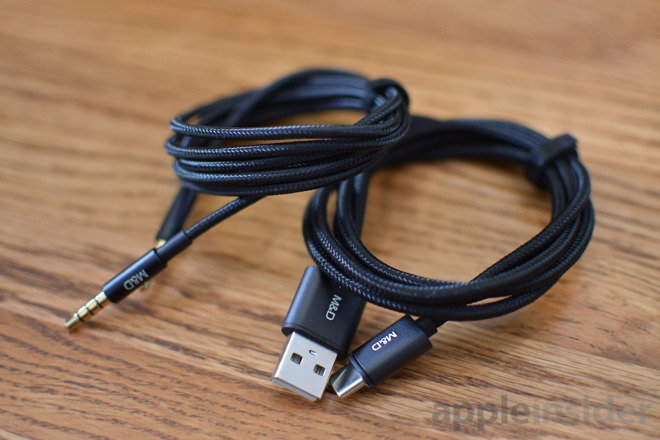 With the MW50+, you get a USB-C to USB-A cable and a 3.5mm audio cable.
AppleInsider
has been fans of their standalone cables for some time, most
recently checking out their Lightning to 3.5mm audio cable
. The two cables are very nice with a braided-nylon wrap and metal caps on the ends.
The travel bag is made of a thicker, black canvas that is pliable rather than the rigid cases we see included with most other headphones. Initially, we were disappointed with just a fabric sleeve, but after using it for a while, we prefer it to the hard case.
It is able to be compacted when not in use, and even when
in
use. The top is rigid and magnetically closes. The bottom is double-lined for additional padded protection for the earpieces of the headphones. Near the top, is a small pouch that can house both of the cables, should you ever need them while on the go.
Build quality
This is one of the strongest aspects of the MW50+. They feel hefty and solid in the hand, but not
as
heavy as
those we reviewed from Shinola
.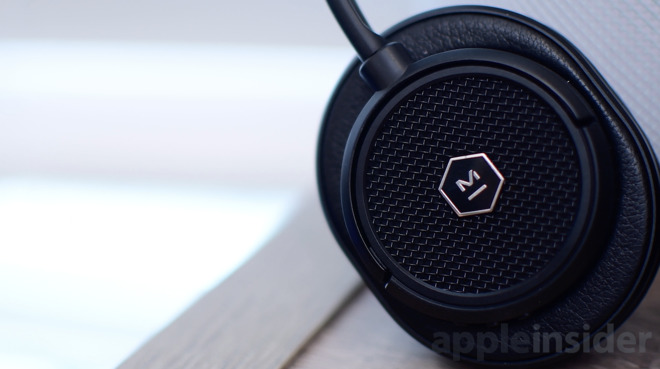 On the back of each earpiece is a metal mesh with the Master and Dynamic logo squarely in the center. Most of the headphones themselves are metal -- including the headband, the ear cups, and the extensions on either side. Leather is used in many areas, such as wrapped around the headband, around the back edges of the earpieces, and the soft lambskin ear pads.
Each of the earpieces is able to rotate to make the headphones flat for storage. On the bottom of each earpiece is a port -- USB-C charging port on the right and 3.5mm audio jack on the other. We haven't been shy about wanting USB-C on accessories, and we can't praise Master and Dynamic enough for their inclusion of USB-C over micro USB.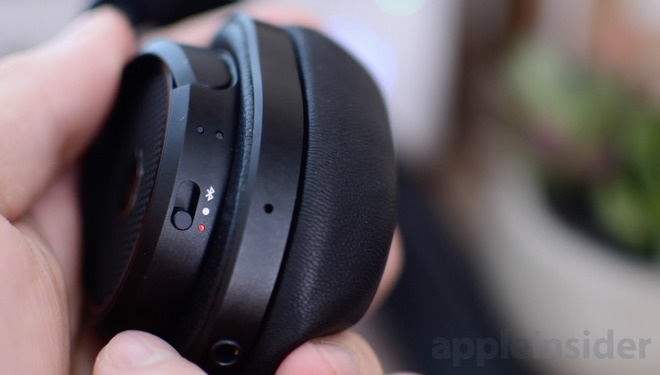 The controls are made up of a series of minuscule metal buttons located on either side. The left side has a three-way switch for off, on, and entering Bluetooth pairing mode. The right has a trio of buttons representing volume up, down, and play/pause. They are subtle and don't draw attention, but still easy enough to find when needed.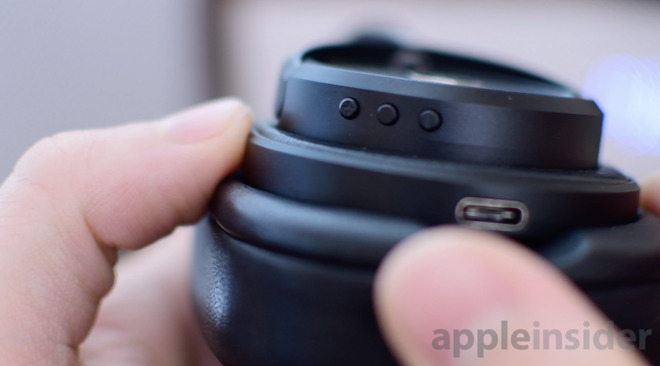 Audio quality
When it comes to audio quality, what sounds great to one, may not offer enough bass response for another, or similar unique perspectives.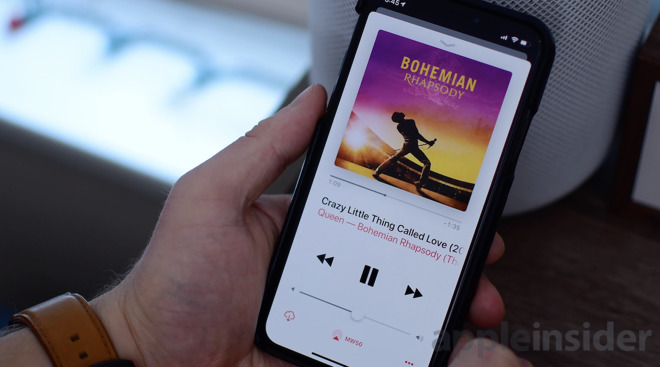 We've put together a small sample of our testing tracks that we rely on when listening for audio fidelity on headphones. There are many others we listen to, but these are some of our favorites to test things like sound reproduction, the 3D soundstage, and audio fidelity.
When we talk about sound quality, a lot of what we experienced is due to the custom 40mm beryllium drivers. At the inset, we attributed this to a marketing angle and nothing more. Yet, the beryllium is able to create a light and stiff diaphragm and cuts down on distortion found with more flexible materials.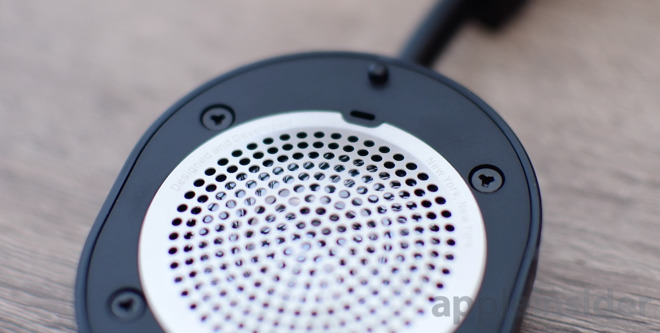 The sound is very well balanced, leaning towards a more warm tone. Songs sounded quite full, with a lot of definition on both the high and the low ends. Even subtle bass hits were shockingly clear, often muddled together when listening on something with a less refined sound, such as our AirPods.
As we listened to
Moving in Stereo
and
Baba O'Reilly
, we were shocked at the 3D soundstage that they were able to create. It brings a new dimension to these songs not often realized.
When listening to Gaelic Storm -- an Irish band that puts out a variety of different musical styles -- the balance was undeniable. Patrick's slightly alto voice is able to put crystal clear in the foreground while the undeniable bass hits consistently and heavily in the background, without ever being too loud or sloppy.
Master and Dynamic opted to include support for AptX (though not AptX HD), which can improve sound quality on devices that support it. Unfortunately, that doesn't iPhones or iPads.
Living with them
We've spent copious amounts of time listening to these headphones. Inside the MW50+ are custom aluminum antennas that should garner about 30 feet of unobstructed usage. Unfortunately, we got a bit less than that. I'd say 20 feet is a solid usable range, which is perfectly fine for most listening. It seems a whole lot shorter when compared to the possible 100 feet you can get out of any W1-equipped headphones.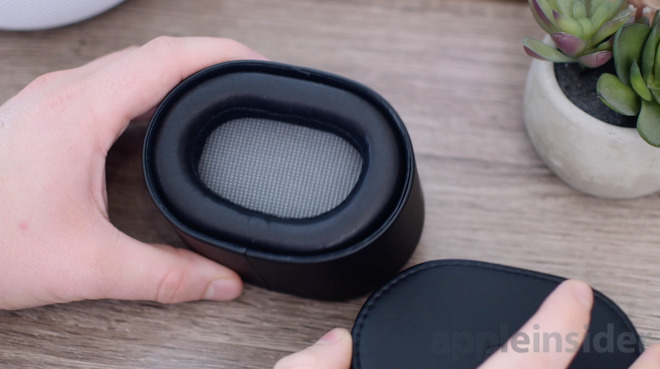 After long listening sessions, we can happily say that the lambskin-covered memory foam ear pads are extremely comfortable, some of the best we've ever used. Whether you use the on or over ear pads, they always felt soft and rarely felt overheated.
We experienced nearly no dropouts in audio (other than when we were pushing the range), which is a crucial aspect to any wireless headphones.
Possibly our favorite feature of the MW50+ though is the swappable ear pads.
There are times where you want the small, on-ear pads and others when you prefer the more sound isolation provided by the over-ear pads. Using magnets, these can be swapped at any time, making these our new go-to headphones. They are great at home lounging on the couch or sitting at the desk using the less obtrusive on-ear pads, then jumping in the car, a bus, subway, or plane and getting some much-needed audio isolation from outside noises.
The magnets make them a dream to take on or off at any time, and the included leather case is even better to protect them when not in use.
VS Beats Studio3 Wireless
Apple's Beats Studio3 Wireless headphones are similarly priced, but there is really no comparison when it comes to quality. The Studio3 are largely made of plastic, in stark contrast to the metal body of the MW50+. This is noticeable just by holding them in your hands. Whereas the MW50+ feel undeniably solid, the Studio3 feel a bit flimsy.
Areas of the MW50+ that are covered in leather -- such as the upper headband and back of the earpieces -- are made of either plastic or rubber on the Studio3. This does add a bit of longevity to the lifespan seeing as leather can break down over the years, but it still has to be done well. On our Studio3's we already see the rubber separating from the top after not much use.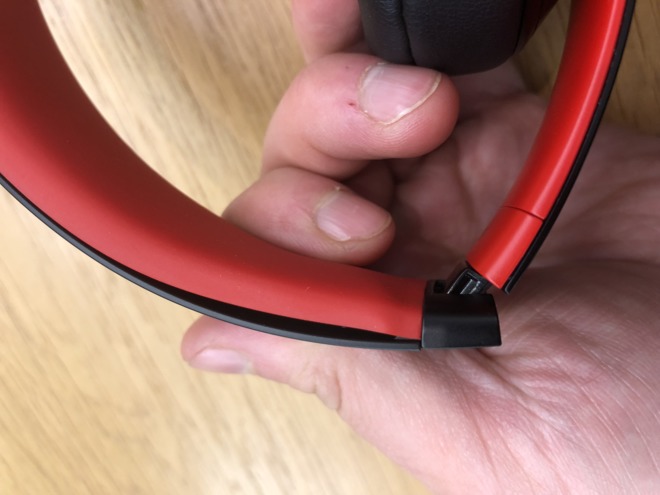 The Studio3 headphones give off a more youthful appearance, and with the ability to collapse, can be more compact than the MW50+.
They do feature Pure Adaptive Noise Cancellation, something out of scope for Master and Dynamics' headphones. The ear pads are very comfortable, though you are naturally limited to over-ear.
Where we really give Beats Studio3 Wireless the edge is the wireless connectivity. Thanks to the custom Apple-designed A1 chip -- the same one found in other Beats headphones and AirPods -- the Studio3 utilize Class-1 Bluetooth audio for up to 100 feet of range. That is three times what you
should
be able to get out of the MW50+, and a more reliable signal strength all around. It is hard for competitors to compete with this.
In the all-important audio quality category, MW50+ win out. They are more balanced, sound fuller, and still bring decent bass without overpowering the rest of the mix.
Jam on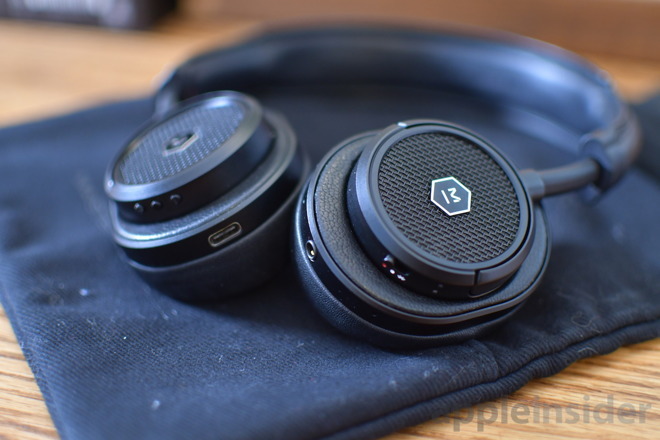 The Master and Dynamic MW50 headphones were already a spectacular set of cans. The + makes them better and more useful. Even though they lack noise canceling and amazing range, they excel in spades in the most important categories of build and sound quality.
Their quality is even more noticable when compared to the similarly priced Beats Studio3 Wireless that have a distinctly cheap feeling. Quality doesn't stop with just the audio or the physical build but extends to all accessories included in the box.
Rating: 4.5 out of 5
Where to buy
Master and Dynamic's MW50+ headphones can be picked up directly from
their own website
or on
Amazon for $399
. They come in three colors including the black/black option AppleInsider reviewed as well as black/silver and silver/brown.