Review: HyperX's Cloud Mix headset successfully bridges home, mobile & gaming
Posted:
in iPhone
edited January 2021
Even if you don't think you need a gaming headset, HyperX's over-the-ear Cloud Mix -- designed for both desktops and mobile devices -- is a great performer, and might help change your mind.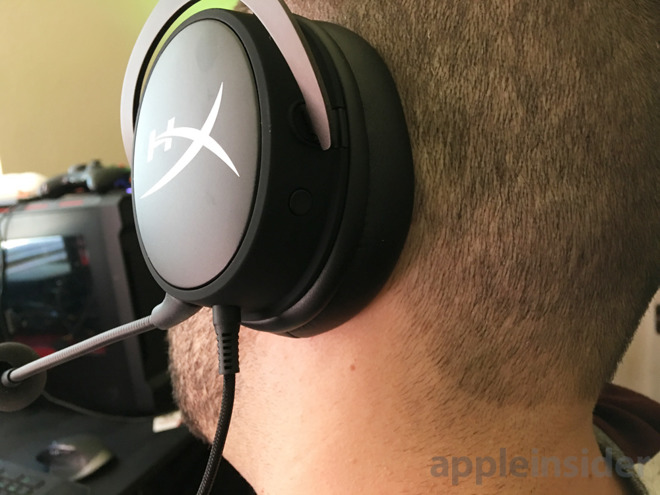 Hyper X Cloud mix
If you're a "serious" gamer these days, or a Twitch or YouTube streamer, there's a good chance you already have a gaming headset. De rigueur: gaming headsets have a higher-quality boom mic for voice chat, since team-based multiplayer games like "PlayerUnknown's Battlegrounds" and "Rainbow Six: Siege" effectively demand it. The better ones have high-fidelity sound, as they're made to replace desktop speakers.
Only the least self-conscious would usually dare to wear them outside, though. That's where the Cloud Mix comes in -- when you're done at your computer or console, you can unplug the boom and headphone cable, turn on Bluetooth, and head out the door with your iPhone or iPad. A built-in (albeit inferior) mic takes over for voice duties like phone calls, and there's 20 hours of battery life.
Accordingly, one of the important things HyperX has done is tone down the wild styling you sometimes see with gaming hardware. The headphones are all-black, and follow traditional headphone design cues -- without the boom attached, they look like they could belong to Bose or Audio-Technica.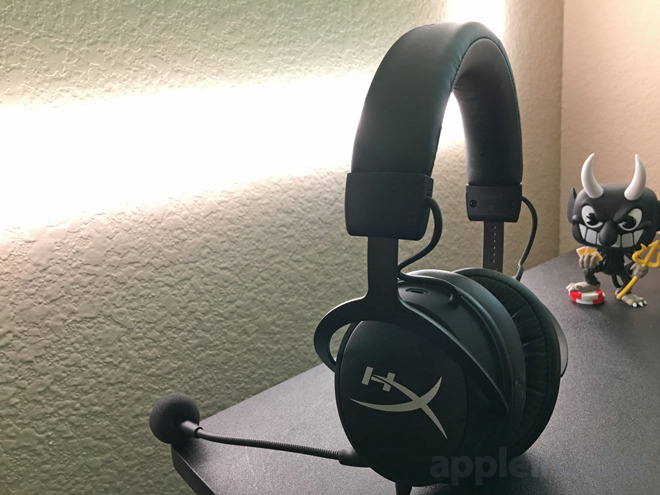 Hyper X Cloud Mix headphones, side view
They're also better built than you might be expecting. While there is plastic, it doesn't feel cheap, and the frame of the set is metal. Padding is thick and comfortable enough that I've gladly worn the headset for hours at a time. You'll want to stick to wearing it around air conditioning or cool weather though, as I found it gets mighty sweaty in Texas heat, even when you're just wearing it around your neck.
Another minor complaint is that while the Cloud Mix appears normal, its size makes it a little ungainly. It almost resembles 1970s audiophile equipment, which is something many people are into, but may still make you stand out in a crowd or take up too much space in your bag or suitcase.
Getting to know how it actually sounds, I was impressed. The specs for the headphones claims frequencies between 10 hertz and 40 kilohertz, which in real life translated into a surprising amount of nuance, with clarity up and down the range. Bass is punchy without being overwhelming, as it can be on headphones like the Beats Solo line.
That performance seemed to hold up whether using a 3.5mm or Bluetooth connection. You'll get better sound from a wired connection, naturally, but there's relatively small drop-off in quality as long as the connection holds.
Regarding the microphone, in most cases there was no practical difference between the boom and the built-in mic, but at home or the office we would give the edge to the boom, for the simple reason that it's flexible and you can position it directly in front of your mouth.
There are a few other downsides to the Cloud Mix, none of them immediate dealkillers. There's no native surround sound, so you'll have to use third-party software to simulate that if you're interested. Button placement on the earcups is a little awkward, and while you can take phone calls through the headset, there's no support for voice assistants like Siri or Google Assistant -- you'll have to trigger them through your phone or watch.
Conclusions
People who only care about the mobile half of the equation, and/or gym use, will probably want to stick to something like AirPods or Jaybirds, as the Cloud Mix's size, heat, and control limitations probably aren't balanced by the extra fidelity.
If you're looking to be cost-efficient though, that's another story. It's easy to imagine owning the Cloud Mix as your only pair of headphones, wearing them at home, in transit, and at work. Had the product existed several years ago, I might have bought it instead of desktop monitors.
Score: 4 out of 5
Where to buy
The HyperX Cloud Mix headset
sells for $199.99
at Best Buy with free shipping or free in-store pickup at many locations.