Review: Belkin BoostCharge battery pack with Lightning makes powering up easier
Posted:
in iPhone
edited January 2021
The new Belkin BoostCharge 10K battery pack with Lightning simplifies the charging process by allowing you to use the same cable to charge your battery that you do for your iPhone.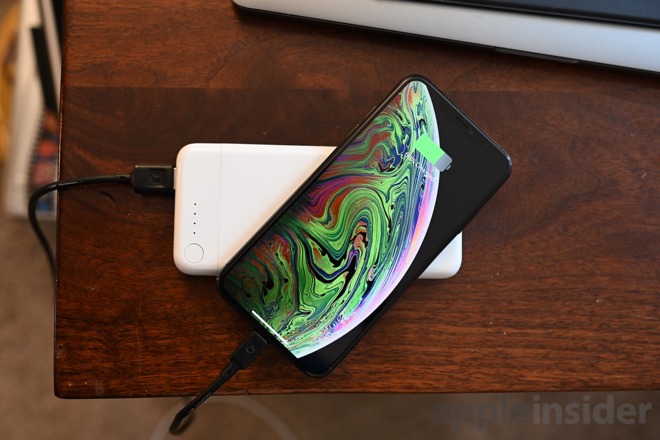 Belkin BoostCharge 10K power bank with Lightning charging an iPhone
Any accessory that adopts a female Lightning port is a rare sight. Apple has slowly allowed more third-party manufacturers to include the port on MFi certified devices such as battery cases.What you get is a relatively slim 10000 mAh battery, which Belkin says provides 70 extra hours of battery life, though that will certainly depend on which device you are using.
The battery keeps things simple, with an either all black or all white exterior, a quartet of LEDs to show the remaining battery life, a status button, a Lightning input, and two USB-A outputs.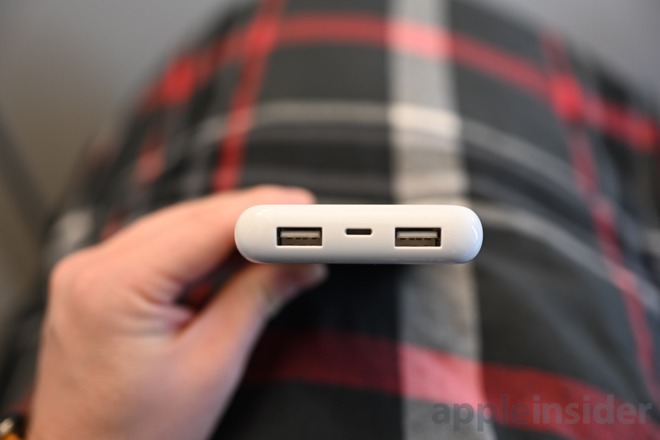 Belkin BoostCharge 10K power bank with Lightning ports
As far as the outputs, one is a 2.4A (12W) output -- designed for faster charging your iPhone or iPad -- and the other a 1A (5W) output -- primarily for smaller/slower devices such as your iPhone.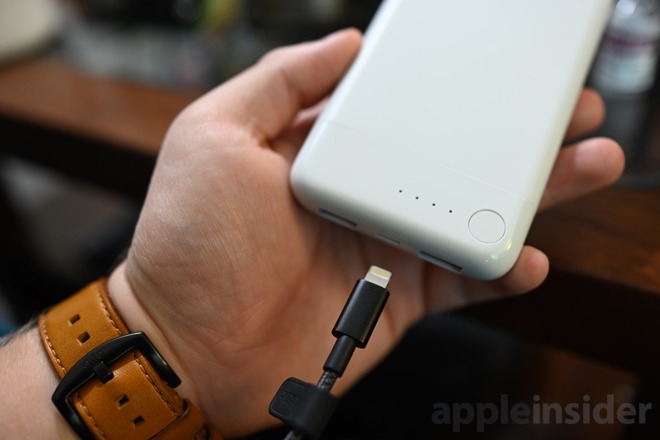 Belkin BoostCharge 10K power bank with Lightning cable
For the Lightning input, the Belkin BoostCharge can handle 2.4A (12W) of power to quickly charge up the battery with the same cable used to charge your phone.
We love the convenience of being able to use Lightning to charge the battery, but it may not save you from having to carry two cables. If are out for the night, a single Lightning cable is going to do just fine. But when we take something like this on a weekend trip, we may want to plug in the battery pack and the iPhone simultaneously, which of course facilitates the necessity of two cables.
After we spent some time with the battery pack, we noticed a wonderful feature we hadn't contemplated before we had this on hand. Because of a somewhat similar form factor to an iPhone, we were able to easily pop the BoostCharge right on our iPhone dock to power, instead of using a separate cable around the house.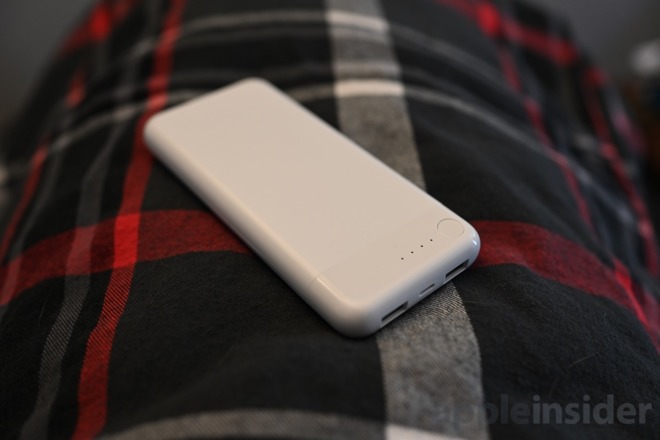 Belkin BoostCharge 10K power bank with Lightning
Belkin's BoostCharge 10K power bank with Lightning is an unbelievably handy device and it makes us ever so annoyed that Apple has not allowed others to take advantage of Lightning in their products.
Sure, the era of USB-C is quickly coming upon us, but in the meantime, keeping things simple with Lightning is a great way to keep powered on the go.
Rating: 4.5 out of 5
Where to buy
If you'd like to pick up Belkin's latest portable power solution, they are available
directly from its website for $59.99
in black or white.