Review: Twelve South PowerPic can show off your pets while hiding a wireless iPhone charge...
Posted:
in iPhone
edited January 2021
Twelve South's PowerPic is a simple wooden picture frame that doubles as a way to show off your kids, vacations, or pets and a way to power up your most essential gadget.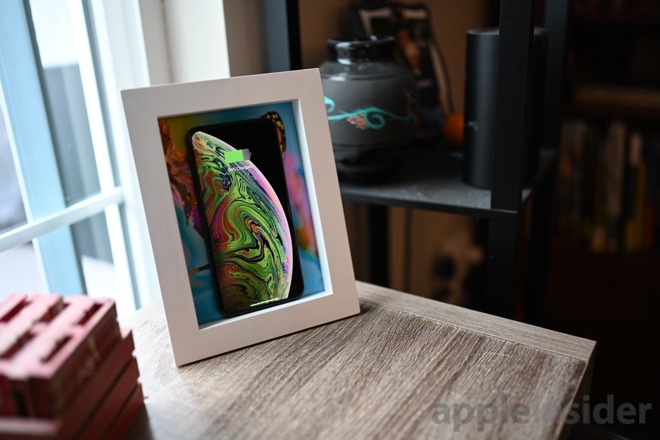 There is no arguing with the fact that Twelve South thinks up some creative ideas for products. There is no better example of this than the recently launched PowerPic. It is a wooden picture frame with a Qi charger tucked into its innards.
Using it is just as easy as you'd expect. Just set your Qi-capable device right into the frame and you are all set. Your phone simply starts charging.
In the box, you find PowerPic, the base, and a power cable. Missing from the box is an actual wall adapter, which you're forced to provide yourself. For the price tag, we wish this had been included.
Twelve South suggests the one that came with your iPhone, but doing so limits you to only 5W of power, half of what this charger is capable of.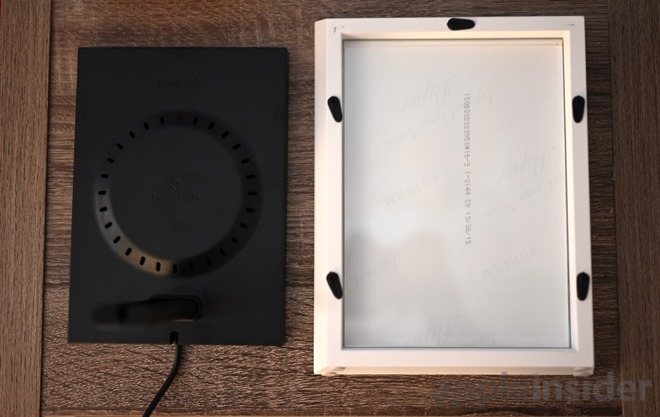 Setup is a painless endeavor, consisting plugging in power, and attaching the sturdy metal kickstand. The power cable connects to the back panel itself, which is held in place by five plastic fasteners. We wish these were metal, but minor complaint. They rotate easily enough to remove the back to swap the photos in front.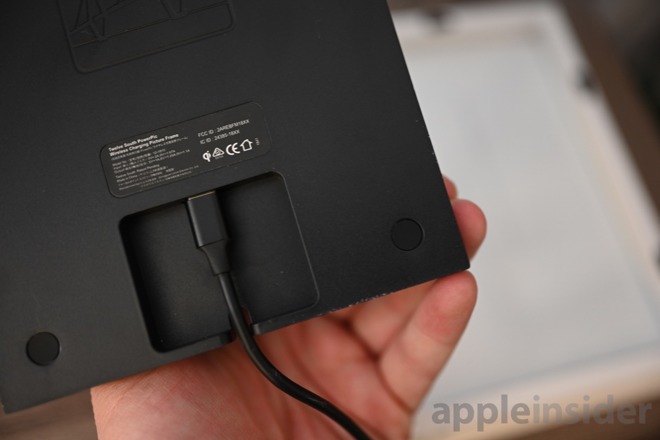 Twelve South chose to not only keep the cord removable so it can be replaced if ever broken, they chose to go with USB-C rather than micro USB. We love they did this and will make it more future proof should that cord ever need replacing. Half-credit, though, as the included cable is USB-C to USB-A.
In a best case scenario Twelve South would have used all USB-C and a USB-C wall adapter, but that isn't the case. Maybe later in the product's life.
A pane of glass protects your precious memories from the constant placement of your iPhone which is fairly thin. We had some concern about this added layer between our charger and the phone which could make charging slower, especially with a thicker case on the phone. This doesn't seem to be an issue as we noticed no unwanted behavior and Twelve South says cases work up to 3mm thick -- which is the same range that other manufacturers claim that don't have a a picture under glass.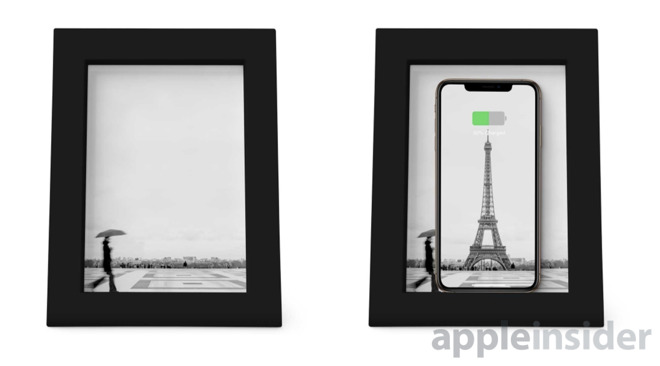 In the box, Twelve South includes two sample photos you can use if you'd like that offer some interesting effects. There is a snowy mountain landscape and a sunny beach scene. We are fairly certain most will choose to simply use their own images. Twelve South does propose a fun trick that they call "complete the picture". By setting your phone's background to the same pic as in PowerPic, when you place your iPhone down, it "completes" the picture and matches perfectly. The downside is that your phone will quickly turn that screen off, leaving you with just a black rectangle in the way.
Picture power
The charger Twelve South built in is a Qi-certified 10W coil. It works with any Qi-enabled phone, though iPhones are of course limited to 7.5W of that power. You also have to be sure to use a powerful enough wall adapter to take advantage of this speed.
On the back of the frame is a subtle LED that acts as a status light. This way there is still feedback, but you don't have lights on the front of the frame. A solid blue indicates the device is charging, whereas a solid green indicates the device is fully charged. Foreign object detection is built in and if something should be detected, the LED will flash blue.
As with most other wireless charger, the farther from the direct center of the coil a device is placed, the worse the efficiency is. If you are off an inch from center when placing your device, it may still charge, but at a significantly slower speed than if properly placed. This happens with all wireless chargers out there and it is up to the manufacturers to tune those chargers in a way that makes sense. More placement area could lead to devices getting charged slower than they should, without you even knowing.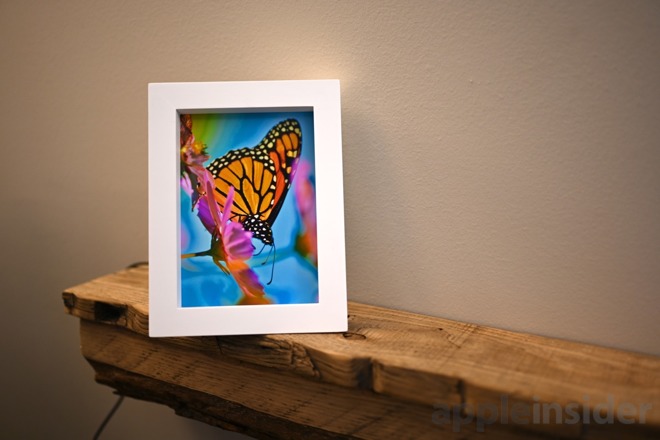 Taking that into account, since the PowerPic is designed specifically for iPhone, the vertical placement should be a non-issue. You don't have a choice in how high or low your phone is placed because it rests on the bottom of the frame. The issue is when it comes to other devices that this isn't specifically designed for. It may still charge them, but depending on their coil placement in the phone, they may end up charging at a lower speed since they aren't perfectly centered on the coil in PowerPic.
Not always picture perfect
While definitely a fan of PowerPic, trade-offs exist. For starters, your picture gets covered up anytime your phone is charging. This may not be a big deal for some, especially if you are only charging your phone at night when no one is around anyway. Or, like we said, you could be slick about it, and make your lock screen picture the same as the image underneath.
The other trade-off we encountered was the inability to charge more than one device at a time. Our wireless charger in the living room was a multi-charger capable of powering our Apple Watch and two Qi devices simultaneously. This is, of course, workflow dependent.
Level up your interior design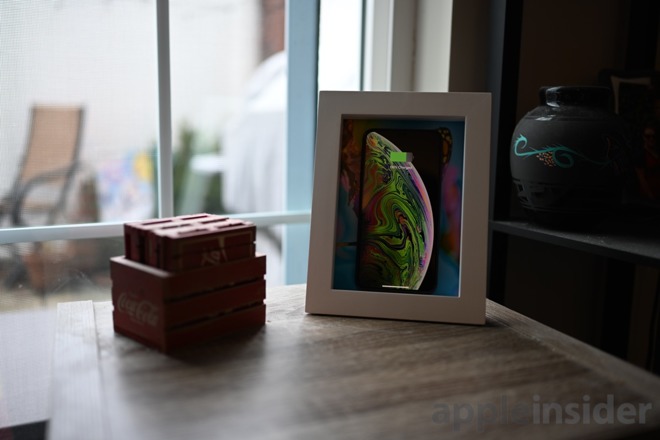 The frame of PowerPic is a standard 5 x 7 and made out of New Zealand pine. There are two color schemes -- white and black -- with the white lending itself to the popular farmhouse-style that is taking hold as of late. The simple design should match most interiors well.
What we love most about PowerPic, is that it rids another device from your table. if you're like us, you've got a picture frame on my desk, on the nightstand, and next to the couch, with wireless chargers in close proximity for one device or another. Trading one of these out for a PowerPic reclaims some much-needed space, and improves the look of the room with less clutter.
Rating: 4.5 out of 5
Where to buy
PowerPic is available now
from Amazon for $79.99
, ten bucks off the full retail price.