'Apple Music for Business' streaming service might be in the works
A version of Apple Music with public performance licensing in mind might be coming soon, given that Apple has filed trademark applications for "Apple Music for Business."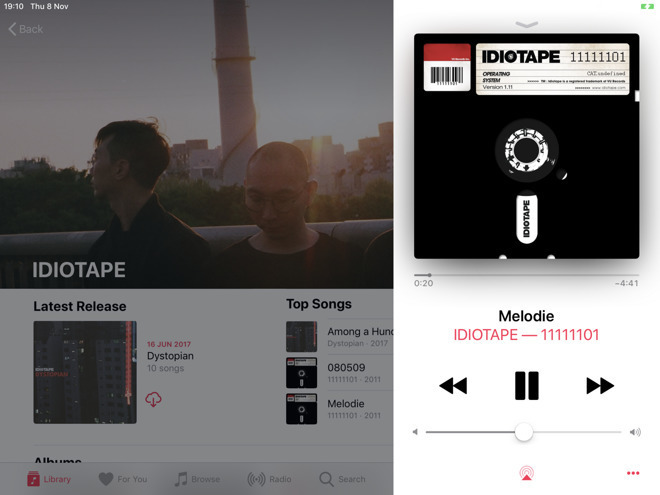 Filed with the United States Patent and Trademark Office on November 29, the
trademark application
for the term "Apple Music for Business" indicates Apple has considered using the name for some time. The document mentions filings in Jamaica from early June, with the filing in the United States seemingly an extension of the initial registration attempts.
At present, Apple does not offer a version of the
Apple Music
service aimed at business or enterprise customers, but the trademark application shows something is being produced with those types of clients in mind.
The filing advises the trademark would be applied to a number of different areas under International Class 038 and International Class 041. The former describes it as applying to the "broadcast and transmission of streamed music, audio, video, and multimedia content by means of radio, television, internet, and satellite for business use."
The latter is more wide-ranging, but covers similar areas, including: "production of programmed music and video displays for subscribers; audio and video recording and production services for others; music service, namely providing specially programmed background music for retail establishments, public areas, and commercial establishments; providing radio, internet, and satellite music programming by means of telecommunications networks, computer networks, the Internet, satellite, radio, and wireless communications networks; musical, radio, television and video entertainment services, namely, custom arrangement and editing of music, audio and video programs; Custom music programming services".
The most logical reason for the mark's existence is for Apple to offer retailers and other similar businesses an Apple Music subscription that allows for music to be piped through speakers heard by customers, such as music played throughout a store.
Current streaming service products typically relate to personal use, namely private usage through headphones while in public or general playback through speakers at home. While a store could feasibly start an Apple Music stream and pipe it through speakers throughout the business, this is considered to be public playback, and is generally against the terms of a consumer music streaming service agreement.
To play music in such ways, businesses typically have to acquire licenses from performing rights organizations to play tracks from collections of artists, with most covered by either
ASCAP
,
BMI
, or
SESAC
. While the licenses can cost a few hundred or thousand dollars per year, depending on usage and the size of the business, this is typically a better option than flouting copyright law, which could involve fines of hundreds of thousands of dollars.
It could be feasible the business version of Apple Music could include blanket licenses for each performing rights organization, simplifying compliance for businesses. A more elaborate version could potentially offer music for playback, but only limited to music covered by licenses the business has applied for, excluding uncovered tracks from being heard.
While the existence of a trademark may be an indication of areas where Apple is considering moving into, there is no guarantee that it will follow through with a full product or service, or even use the name at all.