AT&T Power Drum will provide portable wireless charging for iPhone and Apple Watch
AT&T is preparing to release the "Power Drum," a portable battery pack that is capable of wirelessly charging an iPhone and an Apple Watch at the same time, potentially giving its users some extra power for their Apple devices while on the move.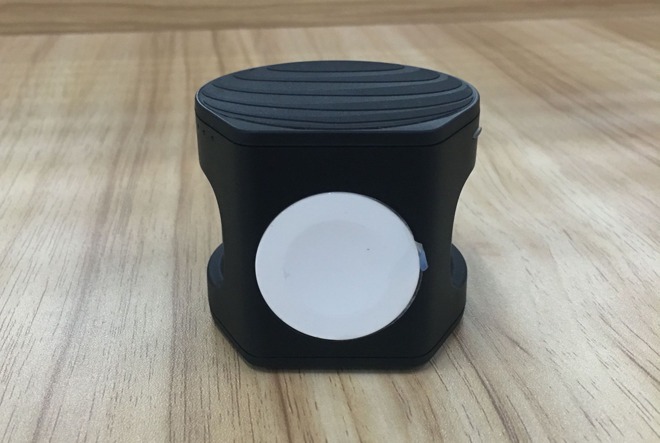 Found in
FCC
and Qi Wireless Power Consortium
filings
, the AT&T Power Drum aims to provide recharging capabilities in a compact size. An Apple Watch can be strapped to the outer edge of the cylindrical unit, which has a flat edge for the main body and a groove to better hold the straps in place, while an iPhone can be placed on one of sides when the power bank is placed on a surface.
The device is capable of outputting up to 10 Watts for "select wireless charging devices," as well as up to 5 Watts for the Apple Watch itself,
reports
Zatz Not Funny
. Packaging supplied in the filings reveals it has a capacity of 3,000mAh, and can be recharged using microUSB.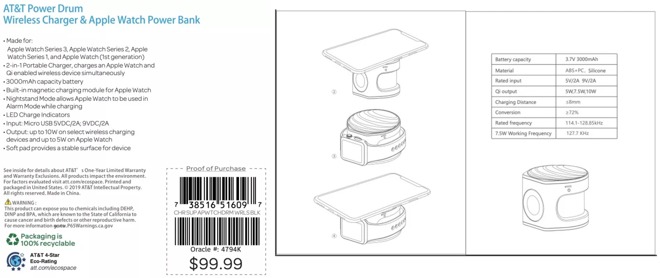 Images from FCC filings for the AT&T Power Drum
It is also noted that the drum is "made for" the Apple Watch Series 3 and earlier models, but with no mention of the Apple Watch Series 4, though it is probable to be compatible with that model as well. The charger can also be used with the Apple Watch Nightstand Mode, and the flat edge also features a magnet to further keep the Apple Watch attached while recharging.
While the filings have surfaced, there is no official word on the device from AT&T itself. Aside from a 2019 copyright notice on the packaging, there is no sign of when to expect its release. When the AT&T Power Drum does go on sale, the packaging also indicates a price of $99.99, though this may be subject to change.
While not quite the same in implementation, the Power Drum seemingly offers the promise of multi-device charging in a single charger that may be attractive to those waiting for the arrival of
Apple's AirPower
, a charging pad that was supposedly able to recharge an iPhone, Apple Watch, and AirPods charging case simultaneously. Despite being teased during the 2017 iPhone X event and promised for release in 2018, Apple has seemingly decided against shipping the accessory, wiping practically all references to it online.