Third-party USB-C Lightning cables made official at CES by Griffin
Posted:
in iPhone
edited January 2019
Griffin is also coming to market with a third-party USB-C to Lightning cable suitable for connecting Apple's newest hardware to the iPhone.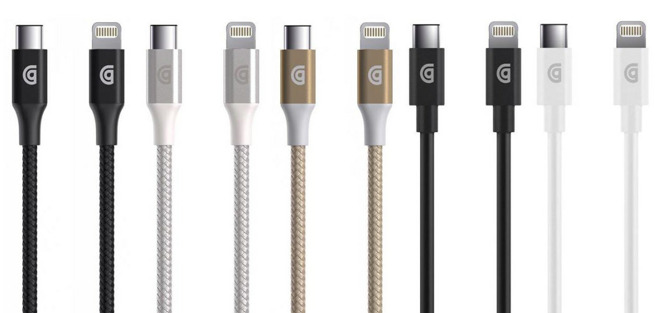 5-foot premium USB-C Lightning cables (left three) 4/6-foot USB-C Lightninig cables (right two)
At
AppleInsider
,
we've been looking
for an official USB-C to Lightning cable for quite a while and it seems that at CES 2019 our dreams have been answered.
Griffin
was one of the first to announce its new line of USB-C Lightning cables set to be released early in 2019.
The cables come in two variations, a premium 5-foot or a standard version in 4-foot and 6-foot sizes. The standard cables are available in black or white, while the premium come in silver, black, or gold.
Opting for the premium doesn't just get you the sweet spot 5-foot length, but a braided cable and aluminum over-mold.
Pricing for the new cables isn't out of line with what we currently see with Apple's
own Lightning cables
. The short standard cables will cost $19.99, the 6-foot standard will be $29.99, and the premium top out at $34.99. We should see these cables hitting the market between April and May, just behind
when we expected
to start seeing them.
To pair with the new cables, Griffin is also
releasing an assortment of new chargers
as well. There is an 18W USB-C wall charger, a dual-output 18W USB-C plus 12W USB-A wall charger, and an 18W USB-C PD car charger, each of which comes bundled with a USB-C Lightning cable.
AppleInsider
will be attending the Las Vegas Consumer Electronics Show starting on January 8 through January 11 where we're expecting 5G devices, HomeKit, 8K monitors and more. Keep up with our coverage by downloading the
AppleInsider app
, and
follow us on YouTube
, Twitter
@appleinsider
and
Facebook
for live, late-breaking coverage. You can also check out our official
Instagram
account for exclusive photos throughout the event.