Hands on with the worlds first third-party USB-C to Lightning cable from Belkin
Posted:
in iPhone
edited January 2019
While wandering the floor at the Consumer Electronics Show, AppleInsider goes hands-on with what may be the first third-party USB-C to Lightning cable certified through Apple -- Belkin's BoostCharge USB-C to Lightning.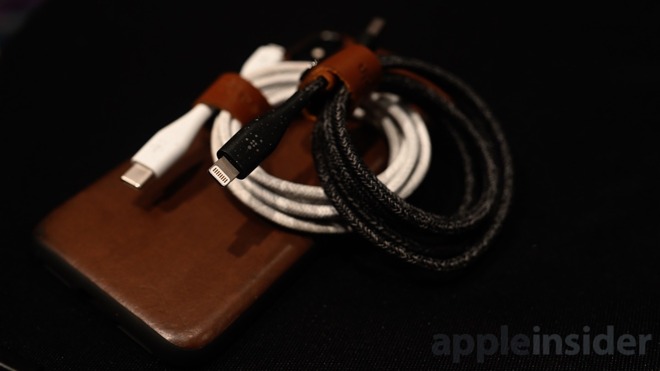 BoostCharge USB-C to Lightning cables
Belkin
was the first
to make its USB-C Lightning cables official during CES, with
Griffin not long behind
.
Of the two, Belkin seems to have the upper edge with its BoostCharge USB-C to Lightning cable. It uses a new material they've come up with called DuraTek to help protect the cable itself rather than a run of the mill nylon. It has a great, premium feel to it and is slightly thicker than normal Lightning cables to help compensate for the faster charging speeds alotted.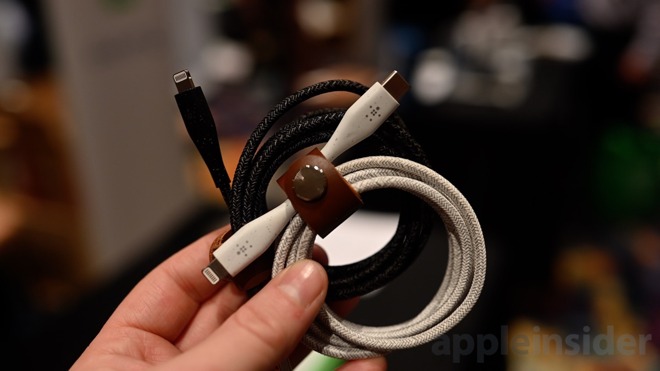 BoostCharge USB-C to Lightning cables
Each end has a long strain relief as part of the over mold to also help durability. A handy Belkin-embossed leather strap is included to help make managing the cable even easier.
They come in a variety of sizes and will
start shipping this spring
, selling for between $24.99 and $34.99, depending on length.
AppleInsider
will be attending the Las Vegas Consumer Electronics Show starting on January 8 through January 11 where we're expecting 5G devices, HomeKit, 8K monitors and more. Keep up with our coverage by downloading the
AppleInsider app
, and
follow us on YouTube
, Twitter
@appleinsider
and
Facebook
for live, late-breaking coverage. You can also check out our official
Instagram
account for exclusive photos throughout the event.