Hands on with Withings Move ECG smart watch & Core Blood Pressure Monitor
Withings is back under its own control after stepping out from under the control of Nokia. At the 2019 Consumer Electronics Show, AppleInsider got to try out its new Core BPM, Move, and Move ECG wearables to see how the company plans to excel in 2019.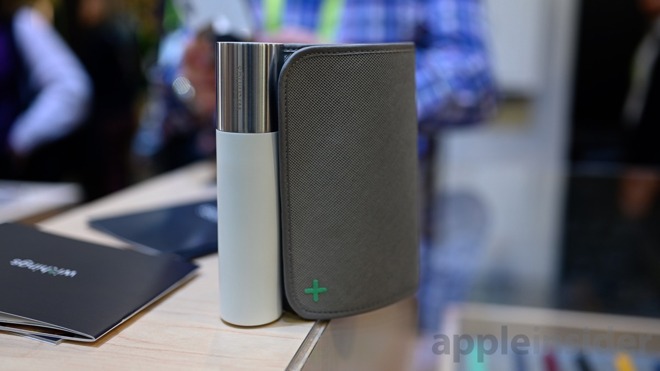 First, the
Core Blood Pressure Monitor
. This new device builds a bit on what Withings had in the past but adds many new features. On the inner wall, there is a new digital stethoscope used to take a recording of your heart and to identify heart valve failure. On the inside of the cuff itself, there is a metal electrode which coupled with the outer metal tube is able to take an ECG, similar to the Apple Watch. While administering a test, it will let you know to place your hand on the end of the tube and wait for the reading to commence.
While taking an electrocardiogram, a real-time heart rhythm is displayed on the side of the tube attached to the cuff. Lastly, it takes your blood pressure as expected. All of this data is displayed on the not-so-bright cuff, and fortunately synced back to your phone for later viewing or sharing with your doctor, since it's hard to see on the device itself.
Next, Withings showed off two new analog smartwatches. Move and Move ECG look like a simplified version of the Steel HR without a few aspects like the screen. Instead, steps are displayed on a wheel within the watch face and synced to your phone. It tracks sleep as well, and packs a battery that will last well over a year.
The ECG model, which is currently under evaluation with the Core BPM by the FDA, works by placing a finger on the side of the metal frame, just like Apple Watch. One difference is that Withings is able to complete the ECG in only 20 seconds, rather than 30.
Move is entirely customizable, with the face, bezel, and band completely interchangeable and designed on Withing's website.
AppleInsider
will be attending the Las Vegas Consumer Electronics Show starting on January 8 through January 11 where we're expecting 5G devices, HomeKit, 8K monitors and more. Keep up with our coverage by downloading the
AppleInsider app
, and
follow us on YouTube
, Twitter
@appleinsider
and
Facebook
for live, late-breaking coverage. You can also check out our official
Instagram
account for exclusive photos throughout the event.