Hands on with the Connected by August Yale Assure HomeKit smart lock [U]
AppleInsider goes hands on with a series of new locks by Yale, Emtek, and August including the world's first and only HomeKit lever lock.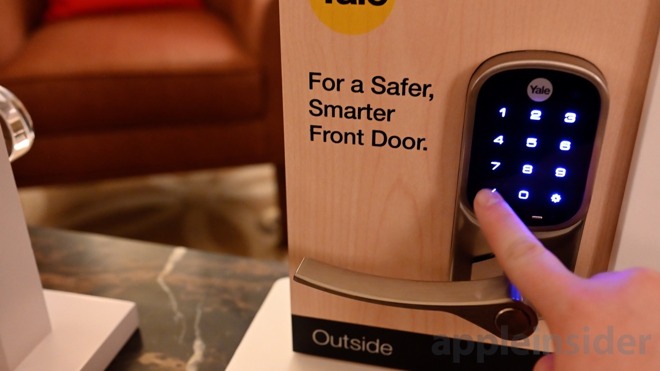 Yale Assure
Updated 6/27/19
: The Yale Assure Lever Lock with HomeKit is now available to order on
Amazon starting at $279
.
Lever locks are quite common but are usually overlooked in the smart home world. If you have something inside your home you want to protect like a basement, wine cellar, etc you may not have many options other than a traditional key lock. With the
Yale Assure smart lever lock
, that is no longer the case.
It comes in a few different finishes, as well as a touch screen and physical keypad variant.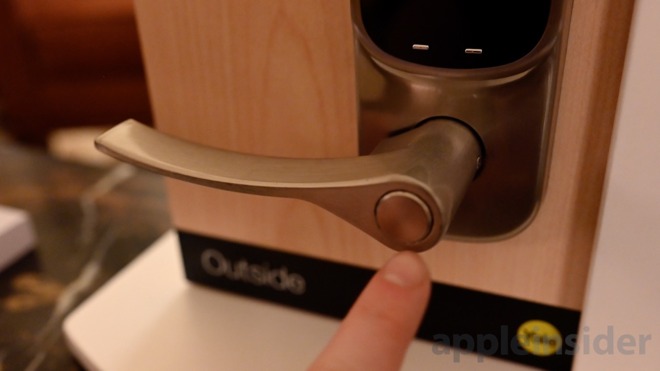 Yale Assure lack of keyhole
It fits any lever lock, be it an internal door or an external garage door. There is no keyhole which means no need to worry about re-keying or the propensity to have it picked or bumped by an intruder.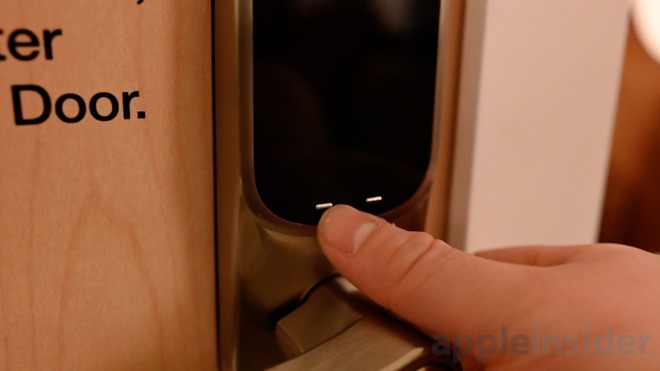 Yale Assure power contacts
The battery has a solid life span, but if you ever went past the point of no return, a pair of metal contacts on the front can draw power from the end of a 9V battery.
On the touchscreen version we tried out, you simply enter the code after touching the Yale logo on top. If the code is inputted wrong, the lights flash vertically. If wrong, it goes horizontally and resets. You must press the checkmark after entering your code which helps prevent someone from knowing how many digits the code is because it can be much longer than the normal four.
The interior side has a removable panel that conceals the batteries as well as a connectivity cartridge. This removable cartridge lets users pick up a basic version, then upgrade it over time with new cartridges. There are ones available for Zigbee, Z-Wave, HomeKit, and August (which also includes HomeKit).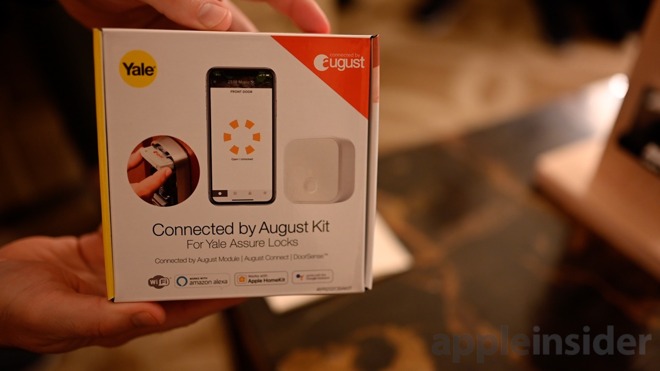 When the Connected by August piece is in, you get all the features and functionality of the standalone August lock.
Outside the Yale brand, there is also a new line of partnerships with Emtek -- the high-end lock manufacturer. Each lock can be quite customized to match any interior and is unmatched in quality. Currently, HomeKit hasn't had an option in the highest end of the market, causing those customers to go elsewhere or compromise with a cheaper lock.
The new August partnership with Emtek brings HomeKit and the August feature set to the luxury market.
AppleInsider
will be attending the Las Vegas Consumer Electronics Show starting on January 8 through January 11 where we're expecting 5G devices, HomeKit, 8K monitors and more. Keep up with our coverage by downloading the
AppleInsider app
, and
follow us on YouTube
, Twitter
@appleinsider
and
Facebook
for live, late-breaking coverage. You can also check out our official
Instagram
account for exclusive photos throughout the event.