Sprint adds Apple Business Chat to support its iPhone & iPad customers
Subscribers with U.S. carrier Sprint can now take advantage of Apple Business Chat when they need help with a plan or device.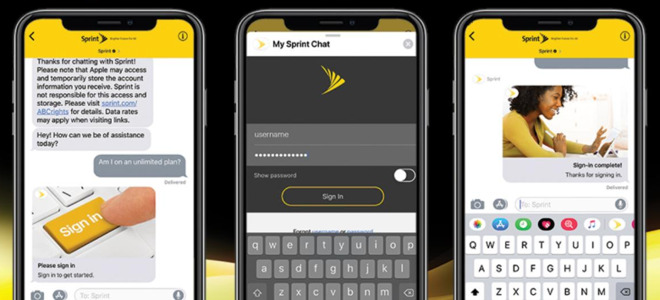 The option is available for iPhones and iPads by visiting Sprint's
"Contact Us"
webpage, or searching for a retail store in iOS then tapping the Messages icon. Features borrowed from the
My Sprint Mobile
iPhone app help with account authentication.
Chats can start and stop at any time, Sprint said, and crews are available to handle requests around the clock.
Apple Business Chat
expands on normal Messages functions so companies can talk directly to customers on iPhones and iPads. If necessary conversations can continue on Macs and Apple Watches, though that could create issues when dealing with carrier-specific problems.
Just this week two other corporations --
TD Ameritrade
and
Gubagoo
-- announced their own Business Chat rollouts. Support has been gradually expanding since the platform debuted in March 2018 with iOS 11.3.
For Apple, at least part of the point of the technology is probably deflecting people away from Facebook Messenger, which not only offers similar services but is one of the world's most popular chat platforms in general, with the advantage of being cross-platform. Messages is only on iOS, watchOS, and macOS.