Apple parts supplier Nidec cuts 2019 sales forecast citing 'extraordinary' contraction in ...
Posted:
in iPhone
edited January 2019
Nidec, a Japanese company that supplies vibratory motor parts for products like Apple's iPhone, is revising down 2019 sales forecasts due to what its chairman characterizes as an "extraordinary" decline in Chinese demand.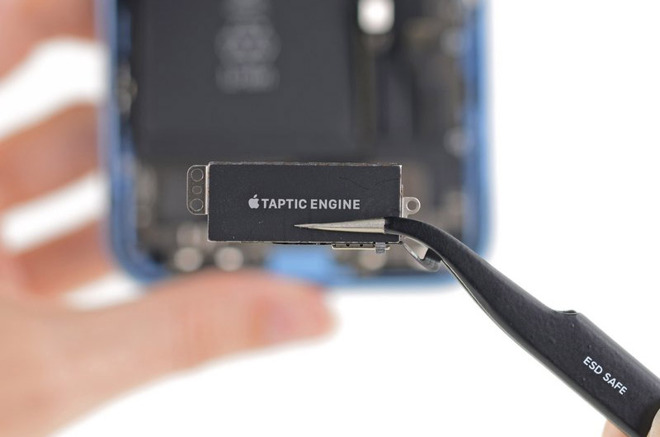 Apple's Taptic Engine in iPhone XR. | Source: iFixit
Citing the Chinese sales slowdown, exacerbated by a simmering trade war between the U.S. and China, the parts supplier
on Thursday
cut full-year profit estimates by more than 25 percent, reports
Nikkei
.
"We have faced extraordinary changes," Nidec Chairman Shigenobu Nagamori said during a press conference, hinting at sluggish Chinese demand.
Beyond parts for iPhone, presumably components used in Apple's Taptic Engine, Nidec saw a slowdown in China for motors used in the automotive and home appliance industries. Unlike other Apple suppliers, the health of the Japanese company is not intrinsically tied to the success of iPhone.
It appears, however, that a significant share of Nidec's troubles stems from Apple's recent iPhone miss.
"We saw big slumps in November and December," Nagamori said.
In early January, Apple
lowered quarterly guidance
for the first fiscal quarter of 2019 due to weak iPhone sales. Apple CEO Tim Cook in a note to investors blamed the revenue shortfall in large part on an unexpected sales slowdown in China over the three month period ending in December.
Nidec is the latest Apple supplier to cut its earning outlook for the coming year. Prior to Apple's announced adjustment, manufacturers
AMS
, Japan Display,
Lumentum
,
Qurvo
and others reduced earnings forecasts, signaling what would become a confirmed drop in demand for iPhone.
Most recently, A-series chip manufacturer TSMC on Thursday
slashed its guidance
on the back of sluggish iPhone sales and a contraction of the wider smartphone market. According to
Nikkei
, TSMC CFO Lora Ho reveled the company has implemented a hiring freeze and cost control measures to cope with the market changes.