All the rumors and leaks surrounding the 2019 iPad and iPad mini 5
Posted:
in iPad
edited December 2019
The rumors surrounding the 2019 iPad launches have started to mount up. AppleInsider covers what has been claimed so far, including the possibility of a fifth-generation version of the pint-sized iPad mini.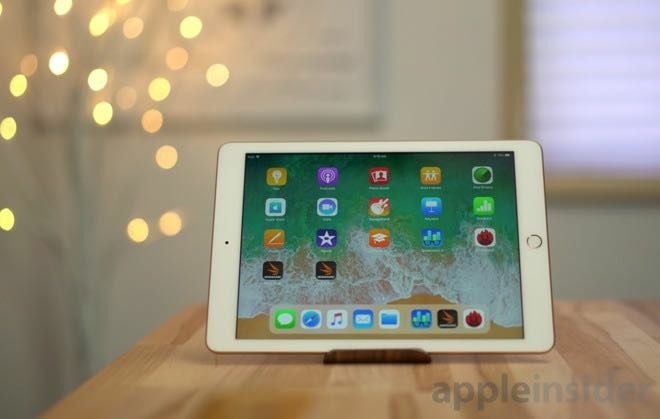 iPad
Back in March,
Apple released the 2018 9.7" iPad
, packing the powerful A10 processor and Apple Pencil support for only $329. This made it the cheapest tablet in the company's product line, and extremely good value for money.
Weirdly, Apple continues to sell the iPad mini 4, a tablet that is less powerful, has no Apple Pencil support and is $70 more expensive than the main iPad. It also has not received any updates since its introduction in 2015, making it long overdue for an overhaul.
After the 2018 iPad Pro was released,
we compared
the various iPads that are on sale, and advised not to buy the iPad mini 4, because it's simply a bad deal compared to the 2018 iPad.
Thankfully, a bunch of rumors have surfaced pointing to a fifth-generation iPad mini and a 2019 iPad being released in the first half of the year.
The rumors begin
The first inkling of rumors about the 2019 iPads arrived in October. Well-known analyst Ming-Chi Kuo
made the prediction
that a new iPad mini equipped with an upgraded processor and a lower-cost panel is coming, but he didn't give any timetable for release.
In December, sources of the
China Business Times claimed
Apple will be launching two low-priced iPad models in 2019, with the iPad expected to undergo a refresh similar to the new design of the iPad Pro.
We'll have to see it to believe it, but if that's the case, it'll likely support the new Apple Pencil and its new wireless charging method, but we won't know for sure until it happens.
Renders and panels
Over the holidays, images of an
iPad Mini 5 case surfaced
on
SlashLeaks
, but they were quickly shut down by
OnLeaks
, claiming the case was made based upon a 2016 prototype instead of a newer design.
Earlier this month, pictures of a possible iPad Mini 5
showed up on Twitter
, packing an antenna line for 4G connections. Other than that, it still seems to be packing a headphone jack, lightning port, and a home button, so there may not be big changes coming to the
iPad mini 5
if the photographs are legitimate.
DigiTimes
sources claimed on January 17
two suppliers have already been contracted to supply touch panels for two new iPads coming in the first half of 2019.
The small possibility
Way back in 2017, an alleged Apple source told
BGR
the iPad mini has been sized out of its own category. What's most interesting is the iPad mini 4 is still for sale on Apple's website, which points to Apple not giving up on the tablet line just yet.
With all of these recent rumors, there's a good chance we'll see an iPad mini 5 sometime this year, but of course, there's no way to know for sure until either more solid leaks arrive or until Apple actually launches it.
As for the iPad, a lot of us were already expecting an update in March, which is around the time when Apple unveils its budget iPad. It's hard to say if the talk of a major redesign will bear fruit, since any major redesign would warrant a price increase, and Apple wants to keep it priced low for the educational market.
A switch to USB-C and support for the new Apple Pencil seems like it could actually happen without bringing the price up much at all, but at the cost of preventing existing iPad owners from reusing their accessories on the new model, something that has been mostly possible between iPad generations for a few years already.
No matter what happens, AppleInsider will be covering the launches when they happen.