Sonos Architectural by Sonance launches as AirPlay 2-compatible speakers embeddable in wal...
Speaker producer Sonos has introduced a new line of its audio appliances with AirPlay 2 support designed for deeper integration with the home, with the Sonos Archiectural by Sonance collection of indoor and outdoor speakers designed to be installed into walls and ceilings, out of sight of the user.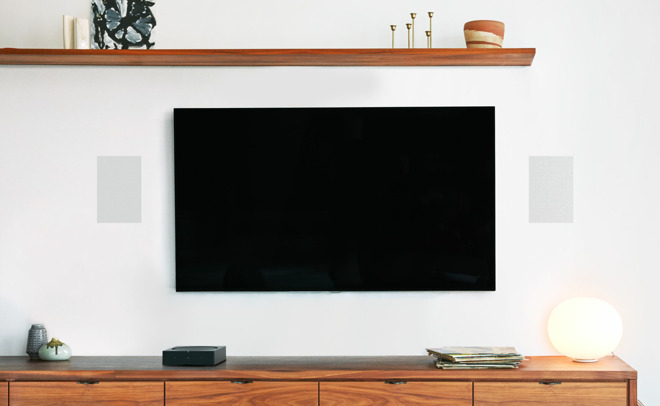 Sonos In-Wall Speaker
The new collection of passive speakers are made up of three different items: Sonos In-Ceiling, Sonos In-Wall, and Sonos Outdoor, with each having their own self-descriptive purpose. The first two are meant for indoor use, and can be installed flush to a flat surface, while the Outdoor version is meant for mounting outside the home.
All three are designed to work with the
Sonos Amp
, the company's existing home audio hub, which allows for wired speakers to be connected to the same home sound system with the same smart features. As the new Architectural line of speakers connect to the Amp, they all offer the same list of features as other speakers in Sonos' range.
This also means the new passive speakers will include support for AirPlay 2 when used with the Amp, allowing it to work with Apple's updated audio sharing platform. The Amp's support for over 100 streaming services also means the speakers could be used with an Apple Music subscription, and even to be used as part of a HomeKit network with Siri controls.
The In-Ceiling, In-Wall, and Outdoor speakers are sold by
Sonos directly
, with all three sold in pairs for $599 each for the indoor models, $799 for the outdoor. Both indoor models will start to arrive with customers from February 26, while the outdoor speakers are listed as "coming soon."