Apple activates Apple Pay services in Saudi Arabia ahead of official launch [u]
Apple began rolling out Apple Pay to customers in Saudi Arabia on Tuesday, with early reports showing compatibility with previously confirmed financial partners including the country's largest institution, the National Commercial Bank.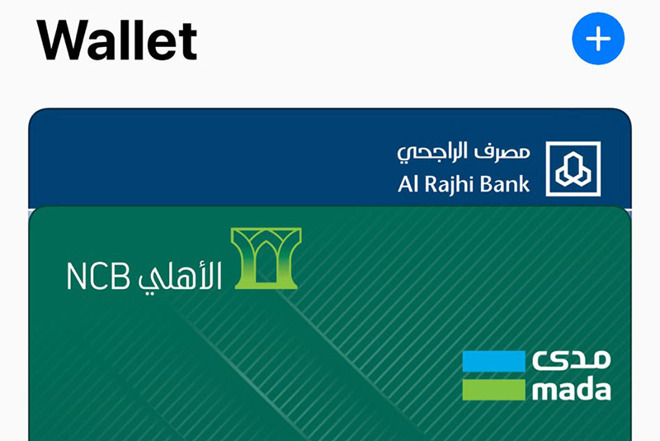 Source: Twitter user ToaimiF
A number of iOS device users took to Twitter and other social media outlets
early Tuesday
to share the news, posting screenshots of the Wallet app displaying provisioned credit, debit and prepaid cards from Saudi banks. Separately, individual banks like Al Rajhi
confirmed access
to the service in release notes accompanying iOS app updates.
Apple's regional
Apple Pay
webpage
confirms the rollout and customers have successfully linked cards from all four local institutions listed on the site. Currently, Apple promises support for the Saudi Payments Network (MADA), Alinma Bank, Al Rajhi Bank, Bank Aljazira, the National Commercial Bank and Riyad Bank. Cards with backing from Visa and Mastercard are also accepted.
The webpage lists 46 brick-and-mortar stores offering support for Apple Pay transactions, including large chains like Carrefour, Krispy Kreme, IHOP, McDonald's, Swarovski, Zara and more. Apple features another 28 retailers that accept Apple Pay for in-app payments.
Apple first teased upcoming Apple Pay support for Saudi Arabia last October, but failed to provide further detail as to when the service would launch.
Prior to Saudi Arabia, Apple introduced its first-party payments solution to users in Germany
in December
.
Apple Pay launched domestically in 2014 with support for a handful of banks and integrations with major credit card companies. The product has since expanded to major countries around the world, including major markets like Australia, Canada, China, Hong Kong, Japan, Russia and the U.K. With the pending launch in Saudi Arabia, Apple's payments service is available to iPhone, Apple Watch and Mac users in 34 territories.
Updated with confirmation and additional information from Apple.