Video: Discussing the 11 products that Apple is expected to release in 2019
Posted:
in iPhone
edited June 2020
Prolific Apple analyst Ming-Chi Kuo published a list of products Apple is expected to ship in 2019. AppleInsider takes a look at the hardware list, and spells out which could potentially be in user's hands before the end of this year.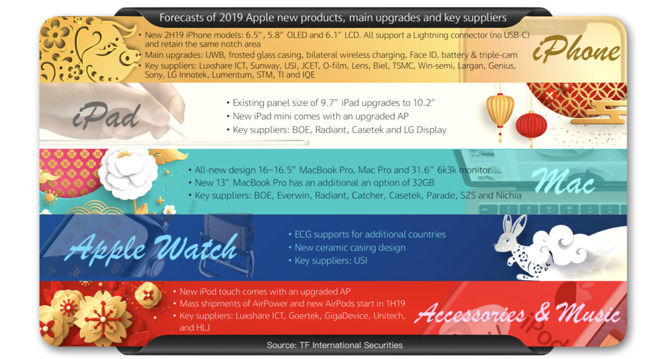 TF International Securities' forecasts for Apple's hardware releases in 2019
On Sunday, Apple analyst
Ming-Chi Kuo
released a note to investors, attempting to forecast what kinds of hardware and new products Apple will launch over the
next 11 months
. While the list does include many already-anticipated items, Kuo also included a number of items that were not previously discussed.
Track Record
Ming-Chi Kuo has been in the analyst game for a very long time. Even so, Kuo is like other analysts in that he isn't always right, so it's not wise to take his notes as the absolute truth. It is worth noting that, previously, he has been accurate with his last two research notes regarding Apple's product releases ahead of their launches.
Back in
July of 2018
, Kuo predicted three new iPhone models were on the way, along with refreshed
iPad Pros
with Face ID, new Macs,
Apple Watches
with larger displays, new
AirPods
, and the release of
AirPower
.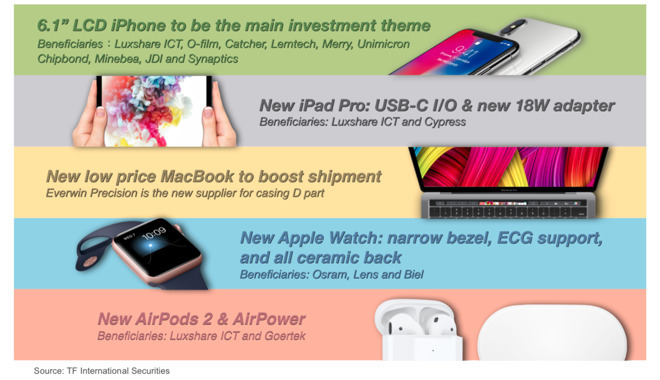 A graphic produced by TF International Securities detailing some of Kuo's September 10 predictions
Two months later on
September 10th
, two days before Apple's September Event, he released another research note, adding more things to the list including an 18W USB-C power adapter, Touch ID on the new low-priced MacBook, ECG support and an all-ceramic back on the Apple Watch and more.
Kuo got almost everything right. He missed on the iMac, which we've yet to see, AirPods, and AirPower. While the latter two have been hit with delays, rumors suggest launches for both will occur in 2019.
iPhone and iPod touch
Kuo expects the
2019 iPhone lineup
to stay pretty much the same as the current-generation models, with the same three variations of iPhone maintaining the same old notch.
He also believes the 6.1-inch model will keep the LCD display instead of moving to OLED to match the rest of the trio, but he says it may be upgraded to have 4 gigabytes of RAM like the other two iPhones.
All three models will apparently maintain the Lightning port instead of switching to
USB-C
, but there's no mention of what charger will ship in the box. We can only hope that Apple will include their 18W USB-C fast-charging capable power adapter with a USB-C to Lightning cable in the box, as while the old 5W adapter does the job, it's a lot slower than it could be.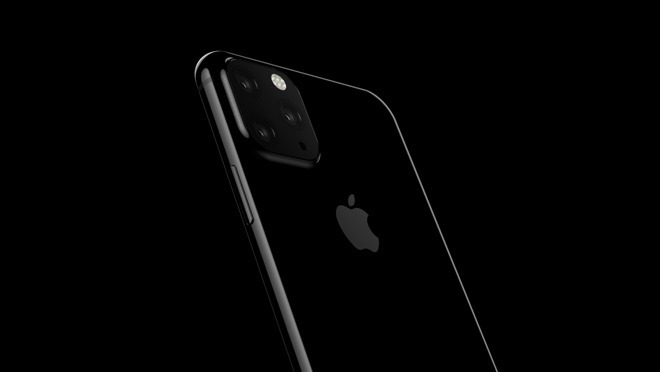 Render of what the 2019 iPhone could look like with a triple rear camera
All or part of the new iPhone lineup is expected to include a frosted glass casing, similar to the
Google Pixel 3
, Ultra-Wide Band for more accurate GPS and location-tracking, upgraded Face ID with a more powerful flood illuminator, larger batteries, and a
triple camera setup
that features a new ultra-wide lens.
Along with all of that, he suggests there could be the addition of what he's calling bilateral wireless charging, namely repurposing the wireless charging coils to allow the iPhone to provide power to other devices wirelessly, a feature that could be handy for accessories such as the AirPods Wireless Charging Case, which he expects to be released in the first half of 2019.
If you don't want to use your iPhone to charge your AirPods, Kuo is also anticipating the long-awaited
AirPower charging mat
sooner rather than later.
He's also expecting a new iPod touch that will ship with an upgraded processor.
iPad, iPad mini, iPad Pro
Kuo believes we'll be seeing two new
iPad Pro models
with upgraded processors. While this is a fairly easy-to-guess item, it probably won't happen soon as the iPad Pro just got upgraded in October with the most powerful mobile chips Apple has produced. If they do come this year, it'll most likely be towards the fall or winter. .
We're also expecting two new iPads including the
iPad Mini 5
and a seventh-generation iPad. Both models will continue to use a lightning connector, rather than shift over to USB-C like the iPad Pro, as well as sticking with Touch ID instead of moving to Face ID.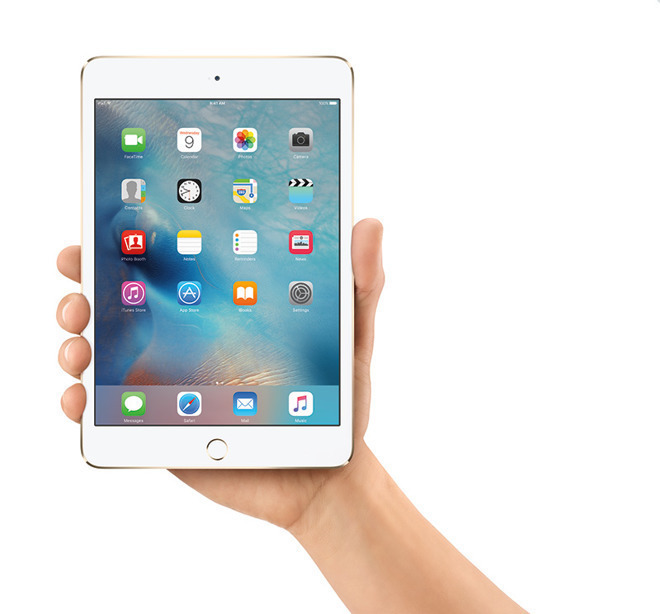 Fourth-generation iPad mini, a design the fifth-generation model is expected to emulate
They should both get upgraded processors, but Kuo believes that the 9.7-inch iPad will move to a 10.2-inch display instead. It is likely to maintain the same form factor as usual, but get slightly slimmed down bezels to match the larger screen size.
Two new iPads are likely to surface soon, since regulatory filings for them have already surfaced, so it's just a matter of time before they get released. Last year's iPad was released at Apple's March event, and it is already expected a similar event will take place on March 25th, there's a good chance they will be released at that time.
Apple Watch
For the Apple Watch, Kuo doesn't yet expect very much. He simply believes that the
ceramic casing design
that was excluded from the
Series 4
will be coming back, but it isn't clear if it's for the existing model or for a new Series 5 version.
He also believes the ECG feature will be coming to additional countries this year. Currently it is limited to work in the United States, as Apple has to pass regulatory muster in other regions before enabling the function elsewhere.
MacBook Pro, Mac Pro, and Monitor
Kuo's predictions for the Mac product family is where some of the more exciting elements lie, with three all-new products tipped for launch. First and most unexpected, Kuo believes Apple will release a
16-inch to 16.5-inch
MacBook Pro.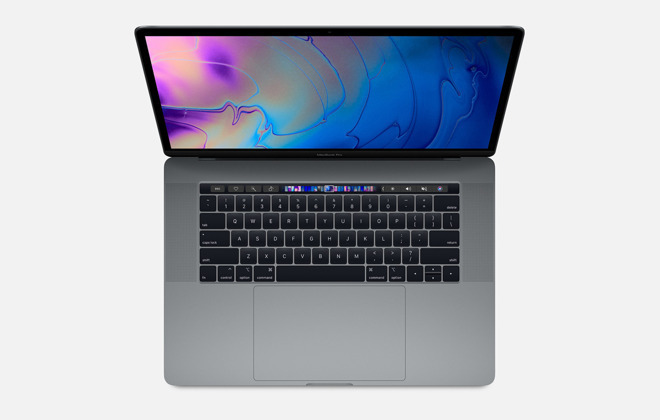 The current 15-inch MacBook Pro won't be the largest MacBook on sale if Kuo is correct
Up until 2012, Apple sold a
17-inch MacBook Pro
, so this isn't the first time Apple will have offered a notebook larger than 15 inches in size. It is thought there are many people who would love to see a larger
MacBook Pro
, and not just for the extra real-estate, as the physical gains could also bring with it a larger battery, better cooling, and higher specifications to match its stature.
For the smaller
13-inch MacBook Pro
, it is expected to gain an option to have 32 gigabytes of RAM, following the
15-inch model's
maximum memory capacity upgrade from 2018.
The
Mac Pro
, thought to be released sometime this year, is already expected to be a modular computer following Apple's comments on the redesign process made in April 2017. While little else is advised about the Mac Pro, Kuo adds the design this time around will feature
easy-to-upgrade
components.
After a tease on 2017, in April of 2018, Apple confirmed the model is a 2019 product. Given the amount of time spent designing it, a launch of the Mac Pro is all but certain before the end of the year, but it remains to be seen how modular it will end up being.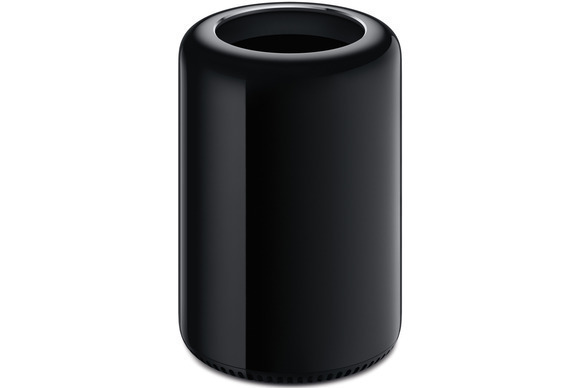 The current Mac pro uses a considerably less upgradable design than the modular version on the way
Finally, anticipated to launch alongside the new Mac Pro is a brand new high-resolution monitor.
At a time when 5K2K widescreen displays are coming on the market, Kuo is expecting Apple to release a 31.6-inch 6K3K display. The 6K3K term basically means a 6K resolution on the wide end and 3K resolution on the tall end, approximately 6,144 x 3,072 pixels, and equates to almost 4 million pixels more than the current iMac 5K's display.
To go with the high resolution, it is also thought to have outstanding picture quality, courtesy of a Mini LED-like backlight design.