Siri in iOS 12.2 to recommend Today at Apple sessions based on app use
Posted:
in iOS
edited February 2019
In an interesting integration of Apple's Siri virtual assistant technology, the company's upcoming iOS 12.2 release delivers a new function that recommends relevant Today at Apple sessions to users based on their app preferences.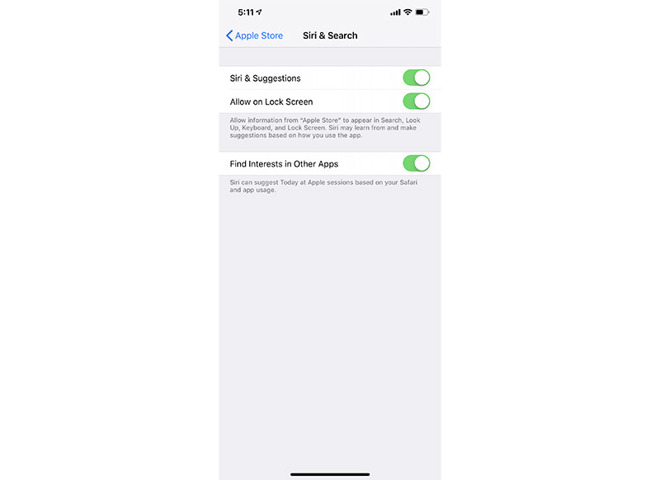 The feature is a clever update on Apple's iBeacon-powered suggestion system currently in use at brick-and-mortar Apple Stores. Instead of suggesting local Today at Apple sessions when a user enters an Apple Store, however, Apple appears to be harnessing Siri to proactively offer up recommendations remotely.
A new option found in the latest iOS 12.2 beta under
Settings > Siri & Search
, the "Find Interests in Other Apps" feature grants Siri access to user actions involving Safari and third-party apps. While the process is not detailed in Apple's release notes, Siri will presumably suggest pertinent Today at Apple sessions based on app usage and frequently visited websites.
For example, a user who consistently opens GarageBand or apps by Korg might receive a recommendation to Music Lab or Music Skills sessions at a local Apple Store. Alternatively, users who monitor their health via apps like Strava or various titles from Nike could potentially see Siri suggestions for a Health & Fitness Walk. The same goes for websites known to cater to certain audiences.
The new Siri addition was
first spotted
by
9to5Mac
.
Currently, Apple recommends Today at Apple sessions based on hardware ownership. When a user steps into an Apple Store, or near an Apple Store, their device communicates with physical beacons that offer up Today at Apple suggestions, Genius Bar appointments and other relevant store information.
Apple
released a third iOS 12.2 beta
to developers on Tuesday with user interface tweaks and bug fixes, including a patch for a GroupFace Time flaw that restricted some users from adding a third party to a call in progress.