Showdown: Samsung Galaxy Buds versus AirPods and the rumored AirPods 2
Apple's biggest rival Samsung announced several new products at its latest event, including new headphones dubbed Galaxy Buds. AppleInsider compares Samsung's try at true wireless earbuds against Apple's own AirPods and rumored AirPods 2 to see how they stack up.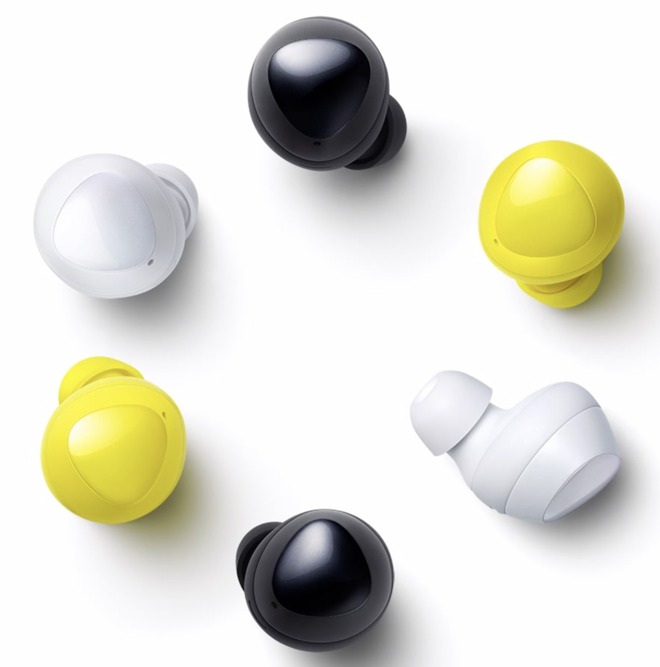 Galaxy Buds in multiple colors
We've already
compared how the new S10 lineup fares
against the six-month old iPhone XS, iPhone XS Max, and iPhone XR. This time, we compare what we know about the
Galaxy Buds
against Apple's highly regarded AirPods -- as well as the rumors surrounding AirPods 2.
Galaxy Buds
It's early yet, but 2019 is shaping up to be a transformative year for the wearables category and the Samsung Galaxy Buds are just the first major player.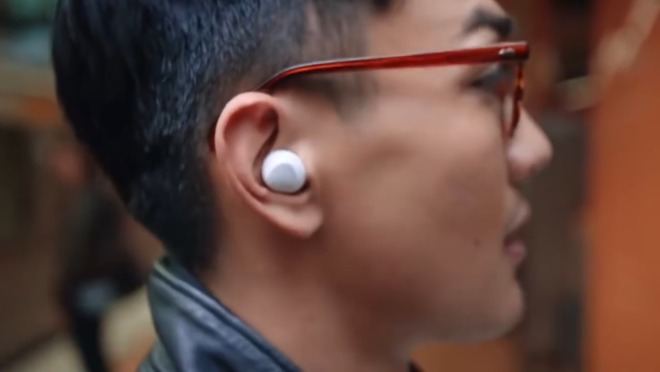 Galaxy Buds
The Galaxy Buds don't have the same look as AirPods, with the former fitting more subtly into the ears. This makes them a bit more generic looking than AirPods -- with all that entails.
One of the biggest differentiating factors of the Buds versus AirPods is wireless charging.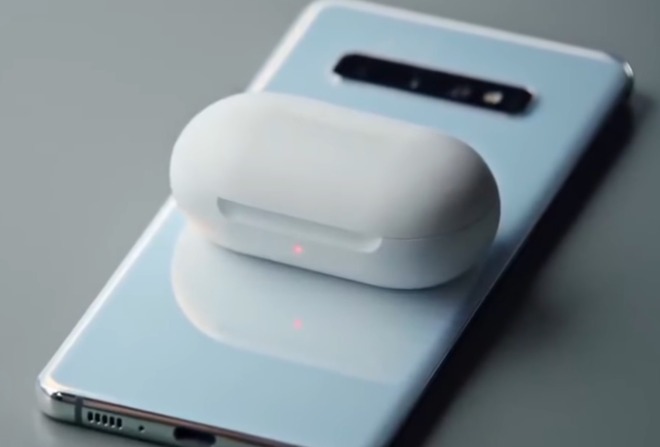 Galaxy Buds wirelessly charging on S10
Galaxy Buds can charge via any Qi wireless charger or, more impressively, via the reverse wireless charging found on the rear of the S10. Set the Buds on the back of the S10 and the case will charge up.
Apple promised, and so far has yet to deliver, a wireless charging case for AirPods which would add this feature to Apple's buds. Until then, third-party companies have stepped up with various wireless charging cases like the
Pitaka AirPodPal
or the
SliQ sleeve
.
Another aspect would-be buyers should take into consideration is battery life. Galaxy Buds can be used for six hours on a single charge with the case adding an additional seven hours. AirPods only can rock out for five hours at a time before needing recharging. The case though has enough to extend the total use time over 24 hours. The lack of overall battery life is likely how Samsung got the charging case to be as small as Apple's.
We give the edge here to Galaxy Buds because even though they have shorter overall battery life, they get longer actual listening time in between charges. That, coupled with the fact they can be charged anywhere on the back of an S10 or any wireless charger, makes them the winner in this category in our eyes.
One feature that stood out to us was the ambient noise mode that allows you to control how much external audio gets to your ears. This is great for while you are outside or in a bus and listening to music but then need to talk to someone or hear the surroundings -- without taking the Buds out of your ears.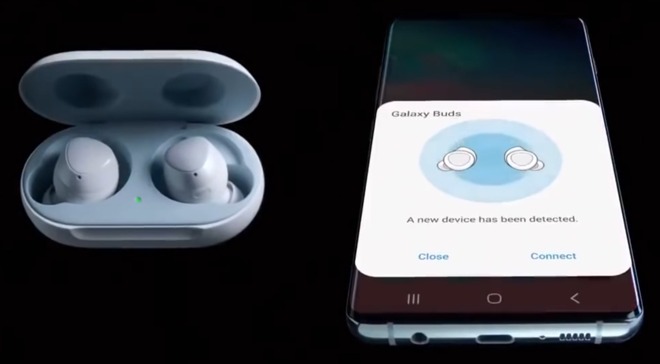 Galaxy Buds pairing process
Other advancements within the Galaxy Buds include dual microphones, a better acoustic seal, integrated Bixby assistant, two additional colors, and Samsung has even replicated Apple's simple pairing process.
AirPods
Even though AirPods launched in 2016, they still hold their own. As we mentioned, they have an overall longer battery life -- by quite a large margin. We also prefer the vertical case of AirPods to the horizontal of the Galaxy Buds.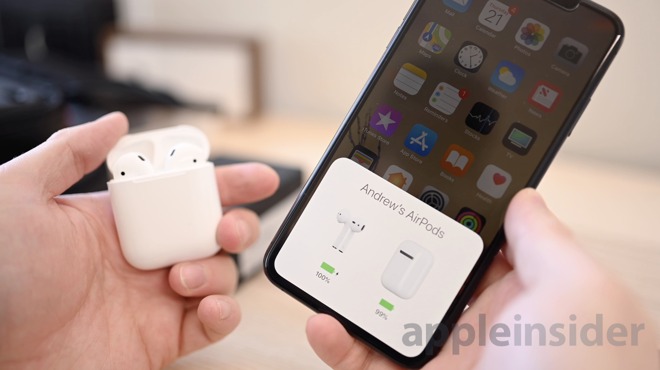 AirPods pairing process
Audio-wise we will have to wait and see. Samsung boats superior audio designed by AKG which is a well-respected brand, but it also owns the brand so the claim can't be taken at face value.
AirPods are lighter than Galaxy Buds, weighing only 4 grams to Buds 5.6 grams. For something hanging out of your ear, that near 30-percent decrease can mean a lot.
Samsung also decided not to include any buttons whatsoever on the Buds, forcing users to use their voice and Bixby any time they want to control them. AirPods can be customized inside of the settings app.
If you're an iOS user, there are also all of the deep integrations into iOS as well as the benefits of the custom W1 wireless chip.
AirPods 2?
When you compare the AirPods against the brand new Galaxy Buds on paper, the latter is certainly the winner. They've got wireless charging, longer battery (per use), an integrated assistant, and an ambient audio mode. The AirPods can really only claim victory to overall battery and weight. A comparative listening test will have to wait, and we will do one.
But those Galaxy Buds are brand new.
Apple has been rumored
for some time to release an updated version of AirPods with a ton of new features -- in many cases matching or exceeding those found in the Galaxy Buds.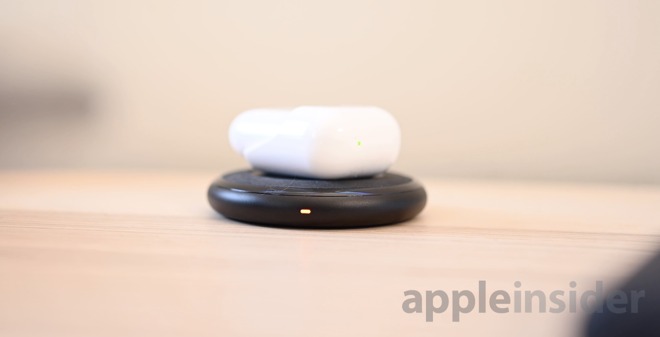 AirPods wirelessly charging via HyperJuice adapter
Support for "Hey, Siri" will be integrated -- just as Bixby is but will likely retain the exterior buttons. Wireless charging will be available either out of the box or via the optional upgraded wireless charging case. They may even be able to charge on the back of
future iPhones. We can also expect improvements to audio as Apple tends to do on refreshes.

Apple already is using an updated version of its custom wireless chip in the Apple Watch, so we will probably see improvements there as well. Rumors also peg a
better texture
and
black color option
.
One of the biggest questions surround AirPods 2 will be any health features that Apple includes. They could arguably be a
greater health monitoring device than Apple Watch
. This would certainly be a huge differentiator for AirPods 2.
Availability
AirPods are available now for $159 but have largely remained out of stock while Apple still tries to keep up with demand two years in.
Samsung's Galaxy Buds will go on sale
March 8th for $129
or will
come free
when you preorder the new Galaxy S10 or S10+.
Apple's AirPods 2 haven't been formally announced but are rumored to debut sometime in 2019,
likely in Spring
.
Galaxy Buds were just one of the new wearables that
Samsung announced
during its media event. They also showed off the Galaxy Watch Active and the Galaxy Fit.