How parents can turn on iOS 12 Screen Time for their child's iPhone or iPad
Posted:
in iOS
edited October 2020
Nominally iOS 12's Screen Time feature is meant to help everyone keep their habits in check, but the most practical application may actually be as a form of strict parental control.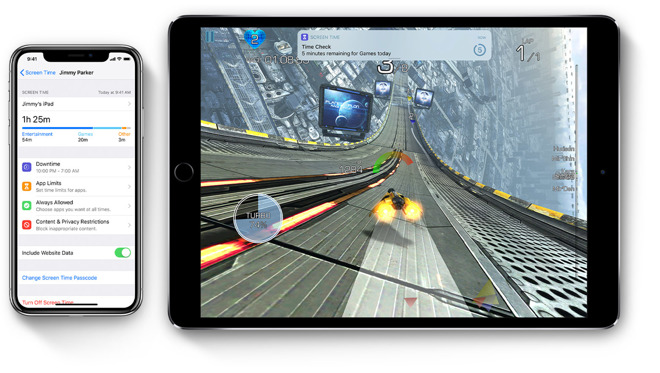 To go this route, the easiest way is probably to open the
Settings
app on a child's iPhone or iPad, then tap
Screen Time
. Since this is presumably the first instance Screen Time will have been used on the device, tap
"Set up as Parent"
when a splash screen appears.
Alternately you can tap
"Set up Screen Time for Family"
on your own device, found under the Screen Time menu. You'll of course need to have Family Sharing enabled and linked with your child's device(s).
Either way you'll be guided through three restriction categories. The first is
Downtime
, which dictates when a device will be (mostly) inaccessible. Don't be too harsh -- you can only set one continuous window, so it's probably best to schedule it when a child should be asleep. Thankfully you can choose to whitelist some apps as
"Always Allowed,"
and by default Phone, Messages, FaceTime, and Maps are left toggled on.
The second category is
App Limits
. Here you can specify time limits for app genres, rather than specific apps -- say, 2 hours per day for games.
The final section is
Content & Privacy
. This isn't new strictly speaking, but it's now under Screen Time, and lets you block "explicit and mature" material on the App Store, iTunes, Apple Music, and even websites. There's an option to require permission for changing privacy settings, which should be switched on.
Before completing setup, you'll be prompted to create a passcode without which a child won't be able to extend usage or undo settings. You get to skip this step if you handle setup via Family Sharing.
A final note is that if your child is lucky enough to have multiple iOS devices, Screen Time limits apply to any device linked to the same ID, and cumulatively -- meaning that a child can't hit a limit on their iPad then continue unimpeded on their iPhone, or vice versa.