Video: Elgato Thunderbolt 3 Pro Dock is the center of a workhorse workstation
The Elgato Thunderbolt 3 Pro Dock from Corsair is a workhorse of a docking station that adds 12 ports, including three of which are the forward-looking type-C.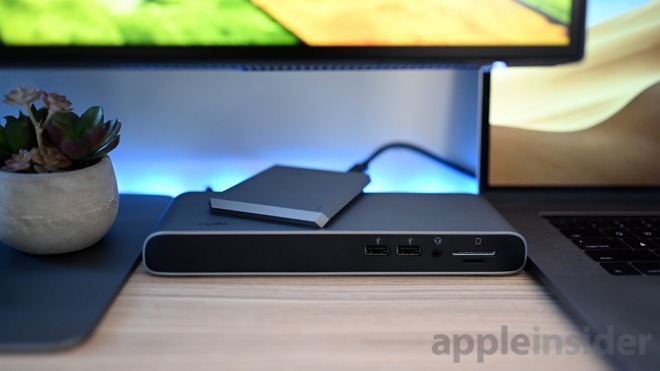 Elgato Thunderbolt 3 Pro Dock
Elgato -- which is
now part of Corsair
-- debuted the Thunderbolt 3 Pro Dock during CES.
At that time
, we were most excited to see it as the first Thunderbolt 3 dock to incorporate not just the USB-C Thunderbolt 3 downstream port, but two more USB type-C ports.
After reveal at the 2019 Consumer Electronics Show, we've been able to get our hands on one and have been using it to simplify our workflow ever since.
Build quality
Elgato's quality has always been fantastic, and that applies to the Thunderbolt 3 Pro Dock too. The outside is a premium aluminum finish with feet that are ever so reminiscent of the legacy Mac Pro.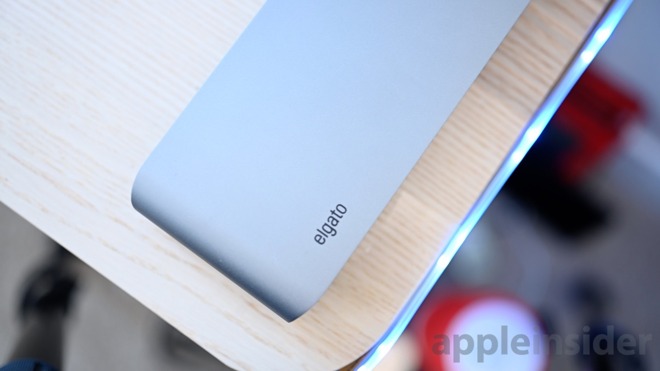 Elgato Thunderbolt 3 Pro Dock
If you've seen a Thunderbolt 3 dock before, you know what to expect for size of the unit itself. As with the rest, a large external power brick makes for some added bulk under the desk. Luckily, it passes the full 87W of power to a 15-inch MacBook Pro, so that is one less thing that needs its own outlet.
Connectivity
Available ports include:


2 x Thunderbolt 3


DisplayPort


Gigabit Ethernet


2 x USB 3.1 Gen 1 Type A


2 x USB 3.1 Gen 2 Type C


3.5mm audio jack


SD card reader (UHS-II)


MicroSD card reader (UHS-II)


Those ports that Elgato believes you will use with some frequency are located on the front of the dock. That includes the two card readers, the audio jack, and the two USB-A ports.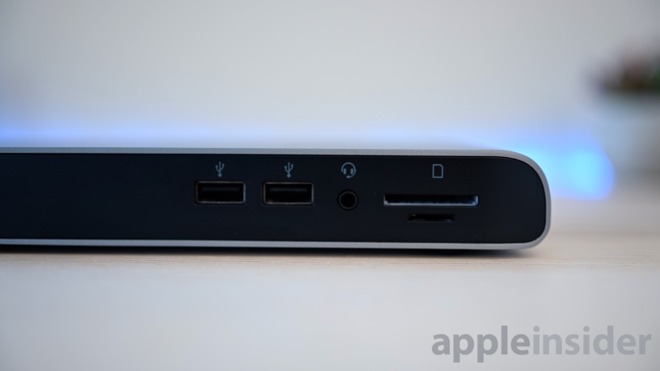 Elgato Thunderbolt 3 Pro Dock front-facing ports
We don't love the layout of the SD card readers, though, as the larger SD card is positioned directly above the microSD card reader. If you have both cards in, it can be difficult to see/access the microSD below. Had they been swapped, you could more easily see microSD card without it being obfuscated by the larger SD card.
Since we have two Thunderbolt 3 ports, this makes it easy to daisy chain additional Thunderbolt devices. For example, you can connect your Mac to the Elgato Pro Dock, which can then connect to an ultra-fast solid state drive, which can connect to
an eGPU
, which can then connect to your display. All of which will only utilize a single port on the back of your dock and Mac.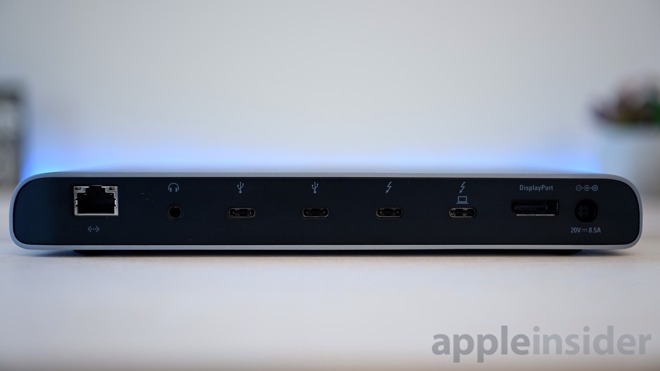 Elgato Thunderbolt 3 Pro Dock rear-facing ports
Video output here is on par with many other Thunderbolt 3 docks. Two 4K displays can be driven simultaneously at 60Hz through the Thunderbolt 3 and DisplayPort ports, or a single 5K display can be connected over Thunderbolt. From our MacBook Pro, we saw no issues with these displays though less powerful machines may struggle with the top outputs.
To eject everything at once, Elgato has a Mac utility to eject the dock and all connected drives simultaneously.
A daily workhorse
The current work culture has been shifting away from workstations with a dedicated desktop, to a portable machine with a desktop monitor. That's how we tend to work here at
AppleInsider
. Multiple staffers use a MacBook Pro around the home and office. When I need to sit down to edit, I sidle up at my desk with all my peripherals located desk-side.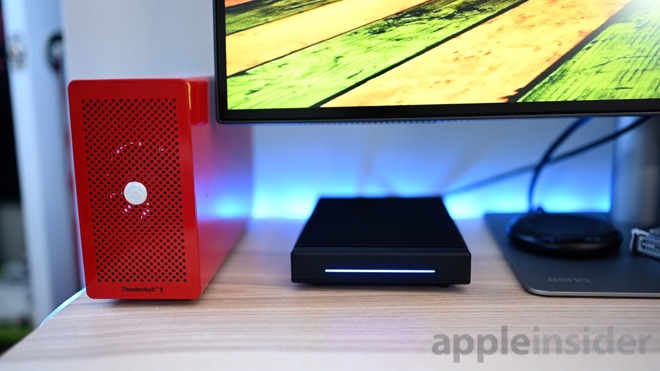 Akitio Node Lite (left) and OWC Thunderblade (right)
As a video producer, I've got countless accessories hanging around my desk, but most prominently is my
LaCie 2Big 20TB Thunderbolt 3 storage bay
, my
BenQ Thunderbolt 3 display
, and my
Akitio Node Lite Thunderbolt 3 enclosure
with a 1TB Intel Optane SSD. On top of this, tack on a plethora of SD and microSD cards, more portable hard drives, my wired
MW50+ headphones
, my Blue microphone for podcasting and voiceovers, and a hardwired gigabit Ethernet connection for fast video uploading, I've got a lot to wire up.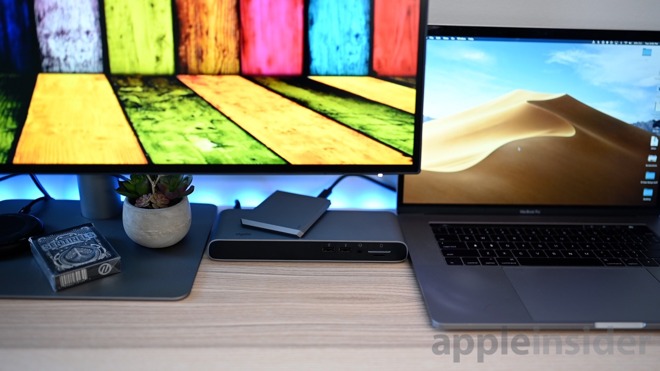 Elgato Thunderbolt 3 Pro Dock
Without a dock, I'd have an insane number of adapters and far to few ports to handle it all. Using the Elgato Thunderbolt 3 Pro Dock, I simply set my machine down, connect a solo TB3 cable, and I'm ready to go. When I need to head out for a shoot, I just use the Elgato utility to eject all my peripherals and head on my way.
It doesn't get easier than that.
Rating: 4.5 out of 5
Where to buy
The
Thunderbolt 3 Pro Dock
can be ordered from Corsair or Amazon for just under $350.